Oscar Analysis 2014: Best Picture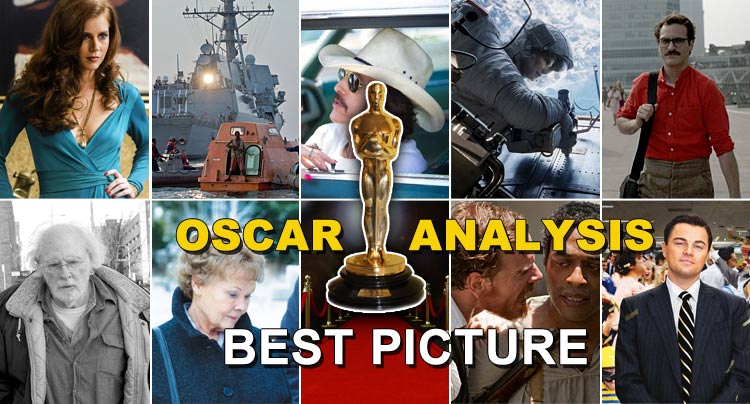 Last week we predicted that Gravity's Alfonso Cuarón would get the win for Best Director, so historically speaking that would mean Gravity should have a 73% chance of winning Best Picture because of how closely tied those categories are. However, we do not have to go back very far to see split category winners. Last year Ang Lee received Best Director for the visually impressive Life of Pi, while Ben Affleck's historic thriller Argo was awarded Best Picture. This year has a very similar setup. Winning the award at the Director's Guild of America puts Cuarón in good position for Best Director, however, his technical marvel Gravity may be edged out by Steve McQueen's historical drama 12 Years a Slave. Last week's BAFTA (British Oscar equivalent) win for 12 Years a Slave was a major victory for the film. But make no mistake, this is still a very close race between the two films.
Marketing departments for the rest of the field will not likely be upgrading their materials beyond "Best Picture Nominated". While it is still a monumental honor just to be nominated, Spike Jonze and company should feel disheartened that Her is not in contention. Though they are probably just happy their futuristic love story did not fly over the heads of the Academy whose median age is 62.
Because 2013 was such solid year for film, there are plenty of titles that deserved to be nominated: Blue Is the Warmest Color, Blue Jasmine, The Place Beyond the Pines, Frances Ha, Before Midnight, and Fruitvale Station just to name a few. But my top pick for the film that did not receive a nomination that should have is Short Term 12. Destin Cretton's film blasted on to everyone's radar after rave reviews from critics at its SXSW premiere. It is unfortunate that the film's marketing budget and small distribution are its biggest flaws, because the film will make you laugh, cry, and smile more than most films that actually did get nominated.
Category Predictions
Who Should Win: Her
Who Will Win: 12 Years a Slave
Deserves A Nomination: Short Term 12
Best Picture Nominees
American Hustle (review)
Captain Phillips
Dallas Buyers Club (review)
12 Years a Slave (review)
The Wolf of Wall Street (review)
Previous Category Analysis
Best Shorts
Best Supporting Actress
Best Supporting Actor
Best Original Screenplay
Best Adapted Screenplay
Best Foreign Film
Best Documentary
Best Actress
Best Actor
Best Director