Oscar Analysis 2014: Best Foreign Film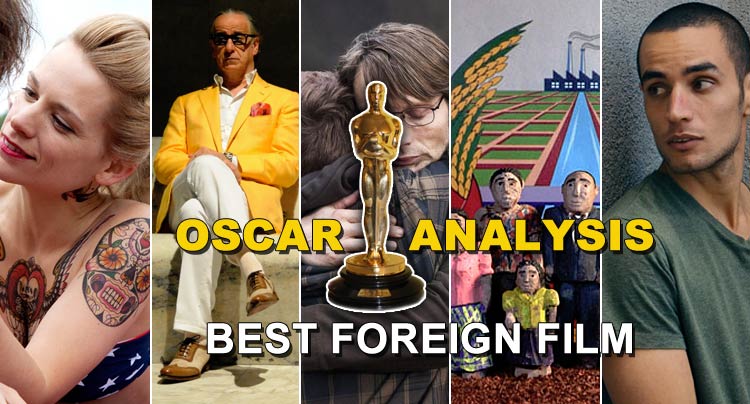 Where to begin with the Foreign Language Film category? The nomination process will always annoy people: Foreign countries submit one film they consider their 'best' for the year, said list is whittled down to 9 films, and a small committee chooses their 5 favourites from the shortlist. This year was also, unsurprisingly, home to some controversy because of the process. Blue is the Warmest Colour was not eligible because it was not released within Academy guidelines (a film must be released before October 1st in its home country), and Hirokazu Kore-Eda's Like Father Like Son wasn't even submitted by Japan.
All things considered, despite a few snubs, this isn't too bad of a list. But first, let's get some nominees out of the way. The Hunt is a terrific drama that gets a great response out of audiences, but the subject matter will probably turn off voters. The Missing Picture is a personal film about the director's experience in Khmer Rouge labour camps as a child, and while it covers ground the category has been kind to in the past the film hasn't been generating much buzz. The fact that it was nominated is an achievement in itself.
It really comes down to two films this year: The Great Beauty and The Broken Circle Breakdown. The Great Beauty has been working like gangbusters with audiences, enjoying mass praise from critics and still healthily making money well into its theatrical run (it opened in November). The Broken Circle Breakdown, and all other nominees really, haven't matched the success of The Great Beauty, but Broken Circle will reduce most of its viewers into a sobbing mess with its story of a terminally ill child. Granted, I thought it was manipulative garbage (see review below), but the film has been resonating with audiences.
In the end, I think prestige will win out over emotions. The Great Beauty already has a Golden Globe win under its belt, and the story will probably appeal to members more. I could be absolutely wrong about all of this (and I'll be the first to admit it if I am): for the first time since the 1950s voting on this category has been opened up to all Academy members. This might shake up things considerably, so we'll have to wait and see come March.
As for who should win, it goes to the only nominee I haven't mentioned yet. Omar is a terrific thriller that uses genre elements (specifically film noir and, to a lesser extent, western) to comment on the inescapably tragic way of life that Palestinians live daily. Hany Abu-Assad's political angle never feels preachy or overwrought for one second, and even if one disagrees with the film's stance they can still appreciate Omar as great genre filmmaking.
To be fair I decided to go with my 'shoulda' pick by looking at this year's official submissions. Naturally I haven't seen much, including some films that had people fuming over being snubbed (looking at you, Wadjda). From what I've seen, then, I decided to go with The Past. Asghar Farhadi's latest film may be a step down from A Separation, a film that won this category, but Farhadi is still creating great dramas that no one else appears to be attempting right now. Farhadi's film about characters failing to escape from their pasts is, funnily enough, unable to step out of the shadow of the director's last film but that shouldn't take away that it's still quite good.
Category Predictions
Who Should Win: Omar
Who Will Win: The Great Beauty
Deserved A Nomination: The Past
Best Foreign Film Nominees
The Broken Circle Breakdown (review)
The Great Beauty (review)
The Missing Picture
Omar
Previous Category Analysis
Best Shorts
Best Supporting Actress
Best Supporting Actor
Best Original Screenplay
Best Adapted Screenplay