Oscar Analysis 2014: Best Original Screenplay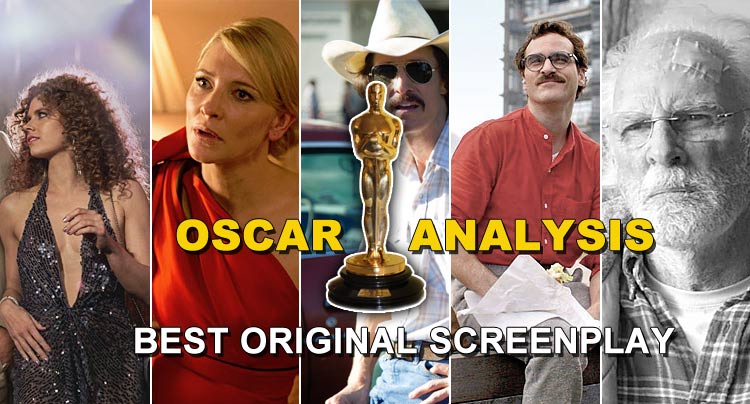 The screenplay category is notorious for giving smaller indie films a chance for recognition that they may not receive anywhere else on Oscar night. That is not exactly the case this year as all but one (Blue Jasmine) of these nominees received a Best Picture nod (though really only one (American Hustle) is considered an actual contender in that section). But I attribute this exception more as praise for the Academy for including such films like Her and Nebraska in the Best Picture category because in most years these could have been edged out by more mainstream picks like Saving Mr. Banks or August: Osage County.
In my opinion, there is a pretty clear standout amongst the nominees, and that is Spike Jonze's Her. Quite literally, this film contains the most original screenplay out of the bunch when a lonely writer (Joaquin Phoenix) develops a romantic relationship with an operating system. The film is unbelievably charming and remarkably thought provoking. It's biggest competition in this category will be David O. Russell's American Hustle, but I am still baffled as to why the film is getting so much acclaim. I personally believe the only real achievement in American Hustle is earned from its acting talent. Nonetheless, look for it to be a major player in all categories including this one.
Woody Allen has received an impressive 16 nominations for screenwriting over the years, but I do not suspect his riches to rags story in Blue Jasmine has what it takes to win this year, especially considering he won the category just two years ago for Midnight in Paris. Dallas Buyers Club certainly sounds like an Academy favorite; a true American story about a controversial person, but the narrative of the film never quite reaches the emotional payoff it aims for. And while Nebraska is easily my favorite Alexander Payne film, many will dismiss it for its lack of depth and rather simple story.
There are a few misses that come to mind as far as films not getting a nomination that should have. Nicole Holofcener's Enough Said was a humble, yet sincere romantic comedy that really moved me. The classic three-act story in The Place Beyond the Pines would have been an excellent addition to this group. But the category really missed its opportunity highlight a small film that received no Oscar nominations this year, Noah Baumbach's Frances Ha. The film feels like it was penned by a young Woody Allen (remember his impressive nom count?) as it packs a light and whimsical story around a very likeable but flawed character. Frances Ha was relatable, humorous, and charming. Oh, and it is shot in New York.
Category Predictions
Who Should Win: Her
Who Will Win: Her
Deserves A Nomination: Frances Ha
Best Original Screenplay Nominees
Eric Warren Singer and David O. Russell – American Hustle (review)
Woody Allen – Blue Jasmine (review)
Craig Borten and Melisa Wallack – Dallas Buyers Club (review)
Spike Jonze – Her (review)
Bob Nelson – Nebraska (review)
Previous Category Analysis