Nebraska (Cannes Review)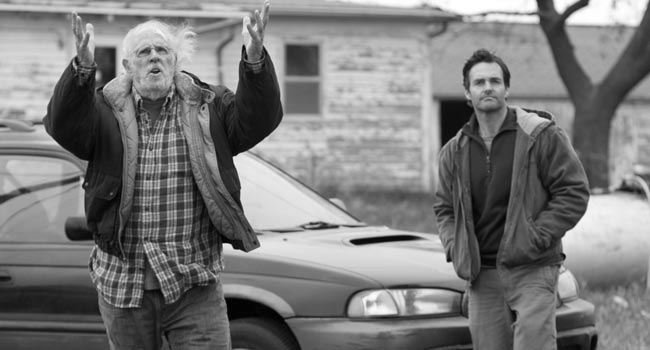 Nebraska is not perfect, but it may just end up being the year's best road trip film.
Alexander Payne's Nebraska is a light and warmhearted film about a son who wants to bond with his father, no matter how obtuse his thoughts are or off-putting his attitude is. Being both determined and naive is a dangerous combination, but that perfectly describes David's (Will Forte) father Woody (Bruce Dern) in a nutshell. One of Woody's biggest faults was that he has always believed what people have told him. So when Woody receives a sweepstakes certificate in the mail saying that he has won a million dollars he actually believes it, despite everyone around him telling him it is a scam.
Woody is determined to leave his home town of Billings, Montana and beeline it to Lincoln, Nebraska to claim his winnings. Even if that means walking the 750 miles to get there. David has recently split with his girlfriend of two years and is looking for an excuse to get out of town for a few days. He knows that his father is delusional about the money, but he agrees to drive his father to Lincoln anyways. At least he knows his father will be safe in his hands.
On their way to Lincoln, they stop to visit the a small hometown of Hawthorne, Nebraska where his father grew up. This is where the film really flourishes. Because I am familiar with the locations of where the film takes place, I can assure that much of what is depicted is genuine, only adding just a touch of exaggeration to keep things interesting. Many of the residences of this small Midwest town have few words to say about themselves and are generally more interested at what is on the television than talking. Word tends to spread quickly in small towns, so it is not long before the entire town knows about the windfall Woody is supposedly going to receive. Of course, the news also attracts the attention of decade-old "friends" who are for money they claim he owes them.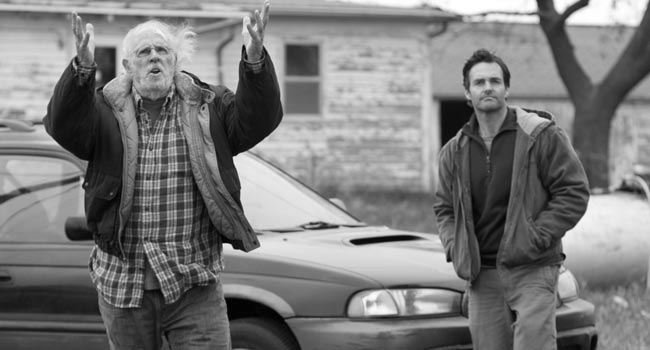 What makes the film such a delight to watch are the individuality of its characters. Each one is fun to watch in their own right; the father's relentless determination, the mother's hilarious outbursts, and the son's sympathy and desire to bond with his father. On this journey he finds out a lot about his father. By the end it is revealed why he is so strong-minded to get the money. Prepare for the "awwws".
Will Forte is typically known for his comedic roles (Saturday Night Live) but goes a different direction here with a much more reserved role. Bruce Dern's performance stands out the most, making a boozed and beat up pessimistic father somehow sympathetic. Bob Odenkirk (of Breaking Bad) is also good here though he has much more of a supporting role, which is good because he dominates the scenes with his energy.
In order for Payne to receive funding from the studio to make a black and white film, he had to settle for a smaller budget. Payne is a Nebraska native who felt strongly that the film needed to be colorless to capture the mood of the old American heartland. Personally, I think it was a wise decision as it enhances the portrait of its characters and locations. Perhaps he should always consider making smaller budget films.
There is not a whole lot that goes on in Nebraska, similar to the small towns that are featured in it, but this is a road trip/family bonding film that is extremely entertaining. Nebraska is not perfect, but it may just end up being the year's best road trip film. Payne keeps the camera rolling a bit too long in the final scenes, resulting in an ending that should have been shortened by about five minutes or so. Nonetheless, Nebraska is finally a Payne film that I can confidently stand behind.
Nebraska (Cannes Review) Movie review