Oscar Analysis 2014: Best Actress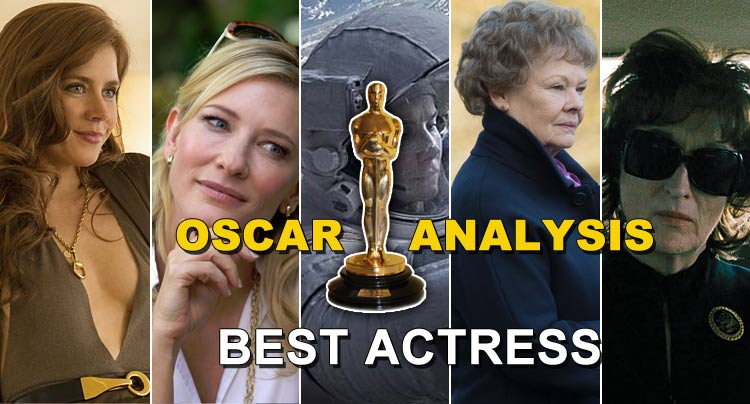 The one question on everyone's mind about Best Actress is, "Can we give this to Cate Blanchett already so we can all go home?"
It's another easy category to predict, and rightfully so. Blanchett hasn't had a proper lead role in at least 5 years, and with Blue Jasmine she makes a hell of a comeback. As the wife of a Bernie Madoff type con man who loses everything, her performance is a roller coaster. She's funny, pathetic, monstrous, evil, kind and completely unhinged, yet Blanchett keeps Jasmine grounded enough to never make viewers lose sympathy for her. It's a very rare case this year where the Oscar winner is also the person who deserves it the most.
With that out of the way, let's look at the other nominees. Judi Dench and Meryl Streep are given their usual "nominate every damn thing they're in" recognition from voters. Dench is charming as Philomena Lee, but it feels like she can do this kind of thing in her sleep by now. Streep expectedly goes all-in as the drug-addicted matriarch Violet in August: Osage County. Streep doesn't chew scenery in this movie, she devours it, and if she didn't win recently for The Iron Lady I could see her being a competitor to Blanchett here. Amy Adams is the best lead in American Hustle by far, but she should be happy with her Golden Globe win. Sandra Bullock probably has the smallest chance of winning in this category, but it shouldn't diminish the fact that she's a major reason for Gravity's success.
Dench and Bullock could have easily been plucked out of this category in my eyes and replaced with a better performance. First things first though, let me say that these actresses did some amazing work this year: Julie Delpy in Before Midnight, Greta Gerwig in Frances Ha, Shailene Woodley in The Spectacular Now, Andrea Riseborough in Shadow Dancer and Rooney Mara in Side Effects were all terrific. But if I had to pick one actress who deserved to be nominated, it would have to be Paulina Garcia in Gloria. I had my issues with the film, but Garcia (who won Best Actress at the Berlin Film Festival) owns every moment of Gloria.
Category Predictions
Who Should Win: Cate Blanchett – Blue Jasmine
Who Will Win: Cate Blanchett – Blue Jasmine
Deserves A Nomination: Paulina Garcia – Gloria
Best Actress Nominees
Amy Adams – American Hustle (review)
Cate Blanchett – Blue Jasmine (review)
Sandra Bullock – Gravity (review)
Judi Dench – Philomena (review)
Meryl Streep – August: Osage County (review)
Previous Category Analysis
Best Shorts
Best Supporting Actress
Best Supporting Actor
Best Original Screenplay
Best Adapted Screenplay
Best Foreign Film
Best Documentary