Gravity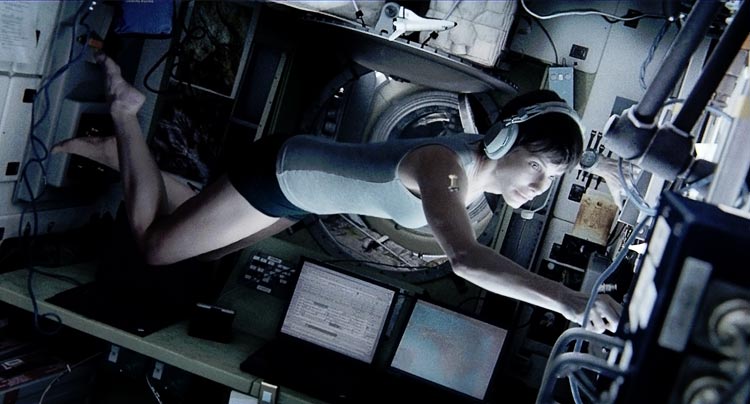 Alfonso Cuaron's breathtaking film puts every viewer up into space in a way never before possible.
Certainly no sci-fi film, and packed with more adrenaline than the average action film, it's impossible not to have a physical reaction to the film Gravity. From the opening scene where astronaut Matt Kowalski (George Clooney) and medical engineer Dr. Ryan Stone (Sandra Bullock) work high above the earth, the perspective is entirely disorienting. Voices from Houston check in on the astronauts, asking Dr. Stone if she's feeling sick, and her queasy expression is easy to sympathize with. While the sensory impact of Gravity is what will make this film hard for any viewer to shake, it's focus on every human's instinct for survival and even human connectedness is what makes it a good film.
Gravity, while groundbreaking in its visuals, does rely upon them a bit heavily. The story is obvious by Hollywood conventions. Veteran astronaut Kowalski is finishing his final spacewalk, while Dr. Stone is on her first mission and not much of a space traveler. All seems to be going well in their mission to perform minor repairs on a space shuttle. A third astronaut, whose voice is all the character we're really given of him, glides through space gleefully, as though to mock the tethers that keep him from spinning out into the cosmos. Then Houston gives them the command to abort. The Russians, (them again!), have destroyed one of their satellites and its remnants are hurtling in orbit directly toward them. A moment later they are bombarded with the high-speed pieces. Kowalski tries to hold on to Stone, but she is sent spiraling away from him. Thus begins her dizzying nightmare.
At times Alfonso Cuaron pulls the perspective into Stone's helmet. Which, in that first harrowing moment, is the unending spinning of the universe as Dr. Stone demonstrates the laws of physics in sickening fashion. The universe has never seemed so big as in the drawn out minutes that Stone spends alone spinning into space unable to stop herself. Kowalski is able to reach her after a time, but their nerve-shattering journey to survive has only begun. With oxygen depleting, Kowalski's jetpack running out of fuel, and the orbit of the earth set to bring the debris hurtling back at them in 90 minutes it's a race against time and space, (sorry, I couldn't resist), to survive.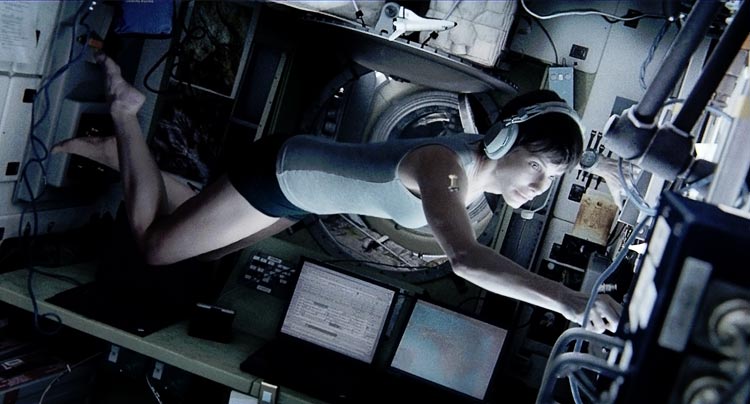 Cuaron has been working on Gravity for almost four years, since the release of his last tale of human survival, Children of Men. Clearly drawn to stories of perseverance, Gravity isn't as poignant as he is likely aiming for, but is most definitely a standout survival film. Cuaron's decision to use Bullock in a space-based thriller may not seem the likely choice, but she was clearly a great decision. Her character is given the entirety of the sentimentality of the film to carry, including some hackneyed and hokey dialogue. But Sandy B. is America's Sweetheart for good reason. She's just so easy to root for. Each line delivered with just enough of an emotional waver in her soft voice to pull at the heart. Clooney is equally as typecast with his easy confidence and dulcet-tones that could talk anyone to safety. So while neither actor may be doing anything entirely new in their careers, they certainly do what they do best.
Choreographed and staged with intricate detail, the film's visuals are like nothing ever experienced before in film. Forget 'edge of your seat', Gravity has its audience clinging to their seats and leaving with a newfound appreciation of terra firma. Never has 90 minutes felt so long. Alfonso Cuaron's breathtaking film puts every viewer up into space in a way never before possible. Though admittedly in a way that may make any future space travelers think twice. Gravity is a healthy reminder of human smallness in a vast universe, but also successfully demonstrates the phenomenal strength of the human spirit.
Gravity Movie review