Oscar Analysis 2014: Best Director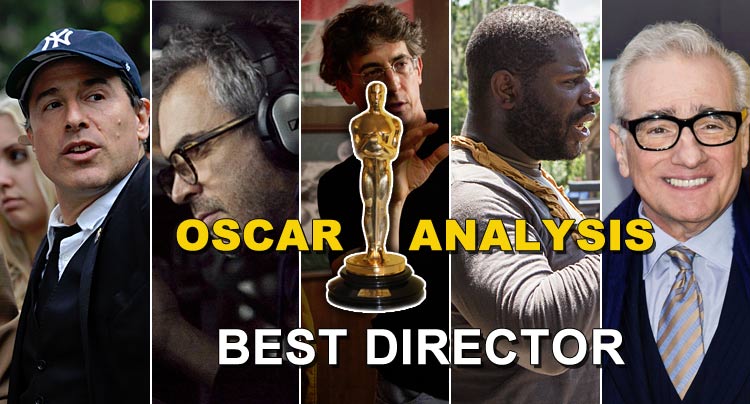 It requires a lot of restraint for me not to put down Steve McQueen as the director that should win the award on Oscar night. I believe he is one of the best upcoming directors of our time, so I am delighted that he is finally starting to be recognized for his brilliant work. In 12 Years a Slave, Steve McQueen was able to capture deeply moving performances from his cast and present difficult subject matter in a raw and powerful way. Despite all of this, I must concede that there is another director that might deserve the win just slightly more.
Alfonso Cuarón's expert filmmaking abilities are on full display in the visually breathtaking film Gravity. The film opens with what I would consider to be one of the best scenes in all of 2013. The director uses a long continuous (digitally blended) fifteen-minute shot that introduces the characters and also establishes the vast environment of space. Despite a relatively weak story, it would be hard to argue that the cinematography and visual effects found within the film are anything but downright stunning. Cuarón spent four years developing the film and it certainly shows.
The rest of the field in this category (David O. Russell, Alexander Payne, and Martin Scorsese) have tremendous amounts of reputation behind them. The only director that I would exclude from the category is David O. Russell for American Hustle. The film benefited from a stellar cast, but did not have much else going for it. Although it would be a long shot, it would have been nice to see Destin Cretton in this group for his breakout indie film Short Term 12. Other worthy nominees for Best Director are Derek Ciafrance for The Place Beyond the Pines and Paul Greengrass for Captain Phillips. However, the biggest nomination snub from the Academy was the absence of Spike Jonze on the ballot. His vision in the film Her was one of the most original and artistic achievements in cinema that 2013 had to offer.
Category Predictions
Who Should Win: Alfonso Cuarón – Gravity
Who Will Win: Alfonso Cuarón – Gravity
Deserves A Nomination: Spike Jonze – Her
Best Director Nominees
David O. Russell – American Hustle (review)
Alfonso Cuarón – Gravity (review)
Alexander Payne – Nebraska (review)
Steve McQueen – 12 Years a Slave (review)
Martin Scorsese – The Wolf of Wall Street (review)
Previous Category Analysis
Best Shorts
Best Supporting Actress
Best Supporting Actor
Best Original Screenplay
Best Adapted Screenplay
Best Foreign Film
Best Documentary
Best Actress
Best Actor