2011 Oscar Nominations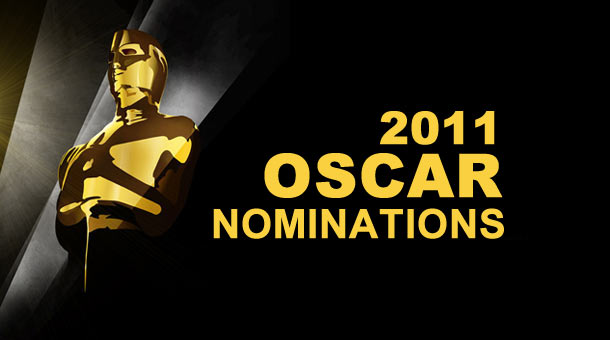 The 2011 Oscar nominations were announced this morning with The King's Speech leading the way for the 83rd Academy Awards. The film, which also led the Golden Globes nominations (but only took home 1 award), took 12 nominations which include; Best Picture, Best Director, Best Actor and Best Supporting Actress. Surprisingly, The Social Network only took 8 which tied Christopher Nolan's Inception and behind Joel and Ethan Coen's True Grit which had 10 nominations.
Another surprise was Christopher Nolan's absence from the Best Director's category. But another person's snub is another person's gain as Darren Aronofsky earns his first ever Oscar nomination for Black Swan in the Best Director category. Some say he was snubbed two years ago in that category for The Wrestler.
Even though there were a few surprises, most of the nominations were fairly predictable, especially if you paid attention to the Golden Globe and Independent Spirit Award nominations. Most of the leading nominations were mostly expected.
See who I predict will win Oscars
It was a very solid year for cinema making the award shows very interesting to watch as there was a lot of strong competition all around. The 2011 Oscar winners will be announced on February 27th (a day after the Independent Spirit Awards).
Best Picture:
Black Swan
The Fighter
Inception
The Kids Are All Right
The King's Speech
127 Hours
The Social Network
Toy Story 3
True Grit
Winter's Bone
Best Actor:
Javier Bardem, Biutiful
Jeff Bridges, True Grit
Jesse Eisenberg, The Social Network
Colin Firth, The King's Speech
James Franco, 127 hours
Best Actress:
Annette Bening, The Kids Are All Right
Nicole Kidman, Rabbit Hole
Jennifer Lawrence, Winter's Bone
Natalie Portman, Black Swan
Michelle Williams, Blue Valentine
Best Director:
Darren Aronofsky, Black Swan
David O. Russell, The Fighter
Tom Hooper, The King's Speech
David Fincher, The Social Network
The Coens, True Grit
Best Supporting Actor:
Christian Bale, The Fighter
John Hawkes, Winter's Bone
Jeremy Renner, The Town
Mark Ruffalo, The Kids Are All Right
Geoffrey Rush, The King's Speech
Best Supporting Actress:
Amy Adams, The Fighter
Helena Bonham Carter, The King's Speech
Melissa Leo, The Fighter
Hailee Steinfeld, True Grit
Jacki Weaver, Animal Kingdom
Best Original Screenplay:
Mike Leigh, Another Year
David Seidler, The King's Speech
Christopher Nolan, Inception
Lisa Cholodenko & Stuart Blumberg, The Kids Are All Right
Scott Silver, Paul Tamasy & Eric Johnson, The Fighter
Best Adapted Screenplay:
Danny Boyle & Simon Beaufoy, 127 hours
Aaron Sorkin, The Social Network
Michael Arndt, John Lasseter, Andrew Stanton, Lee Unkrich, Toy Story 3
The Coens, True Grit
Debra Granik & Anne Rosellini, Winter's Bone
Best Foreign Film:
Biutiful
Dogtooth
In A Better World
Incendies
Outside The Law
Best Animated Film:
How to Train Your Dragon
The Illusionist
Toy Story 3
Best Cinematography:
Black Swan
Inception
The King's Speech
The Social Network
True Grit
Best Art Direction:
Alice in Wonderland
Harry Potter and the Deathly Hallows Part I
Inception
The King's Speech
True Grit
Best Costume Design:
Alice in Wonderland
I Am Love
The King's Speech
The Tempest
True Grit
Best Original Song:
"Coming Home", Country Strong
"I See the Light", Tangled
"If I Rise", 127 Hours
"We Belong Together", Toy Story 3
Best Original Score:
How to Train Your Dragon, John Powell
Inception, Hans Zimmer
The King's Speech, Alexandre Desplat
127 Hours, A.R. Rahman
The Social Network, Trent Reznor and Atticus Ross
Best Documentary:
Exit Through the Gift Shop
Gasland
Inside Job
Restrepo
Waste Land
Best Film Editing:
Black Swan
The Fighter
The King's Speech
127 Hours
The Social Network
Best Makeup:
Barney's Version
The Way Back
The Wolfman
Best Sound Editing:
Inception
Toy Story 3
TRON: Legacy
True Grit
Unstoppable
Best Sound Mixing:
Inception
The King's Speech
Salt
The Social Network
True Grit
Best Visual Effects:
Alice in Wonderland
Harry Potter and the Deathly Hallows Part 1
Hereafter
Inception
Iron Man 2
Best Documentary (Short Subject):
Killing in the Name
Poster Girl
Strangers No More
Sun Comes Up
The Warriors of Qiugang
Best Visual Short Film (Animated):
Day & Night
The Gruffalo
Let's Pollute
The Lost Thing
Madagascar, carnet de voyage (Madagascar, a Journey Diary)
Best Short Film (Live Action):
The Confession
The Crush
God of Love
Na Wewe
Wish 143