The Kids Are All Right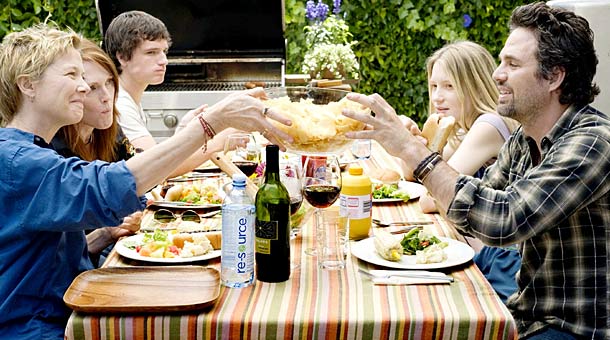 The Kids Are All Right is a film about an unconventional family dealing with the struggles of marriage and raising children that any family can relate to. For better or worse the storyline is straightforward and safe, making it relatable but ultimately very predictable. The cast and screenwriting make it interesting enough to watch even though at times it feels like more could have been done.
Life is neither perfect nor easy but more specifically neither is marriage. That is the message The Kids Are All Right delivers. Nic (Annette Bening) and Jules (Julianne Moore) are a happily married lesbian couple who both have teenage children, Joni and Laser, from the same anonymous sperm donor. Nic is a doctor and Jules is currently trying to start up her own landscape design business.
Joni recently turned 18 years old and is spending her final summer at home before leaving for college. Joni and Laser are aware that they are half-siblings from the same father but different mothers and now that Joni is of age to request to get in touch with their biological father, she does so.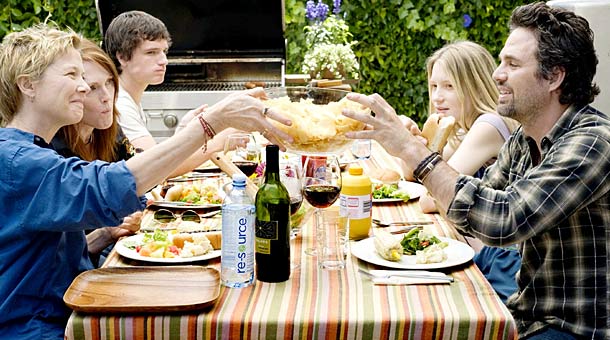 Their father is an easy-going hippie named Paul (Mark Ruffalo) who is in charge of an organic restaurant and garden. He receives a call out of the blue informing him that his two children would like to meet up with him. Even caught off-guard with this news he, as he normally does, has a nonchalant cool-guy attitude about the situation and eagerly accepts the children's request.
Paul meets up and eventually bonds with the two children. Joni seemed to drawn closer to him than Laser did but I think it would be pretty typical for a 15 year old boy to be hesitant to open up to his father after just meeting him. Nic and Jules soon learn about the children bonding with Paul and are accepting of it although perhaps feel a little uneasy.
After meeting with the whole family, Paul learns that Jules is looking for landscape design work and hires her to do some work. Because Nic is territorial she becomes concerned that Paul is intruding her life. It turns out her instincts were not wrong when she finds out that Paul and Jules have moved on from just hanging out in the garden to hanging out in the bedroom.
The acting performances were solid and earned nominations at the Oscars and Independent Spirit Awards for both Annette Bening and Mark Ruffalo. While I understand Ruffalo's nomination as he does a good job of playing the cool-guy father figure while giving some comedic relief, I do not understand Bening getting nominated for Best Female Lead over Julianne Moore. Moore deserves just as much recognition as Bening if not more for her roles as the heart and soul of the relationship who has her faults.
Lisa Cholodenko's The Kids Are All Right is a very realistic and honest film, but I felt there could have been more done with the plot. I respect a film that contains as much honesty as this did and I do enjoy loose endings to a film but the emotional connection needs to be strong and deep to really be effective, which is where the film faltered a bit for me.
The Kids Are All Right Movie review