2011 Oscar Predictions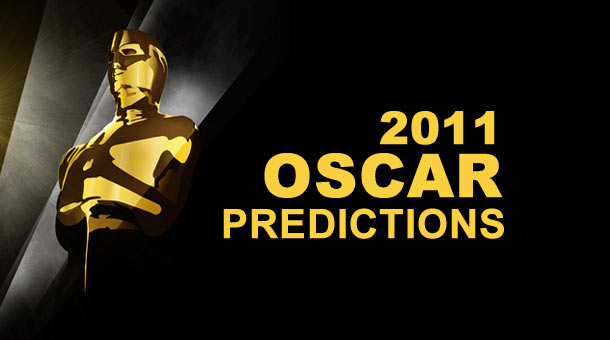 These are my predictions for the 2011 Oscars which will be held on February 27th, 2011 at the Kodak Theater in Hollywood, CA. This is not a list of who I think deserves to win, but rather a list of who I think will win the awards. Some of them are a shot-in-the-dark such as the sound, make-up and short film categories but I included my best guesses on them.
See the full list of nominations
If my predictions hold true, The Social Network would walk away with the most awards with six, followed by Inception with four comprised mostly of the technical awards. With the strong line-up of films this year, I think you will see a more spread out list of winners. I predict Black Swan, True Grit and 127 Hours to each receive one award.
Best Picture:
The Social Network
Best Actor:
Colin Firth, The King's Speech
Best Actress:
Natalie Portman, Black Swan
Best Director:
David Fincher, The Social Network
Best Supporting Actor:
Geoffrey Rush, The King's Speech
Best Supporting Actress:
Hailee Steinfeld, True Grit
Best Original Screenplay:
Christopher Nolan, Inception
Best Adapted Screenplay:
Aaron Sorkin, The Social Network
Best Foreign Film:
Dogtooth
Best Animated Film:
Toy Story 3
Best Art Direction:
Inception
Best Costume Design:
The King's Speech
Best Original Song:
"If I Rise", 127 Hours
Best Original Score:
The Social Network, Trent Reznor and Atticus Ross
Best Documentary:
Exit Through the Gift Shop
Best Film Editing:
The Social Network
Best Makeup:
The Wolfman
Best Sound Editing:
Inception
Best Sound Mixing:
The Social Network
Best Visual Effects:
Inception
Best Documentary (Short Subject):
Killing in the Name
Best Short Film (Animated):
Let's Pollute
Best Short Film (Live Action):
The Crush