Winter's Bone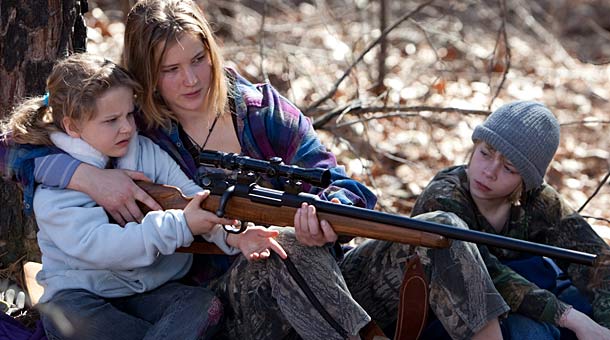 Winter's Bone will likely be the film most people never heard of that is up for the 2011 Best Picture Award. In terms of the other nine films up for Best Picture, it did not generate nearly the amount of hype in Hollywood. The story is a little different in indie-land as it did receive the most nominations of the Independent Spirit Awards and was a double prize winner at Sundance 2010.
Based on the novel by Daniel Woodrell, Winter's Bone is about a 17 year-old girl named Ree Dolly (Jennifer Lawrence). She is in charge of the household by taking care of her little brother and sister and her mentally absent mother. This all takes place in the poor rural area of the Ozarks.
The local Sheriff shows up at their home and inform Ree that her father, Jessup Dolly, is now out on bond because he is cooking meth again. He explains that if he does not show up for his court date, she will lose the house and land because he put those up on the bond. Ree confidently tells the lawman she will find him.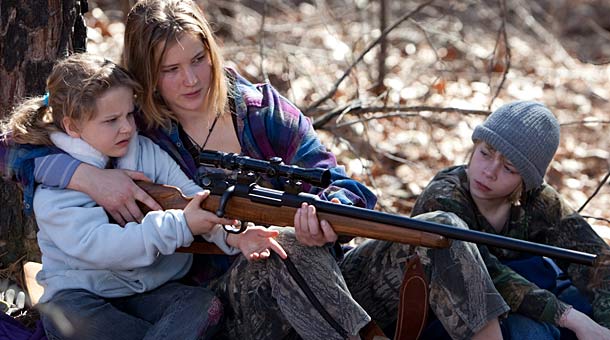 She is determined to find her father, so she takes it upon herself to go around town asking if anyone has seen him only to end up with the same answer over and over, stay out of his business. No one seems to want to help her out but she is persistent. Her determination is less of a choice as it is a responsibility, after all her brother and sister depend on her to put food on the table and roof over their heads.
Jessup's brother Teardrop (John Hawkes) stops by to tell Ree that Jessup did not show up for his court date. He urges her to sell the woods for the money before the government takes it away. She quickly declines. But later it does cross her mind as she slowly begins to accept she may not find her father at all, let alone alive.
Desperate for answers on what to do next, she goes as far as to ask her mother for advice. Pleading with her to help her out just this one time. This is hard for her to do because of her mother's condition; she knew she would not get an answer. But it is hard for her also because it is against her basic philosophy. Earlier in the film Ree tells her brother, "Never ask for what ought to be offered" which she is clearly doing. It is easily one of the most emotional scenes as her mother continues to stare off and ignore her.
A bondsman shows up to tell Ree that her father never showed up for his court date. This comes as little surprise to Ree. The bondsman goes on to tell her that even with the land, Jessup was short on bond. Out of nowhere an anonymous person came in and covered the rest in crinkled money. This means that someone wanted Jessup out quickly and this provides Ree with a stronger lead. She will need it as the bondsman informs her that she has about a week left before the property is gone.
In almost any other year, Jennifer Lawrence would have probably have received an Oscar for her performance as Rolly Dee. Unfortunately for her, this year she was up against some stiff competition from Annette Bening, Nicole Kidman, Michelle Williams and the favorite to win, Natalie Portman. The role is not an easy one, playing a 17 year-old hillbilly who is in charge of the household. She also had to learn how to skin squirrels, chop wood and fight for her role in the film.
Debra Granik's Winter's Bone came up a little short for me but maybe that is because the terrific acting surpassed the sluggish storyline. What it did do right though, is give off a genuine feel with a chilling conclusion. There is no glamour shown in the film but these characters are not used to seeing any either.
Winter's Bone Movie review