Way Too Indie Hangout – Best of 2014 (So Far) Part 3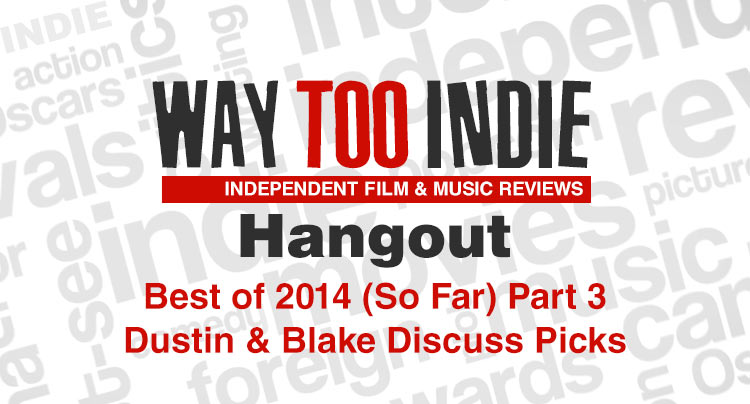 We're already halfway through 2014, so that means it's time to take a look back over the last 6 months and see what's stood out. As a preview for our staff list of the 15 best films of 2014 so far, a few of us will be pairing up and going through our top five films of the year.
In our third and finally installment of our special "Best of 2014" so far Hangout series, Blake and I talk about our Top 5 films of the year. We ended up agreeing with most of each other's picks, but had a fair amount of differences of opinion on each other's top picks. We also reveal our honorable mentions and films we look forward to later in the year. Watch the Hangout below to see it all play out.
Also, be sure to watch the other sessions: Part 1 with CJ and Nik and Part 2 with Bernard and Ananda.
Dustin's Top 5
#3
The LEGO Movie
#4
Young & Beautiful
(review)
#5
Like Father, Like Son
(review)
Blake's Top 5
#3
Edge of Tomorrow
#4
The LEGO Movie
Hangout Timestamps
0:00 – 1:34 – Intro
1:35 – 9:15 – Honorable Mentions
9:16 – 10:59 – Blake's #5
11:00 – 16:00 – Dustin's #5
16:01 – 21:28 – Blake's #4
21:29 – 28:20 – Dustin's #4
28:21 – 36:50 – Blake's #3
36:51 – 40:35 – Dustin's #3
40:36 – 45:16 – Blake's #2
45:17 – 48:30 – Dustin's #2
48:31 – 57:10 – Blake's #1
57:11 – 105:00 – Dustin's #1
105:01 – 108:20 – Looking ahead
108:21 – 109:27 – Outro