Way Too Indie Hangout – Best of 2014 (So Far) Part 1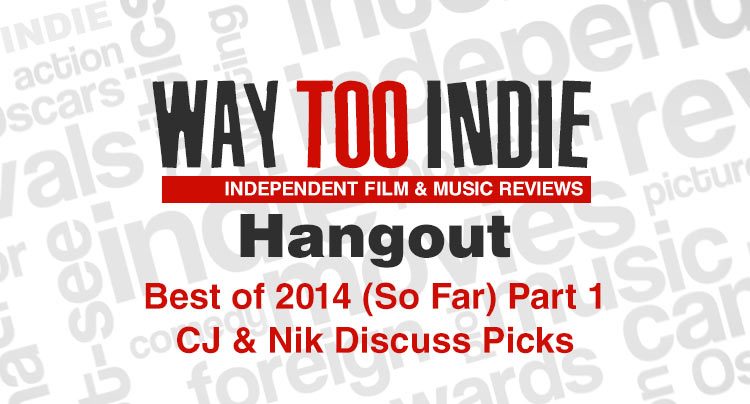 We're already halfway through 2014, so that means it's time to take a look back over the last 6 months and see what's stood out. As a preview for our staff list of the 15 best films of 2014 so far, a few of us will be pairing up and going through our top five films of the year.
This is the first of three Hangouts we'll be doing. I've teamed up with fellow Way Too Indie reviewer Nikola Grozdanovic, and we'll both be going through our respective picks for best of the year. Watch our Hangout below, and take a peek at our Top 5's as well if the anticipation is killing you. In our Hangout we also discuss a few honorable mentions, the films we wish we could have seen, and we end things by looking at what's to come in the second half of the year.
Be sure to look out for Part 2 of our Best of 2014 (So Far) Hangouts, where our West Coast writers Ananda Dillon and Bernard Boo will discuss their picks.
CJ's Top 5
#1 
Only Lovers Left Alive
(review)
#2 
A Spell To Ward off the Darkness
(review)
#3 
The LEGO Movie
#4 
Vic + Flo Saw A Bear
(review)
Nik's Top 5
#2 
Only Lovers Left Alive
(review)
#3 
The Immigrant
#5 
The LEGO Movie
Hangout Timestamps
0:00 – 3:49 – Intro
3:50 – 12:59 – Honorable Mentions
13:00 – 17:56 – Films we wish we could have seen in time
17:57 – 27:11 – CJ's #5
27:12 – 35:00 – Nik's #5
35:01 – 48:03 Nik's #4
48:04 – 57:50 CJ's #4
57:51 – 1:09:42 – Nik's #3
1:09:43 – 1:10:25 – CJ's #3
1:10:26 – 1:22:05 – CJ's #2
1:22:06 – 1:33:17 – Nik's #2/CJ's #1
1:33:18 – 1:48:47 – Nik's #1
1:48:48 – 1:59:30 – Looking ahead
1:59:31 – 2:03:00 – Outro