Way Too Indie Hangout – Best of 2014 (So Far) Part 2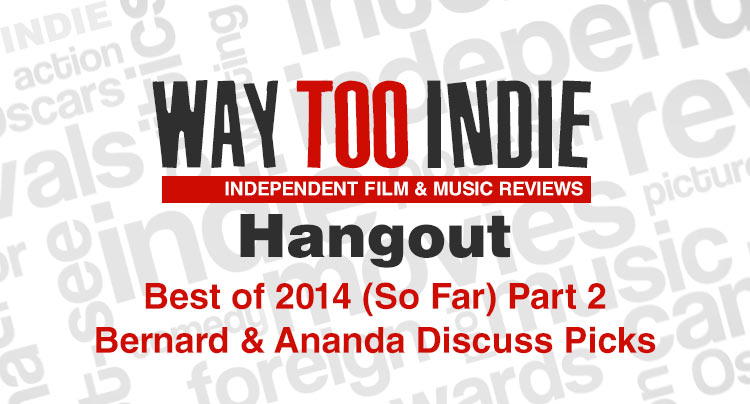 We're already halfway through 2014, so that means it's time to take a look back over the last 6 months and see what's stood out. As a preview for our staff list of the 15 best films of 2014 so far, a few of us will be pairing up and going through our top five films of the year.
Welcome to the second installment of a three part Hangout series of our Best Films of 2014 (So Far). In this video, Ananda and I talk each talk about our Top 5 films of 2014. Watch our Hangout to see where we agreed and disagreed on each other's list! We also discuss a couple honorable mentions that didn't quite make our list.
Be sure to check out our Part 1 of this series and look out for the final Part 3 of our Best of 2014 (So Far) Hangouts, where our Midwest writers Dustin Jansick and Blake Ginithan discuss their picks.
Bernard's Top 5
#1 
Under The Skin
(review)
#2 
The Grand Budapest Hotel
(review)
#5 
Tim's Vermeer
(review)
Ananda's Top 5
#1 
The LEGO Movie
#3 
The Grand Budapest Hotel
(review)
#4 
Only Lovers Left Alive
(review)
#5 
Frank
Hangout Timestamps
0:00 – 2:20 – Intro
2:21 – 7:30 – Honorable Mentions
7:31 – 10:00 – Ananda's #5
10:01 – 13:13 – Bernard's #5
13:14 – 18:25 – Ananda's #4
18:26 – 21:49 – Bernard's #4
21:50 – 27:30 – Ananda's #3
27:31 – 31:00 – Bernard's #3
31:01 – 35:35 – Ananda's #2
35:36 – 38:00 – Bernard's #2
38:01 – 47:05 – Ananda's #1
47:06 – 53:15 – Bernard's #1
53:16 – 54:10 – Recap of lists
54:11 – 60:00 – Looking ahead