Nymphomaniac Vol. 2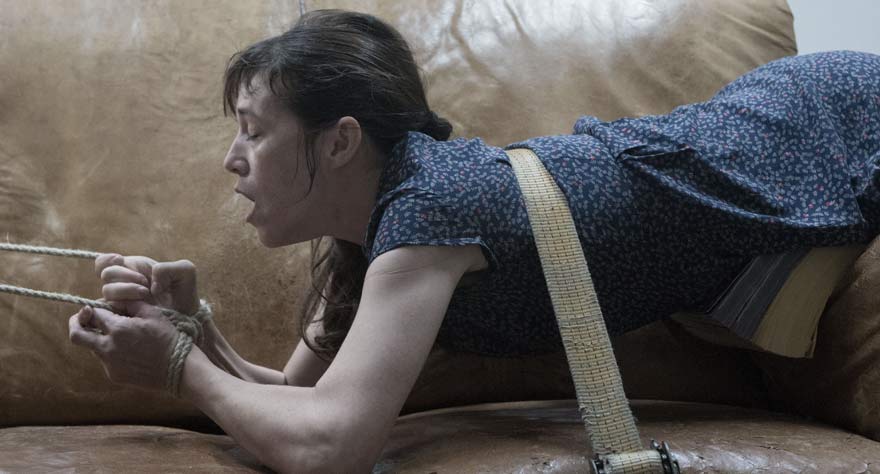 A complimentary companion to Volume 1 while distinctly upping the ante in both shock and style.
Class is back in session! After the first half of Nymphomaniac ended on one of Joe's (Charlotte Gainsbourg) biggest emotional pivot points, the break between the two volumes is almost welcome. That's only because Vol. 1 is so inundated with cinematic beauty, it almost doesn't let you breathe for a full two hours. The fact that the first volume is such a stylistically bold and lovely achievement puts me in a bit of a precarious situation; how do you objectively assess a second half of a film and treat it as a whole? It's easier with the first half because the film starts at the beginning and you're watching it with fresh eyes. Here, the start is the middle and the mind scuttles to recall events instead of investing in the present. There's no way around it—it's impossible to treat Vol. 2 as a whole, so if you haven't seen Vol.1 yet it's best you stop reading and get on that first. That said, there's no major spoilers ahead.
As soon as Vol. 2 begins, there's a sense of major discord from the first half. Whereas the visually delectable Vol. 1 starts off on the sardonic notes of a Rammstein song playing over seemingly mundane events, the subdued intimacy in Vol. 2's beginning puts us in an immediate state of unease. In order to truly be in the moment with the characters, the viewer has to recall that Vol. 1 ends with the devastating line "I can't feel anything", uttered by Young Joe (Stacy Martin) while she's having sex with Jerome (Shia LaBeouf). We have to remember how her roller-coaster feelings for Jerome finally blossomed from pity into undeniable love, and how her decision to funnel her nymphomania into one sexual partner started to foreshadow dire consequences. One of the opening moments of Vol. 2 illustrates: after vigorously trying to masturbate with no climactic success, Young Joe goes into the bathroom, takes a wet towel and proceeds to beat her vagina with it in frantic desperation.
Moments like these lose their emotional impact due to the disjointed release schedule of Nymphomaniac in North America, but they cannot be taken lightly within the whole context. No doubt, when the film is released in its entirety—hopefully uncut, and with Von Trier's blessings—the film will be re-watched by its fans from start to intended finish, in order to get the full effect in one sitting.
Remember how my first review said that Nymphomaniac is Von Trier's most accessible movie to date? Yeah, about that. Vol. 2 treads the all-too-familiar Von Trier ground of disturbance, reminding us that it comes from the same mind that created Antichrist (in one particular scene, Von Trier quite literally makes sure we remember.) The darkness of Vol. 2 eclipses the jocular style of Vol. 1 within minutes, and right up until its final, brilliant conclusion (one of the biggest mixed bags of emotion I've felt for an ending in years), makes Vol. 1 look like a pleasant stroll on a lazy Sunday. That, in and of itself, is one of the phenomenal traits built into the film's fiber, and reason enough to make Nymphomaniac a scintillating cinematic event. The story grows as organically as its characters do.
As Joe grows from an innocent young girl who expresses herself through sex without giving it much thought, into a woman who has to cope with motherhood and battle her condition both internally and externally, the progression from light to darkness is only natural. Even the relationship between Joe and Seligman (Stellan Skarsgard) plunges into darkened depths; secrets are unearthed and Seligman's tangents–having provided much amusement in Vol. 1–become more perceptible to Joe's criticism and adorn a more somber vibe. When her relationship with Jerome begins its inevitable decline, the theme of sadomasochism is introduced and we see the boy who was once Billy Elliot (Jamie Bell, as the Kafkaesque 'K') playing one of Lars Von Trier's darkest characters ever. An improbable casting story if there ever was one. Heavily veiled in religious lexicon, this theme contains some of the hardest scenes to watch, but every painful moment and every disturbing feeling is intrinsic to Joe's transformation.
After being silenced with Vol. 1's inviting approach, the general murmur amongst the skeptics is back to "There's the Lars we know!" with Vol 2. But while those critics focus on highlighting all of Von Trier's taboos for all the wrong reasons, they're missing out on a truly transgressive piece of cinema. Nymphomaniac holds a deep wisdom within its clutches, and uses a woman's sexuality as a scalpel to rip open the very fabric of humanity. In more ways than one, Von Trier has shown how big of a feminist he really is, and–as sad as it sounds—that's still pretty unique in today's world. There's no doubt that fans of Lars Von Trier will fall madly in love with the complete Nymphomaniac because they'll understand why Vol. 2 has to swap humor for gloom, and balance out its style for further substance. As the harder to watch, much more affective half, Vol. 2 compliments the first volume (as if it needed more complimenting) and re-affirms that Von Trier has made a masterpiece.
Nymphomaniac Volume 2 trailer
Nymphomaniac Vol. 2 Movie review