15 Most Anticipated Films of TIFF 2014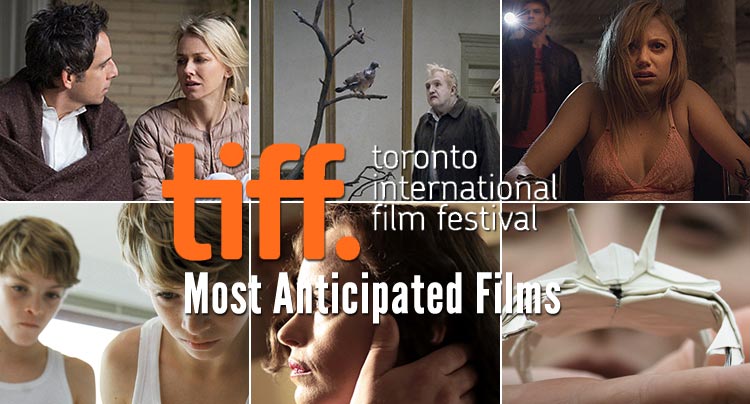 Yes, it's that time of year again. As the summer begins to wind down, cinephiles begin to flock to Canada as the Toronto International Film Festival kicks off another year. With almost 300 feature-length films playing over 11 days (along with over 100 shorts), for some people this is more of a marathon than a festival. And for film-obsessives like ourselves, it's like being a kid in a candy store.
Now, we won't lie: when we saw this year's line-up we weren't as excited as we were in the last few years, but there's still a lot to watch. There aren't as many films coming in with the levels of hype as 12 Years A Slave or Gravity, but that's because it's a different year. The Oscar race is wide open at this point, and a lot of films this year are wild cards rather than sure bets. Could it mean another out of nowhere discovery like Slumdog Millionaire or The Hurt Locker?
We got a bit of a head start on TIFF this year with our coverage at Cannes, so myself, our editor-in-chief Dustin and fellow WTI writer Nikola put our heads together and came up with our 15 most anticipated films at TIFF this year. We've got some new discoveries, films we couldn't get to at Cannes, exciting follow-ups, legendary auteurs and more in our list, so take a look below to read what we picked and why. And if you happen to be in Toronto between September 4th and 14th, be sure to check out one of these movies at the festival.
Our 15 Most Anticipated Films of TIFF 2014
Bird People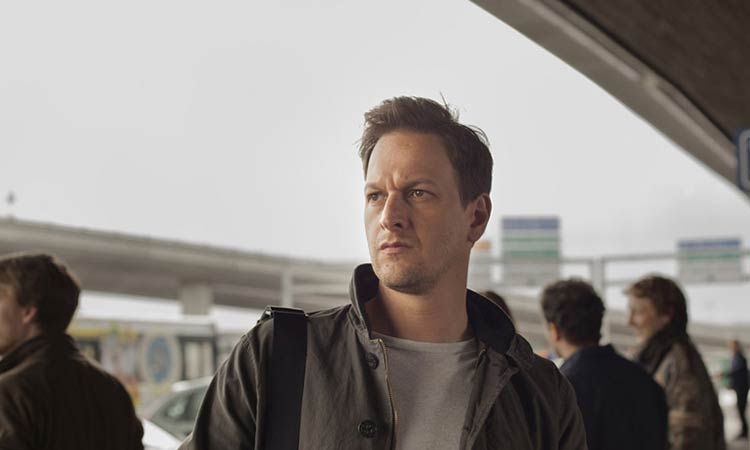 I don't know much about Bird People, and yet it's something I'm dying to see this year at TIFF. Why? Well, back when Bird People premiered at Cannes in the Un Certain Regard sidebar, it wasn't on my radar. Then the reviews started coming in, with people comparing it to In the City of Sylvia. I adore that film, and even wrote about it for the site earlier this year. Anything similar to In the City of Sylvia will immediately pop up on my radar, and when critics also said the film has a major surprise that people should avoid finding out about before watching, I was sold. I haven't read anything about Bird People since, and that mystery is largely why I'm making sure I watch it at TIFF. [C.J.]
Eden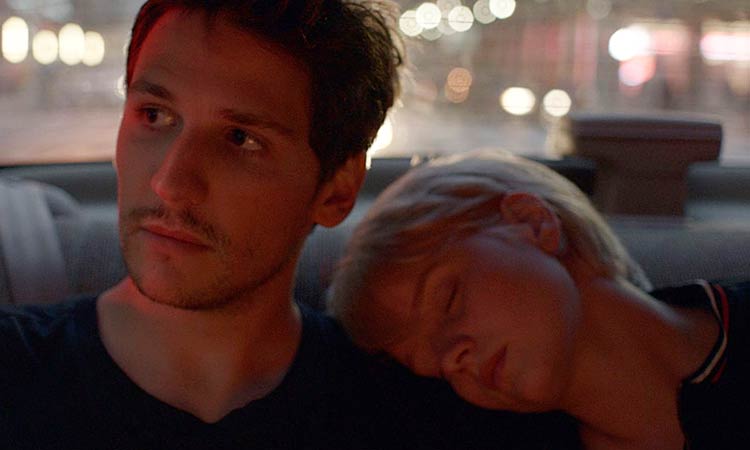 I was completely enamored with Mia Hansen-Løve's previous film Goobye First Love, which perfectly captured relationship quarrels. In her third feature film, Hansen-Løve recalls the rise of French electronic music that gained popularity in the 1990s. While EDM is at the heart of the story (and likely the soundtrack too), Eden also contains a relationship-observation vantage point we come to expect from Hansen-Løve. The other reason we're excited for the film is it stars two indie darlings, Brady Corbet (Martha Marcy May Marlene, Simon Killer) and Greta Gerwig (Frances Ha, Lola Versus). This is one of those films that might not have a lot of attention before the festival, but could have people buzzing afterwards. [Dustin]
Goodnight Mommy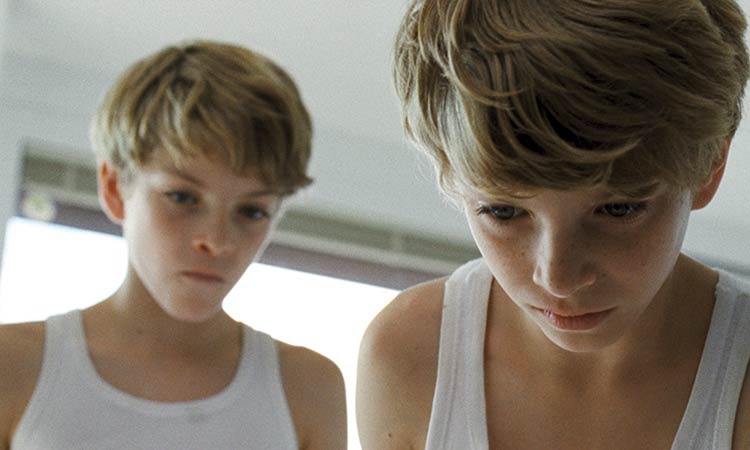 Before the official lineup for TIFF came out, some of the early rumors predicted Ulrich Seidl's In the Basement to be at the festival. Being a huge fan of the director, I was saddened to learn the film would show in Venice instead. But Seidl will still have a part in this festival, credited as a producer of the bizarre looking Goodnight Mommy. The film is about two young twins who begin to question their mother's identity when a cosmetic surgery leaves her buried beneath bandages. All cooped up in an isolated countryside home, the two boys become restless and out of control. It sounds equal parts absurd and nerve-wracking, a combination we don't mind here at Way Too Indie. [Dustin]
Horse Money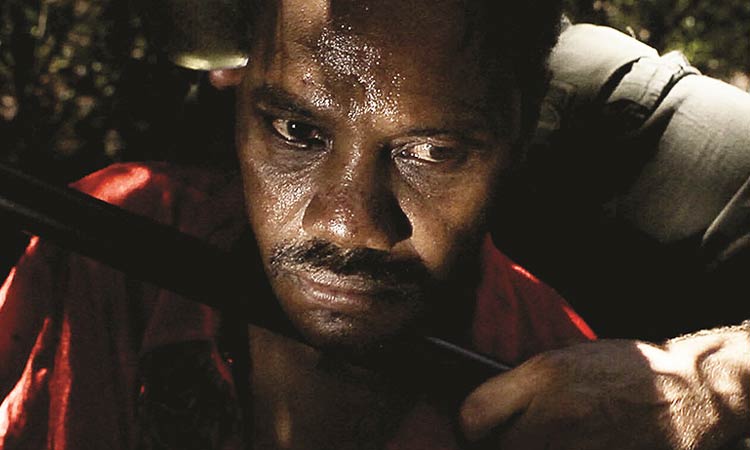 Pedro Costa has scuffled around the arthouse circuit since the 80s, but it's the Fontainhas trilogy (Ossos, In Vanda's Room and Colossal Youth) and their subsequent Criterion packaging, that perked up people's ears and opened up most cinephiles' eyes on this Portuguese master's mesmerizing works. This is cerebral, poetic cinema of the highest order, choreographed mise-en-scene fit to be framed and admired in the most respected of museums. Costa mostly focuses on the bottom-of-the-barrel lost souls in impoverished surroundings of his home country, and this year we will finally see his follow-up: Horse Money. The movie continues to follow Ventura, the main person of interest from Colossal Youth, as a revolution is bubbling. He's already won Best Director at the Locarno Film Festival, which is a good sign as any that Horse Money is much of the same cinema magic as his indelible trilogy. [Nik]
It Follows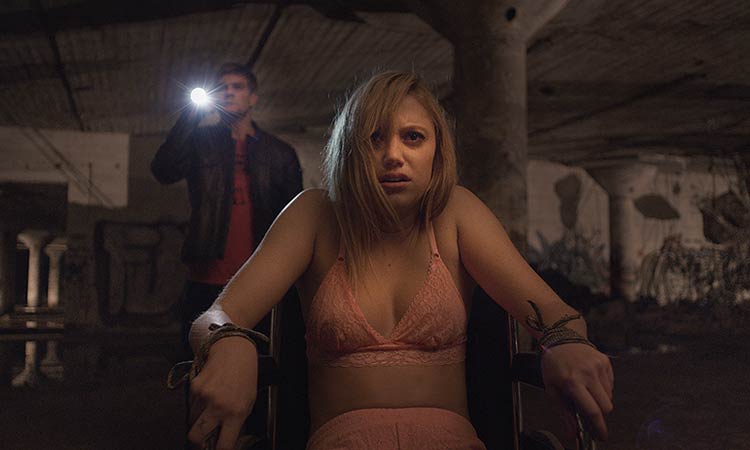 First making a splash at the Critics' Week sidebar in Cannes, It Follows now makes it way over to North America for a midnight premiere. Writer/director David Robert Mitchell's horror film deals with a 19-year-old girl receiving a sexually transmitted curse (yes, you read that right). Her curse is an entity taking the form of any person, an apparition only she can see, who begins slowly following her. When it catches up to her, she'll die. She can outrun it, but it'll always be following. Mitchell's premise sounds like wondrously creepy fun, an American take on something that sounds like it came straight out of J-horror. Buzz has been building steadily on this one since May, and we can't wait to check it out during TIFF. [C.J.]
The Keeping Room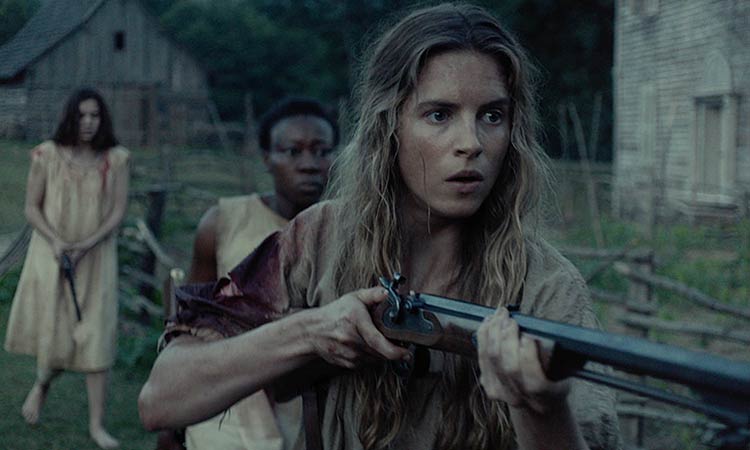 Brit Marling is one of my favorite upcoming actors, so any film with her name attached to it instantly sparks my interest. In The Keeping Room, she and Hailee Steinfeld are sisters who must defend their farm during the end of the American Civil War. Fighting along their side is their family's young slave (Muna Otaru) as two Yankee scouts aim to ravage their land and prosperity. The Keeping Room is based on a screenplay that ended up on the esteemed Black List back in 2012. And it's easy to see why considering the powerful subject matter. This remarkable story touches on several important historical events; the Civil War, women's rights, and slavery. American History films tend to sit well with Academy voters (Lincoln, 12 Years A Slavery), so don't act too surprised if The Keeping Room ends up being an early Oscar candidate. [Dustin]
Luna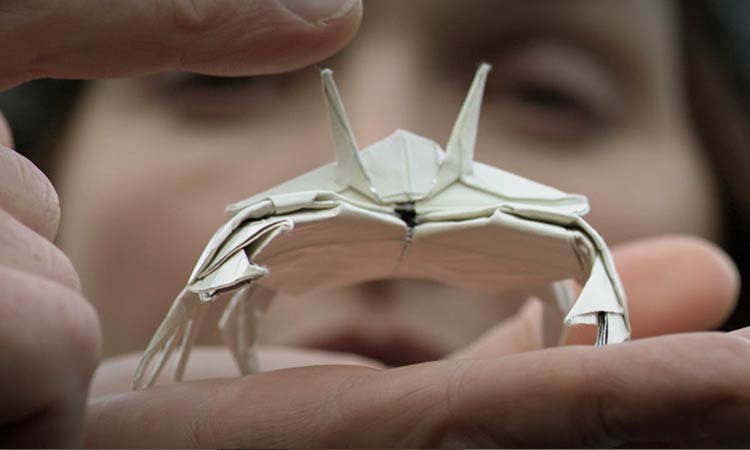 Admittedly this one might fly over many people's heads, and with 143 World Premieres at TIFF this year, it feels like Dave McKean's Luna is destined to be seen only by the major McKean fans. I count myself among this crowd, as many a night his art in comic books and graphic novels (particularly those written by Neil Gaiman,) kept me permanently stuck to the pages, jaw-dropped in a mixture of horror and awe. Check out Batman: Arkham Asylum written by Grant Morrison, or the covers of Gaiman''s Sandman series, to get the idea. MirrorMask was McKean's debut as a filmmaker, and it's a visual feast with art direction as darkly intriguing as some of his best artwork on print. Luna's trailer gives some cause for pause when it comes to the dialogue and performances, but there's a taste of what the story will look like, as it surrounds the death of a child and the re-imagining of said child's death through batshit fantastical scenarios. Sounds about right. Those of you following McKean will likely have been waiting for this one, but those who are yet to discover the man's artistic prowess are strongly advised to take a leap of faith with Luna. [Nik]
Miss Julie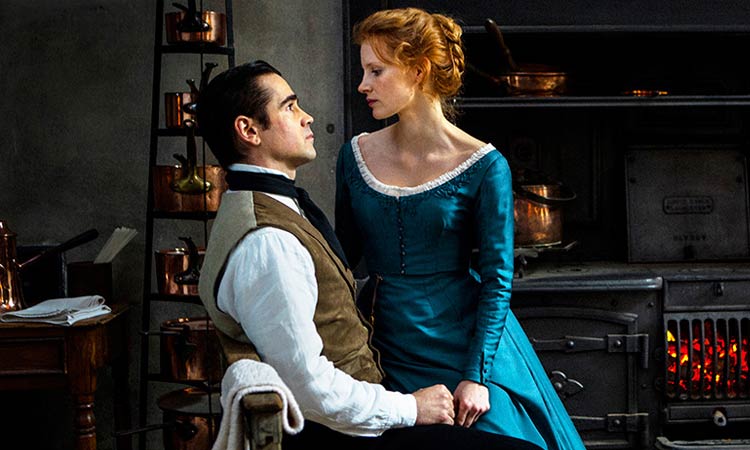 Everyone knows Liv Ullmann as one of Ingmar Bergman's main muses during his peak years, since she's helped make films like Persona, Shame, and Cries and Whispers some of the greatest from Bergman's canon. But, she's also pretty handy behind the camera as well. With the help of Bergman's natural talent for scriptwriting, she's directed Private Confessions and Faithless into compelling and potent chamber pieces. Now, after 14 years, Ullmann makes her comeback with a film adaptation of infamous Swedish playwright August Strindberg's Miss Julie. Set in Ireland, starring on-fire Jessica Chastain and fired-up Colin Farrell, the film details the power struggle between a countess and her valet, wrought with sexual tension. Austere Swedish cinema, two wonderful actors (say what you want about Farrell, then watch any of his arthouse roles and you'll see he's pretty great), Ullmann directing a Strindberg play, gorgeous Irish landscapes. Is it possible for this movie to be anything but absolutely fantastic?  [Nik]
The New Girlfriend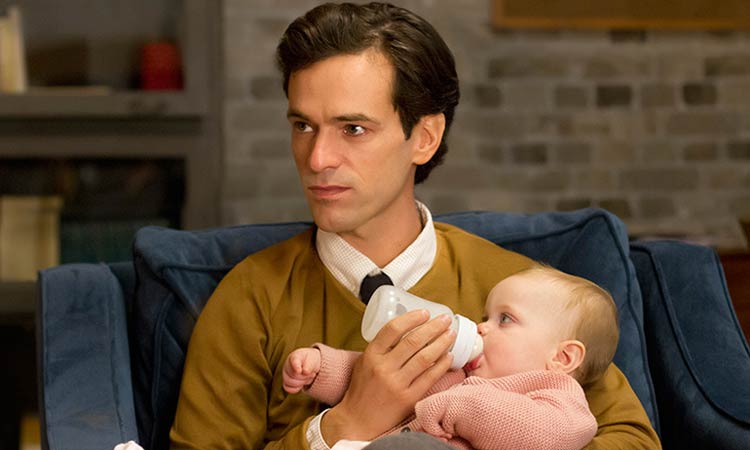 Toronto absolutely adores François Ozon. And there's no reason to blame them. The French auteur has shown fourteen of his films at the festival and his newest film The New Girlfriend marks his fifth in a row. Ozon tends to explore taboo topics and The New Girlfriend is no exception. A young woman (Anaïs Demoustier) discovers the husband (played by Romain Duris of Mood Indigo) of her late best friend enjoys cross dressing. Needless to say, we won't be surprised if the lines are long at TIFF for this film. [Dustin]
Nightcrawler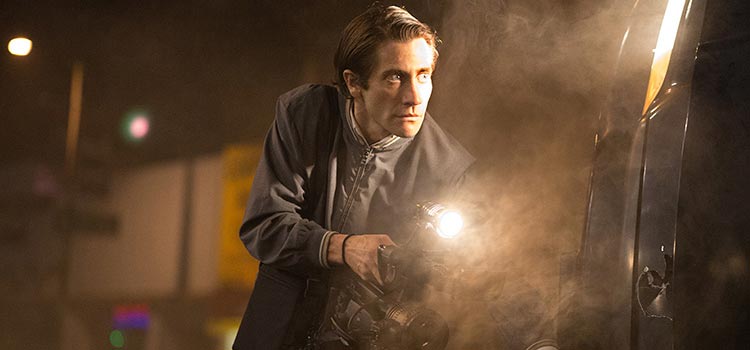 Dan Gilroy's Nightcrawler wasn't even supposed to make my list. But after reading more about it and, especially, after watching the trailer, the movie skyrocketed into my must-see list at TIFF. Apologies to Jean-Luc Godard's Goodbye To Language 3D which I'm sure is awesome. Gilroy's film deals with the underground world of freelance crime journalism, and it stars Jake Gyllenhaal. Sounds like ol' Dan stepped into a world designed by David Fincher, you say? Not so; Dan is the younger brother of Tony Gilroy, the director behind political super-thriller Michael Clayton and writer of the three original, adrenaline-injecting Bourne movies. Dan is a successful screenwriter in his own right, and now Nightcrawler is his directorial feature debut (he's also the sole writer credited.) Sounds like he's got more than enough pedigree and experience to tell a suspenseful crime story, and I for one am really excited. Just watch the trailer again, you'll see what I mean. [Nik]
Phoenix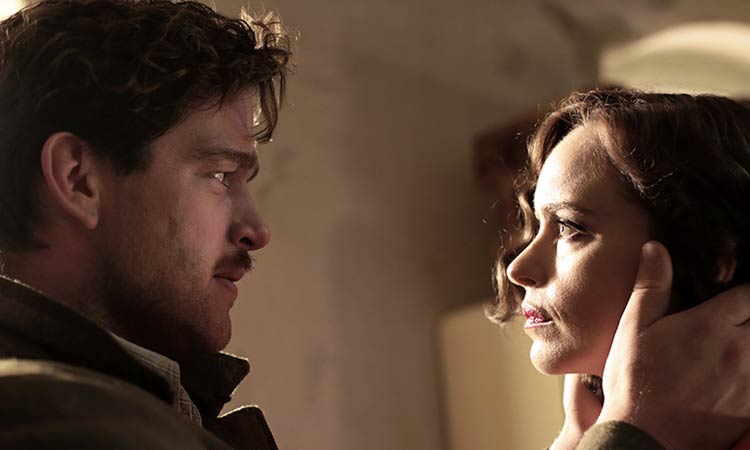 Personally speaking, all I needed to see were two names before deciding to put Phoenix high on my most-anticipated list: Christian Petzold and Nina Hoss. This pairing of director and actress might be one of the best ones in cinema right now. If you haven't seen Barbara, their last collaboration, do yourself a favour and watch it as soon as possible to understand why Phoenix is one of TIFF's more anticipated titles. Hoss plays Nelly, a Holocaust survivor undergoing facial reconstruction surgery after getting injured while imprisoned in a concentration camp. Nelly returns home after surgery searching for her husband, and in the process learns her husband might have been the one to hand her over to the Nazis. Petzold knows how to create brilliant drama, and with a plot like this it's hard to think Petzold will go wrong here. Phoenix will have its World Premiere at TIFF, and we're excited to be one of the first people to see it. [C.J.]
A Pigeon Sat on a Branch Reflecting on Existence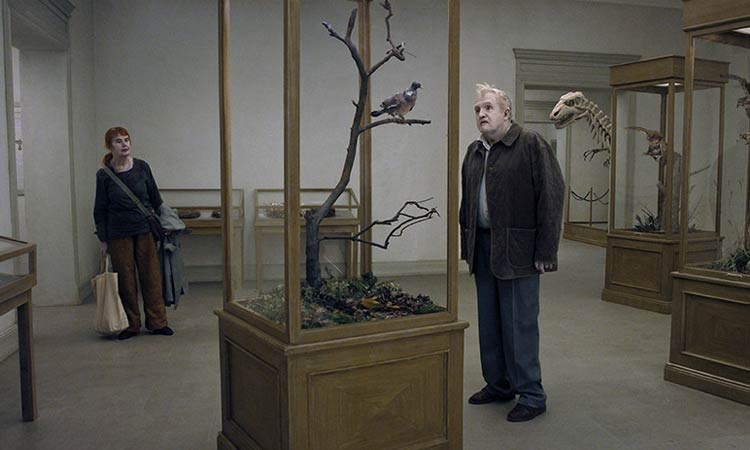 It's finally happening you guys. Roy Andersson is back after seven long years, and his latest is getting its North American premiere at TIFF. After the news of no Inherent Vice softly devastated me, I practically jumped up like a bona fide film geek when I heard that the other Andersson (the extra s means he's Swedish) will be coming to Toronto with A Pigeon Sat On A Branch Reflecting On Existence. Yep, still my favorite title of the year. I'm expecting the usual dose of existentialism and sandpaper-dry humor that made his Songs From The Second Floor (2000) and You, The Living (2007) such joys to watch. Though Andersson is mostly popular with reclusive cinephiles like myself, it's nice to see that Pigeon has been garnering hype since it's been on festival prediction lists for a few years now; hopefully this means more people will get to experience the bizarre, hilarious, and foppish world Roy Andersson so meticulously crafts with his distinctly angular, motionless camera style. Yum. [Nik]
Spring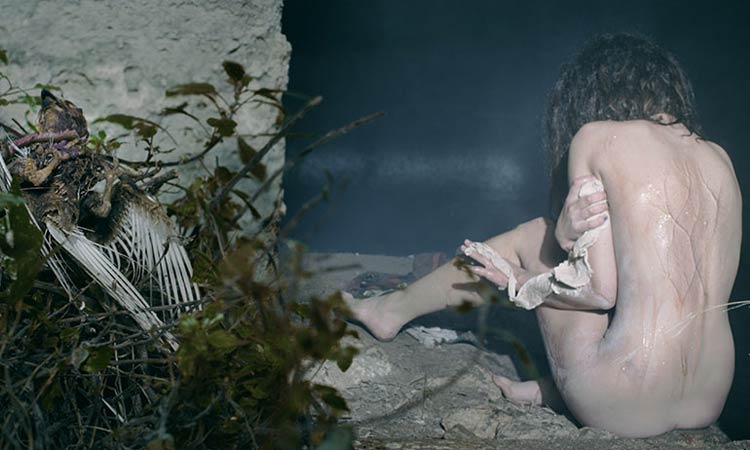 While fellow writer Bernard Boo wasn't a big fan of Resolution, I thought it was one of the best horror debuts in years. A smart, clever and refreshingly self-aware film, Resolution found a way to craft a compelling mystery while breaking down horror tropes and audience expectations – think of it as a cross between Cabin in the Woods and Funny Games, except with less finger-wagging and more creepiness. Spring is directors Justin Benson & Aaron Moorhead's follow-up, and it sounds like an interesting change of pace from their first film. After a young man's (Lou Taylor Pucci) mother dies, he heads off to Europe and ends up falling in love with a woman while visiting Italy. Sounds romantic, but this is a horror film, and it looks like this mystery girl has some sort of dark secret. Colin Geddes, the programmer who selected Spring for TIFF, calls the film "Before Sunrise with a supernatural twist." Maybe it's just me, but that alone has me looking forward to Spring. [C.J.]
Tokyo Tribe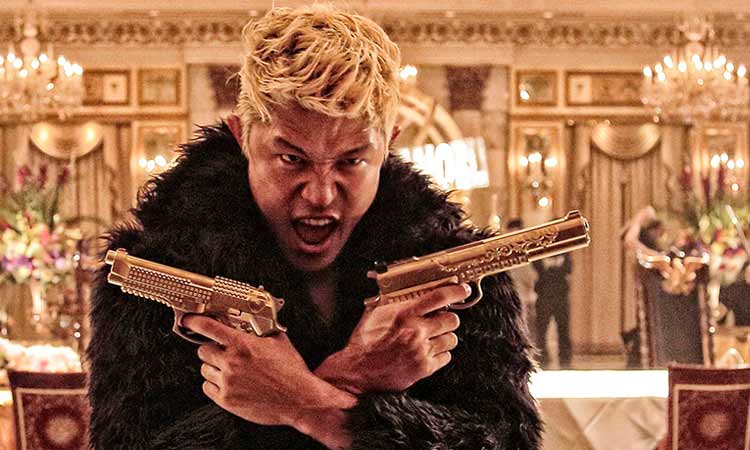 I'm an unabashed fan of Sion Sono all the way back to when I first saw Suicide Club. Last year at TIFF I reviewed Why Don't You Play in Hell? and thought it was a fun time. Tokyo Tribe looks like Sono has, once again, outdone himself. The incredible trailer, incomprehensible and so batshit-crazy you can't help but grin, looks like it'll be an uber-violent story about gang warfare with hip-hop musical numbers thrown in for good measure. May sound crazy to you, but it's par for the course in Sono's off-kilter imagination. Tokyo Tribe opens Midnight Madness this year, and it'll be one of the hottest tickets to get in that programme. Midnight Madness crowds love Sono (Why Don't You Play in Hell? won the audience award for the programme last year), so if you can snag a ticket be sure to go. [C.J.]
While We're Young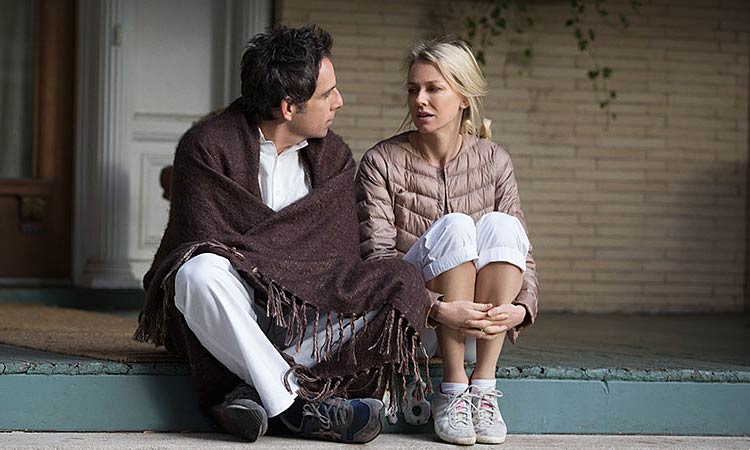 Noah Baumbach schmoozed Toronto audiences two years ago with his delightful indie comedy Frances Ha, so it's no surprise a lot of attention surrounds his newest film While We're Young. While the previous film focused on an free-spirited twenty-something dancer who was anything but mature, Bamubach's latest focuses from a different perspective. Here a middle-aged couple (Ben Stiller and Naomi Watts) begin to question themselves after meeting a much younger and hip couple. Using New York City as his backdrop once again, Baumbach explores how relationships and ambitions can fade with age. If While We're Young is even remotely as good as Frances Ha, we'll be in for a real treat. [Dustin]