21st Century Discoveries: In The City of Sylvia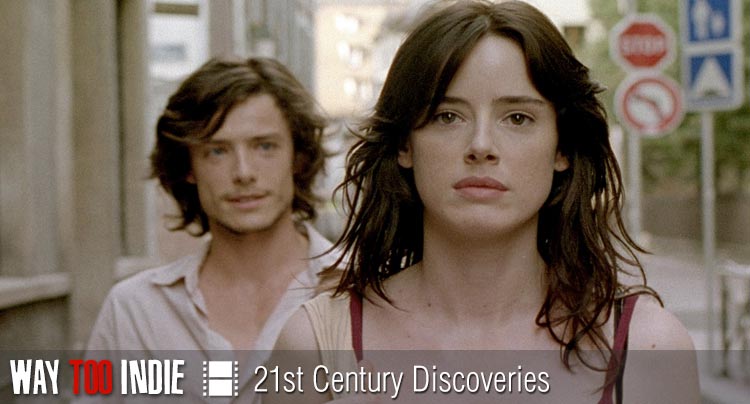 21st Century Discoveries is a feature dedicated to exploring great, underseen and/or underappreciated films released since 2000. The goal is to help readers discover new, challenging and exciting films from around the world worth seeking out.
For our inaugural entry, I'll be taking a look at José Luis Guerín's In the City of Sylvia. I'll be taking a more analytical approach here, showcasing one sequence and how it effectively communicates the film's themes of memory and longing. All screen captures in here have been taken from Cinema Guild's lovely DVD for the film, which you can buy here
.
Regrets can be a bitch, especially when they're of the romantic kind. Certain things from our past might be easier to shake off in time, but infatuations seem to last much longer. Even as time moves on, our memories don't necessarily go away. They merely fade, gaining a level of abstraction that can make the already rose-coloured view even rosier. The vividness gives way to something more sensorial, and our emotions flood in from images or sounds we associate with specific instances in our past.
José Luis Guerín's In the City of Sylvia doesn't rely on words to show this highly subjective yet universal feeling. The central character of Guerín's film is an unnamed man (Xavier Lafitte) obsessed with one aspect of his past. Six years earlier he met the title character in Strasbourg, chatted with her at a bar one night and, for whatever reason, became seriously enamoured with her. He never saw this woman again, and the only thing he can go by is a crude drawing of a map of her college she made for him on a bar napkin.
Now, years later, this man returns to the same place in the hopes of making something tangible out of the intangible. Title cards split the film into three segments, one for each night of his stay, and by the end of the first day he's already found the school. On the second day the man returns to the same spot, taking a seat in the patio of a café next to the school and quietly observing different women in the area.
In this sequence, the first of many stunning scenes in the film, Guerín's framing establishes how this man is, in essence, the unreliable narrator of his own story. The man sketches an outline of Sylvia in his notebook, but it doesn't prove to be a reliable recollection of the mystery woman. Almost every woman he views at the café is usually obstructed from view in some way, whether it's by other people or their positioning in relation to Lafitte's character. By the time the man writes "THEM" underneath his faceless drawing of Sylvia (after crossing out his original caption "HER"), it's apparent he has an incomplete memory of her in his mind.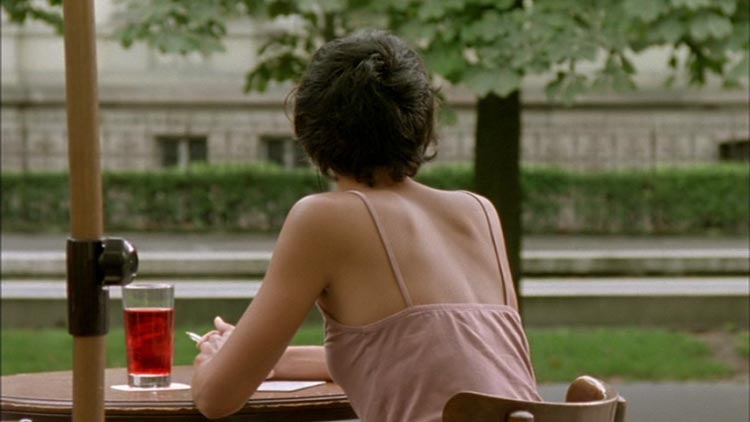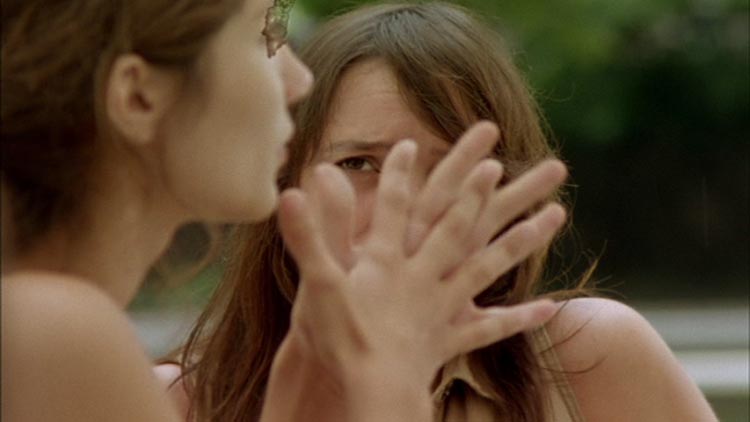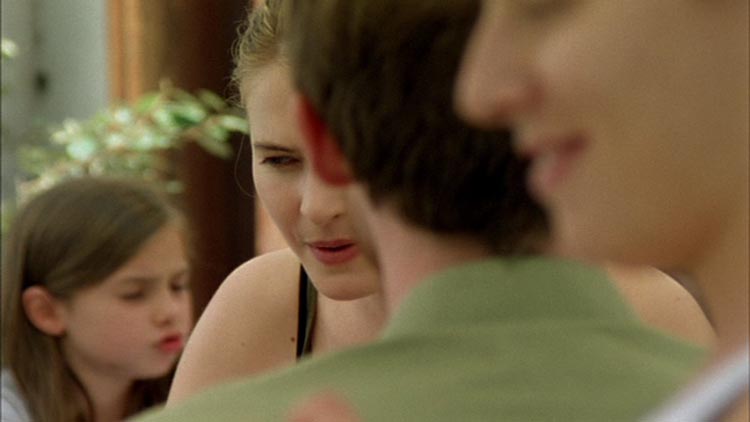 Guerín also has a little fun with his compositions, throwing some misdirection and visual jokes to underline the power of unreliable subjectivity. Two different people at the café, sitting far apart, are made to look as if they're having a conversation with each other.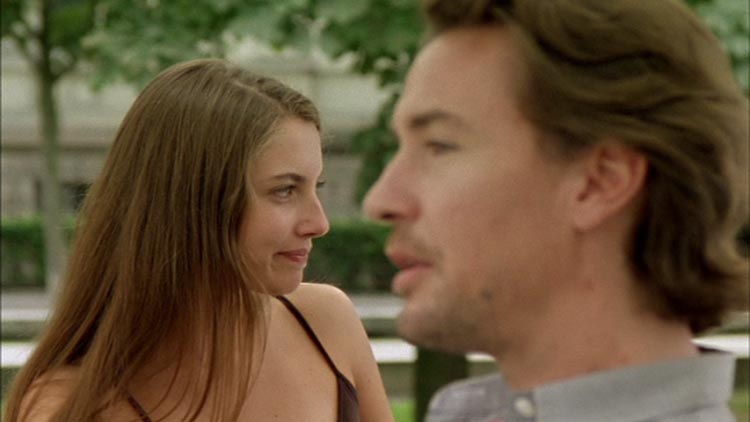 Another example is when Guerín shows a man and woman sitting beside each other, only to cut back later and reveal his trick: the two people are actually strangers, their spouses sitting off camera on the sides of the frame. It's a cute little piece of deception from Guerín, but it also calls attention to what we choose to see versus what we're presented with.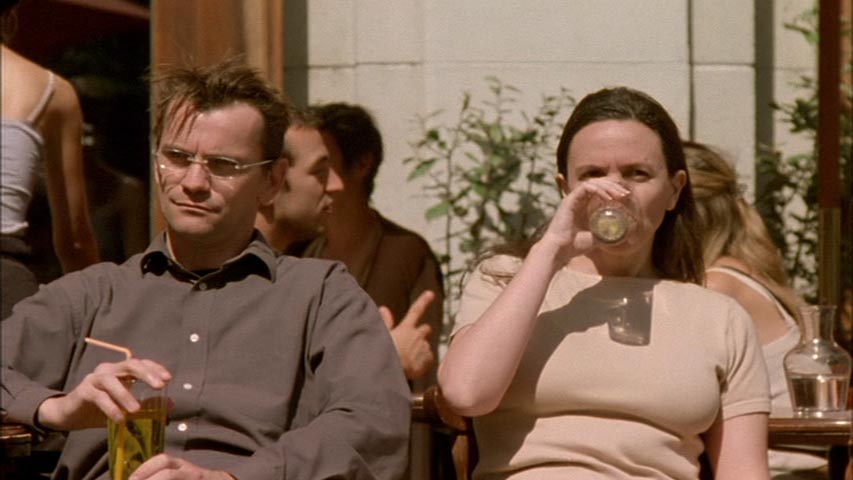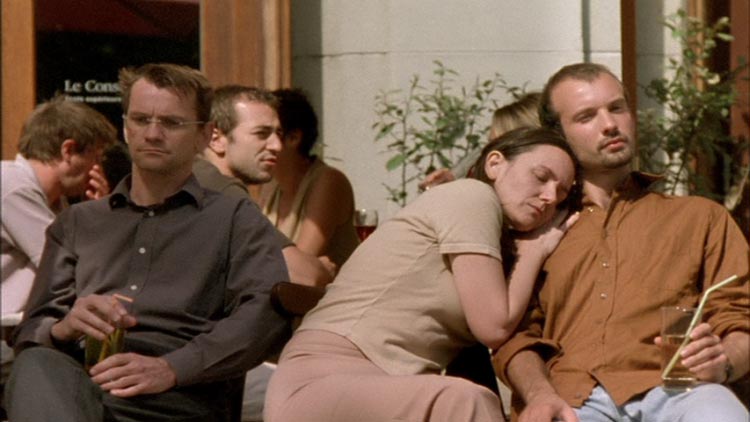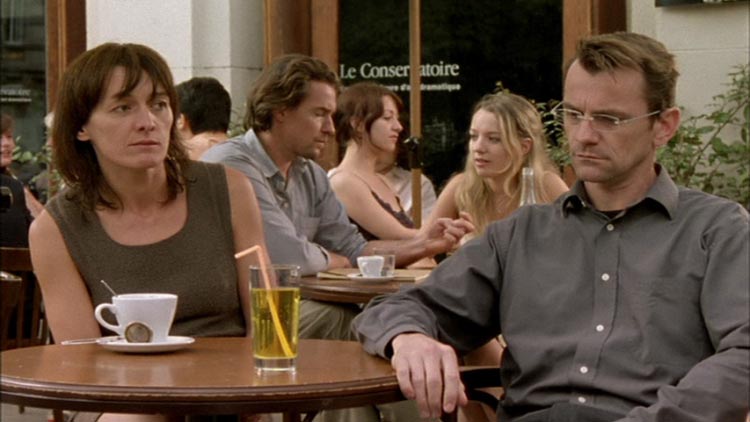 The café sequence culminates with the man finally laying his eyes on a woman (Pilar López de Ayala) that must be Sylvia. This woman immediately separates herself from the other people Guerín let his camera linger on up to this point. She's actually inside the café, separated by a glass window and covered with reflections of different patrons from outside.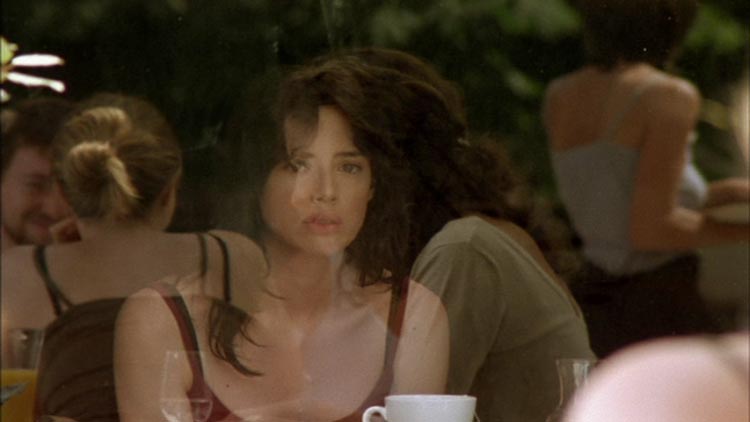 Does it come as a surprise, then, that the man would settle on the one person shown in the most distorted and obscured way? What draws him is how much she represents the image of Sylvia in his mind, rather than actually resembling the woman he met 6 years earlier. The window, sunlight and reflections layered on top of the woman inside the café are emblematic of the hazy obstructions blocking the man from getting a clear view of his potential true love. Guerín stunningly communicates these ideas throughout his film, tying all of his themes together in a final sequence involving a train, one of the more beautifully realized portrayals of romantic longing on film.
But Guerín manages to avoid letting his film slip into a melancholy state. Strasbourg is filmed lovingly, and Guerín repeatedly finds gorgeous images to add to his film's lovely atmosphere: the countless shots of gorgeous women in the city, the man's notebook pages flipping around from the wind, shadows of leaves dancing on the ground, a woman's hair blowing in the wind as her train arrives. The film's sound design, heavy on noises within the city, ties in how vital sound and space are to memory.
The film, aside from one vital scene, is light on dialogue. As I was watching the film again, my first time in several years, I noticed how my own memory of what I saw differed from the real thing. I didn't remember any dialogue (apart from the above mentioned scene), when in fact there was a decent amount. I most likely didn't recall anything because of how superfluous the lines were; people taking orders at the café or overheard conversations on the street for the most part. In the one sequence where words do matter, they swiftly shatter the man's idyllic fantasies built up earlier. But as the film's fantastic finale shows, the emotions will always stay. Guerín's ability to evoke such a subjective experience through uniquely cinematic qualities makes In the City of Sylvia essential viewing.