10 Most Anticipated Films At SXSW 2014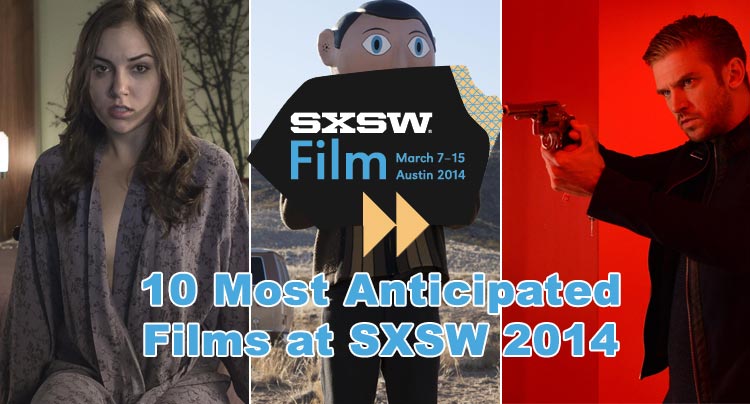 After last year's surprise breakout film Short Term 12, many people are wondering if the SXSW Film Festival will premiere another indie sensation. Only time will tell if lightning will strike twice in Austin, but at the very least the festival's reputation is at an all-time high. With a hefty lineup of 133 feature films, there are plenty of independent films to choose from, but I managed to narrow down ten of my most anticipated films at the 2014 SXSW Film festival.
I will be attending SXSW this year for Way Too Indie, so make sure to check back for coverage and follow us on Twitter for instant updates.
Creep
I am not ashamed to admit that the main reason Creep landed on this list is because Mark Duplass is listed as a co-writer and lead actor. And then I read the wacky synopsis for the film–a man strapped for cash comes across a Craigslist ad for a $1,000 one-day job in a remote mountain town, but then discovers that the client may not be who he says he is. Adding to the overall intrigue, Creep supposedly fits into the genres of comedy, horror, and romance; a curious mixture that I cannot wait to witness.
Frank

Despite receiving a mixed response from its premiere at Sundance, Frank remains a must-see for me at the festival. This oddball comedy features Michael Fassbender as the mysterious musical genius who spends the majority of the film wearing a gigantic plastic head. The satirical tone of the film looks to be only outmatched by its absurdity, making it easy to understand why audiences are so divided on Frank.
Open Windows

Open Windows is Spanish filmmaker Nacho Vigalondo's third feature film and the first of which to be in the English-language. This is a real-time suspense thriller about a man's desperate search to track down his abducted girlfriend. Open Windows is said to be heavily influenced by '70s paranoid thrillers and is shown through the point of view of a screen on a laptop computer. I am excited to see what the filmmaker has up his sleeve, considering his history of making high-concept sci-fi thrillers (Timecrimes and Extraterrestrial).
Boyhood

Richard Linklater's coming of age drama, Boyhood, received the Best Director award a couple weeks ago at the Berlin Film Festival. This ambitious project follows a family over the course of 12 actual years, which allows the audience to observe the cast members mature as they would in real life. Although Boyhood is not a documentary like Michael Apted's Up series, Linklater experiments with a similar concept and the results could be quite intriguing.
Animals

In his first full-length feature, Collin Schiffli's Animals tells the story of a troubled young couple who live out of their car and rely on stealing in order to survive. The reality of their situation is realized when one of them gets hospitalized. The film stars David Dastmalchian (Prisoners, The Dark Knight) and Kim Shaw (The Good Wife) and has one of the founding members of Passion Pit (Ian Hultquist) as the composer for the original score.
The Heart Machine

After combing through the entire festival lineup (a daunting task), The Heart Machine caught my eye for a few reasons. The primary reason is that the film stars John Gallagher Jr., who was the talk of the town in Austin after starring in last year's Short Term 12. Another attention-grabbing credit is the director Zachary Wigon, a current film critic for The Village Voice. Lastly, the idea behind the film is fascinating–a man in a long-distance relationship begins to suspect his girlfriend to actually be living in the same city as him all along.
Joe

There are many reasons why the film Mud comes to mind when looking at David Gordon Green's Joe. Not only are both films named after the three-letter name of their main character, but both films also star Tye Sheridan as a young kid who forms an unlikely bond with said characters. This indie film might just be what Nicholas Cage's career needs at this point in order for people to start respecting him as an actor again.
Oculus

Our very own C.J. Prince caught Oculus last year at the Toronto International Film Festival and praised the film for its originality and well-written screenplay. Mike Flanagan's Oculus will screen in the Midnighters section of SXSW, a program that features various hair-raising horror films to a midnight crowd. The film centers on an antique mirror called the Lasser Glass, which forces its owners to harm themselves as well as others. There is a good chance that audiences in Austin are going to be freaked out by the film, I surely hope I am as well.
The Guest

Another film I want to see from the Midnighters program is Adam Wingard's The Guest. Similar to his recent work in You're Next, Wingard seems to mix together equal parts humor and horror in this throwback thriller. The Guest received unanimously positive responses from the midnight crowd during its world premiere at Sundance earlier this year. And I expect similar results at SXSW.
Before I Disappear

Based on his 2013 Academy Award winning short film Curfew, Shawn Christensen's film is about a man whose suicidal thoughts are suddenly interrupted by a phone call from his estranged sister. The wide range of emotions he was able to pack into a short film impressed me, but I wondered how the film would transition into a full-length feature some day. Luckily, I will not have to wonder for much longer.