Mud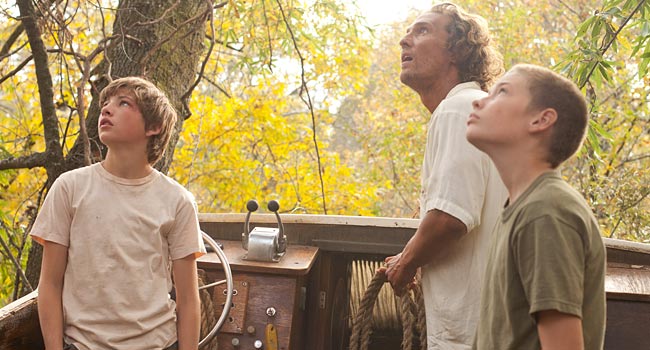 Despite some flaws, Mud is a clever film that really hits on a lot of positive notes.
Jeff Nichols' latest film is now finally hitting the theaters after nearly a full year since its warm receptive premiere at the 2012 Cannes Film Festival. Mud centers on two teenage boys who end up befriending a fugitive that is looking to dodge the men who are out looking for him. Nichols elects to bring back the lead from his previous thriller (Take Shelter) Michael Shannon, but gives him a much smaller role in this film. The lead in Mud is given to Matthew McConaughey, who has been on an amazing ride of films as of late, and dominates the screen the moment he appears. This film just solidifies the fact that Jeff Nichols is a director to keep an eye out for in the future.
Mud (Matthew McConaughey) just can't seem to catch a break. Just as he is getting settled into his new home in a boat that is stuck in a tree, the appropriately named Mud's world is invaded by two young boys. The developing friendship is less than ideal, but both groups are sincere and honest with each other, and both have much to learn from the situation. Jeff Nichols finds a nice niche yet again with his original take on the coming of age story. Mud pulls many elements together nicely to mark a solid third film for the young director.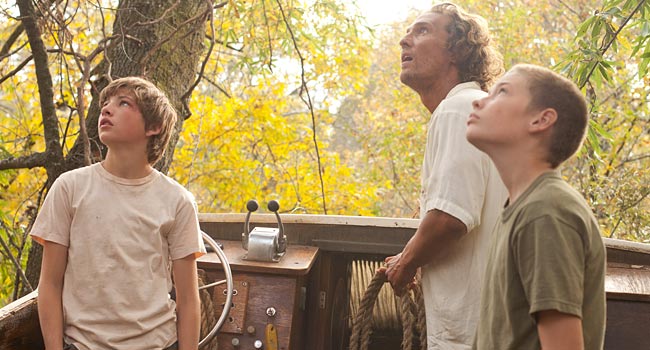 Ellis (Tye Sheridan) and Neckbone (Jacob Lofland) are young, poor, and best friends. The spend most of their free time working odd jobs with family members and dreaming of an easier life. They live on a river in the backwoods of Arkansas and despite their outcast appearance are intelligent and well meaning. While exploring one day, they stumble across Mud, a dirty, mysterious figure living in an unusual circumstance. The two groups decide to form a loose business relationship and the boys soon learn there might be a more dangerous side to their new friend.
Mud's screenplay blends a lot of nice dramatic elements and, despite some slow pacing, really hooks the viewer in. The acting is phenomenal on a lot of levels. Matthew McConaughey takes over the film the second he appears on screen. Mud looks like a cartoon character, but is portrayed with a nice subtlety that makes the audience instantly finds themselves sympathetic to his cause. He has made mistakes, but deep down is a good man. The two young friends are portrayed well, they are well meaning, but generally don't understand the world around them. Their relationship with Mud becomes the most straight forward aspect of their life as they struggle through the tough life lessons of adolescence.
Mud suffers from uneven pacing and while the climax is thrilling and well executed, the final few minutes seem out of place compared with the themes and mood of the rest of the film. Despite some flaws, Mud is a clever film that really hits on a lot of positive notes. Jeff Nichols is steadily developing his craft, and definitely looks to be a big time director in the near future.
Mud Movie review