2013 Independent Spirit Award Nominations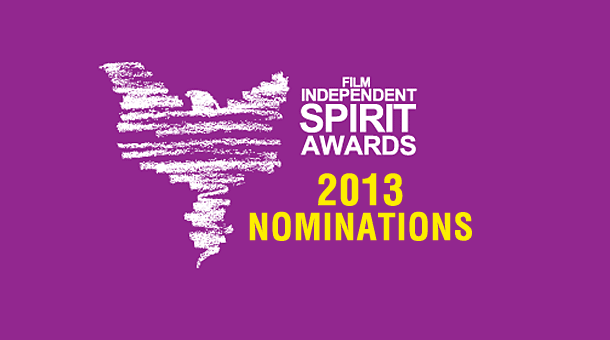 Film Independent announced the nominations for the 28th annual Independent Spirit Awards this morning by Zoe Saldana and Anna Kendrick. Last year many of the award winners went on to win Oscars but I suspect that will be a little different this year. The winners will be announced at the 28th annual Film Independent Spirit Awards on February 23th and the broadcast will air at 10 p.m. ET/PT on IFC.
There were two films that tied for the most amount of nominations and those were Wes Anderson's Moonrise Kingdom and David O. Russells's Silver Linings Playbook with five total nominations. Both of the films will be competing for the top award of Best Feature.
It was a little shocking to see that the Sundance standout Beasts of the Southern Wild did not have quite as many nods but four is a healthy amount of nominations to receive. The film bypassed Best First Feature even though it is technically Benh Zeitlin's first and step up to the bigger category Best Feature (rules prohibit a film from being in both). Beasts of the Southern Wild was ousted from the Best Screenplay category.
John Hawkes makes his third straight appearance in the nomination list with his role in The Sessions. This time he will move up to the Best Lead Male category against some pretty strong contenders. Hawkes was nominated for Best Supporting Male last year for Martha Marcy May Marlene and won the award in the previous year for Winter's Bone. Matthew McConaughey will get two chances to win for two different films. He got a nod for Best Male Lead (for Killer Joe) and Best Supporting Male (for Magic Mike).
Perhaps the most interesting category this year belongs to the Best International Film section as there was quite a bit of potentials for it this year. Michael Haneke's Amour made the cut, unsurprisingly, and will likely be the favorite to win (as well as for the Oscar). It was a bit of a surprise to not see Holy Motors in that list but seeing War Witch get a nod was lovely as it is definitely a film worth seeing. I didn't expect to see Paradise: Love or Goodbye First Love on this list but it would have been if it were up to me.
Watch for our predictions for the 2013 Film Independent Spirit Awards post to come in the coming weeks.
Full List of 2013 Independent Spirit Award Nominations:
Best Feature:
(Award given to the Producer)
Beasts of the Southern Wild
Bernie
Keep The Lights On
Moonrise Kingdom
Silver Linings Playbook
Best Director:
Wes Anderson – Moonrise Kingdom
Julia Loktev – The Loneliest Planet
David O. Russell – Silver Linings Playbook
Ira Sachs – Keep The Lights On
Benh Zeitlin – Beasts of the Southern Wild
Best First Feature:
(Award given to the director and producer)
Fill The Void – Rama Burshtein
Gimme The Loot – Adam Leon
Safety Not Guaranteed – Colin Trevorrow
Sound of My Voice – Zal Batmanglij
The Perks Of Being A Wallflower – Stephen Chobsky
Best Male Lead:
Jack Black – Bernie
Bradley Cooper – Silver Linings Playbook
John Hawkes – The Sessions
Thure Lindhart – Keep The Lights On
Matthew McConaughey – Killer Joe
Wendell Pierce – Four
Best Female Lead:
Linda Cardellini – Return
Emayatzy Corinealdi – Middle of Nowhere
Jennifer Lawrence – Silver Linings Playbook
Quvenzhane Wallis – Beasts of the Southern Wild
Mary E. Winstead – Smashed
Best Supporting Male:
Matthew McConaughey – Magic Mike
David Oyelowo – Middle of Nowhere
Michael Pena – End of Watch
Sam Rockwell – Seven Psychopaths
Bruce Willis – Moonrise Kingdom
Best Supporting Female:
Rosemarie DeWitt – Your Sister's Sister
Ann Dowd – Compliance
Helen Hunt – The Sessions
Brit Marling – Sound of My Voice
Lorraine Toussaint – Middle of Nowhere
John Cassavetes Award:
(Given to the best feature made for under $500,000; award given to the writer, director, and producer)
Breakfast With Curtis – Laura Colella
Middle of Nowhere – Ava DuVernay
Mosquita y Mari – Aurora Guerrero
Starlet – Sean Baker
The Color Wheel – Alex Ross Perry
Best Documentary:
(Award given to the director)
How To Survive A Plague – David France
Marina Abramovic: The Artist Is Present – Matthew Akers
The Central Park Five – Ken Burns, Sarah Burns, David McMahon
The Invisible War – Kirby Dick
The Waiting Room – Peter Nicks
Best International Film:
(Award given to the director)
Amour – Michael Haneke
Once Upon A Time In Anatolia – Nuri Bilge Ceylan
Rust and Bone – Jacques Audiard
Sister – Ursula Meier
War Witch – Kim Nguyen
Best Cinematography:
Yoni Brook – Valley Of Saints
Lol Crawley – Here
Ben Richardson – Beasts of the Southern Wild
Roman Vasyanov – End of Watch
Robert Yeoman – Moonrise Kingdom
Best Screenplay:
Wes Anderson and Roman Coppola – Moonrise Kingdom
Zoe Kazan – Ruby Sparks
Martin McDonagh – Seven Psychopaths
David O. Russell – Silver Linings Playbook
Ira Sachs and Mauricio Zacharias – Keep The Lights On
Best First Screenplay:
Rama Burshtein – Fill The Void
Derek Connolly – Safety Not Guaranteed
Christopher Ford – Robot & Frank
Jonathan Lisecki – Gayby
Rashida Jones and Will McCormack – Celeste and Jesse Forever
Robert Altman Award:
(Given to one film's director, casting director, and its ensemble cast)
Starlet
Director: Sean Baker
Casting Director: Julia Kim
Ensemble Cast: Dree Hemingway, Besedka Johnson, Karren Karagulian, Stella Maeve, James Ranson
Piaget Producers Award:
(Award given to a producer)
Alicia Van Couvering – Nobody Walks
Mynette Louie – Stones in the Sun
Derrick Tseng – Prince Avalanche
Truer Than Fiction Award:
(Award given to the director)
Lucien Castaing-Taylor and Verena Paravel – Leviathan
Peter Nicks – The Waiting Room
Jason Tippet and Elizabeth Mims – Only the Young
Someone to Watch Award:
(Award given to the director)
David Fenster – Pincus
Adam Leon – Gimme The Loot
Rebecca Thomas – Electrick Children