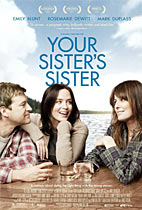 Your Sister's Sister
It is an excellent example of how wonderful improvisational dialog can be when you have the right cast members and director.
Having liked Lynn Shelton's previous feature, Humpday, I was anxious to see if she could duplicate her efforts in Your Sister's Sister. I will tell you right now, she does just that and then some. Shelton's greatest achievement here is taking simple conventional situations and making them into complex and extraordinary without sacrificing believability. It is something that is commonly tried but rarely achieved, at least to the degree it was here.
Friends gather around having drinks and sharing stories about their friend Tom who passed away a year ago. We never actually meet Tom in the film but from hearing some of the stories it leads you believe he was a nice and likeable guy. That is until his brother Jack (Mark Duplass) gets up and tells the group the side he knows of him, which is a physical and mental manipulative person. Jack has a typical brother assessment but completely inappropriate time and place to express that. Needless to say the crowded room fell awkwardly silent.
Luckily for Jack, he has a close friend who is keeping an eye on him. Her name is Iris (Emily Blunt) and at one point she dated his brother Tom. She tells him that for a year now he has been a mess and that he needs to change his current destructive ways. In order to achieve this she comes up with a plan to send him off to her dad's remote cabin that is located on peaceful an island.
This cabin has no television or internet, a perfect scenario for Jack not to get distracted and allow him to think about his life just watching the waves in the water that surrounds the cabin. At least that was the plan. But as we all know, life often does not go according to plan, it is especially the case in films.
When he arrives at the cabin he approaches the front door only to see that there is someone already there. Not sure what to do he peers through the window until he makes himself noticed by making a sound. As the woman comes charging out the cabin with an ore in her hand, he notices that it is just Iris's sister Hannah (Rosemarie DeWitt).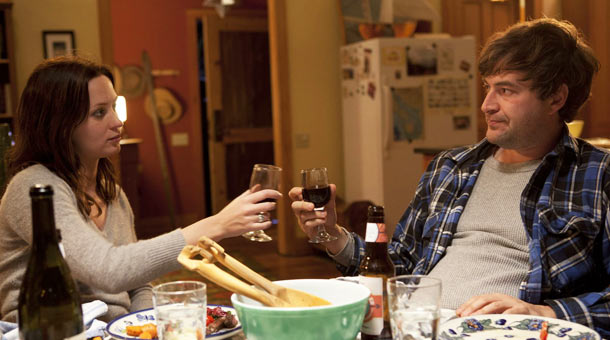 The two did not start out on a good note but eventually make amends when they find themselves sharing a bottle of tequila around the table at 3:00 A.M. Hannah divulges that she has just got out of a 7 year relationship with a female partner. Jack explains how he has had a "shitty year" and came to the cabin for solitude. Several shots later a proposition from Jack arises for the two to hookup, even though she is a lesbian. We are not sure if it was the tequila or the intention to let go by try something different, but she accepts.
Almost exactly at the half way point in the film, I began to wonder how Shelton would advance the rest of the story. There is an obvious way the film could go and it does but not for very long. Somehow I knew, or maybe just hoped, that it would not stay on that obvious path for very long. Thankfully, it did not. It continued to hold your attention through it's entirety.
For me, one of the best qualities a film can possess is for it to come off genuine. Do not get me wrong, I adore the weird crazy out-there films as well. But when a film can accurately replicate that awkward moment when someone prepares food in which you must lie by saying it is wonderful because they were so excited for you to try it, like found in Your Sister's Sister, it is extraordinary.
I was shocked at how well the dialog was considering it was largely improvised. By definition it is a mumblecore film but for those of you who are turned off by that "genre", do not worry. While the film still captures raw emotions in the moment with everyday dialog, it never feels like it rambles on for too long. It feels loose but not too loose. I guess you could call it Mumblecore 2.0 but the bottom line is that it worked well.
Remarkably, Shelton shot Your Sister's Sister in just 12 days. When I first heard that I was expecting for it to be evident in the film. However, after watching the film you would never have guessed it was shot in less than two weeks.
I will admit that if you read just the synopsis of Your Sister's Sister you will most likely think a typical sitcom is in store. Instead, the film is more of an intelligent romantic comedy featuring terrific characters in a very honest manner. It is an excellent example of how wonderful improvisational dialog can be when you have the right cast members and director. To cap it all off, instead of opting for a safe ending Shelton gives us an ending that fit perfectly with the rest of the film.