2012 Independent Spirit Award Winners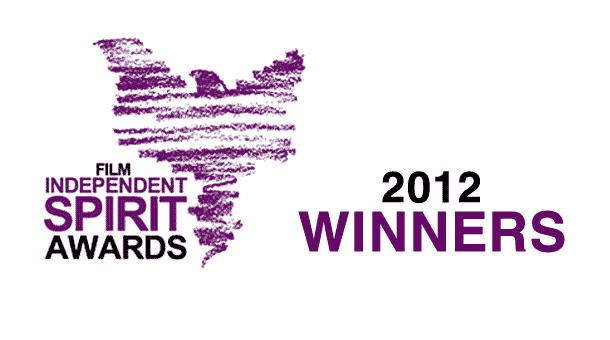 The Artist won big at the 2012 Film Independent Spirit Awards by taking home most of the major awards such as Best Feature, Best Director, Best Male Lead and Best Cinematography. In fact, it won every award it was nominated for except for Best Screenplay. We will see tomorrow night if The Artist can win Best Picture for both the Independent Spirit Awards and The Oscars, something that has not been done since 1987 with Platoon.
I ended up doing pretty well with my predictions this year. Out of the total of 13 unannounced awards I got 9 of them correct, which is about 69% accuracy. Although this year there will likely be a lot of cross-over winners between the Spirit Awards and the more mainstream awards, it was great to see independent films get the recognition they deserve.
The full list of Independent Spirit Award winners:
(The winners are highlighted in bold red font)
Best Feature:
50/50 – Seth Rogen, Evan Goldberg, Ben Karlin
Beginners – Miranda de Pencier, Lars Knudsen, Leslie Urdang, Jay Van Hoy, Dean Vanech
Drive – Michel Litvak, John Palermo, Marc Platt, Gigi Pritzker, Adam Siegel
Take Shelter – Tyler Davidson, Sophia Lin
The Artist – Thomas Langmann, Emmanuel Montamat
The Descendants – Jim Burke, Alexander Payne, Jim Taylor

Best Director:
Mike Mills – Beginners
Nicolas Winding Refn – Drive
Jeff Nichols- Take Shelter
Michel Hazanavicius – The Artist
Alexander Payne – The Descendants

Best First Feature:
Another Earth
In The Family
Margin Call
Martha Marcy May Marlene
Natural Selection

Best Male Lead:
Demian Bichir – A Better Life
Jean Dujardin – The Artist
Ryan Gosling – Drive
Woody Harrelson – Rampart
Michael Shannon – Take Shelter

Best Female Lead:
Lauren Ambrose – Think Of Me
Rachel Harris – Natural Selection
Adepero Oduye – Pariah
Elizabeth Olsen – Martha Marcy May Marlene
Michelle Williams – My Week With Marilyn

Best Supporting Male:
Albert Brooks – Drive
John Hawkes – Martha Marcy May Marlene
Christopher Plummer – Beginners
John C. Reilly – Cedar Rapids
Corey Stoll – Midnight In Paris

Best Supporting Female:
Jessica Chastain – Take Shelter
Angelica Huston – 50/50
Janet McTeer – Albert Nobbs
Harmony Santana – Gun Hill Road
Shaileen Woodley – The Descendants

John Cassavetes Award:
Bellflower
Circumstance
Hello Lonesome
Lovers of Hate
The Dynamiter
Pariah

Best Documentary:
An African Election
Bill Cunningham New York
The Interrupters
The Redemption of General Butt Naked
We Were Here

Best Foreign Film:
A Separation
Melancholia
Shame
The Kid With A Bike
Tyrannosaur

Best Cinematography:
Bellflower
The Off Hours
Midnight In Paris
The Artist
The Dynamiter

Best Screenplay:
Footnote
The Artist
Win Win
Beginners
The Descendants

Best First Screenplay:
Another Earth
Margin Call
Terri
Cedar Rapids
50/50

Robert Altman Award:
(Given to one film's director, casting director, and its ensemble cast)
Margin Call
Director: J.C. Chandor
Ensemble Cast: Kevin Spacey, Paul Bettany, Jeremy Irons, Zachary Quinto, Penn Badgley, Simon Baker, Mary McDonnell, Demi Moore

Piaget Producers Award:
(Award given to a producer)
Chad Burris – Mosquita y Mari
Sophia Lin – Take Shelter
Josh Mond – Martha Marcy May Marlene

Truer Than Fiction Award:
Where Soldiers Come From
Hell and Back Again
Bombay Beach

Someone to Watch Award:
(Award given to the director)
Simon Arthur – Silver Tongues
Mark Jackson – Without
Nicholas Ozeki – Mamitas