2012 Independent Spirit Award Predictions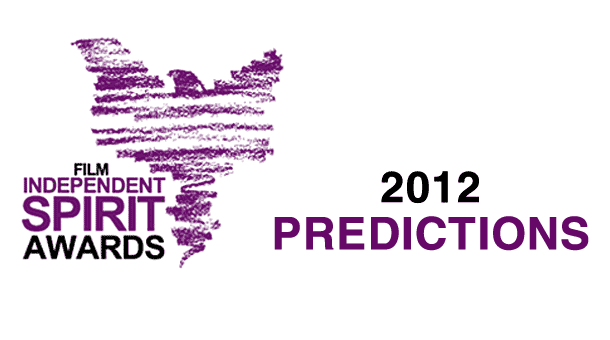 We are only 23 days away from hearing the winners of the 2012 Independent Spirit Awards so I thought I would give a shot at predictions who those winners will be. The Spirit Awards are a little be harder to predict than the Oscars because they do not tend to follow as many patterns nor does it have as wide of an audience. This year has a chance to be closer to the outcome of the Oscars than any other year with The Artist being the favorite at both shows. Christopher Plummer and A Separation also could be set to win both a Spirit Award and Oscar. In addition to picking the winners for each category I gave some insight as to why in the "Notes" section under the categories.
Tune in on Saturday February 25th to IFC and see how well I did (or did not do).
The full list of Independent Spirit Award predictions:
(My prediction for the winners are highlighted in bold red font)
Best Feature:
(Award given to the Producer)
50/50 – Seth Rogen, Evan Goldberg, Ben Karlin
Beginners – Miranda de Pencier, Lars Knudsen, Leslie Urdang, Jay Van Hoy, Dean Vanech
Drive – Michel Litvak, John Palermo, Marc Platt, Gigi Pritzker, Adam Siegel
Take Shelter – Tyler Davidson, Sophia Lin
The Artist – Thomas Langmann, Emmanuel Montamat
The Descendants – Jim Burke, Alexander Payne, Jim Taylor

NOTES:
I would be completely shocked if The Artist did not win as it seems like the strongest of the bunch. However, you have to go all the back to 1987 for the winner of this category to be the same film that wins Best Picture at the Oscars. Since it is the front runner to win the Oscar, history may repeat itself and some other film may win. If that were the case, I think Drive has a good chance as well as The Descendants.
Best Director:
Mike Mills – Beginners
Nicolas Winding Refn – Drive
Jeff Nichols- Take Shelter
Michel Hazanavicius – The Artist
Alexander Payne – The Descendants

NOTES:
This is tricky because the winner of Best Director is typically the same as the Best Feature. So if you get one wrong you will probably get both wrong. I am sticking with The Artist (Michel Hazanavicius) as the frontrunner with Alexander Payne for The Descendants as my second pick.
Best First Feature:
(Award given to the director and producer)
Another Earth – Directed by Mike Cahill; Producers: Mike Cahill, Hunter Gray, Brit Marling, Nicholas Shumaker
In The Family – Directed by Patrick Wang; Producers: Robert Tonino, Andrew van den Houten, Patrick Wang
Margin Call – Directed by J.C. Chandor; Producers: Robert Ogden Barnum, Michael Benaroya, Neal Dodson, Joe Jenckes, Corey Moosa, Zachary Quinto
Martha Marcy May Marlene – Directed by Sean Durkin; Producers: Antonio Campos, Patrick Cunningham, Chris Maybach, Josh Mond
Natural Selection – Directed by Robbie Pickering; Producers: Brion Hambel, Paul Jensen

NOTES:
My bets are on Martha Marcy May Marlene winning this award. Natural Section did win at SXSW Film Festival and Another Earth won awards at the Sundance Film Festival so they have pretty good odds of winning as well. Margin Call is already taking home the Robert Altman Award so I think their recognition ends with that.
Best Male Lead:
Demian Bichir – A Better Life
Jean Dujardin – The Artist
Ryan Gosling – Drive
Woody Harrelson – Rampart
Michael Shannon – Take Shelter

NOTES:
With George Clooney out of the race I think Jean Dujardin is a shoo-in. Ryan Gosling and Michael Shannon will likely accept the nomination as their win since they were snubbed from the Oscars this year.
Best Female Lead:
Lauren Ambrose – Think Of Me
Rachel Harris – Natural Selection
Adepero Oduye – Pariah
Elizabeth Olsen – Martha Marcy May Marlene
Michelle Williams – My Week With Marilyn

NOTES:
I think this will be close between Michelle Williams (who will probably not be taking home an Oscar this year) and Elizabeth Olsen (who was not nominated for an Oscar). I am picking Michelle Williams, who lost last year's award to Natalie Portman.
Best Supporting Male:
Albert Brooks – Drive
John Hawkes – Martha Marcy May Marlene
Christopher Plummer – Beginners
John C. Reilly – Cedar Rapids
Corey Stoll – Midnight In Paris

NOTES:
Being that Christopher Plummer is pretty much a lock to win the Oscar, it only seems fitting he will win a Spirit Award as well. Albert Brooks is the definite dark horse here. John Hawkes won this exact award last year so I doubt he would get it two years in a row. I am glad to see Corey Stoll get the nomination for Midnight In Paris but there is little chance he will win.
Best Supporting Female:
Jessica Chastain – Take Shelter
Angelica Huston – 50/50
Janet McTeer – Albert Nobbs
Harmony Santana – Gun Hill Road
Shaileen Woodley – The Descendants

NOTES:
I believe Shaileen Woodley will pick up the one of my predicted two awards for The Descendants. Although, I will be rooting for Jessica Chastain to win for not only her role in Take Shelter, but she has a terrific year for her roles in The Tree of Life and The Help.
John Cassavetes Award:
(Given to the best feature made for under $500,000; award given to the writer, director, and producer)
Bellflower – Written and directed by Evan Glodell; Producers: Evan Glodell, Vincent Grashaw
Circumstance – Written and directed by Maryam Keshavarz; Producers: Karin Chien, Maryam Keshavarz, Melissa M. Lee
Hello Lonesome – Written and directed and produced by Adam Reid
Lovers of Hate – Written and directed by Dee Rees; Producer: Nekisa Cooper
The Dynamiter – Writters: Matthew Gordon and Brad Ingelsby; Directed by Matthew Gordon; Producers: Kevin Abrams, Matthew Gordon, Merilee Holt, Nate Tuck, Amile Wilson

NOTES:
This is a tough category to predict but I want to say Circumstance will win. The other won to consider would be Lovers of Hate.
Best Documentary:
(Award given to the director)
An African Election – Jarreth J. Merz, Kevin Merz
Bill Cunningham New York – Richard Press
The Interrupters – Steve James
The Redemption of General Butt Naked – Daniele Anastasion, Eric Strauss
We Were Here – David Weissman, Bill Weber

NOTES:
I do not think there is a clear winner here. I will pick Bill Cunningham New York as the winner but really The Interrupters and We Were Here have equal shots.
Best Foreign Film:
(Award given to the director)
A Separation – Asghar Farhadi
Melancholia – Lars von Trier
Shame – Steve McQueen
The Kid With A Bike – Jean-Pierre Dardenne, Luc Dardenne
Tyrannosaur – Paddy Considine

NOTES:
2007 was the last time that the same film won an Independent Spirit Award and an Oscar for this category. A Separation is pretty much a given that it will win the Oscar but with contending films like Melancholia and Shame that is tough to say here. Both of those films were robbed of any Oscar nominations so it would be nice to see them get a win here. I thought hard about this and ended up going with A Separation to win but I think Melancholia has a shot for the reasons above.
Best Cinematography:
Joel Hodge – Bellflower
Benjamin Kasulke – The Off Hours
Darius Khondji – Midnight In Paris
Guillaume Schiffman – The Artist
Jeffrey Waldron – The Dynamiter

NOTES:
It is tough to go against The Artist in any category this year but I am going with my gut that Darius Khondji will win for Midnight In Paris. This category is only a race between those two.
Best Screenplay:
Joseph Cedar – Footnote
Michel Hazanivicius – The Artist
Tom McCarthy – Win Win
Mike Mills – Beginners
Alexander Payne, Nat Faxon & Jim Rash – The Descendants

NOTES:
I am guessing The Descendants will win it's second award with this and The Artist will play as the backup here.
Best First Screenplay:
Mike Cahill & Brit Marling – Another Earth
J.C. Chandor – Margin Call
Patreck DeWitt – Terri
Phil Johnston – Cedar Rapids
Will Reiser – 50/50

NOTES:
It would be a shame if 50/50 went home empty handed especially since the host this year is Seth Rogen who co-stars in the film. Based on real life events of Will Reiser I think he will take home the award for this. The Sundance standout Another Earth may also have a decent shot.