The Artist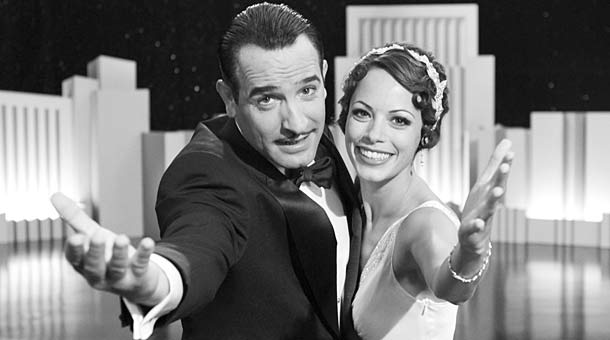 The Artist proves that a film does not have to have words in order to achieve greatness.
The Artist is a silent black-and-white film by French director Michel Hazanavicius that is easily the most entertaining film of 2011. Essentially, it is a silent film about silent films. The film benefits from being made in modern times in that it gets to toy with it's self-aware silent self, unlike the era of films it pays tribute to, with occasional sounds here and there. Most people who are passionate about films will have fun with The Artist.
In the year 1927 silent films are what made up Hollywoodland and George Valentin (Jean Dujardin) dominated the screens. Always by his side are his loyal dog and longtime producer Al Zimmer (John Goodman). His latest film was a smashing hit and during a public photo shoot for it, a lady from the crowd bumps into him that catches his eye. The next morning photos of the two together are on newspapers, overnight a star is born.
Her name is Peppy Miller (Bérénice Bejo), a name that will soon be as big as George Valentin's in Hollywood. She tries out to be a dancer in his next film and he grants her that role. George would have never guessed that by giving Peppy her first break that she would soon surpass him in fame, but she does.
His producer Al from the film studio he works at informs him that they are switching to the future, talking films. It is a future George does not want to be a part of, he believes it is just a fad. Peppy rises to fame as a talkie while the silent era is quickly diminishing leaving George without a job.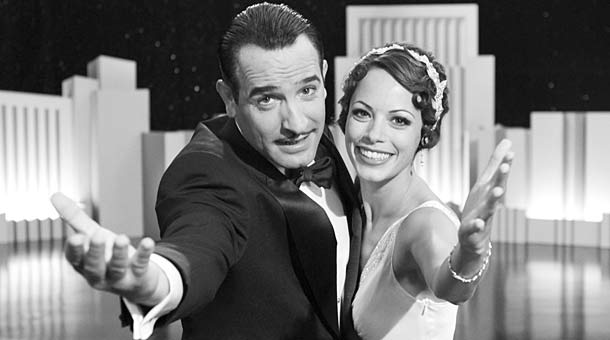 To make the situation worse, the Great Depression hits so the money he is living off from his previous success is now gone. He auctions off all of his valuables, the auctioneer says, "Congratulations! It's all sold, you've got nothing left!" Nothing left is right, wife leaves him and he has to down-size to a studio apartment. It occurs to him one day that he has not paid his butler (Ed Lauter) in over a year, so he is forced to make the hard decision to fire him.
The scene that stood out to me the most is when his wife was leaving him because he would not talk to his wife. It was a metaphor for him not conforming as a talkie film actor. And on similar note, another stand out scene is when he had a dream that he was no longer able to speak, he knows that he belongs in the silent era.
Peppy knows that she would not be a star without George. She not only respects him but has always had a romantic connection to him as well. With George going through a riches-to-rags scenario that turns him on the bottle, will she still have the same feelings she once had about him? When you are at the top, it is hard to see the people at the bottom.
Jean Dujardin was the perfect lead for The Artist. He has the face and body language that silent films demand. In this film, his role required him to be charming, funny, prideful, sad and angry without the luxury of speaking. So it was well deserved when Dujardin won best actor at Cannes 2011.
The Oscar nominations will be announced tomorrow but the buzz around the internet is The Artist has a great chance for the top prize of Best Picture. I would not be surprised if it also won Best Original Screenplay and Best Original Score. Also, if animals could win, I think the dog would have a good chance for Best Supporting…Animal.
The Artist proves that a film does not have to have words in order to achieve greatness. When done correctly as in this case, silence can be just as engaging and rewarding as speech is. Similar to a good foreign film when you forget you are reading subtitles, you will likely be so enthralled with the film to notice there is no audible dialogue.
The Artist Movie review