2012 Independent Spirit Nominations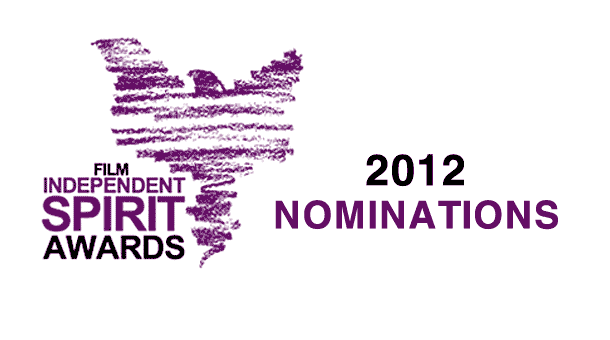 The 2012 Film Independent Spirit Award nominations were announced today by presenters Anthony Mackie and Kate Beckinsale kicking off the award season. Of the total 277 total film submissions The Artist and Take Shelter raked in the most nominations this year with five in total. Close behind them with 4 nominations were films Martha Marcy May Marlene, The Descendants, and Drive. I would say the front-runner for awards this year is The Artist but all of the films above will have a shot of being represented here as well as at the Oscars.
Michelle Williams gets her second nomination Best Female Lead nomination in a row with her role in My Week With Marilyn (last year's nomination was for Blue Valentine). She was not the one to get a repeat nomination for the second year in a row as John Hawkes also received a nomination for Martha Marcy May Marlene for Best Supporting Male (John Hawkes won the award last year for Winter's Bone).
In order to qualify for Spirit Awards a film has to be made for under $20 million, which would explain the absence of Tree Of Life among the nominations, which is a little disappointing as it has been my favorite film of 2011 so far (I still have a fair amount to see still though). Although I have not seen them yet, I am a little disappointed that Alps and The Skin I Live In did not make the cut for a nomination in the Best Foreign Film category (need to have at least 1 U.S. producer to qualify for the other awards).
The winners will be announced at the 27th annual Film Independent Spirit Awards on February 25th and the broadcast will air at 10 p.m. ET/PT on IFC.
Best Feature:
(Award given to the Producer)
50/50 – Seth Rogen, Evan Goldberg, Ben Karlin
Beginners – Miranda de Pencier, Lars Knudsen, Leslie Urdang, Jay Van Hoy, Dean Vanech
Drive – Michel Litvak, John Palermo, Marc Platt, Gigi Pritzker, Adam Siegel
Take Shelter – Tyler Davidson, Sophia Lin
The Artist – Thomas Langmann, Emmanuel Montamat
The Descendants – Jim Burke, Alexander Payne, Jim Taylor
Best Director:
Mike Mills – Beginners
Nicolas Winding Refn – Drive
Jeff Nichols – Take Shelter
Michel Hazanavicius – The Artist
Alexander Payne – The Descendants
Best First Feature:
(Award given to the director and producer)
Another Earth – Directed by Mike Cahill; Producers: Mike Cahill, Hunter Gray, Brit Marling, Nicholas Shumaker
In The Family – Directed by Patrick Wang; Producers: Robert Tonino, Andrew van den Houten, Patrick Wang
Margin Call – Directed by J.C. Chandor; Producers: Robert Ogden Barnum, Michael Benaroya, Neal Dodson, Joe Jenckes, Corey Moosa, Zachary Quinto
Martha Marcy May Marlene – Directed by Sean Durkin; Producers: Antonio Campos, Patrick Cunningham, Chris Maybach, Josh Mond
Natural Selection – Directed by Robbie Pickering; Producers: Brion Hambel, Paul Jensen
Best Male Lead:
Demian Bichir – A Better Life
Jean Dujardin – The Artist
Ryan Gosling – Drive
Woody Harrelson – Rampart
Michael Shannon – Take Shelter
Best Female Lead:
Lauren Ambrose – Think Of Me
Rachel Harris – Natural Selection
Adepero Oduye – Pariah
Elizabeth Olsen – Martha Marcy May Marlene
Michelle Williams – My Week With Marilyn
Best Supporting Male:
Albert Brooks – Drive
John Hawkes – Martha Marcy May Marlene
Christopher Plummer – Beginners
John C. Reilly – Cedar Rapids
Corey Stoll – Midnight In Paris
Best Supporting Female:
Jessica Chastain – Take Shelter
Angelica Huston – 50/50
Janet McTeer – Albert Nobbs
Harmony Santana – Gun Hill Road
Shaileen Woodley – The Descendants
John Cassavetes Award:
(Given to the best feature made for under $500,000; award given to the writer, director, and producer)
Bellflower – Written and directed by Evan Glodell; Producers: Evan Glodell, Vincent Grashaw
Circumstance – Written and directed by Maryam Keshavarz; Producers: Karin Chien, Maryam Keshavarz, Melissa M. Lee
Hello Lonesome – Written and directed and produced by Adam Reid
Lovers of Hate – Written and directed by Dee Rees; Producer: Nekisa Cooper
The Dynamiter – Writters: Matthew Gordon and Brad Ingelsby; Directed by Matthew Gordon; Producers: Kevin Abrams, Matthew Gordon, Merilee Holt, Nate Tuck, Amile Wilson
Best Documentary:
(Award given to the director)
An African Election – Jarreth J. Merz, Kevin Merz
Bill Cunningham New York – Richard Press
The Interrupters – Steve James
The Redemption of General Butt Naked – Daniele Anastasion, Eric Strauss
We Were Here – David Weissman, Bill Weber
Best Foreign Film:
(Award given to the director)
A Separation – Asghar Farhadi
Melancholia – Lars von Trier
Shame – Steve McQueen
The Kid With A Bike – Jean-Pierre Dardenne, Luc Dardenne
Tyrannosaur – Paddy Considine
Best Cinematography:
Joel Hodge – Bellflower
Benjamin Kasulke – The Off Hours
Darius Khondji – Midnight In Paris
Guillaume Schiffman – The Artist
Jeffrey Waldron – The Dynamiter
Best Screenplay:
Joseph Cedar – Footnote
Michel Hazanivicius – The Artist
Tom McCarthy – Win Win
Mike Mills – Beginners
Alexander Payne, Nat Faxon & Jim Rash – The Descendants
Best First Screenplay:
Mike Cahill & Brit Marling – Another Earth
J.C. Chandor – Margin Call
Patreck DeWitt – Terri
Phil Johnston – Cedar Rapids
Will Reiser – 50/50
Robert Altman Award:
(Given to one film's director, casting director, and its ensemble cast)
Margin Call
Director: J.C. Chandor
Ensemble Cast: Kevin Spacey, Paul Bettany, Jeremy Irons, Zachary Quinto, Penn Badgley, Simon Baker, Mary McDonnell, Demi Moore
Piaget Producers Award:
(Award given to a producer)
Chad Burris – Mosquita y Mari
Sophia Lin – Take Shelter
Josh Mond – Martha Marcy May Marlene
Truer Than Fiction Award:
(Award given to the director)
Heather Courtney – Where Soldiers Come From
Danfung Dennis – Hell and Back Again
Alma Har'El – Bombay Beach
Someone to Watch Award:
(Award given to the director)
Simon Arthur – Silver Tongues
Mark Jackson – Without
Nicholas Ozeki – Mamitas