Best 50 Songs Of The Decade So Far (#10 – #1)
We've now reached the peak of this tall mountain. The final 10 songs on our 50 Best Songs of the Decade So Far list is upon us. These songs are all modern classics, and have defined the decade's music thus far. Years from now, music lovers will think of many songs when they look back upon this era, but these ten are especially likely to come to mind. It'll be interesting to see if, at the end of the decade, they are still held in such high regard, but for now, these songs have impressed us, as well as hundreds of thousands of other listeners, more than the rest of the music we've heard so far this decade.
In addition to our Top 10, we've included a section at the bottom we call Passionate Orphans. Songs that are personal favorites and worthy of respect, but that we couldn't fit and couldn't leave unmentioned.
Enjoy the list and our accompanying Spotify playlist, including one conveniently containing all 50 songs. Be on the look out for our Best Albums of the Decade So Far list in the coming weeks!
Best 50 Songs Of The Decade So Far
(#10 – #1)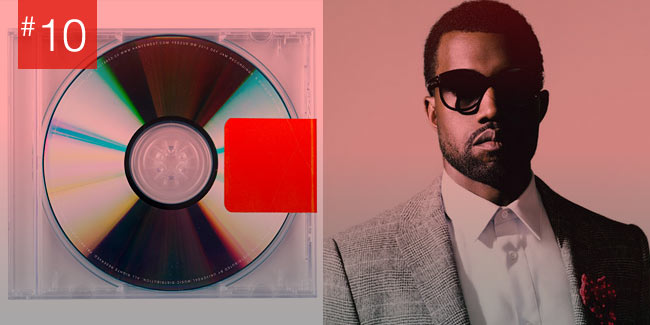 Kanye West – "New Slaves"
(Label: Def Jam, 2013)
Kanye West has been the king of rap for quite some time—almost single handedly reshaping the face of the genre, with both his productions and collaborations. When Yeezus was released upon the world in 2013 it wasn't tracks like "I Am a God" that surprised the most, it was "Black Skinhead" and "New Slaves," a pair of superheated songs with aggression so evocative and raw it was a new high, even for Kanye. The stand out, though, is obviously "New Slaves," a bouncy and lyrically-acrobatic shoulder to the chest that fits perfectly into West's continual progression at the frontlines of hip hop. Kanye has never been afraid to tone things down, but here the composition is utterly stark, with only a distant thunder of bass, leaving the highly confrontational and politically assertive lyrics to take center stage. The only problem? If West keeps hitting homers like this, he might just deserve that ego. [Gary]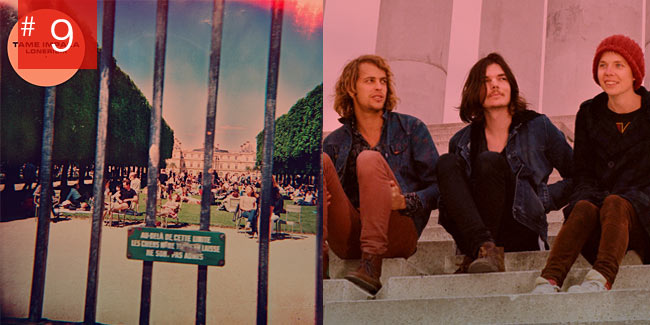 Tame Impala – "Feels Like We Only Go Backwards"
(Label: Modular, 2012)
If psychedelic pop perfection were captured in a three-minute bubble, it might sound like this. John Lennon would smile widely if he were around to hear "Feels Like We Only Go Backwards," or maybe, on the other hand, he would sue for copyright infringement; no one since The Beatles has sounded this much like them. But Kevin Parker isn't merely copying drug-era Beatles here; rather, he's taking its best qualities (so, almost all its qualities) and condensing them into a crystalline, gorgeous, infectious pop anthem. "Every part of me says go ahead," Parker's falsetto states as it glides over sheets of swirling synths, bubbling psychedelia, and a bass line that never quits. Going ahead is exactly what "Feels" excels in: as this song progresses, it becomes more and more infectious, each subsequent chorus increasing substantially in emotional impact. The key is that the first chorus is already wildly hooky; that the song manages to deliver this statement with more success time and time again is absolutely dizzying. [Max]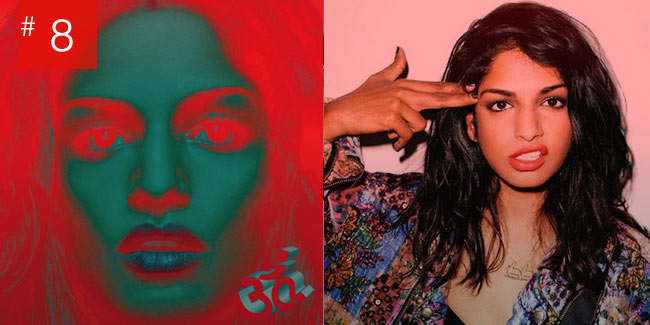 M.I.A – "Bad Girls"
(Label: self-released, 2012)
No one else has quite brought world music influences to pop prominence like musical wunderkind M.I.A. The multi- talented artist Maya "M.I.A." Arulpragasam has been a boundary breaking badass for quite some time, skyrocketing to prominence with 2008's decade-encapsulating track "Paper Planes"—a song everyone knows and hardly anyone knows the lyrics to.
So while she never really went away, M.I.A. came back swinging in 2012 with another genre crushing song. "Bad Girls" is a natural fit in the progressive catalog for the international artist; a song designed perfectly for the time and filling a void that the world hadn't even known was empty. Not only that, but beneath the glossy, bass packed surface, "Bad Girls" is shockingly empowering, its lyrics loud and clear here, "Live fast, die young, bad girls do it well." It's only a matter of time before "Bad Girls" becomes the genre-defining track that it deserves to be. [Gary]
LCD Soundsystem – "Dance Yrself Clean"
(Label: DFA, 2010)
How in the world do you compose something so intimate and epic into a 8+ minute track that could never, ever, wear out its welcome? I've got no idea, but the recently disbanded LCD Soundsystem sure as hell did. James Murphy and his bandmates kicked off their ultimate album, This Is Happening, with this 8-minute dance-punk cacophonous hybrid that almost sounds like it attempts to exorcise every dancing demon out of the listener's body. Of course, while Murphy's vocals and humorous lyrics ("Talking like a jerk/Except you are an actual jerk/And living proof/That sometimes friends are mean") align perfectly with the production's primal drum patting, it's really that moment at 1:40, when the little electronic melody crashes the party in the most beguiling of ways, when "Dance Yrself Clean" triumphantly shimmies its way into the decade's top-shelf songs. And it goes up (and loud) from there. By the 3 minute mark, the song is unleashed into a dance delirium, and if you've done the mistake of increasing the volume on your headphones before, LCD Soundsystem makes you pay for it. In the best way possible. [Nik]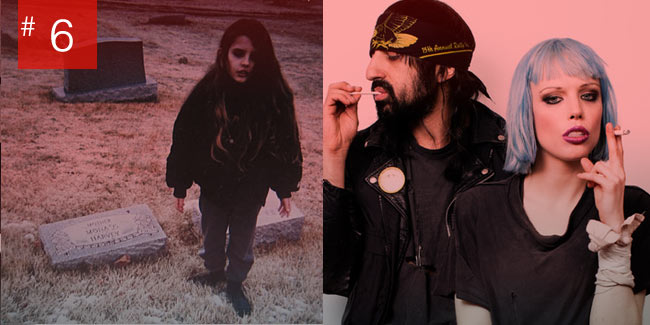 Crystal Castles – "Not in Love (feat. Robert Smith)"
(Label: Fiction, 2010)
How do you make your song better? Throw Robert Smith on it, of course. Crystal Castles originally covered this Platinum Blondes song on their second self-titled album, with the vocals distorted and warbled to the point of being barely discernible. When they released it as a single, someone had the brilliant idea of letting Robert Smith sing on the track, and the results speak for themselves. Putting Smith on the song is an inspired choice, considering how influential his work has been on bands like Crystal Castles. So naturally his voice fits like a glove, with his mournful vocals elevating the song into another dimension. "Not in Love" goes to show that great songs can sometimes be improved upon in the most surprising of ways. [C.J.]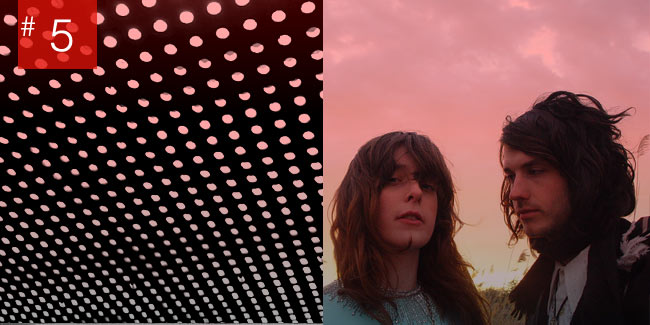 Beach House – "Myth"
(Label: Sub Pop, 2012)
If you were to ask me who the standout musicians of the decade are, so far, my answer would come without so much as a blink of an eye: Beach House. Baltimore duo Victoria Legrand and Alex Scally have been around since the mid aughts, but with Teen Dream in 2010, followed by Bloom in 2012, Beach House redefined the boundaries of dream pop, and reinvigorated my love for the genre. Their first single from Bloom, "Myth," is as good example as any of the kind of deep, oceanic, emotions the duo successfully reach, in tremendously moving fashion. There's no other band out there, with the range of Legrand's voice, and the knack for Scally's unquenchable melodies, that could make verses like "Found yourself in a new direction/Arrows falling from the sun/Canyon calling would come to greet you/Let you know you're not the only one" sound like they're speaking directly to we the listeners. When Legrand sings it, the feeling of loneliness dissipates, because we feel it right down to our marrow. And isn't that what it's all about? [Nik]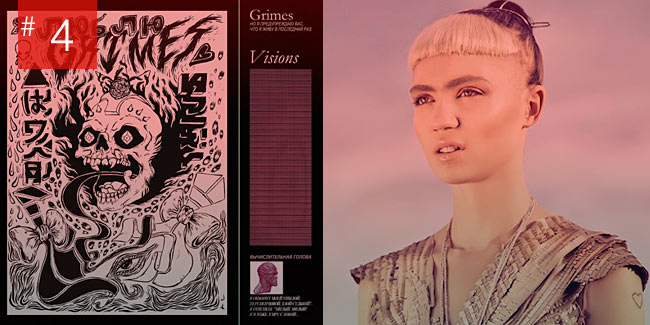 Grimes – "Oblivion"
(Label: 4AD/Arbutus, 2012)
Did you know that indie electronic's club anthem of the decade so far is actually a song about recovering from the trauma of sexual assault? With a groove this thick and steady, "Oblivion" at first masks its important, poignant message. Initial listens of this song entrap willing ears with demonically robotic synths, mechanical percussion, a horrifyingly eerie ambience, and uneasy, fairy-like vocals courtesy of Claire Boucher, the woman behind Grimes. Later listens allow Boucher's words to crystallize: "Coming up behind you/always coming and you'd never have a clue", sung hauntingly in the first verse, indicates that "I see you on a dark night", during the chorus, is directed at a shadowy figure following her home; "When you're running by yourself/it's hard to find someone to hold your hand" is likewise completely unromantic, instead detailing the hell of keeping oneself safe from such a figure. The tense situation Boucher describes explodes into catharsis with one minute and forty-five seconds left in the song, when the synths begin to sound like they too are speaking words. If even the instrumentation is trying to say something, there's no doubting that the message is important. That it's delivered with arguably the most incessantly replayable synthscape of the decade is just a perk. [Max]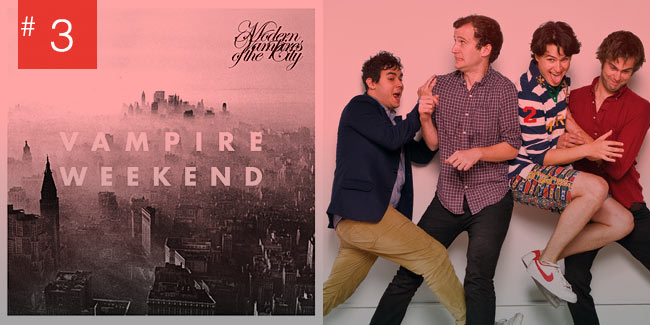 Vampire Weekend – "Hannah Hunt"
(Label: XL, 2012)
The most chilling track on Vampire Weekend's 2013 album "Modern Vampires of the City," "Hannah Hunt" is a hushed (until the end) breakup song that stretches from the freezing beaches of the East coast to the shores of Santa Barbara. Ezra Koenig all but whispers the lyrics throughout the sleepy, sparse first two minutes of the track, as if he's singing with eyes half-closed. Then, the percussion swells and his voice leaps up an octave, shrieking, "if I can't trust you then damn it, Hannah / there's no future there's no answer." This is Vampire Weekend at their most confident and polished, embracing minimalist presentation and asymmetrical structure while honoring their African music inspirations and keeping up that geographical predilection they just can't let go of. [Bernard]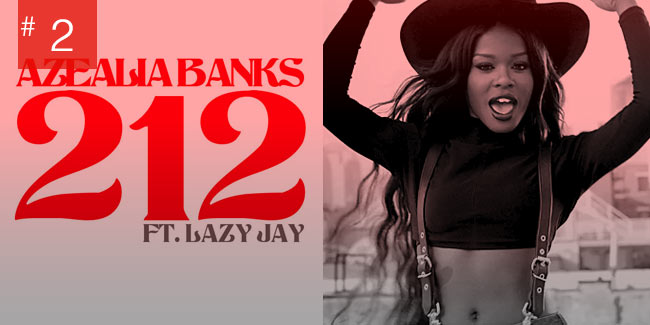 Azealia Banks – "212"
(Label: self-released, 2011)
Hip-hop has been maligned time after time for containing excessive profanity, so when even the world's foremost rap critics and listeners were taken aback with the amount of explicit material in "212," Azealia Banks' debut single, everyone paid attention. Banks absolutely owns the word "cunt" on this song, whether reclaiming it as a neutral term ("I guess that cunt getting eaten") or stabbing her opponents with it ("Imma ruin you, cunt"). "Cunt" isn't the only thing she takes control of, though; she also commands the entirety of Lazy Jay's "Float My Boat," a house track created with absolutely no intention for Banks to use it without permission. Hell, Lazy Jay probably had no idea who Banks was when he first heard that a self-described "rude bitch" from Harlem ripped his song, but it all worked out in the end: yep, "212" sounds so great that he got on board, and is now credited on the song. Maybe that's because Banks not only sings, raps, and screams on "212," but she does each at the exact moment in the song where it fits best. "This shit been mine!" Banks proclaims during the chorus, but she doesn't have to say it: this song proves it beyond all doubt. [Max]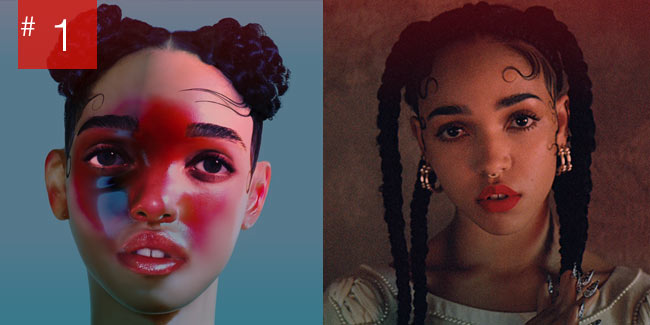 FKA twigs – "Two Weeks"
(Label: Young Turks, 2014)
"Two Weeks" was Way Too Indie's favorite song of 2014, and it remains at the top when we look at the decade in music so far. Really, though, how could it not? This song is nothing short of majestic, an accumulation of everything that trip-hop, R&B, and electronic music have all striven towards this decade. The crystalline synth oscillations and pulsating, deep percussion outline trip-hop's noblest goals; FKA twigs' celestial vocal vibratos outdo those of most of her many peers; the song's overwhelming digital sheen demarcates one of electronic music's foremost objectives. Then there are the lyrics; in addition to the great sonic template, here we have maybe the strongest example of a woman owning her sexuality and not letting society's double standard silence her desires. "I can fuck you so much better," twigs seethes towards an object of desire; "give me two weeks, you won't recognize her" is an even more sensual threat, one for which twigs reaches towards some of the higher parts of her register. But she saves the highest section for the line "my thighs are apart for when you're ready to breathe in," putting everyone on alert, just as a good song should do. We already knew that sex sells, but "Two Weeks" teaches us that owning it is different than buying it. [Max]
Listen to These Songs on Spotify
CJ's Passionate Orphans (Twins!)
Low – "Nothing But Heart"
Nadia Oh – "Taking Over the Dancefloor"
I couldn't even begin to count how many songs I tried to fit on this list, so reducing things down to a few passionate picks is even tougher for me. But one song I knew would crush me if it didn't make it on the list was Low's "Nothing But Heart." It's an eight-minute epic that only has three lines before Alan Sparhawk repeats the line "I'm nothing but heart" a couple dozen times. Sure, it sounds boring, but it's an achingly beautiful song that builds and builds until it soars. By the end, you'll want to join in and yell "I'm nothing but heart" along with the band.
Saying that, let me awkwardly segue into my next pick: Nadia Oh's "Taking Over the Dancefloor." I don't have a lot of words left, so let me be blunt: Nadia Oh deserves to be a massive pop star. Her music is like a weird version of pop from an alternate universe, a completely bonkers bastardization of current pop trends that turns into something wholly singular. Just trust me on this one.
Max's Passionate Orphan
Cloud Nothings – "Wasted Days"
​It's one thing to recast your lo-fi bedroom pop act as a doom-bearing noise punk project; it's another to place a nine-minute anthem of angst, dissonance, and dejection as the second of eight tracks on the album marking this unexpected transition. "Wasted Days" actually wastes no time at all; each and every one of this song's sprawling 494 seconds makes listeners fully inhabit songwriter, guitarist, and vocalist Dylan Baldi's terror. The cutting chords and slow drum build of its brief intro give way to a lacerating, whipping verse lined with Baldi's nasal, howling vocals and defeated, exhausted lyrics. "I thought/I would/be more/than this," goes this song's straightforwardly anthemic chorus, which Baldi whines its first two times.
This already visceral approach becomes even more gut-wrenching and undeniable during the five-minute noise breakdown separating the second chorus from the third. Just before this final chorus arrives, there's a bit of a crescendo, over which Baldi transitions from muttering his chorus to absolutely screaming it. In this ultimate moment, Baldi achieves a catharsis unlike any previously heard in noise rock, as will any and all listeners brave and strong enough to endure this incredible song's hurricane-like nine minutes.
Nik's Passionate Orphans (Twins!)
Sharon Van Etten – "Your Love Is Killing Me"
Father John Misty – "Hollywood Forever Cemetery Sings"
Sharon Van Etten has been around smokey underground bars since her album debut in 2009. Slowly but surely, through wondrously introspective and heart-aching songs like "Love More" (from 2010) and "I'm Wrong" (from 2012's Tramp), she rose through indie folk ranks, and captured hearts with her whispery, sonorous, voice. "Your Love Is Killing Me" from her latest, Are We There, solidifies her status as one of the greatest women armed with a guitar. Naturally it helps that she's reached a point where she has major studio access because this single is as big room in its absurdly effective chorus, as it is intimate in its quavering, soul-searching, verses. The way she lingers on the repeated "you" in the second verse, before "Stabs my eyes so I can see" ascends to a magnificent melody perfectly tuned to Van Etten's matchless voice, makes "Your Love Is Killing Me" one of her greatest accomplishments. Here's a song about painful love that has no substitutes.
Joining Van Etten in my orphanage is Father John Misty's "Hollywood Forever Cemetery Sings." In 2012 J. Tillman released the album Fear Fun under his self-appointed alter ego Father John Misty, after a shroom-stocked road trip. While the whole album is recommended, there's no song as hypnotic, instantly memorable, and gratifying right down to the core as the psychoactively titled "Hollywood Forever Cemetery Sings." The lyrics invite you into an enticing world of psychedelic indie rock, and with lines like "'Cause the marble made my cheeks look pink/But I'm unsure of so many things" we see the effects Tillman's mushroom trip had on his creativity. From its beginning, he sings "Jesus Christ" like no one else I've ever heard, to its end, when he implores someone "to help me dig," the song is a gloriously abstract journey I love to repeat over and over. Bonus points for casting Aubrey Plaza in the song's official video; perhaps the greatest music video casting of all time. Yeah, I said it.
See the rest of our Best Songs Of The Decade lists!
View Other Lists of this Feature:
Best 50 Songs of the Decade So Far (#50 – #41)
Best 50 Songs of the Decade So Far (#40 – #31)
Best 50 Songs of the Decade So Far (#30 – #21)
Best 50 Songs of the Decade So Far (#20 – #11)