Best 50 Songs Of The Decade So Far (#20 – #11)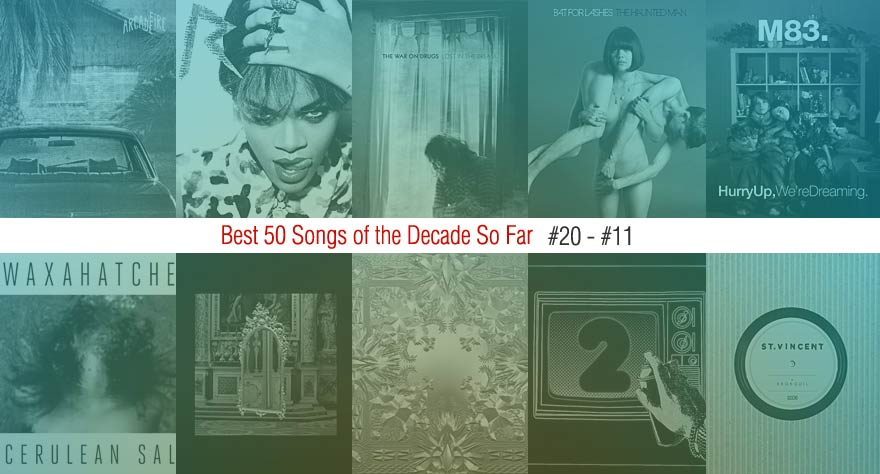 We continue our countdown of our 50 Best Songs of the Decade So Far with ten songs that include an omnipresent pop anthem, a confrontational rap banger, a stark piano ballad, and an Italo disco song, a subgenre formerly thought to be dead. These ten songs are also somewhat surprising; some of them don't feature too often on other publications' lists of the decade's best music to date. A few of these would be expected for a good Top 20, but others are refreshingly new to such lists. There will definitely be something, if not many things, for eager listeners to discover in this section.
We've got the playlist ready and waiting for your listening pleasure at the bottom, let us know what you think of our list so far and tune in tomorrow for our top ten list.
Best 50 Songs Of The Decade So Far
(#20 – #11)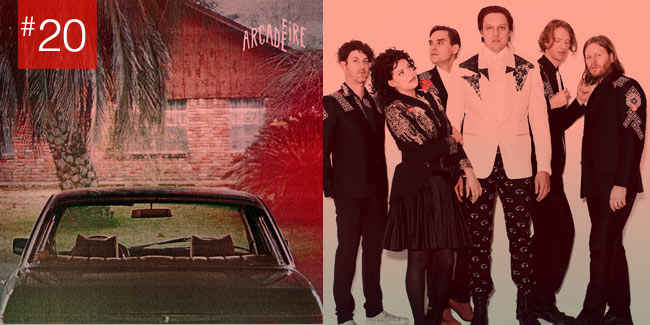 Arcade Fire – "Sprawl II (Mountains Beyond Mountains)"
(Label: Merge, 2010)
Over time, Arcade Fire have transformed from an earnest gang of chamber pop auteurs to a troupe with an unexpectedly varied sound. "Sprawl II (Mountains Beyond Mountains)" finds them mid-transition between their former state of we're-all-in-this-together anthems to their more recent form of cynical, synth-indebted, all-encompassing sounds. The song marks the first instance in Arcade Fire's catalog where synths actually carry the weight, a move that might signal death for the band if the emotional pull weren't maintained. Sprightly pianos, digital flickers and a deep, slowly growling synthetic bass support Regine Chassagne's angelic, assertive vocals. Her lyrical themes of suburban decay and youthful exuberance match the song's subtly ominous undercurrent and its gleeful, ecstatic synths, respectively. A brief bridge sees the darker hues briefly overtaking the smiling sounds in the song's most exciting moment; like Chassagne herself says, "I need the darkness, someone please cut the lights." [Max]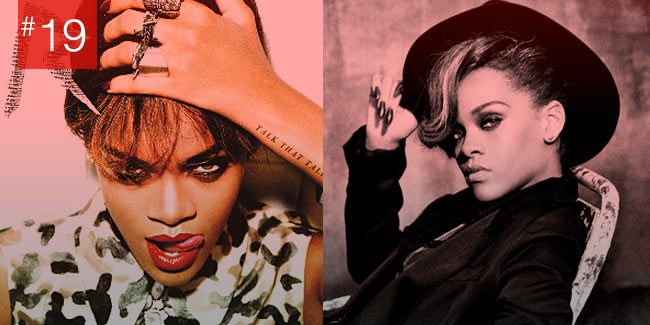 Rihanna – "We Found Love"
(Label: Def Jam, 2011)
The 2011 monster collaboration between Rihanna and Calvin Harris "We Found Love" is a top-notch club banger, with exhilarating crescendos and breakdowns and awesome electronic "swoosh" noises everyone loves so much. But what makes it special is its sense of high drama, found in RiRi's perfectly controlled, love-struck vocals and the intensely impassioned lyrics. That no one (of note) had written "we found love in a hopeless place" before this song came out is almost stupid, considering how timeless and simple and evocative a lyric it is. "We Found Love" is rapture in a bottle, one of those songs that'll give you the sudden urge to move with your partner from the dance floor to somewhere more private. [Bernard]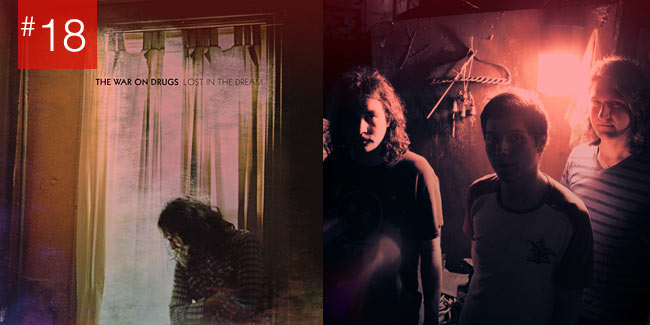 The War on Drugs – "Red Eyes"
(Label: Secretly Canadian, 2014)
After two albums, The War On Drugs have finally found their stride on Lost In The Dream (2014), the lush and lyrically staggering third album from the tortured artist that is Adam Granduciel. And while the record is rather great through and through, it is the first single, "Red Eyes," that is the clear stand out—a song so rich and mesmerizing that the rest of the album nearly disappears in its glow. The song, driven by the constant rhythm of the drums, but carried along by the full-bodied piano and the thick fuzz of the guitar, is really a showcase for Granduciel's voice, which rises from its smooth base to a pained howl in a matter of words and scales an impressive range, striking at some hard truths, "And you don't go home/but you abuse my faith." This track is sure to outlast the rest of the decade. [Gary]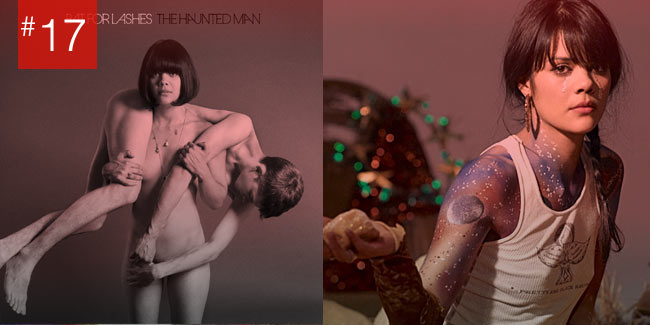 Bat for Lashes – "Laura"
(Label: Parlophone, 2012)
Natasha Khan a.k.a. Bat For Lashes, is the genuine deal. She doesn't comprise her artistic inclinations, and doesn't rush inspiration. The story behind her last album, and how Radiohead's Thom Yorke helped, is like an adventurous quest for intuition that loves to escape creative minds, but the story behind "Laura," her slow and melancholic piano ballad, is much more rock star. "My housemate and I had an extremely debauched house party…The next day, I had the biggest hangover ever, and I had to go and write this song," Khan told Pitchfork. What makes it even more unbelievable is that Khan and her co-writer Justin Parker nailed it in under two hours and the demo version became the album version. Khan hitting it out of the park at first bat while hungover is like an invitation to search for symmetry between artist and subject, making the song all the more transcendent. Of course, the song wouldn't be her last album's leading single if it stood on its own merit, and there's plenty of it. Khan's voice, a piano, and a heartfelt ode to the misguided, "Laura" is impossible to forget. [Nik]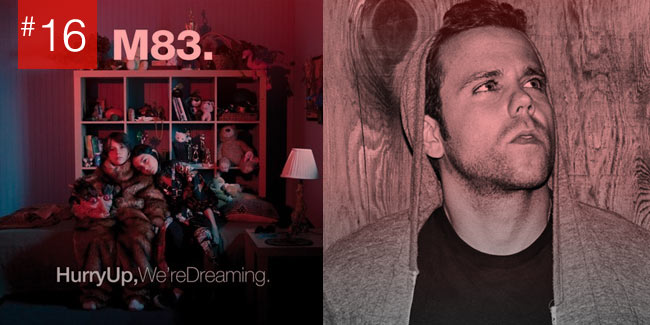 M83 – "Midnight City"
(Label: Mute, 2011)
If you're looking for the definitive driving song on our list, you've found it. French electronic artist Anthony Gonzalez is the man behind the popular M83 monicker, and for his latest album (brilliantly titled Hurry Up, We're Dreaming), his main influence was his relocation from France to Los Angeles. But, somehow, when he sings "Waiting in a car/Waiting for the ride in the dark/The night city grows/Look and see her eyes, they glow," you know that he could only be referring to the infamous city of angels. The song is immediately recognized by the opening riffs (interestingly enough, this is his own heavily distorted voice), and the way M83 manipulates and mixes this riff, at once following and leading every other component of the track, is what makes "Midnight City" an instant modern classic. It harkens back to a bygone era of disco, and ends on a sax solo fitting for the end credits of a late '80s TV show, but with its beats, and pitch-perfect mix of synth-pop energy and dream-pop captivation, "Midnight City" sounds fresh every time you press repeat. Which is a lot. [Nik]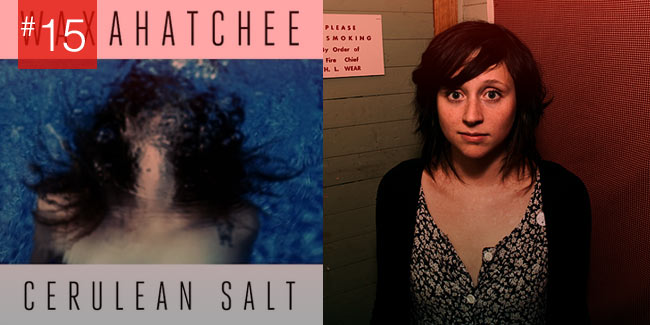 Waxahatchee – "Swan Dive"
(Label: Don Giovanni, 2013)
Only three elements comprise "Swan Dive," a masterwork of desperation, heartache, and isolation courtesy of Katie Crutchfield. Specifically, Crutchfield is such a powerful songwriter that she only needs three tracks (an endlessly pattering bass drum, a crisply threadbare guitar line, and her husky, close-range vocals) to convey the hefty emotions underlying this song. "Won't you sleep with me, every night for a week? Won't you just let me pretend, this is the love I need?" Crutchfield asks over her desolate instrumentation, providing just enough of a backbone to create a memorable melody, but also remains thin enough to ensure that her words receive the attention they deserve. Later, the drums go silent, and the backbone becomes even more delicate, directing the focus towards a key line: "I'll keep having dreams about loveless marriage and regret." There is no hope on "Swan Dive," only the fall from grace for which the song is named. At least Crutchfield is giving us incredible music from down in her ditch. [Max]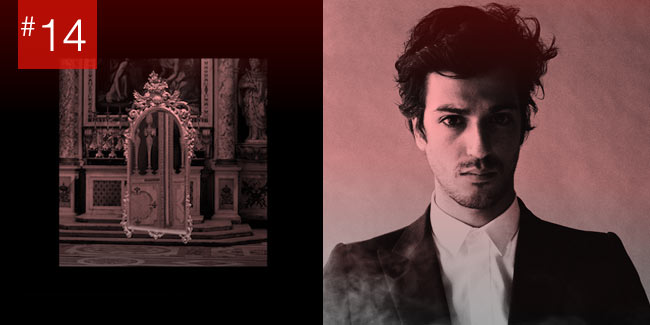 Gesaffelstein – "Pursuit"
(Label: EMI, 2013)
Not a lot of music is as blindly forceful as Gesaffelstein's propulsive single "Pursuit." Driven by a slightly over-compressed procession preset, but thrown along by the piercing and undulating tones that bury themselves in your head, the song is a sort of freight train of energy, the rests acting as the sole space to catch a breath. Gesaffelstein (the French born Mike Levy) has worked with Kanye West on some of his fiercer Yeezus tracks, demonstrates what has made him such a powerhouse and go to producer for hyper-aggressive and club-ready songs with "Pursuit." The song stands apart from the pack with its on-a-dime shifts and the clipped and unnerving use of vocal samples. "Pursuit" is the perfect synthesis of furious EDM, a pulsing discotheque nightmare in the best possible way. [Gary]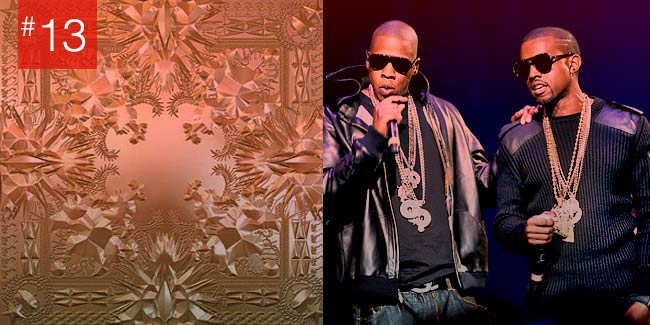 Jay-Z & Kanye West – "N****s in Paris"
(Label: Def Jam/Roc-a-Fella/Roc Nation, 2011)
There are plenty of standouts throughout Watch the Throne, Jay-Z and Kanye West's collaborative album, but "N****s in Paris" stands out as the clear winner. With Hit-Boy's instantly memorable synth hook driving the song, Jay-Z and West provide one quotable line after another. It's full-on, egotistical bragging, and it works. Why? Because both of them earned the rights to brag as much as they want (West just released My Beautiful Dark Twisted Fantasy at the time, and Jay-Z needs no explaining). At first glance, the title Watch the Throne might give off the image of someone trying to be protective. After listening to "N****s in Paris," the title's meaning is clear: watch and observe the masters at work. [C.J.]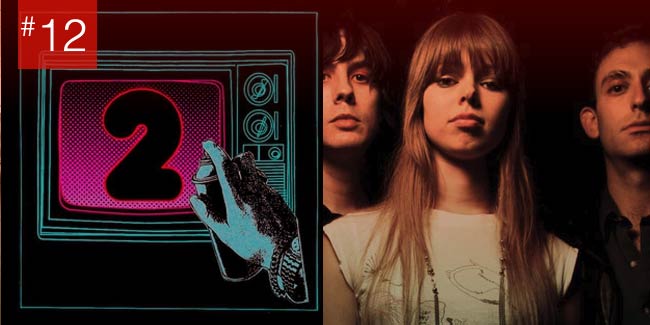 Chromatics – "Cherry"
(Label: Italians Do It Better, 2012)
Never underestimate the combined powers of an enticing female vocal and low-key electronic melody; the two were created to be together. Case in point: Chromatics. Ruth Radelet sounds like she stepped out of a vintage postcard from the 1970's, and with her poignant, deeply melancholic, voice manipulated to disperse away like dandelion clocks, "Cherry" captures the heart, swiftly and successfully. Not found on any of the band's official albums, "Cherry" is one of the band's three contributions to the second After Dark compilation by their label, Italians Do It Better, and tells the familiar story of Cherry, who "can be very sweet when she needs a friend/But it's only/A mask she wears so she can pretend." Adam Miller's production, with that titillating Italo disco riff filling the void left by Radelet's redolent voice whenever she isn't singing, is a striking example of something beautiful and timeless created out of simple compositions. Not to mention how it basks in a kind of retro neon warmth you can practically touch. [Nik]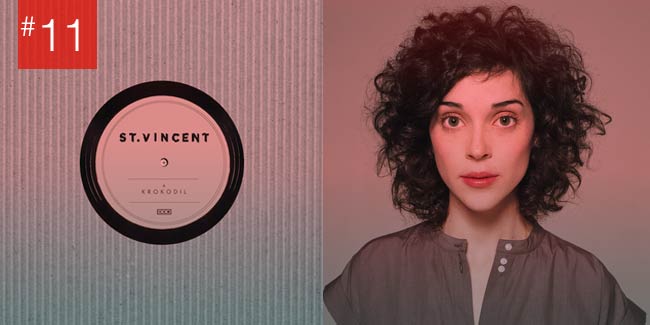 St. Vincent – "Krokodile"
(Label: 4AD, 2012)
St. Vincent has come to be known by her feather-light and carbonated indie tracks, a brand that has snagged her a Grammy. But while her sound is rather easy to pick out from the pack, she has been anything but one note. The best example of this arguably being 2012's Record Store Day single "Krokodile." The song is a shock to the system, especially for dedicated Annie Clark fans. The track, nearly foaming at the mouth, is an intense and crunchy punk riot, with Clark's vocals smashed and buried beneath the chugging hurricane of sound. So while St. Vincent has all but created her own genre (one that no doubt carries some eerie undertones), "Krokodile" is a behemoth of a song that proves Clark can rock out with the very best of them. [Gary]
Listen to These Songs on Spotify
See the rest of our Best Songs Of The Decade lists!
View Other Lists of this Feature:
Best 50 Songs of the Decade So Far (#50 – #41)
Best 50 Songs of the Decade So Far (#40 – #31)
Best 50 Songs of the Decade So Far (#30 – #21)
Best 50 Songs of the Decade So Far (#10 – #1)