Post-Weekend News Roundup – Feb. 23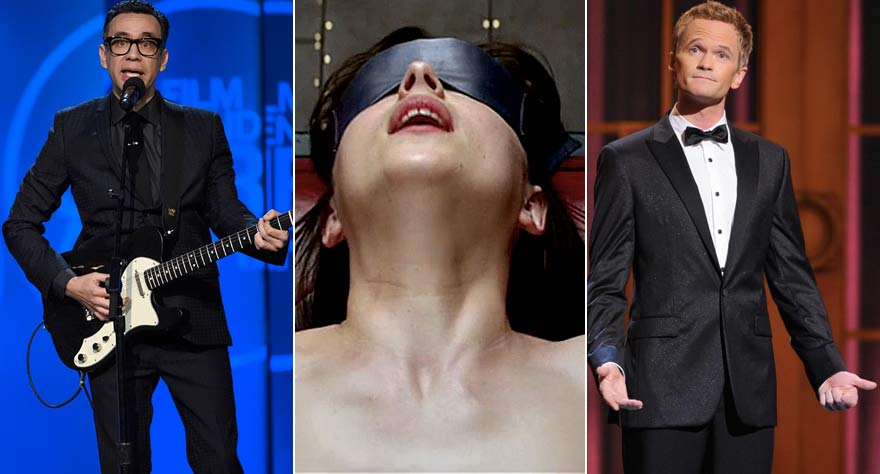 This week's news cycle was dominated by the #Oscars, with the ramp up to the post-show giving us all plenty to read. The morning after the ceremony is always one of my favorite days, with all the opinions on what went right, what went wrong and what got weird.
On The Fence About Neil Patrick Harris
There are two wonderful hot takes from Slate this morning. The first is a biting take-down of host Neil Patrick Harris. Personally, many felt that Harris was more adequate than bad, though the expectations that the ceremony needs to be a comedy show doesn't help. Finding the perfect Oscar host is basically impossible—or, at least, the nature of what the host is expected to do and is able to do isn't always going to line up. It's understandable that people expected a little more out of NPH, with his experience hosting other award shows. See our reactions and our favorite moments from the 2015 Oscars.
Biggest Mistake By The Academy In 20 Years?
Slate's Oscar opinion slams the Academy for its failing to recognize Boyhood as the best picture of the year. Writer Dan Kois thinks Boyhood should have won, and we also have the feeling that in 20 years this decision will look more glaring, but picking Birdman is no great tragedy. He notes that this is the worst mistake the Academy has made in 20 years, but doesn't even mention Crash, which is already considered a huge misstep.
Independent Spirit Awards
If the Independent Spirit Awards are more your style, Way Too Indie has you covered with the full list of winners, all of the night's acceptance speeches, and a list of the 7 best moments of the evening. Boyhood received a little more recognition at the Spirit Awards than it did from the Oscars, as Richard Linklater won for Best Director, but strangely wasn't in attendance to accept the award. Though it was Birdman that flew away with the top prize at the indie awards show as well.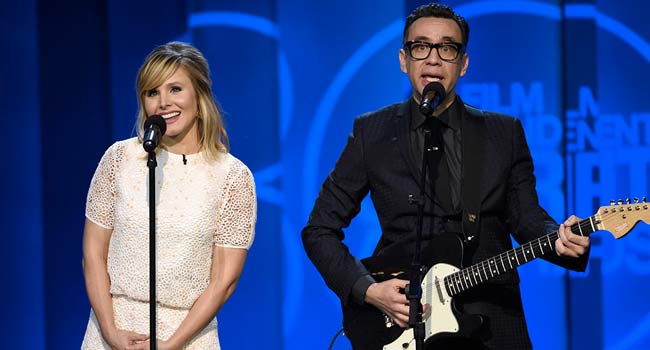 Kristen Bell & Fred Armisen hosted the Independent Spirit Awards
Fifty Shades of Grey Continues To Dominate
Fifty Shades of Grey was #1 at the box office again this weekend bringing in an additional estimated $23 million. From The Telegraph, here is a bizarre story of three women who were arrested after allegedly attacking a man during a screening in Scotland when he asked them to quiet down.
Scream Factory & IFC Midnight Team Up
One awesome bit of news you may have missed last week was the exclusive home media deal between Scream Factory and IFC Midnight. As reported by Fangoria, the new partnership will begin with a special edition Blu-ray of Way Too Indie favorite The Babadook this upcoming April. We're long time fans of what Scream Factory has put out—even when the films aren't particularly appealing—as they have always do a superb job of restoring older genre films and always add excellent special features. The upcoming Babadook features Jennifer Kent's short film Monster and Deleted Scenes that will be exclusive to the Special Collector's Edition.
Mo'Nique Talks About Being Blackballed From Hollywood
Last week actress Mo'Nique spoke out about her disappearance from Hollywood after her Oscar win in 2010. The Hollywood Reporter interviewed the comedian and actress, covering her perspective of being blackballed by Hollywood following a rocky relationship with filmmaker Lee Daniels. Though the situation is obviously headline-grabbing, there is a plenty else in the interview of worth, including Mo'Nique's spiritual connection with Hattie McDaniel, as well as a first-hand look into the Oscar campaign season.
Trailer of the Week: Welcome to Me
Kristen Wiig's next project, Welcome to Me, looks so weird and charming, just like its star. Wiig plays Alice Klieg, a troubled young woman who wins the lottery. She decides to spend her winnings in inspired ways, including creating her own talk show that seems to break every formula of the business. Welcome to Me premiered at TIFF to strong reviews and will have a limited release on May 1st. Check out the trailer below: