2012 Toronto International Film Festival Coverage Recap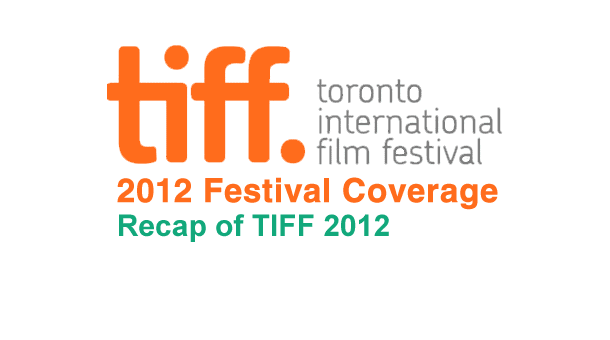 2012 Toronto International Film Festival came to close on Sunday when officials announced the Audience Award went to Silver Linings Playbook, a film that now has some serious Oscar potential. We did not attend a showing of that crowd-pleaser film but below is a recap of the films that Way Too Indie writer CJ Prince did see at this year's festival.
Recap of Way Too Indie coverage of 2012 Toronto International Film Festival
Day #1: An Introduction to the festival
An informative article about Toronto International Film Festival along with helpful film festival pointers.
Day #2: Spring Breakers and The Master
The first actual day at the festival was full of delays which resulted in leaving early from Spring Breakers to catch P.T. Anderson's highly anticipated The Master.
Day #3: Tabu, Amour, 90 Minutes, No One Lives
This was the busiest day at the festival as it consisted of four different films including Amour which many believe to be a front runner at the Academy Awards for Best Foreign Language.
Day #4: Cloud Atlas and The Land of Hope
Easily the largest budgeted film we cover, Cloud Atlas, ended up being one of our favorites that we saw.
Day #6: Berberian Sound Studio and Here Comes The Devil
Back from taking one day off from the festival we cover a film that was on Way Too Indie's Top 10 Most Anticipated Films at TIFF 2012.
Day #7: The Hunt and Leviathan
This day would end up be to the best overall day, Leviathan which ended up being the best film we saw by far and The Hunt which was a crackling drama.
Day #8: Post Tenebras Lux and When Night Falls
Two films from TIFF's Wavelengths programme which are films that straddle the line between conventional and experimental.
Finally we close out the festival with an epically long 5 hour film that ended the festival on a mediocre level.
Follow @WayTooIndie on Twitter to see all of our festival coverage as well as daily reviews and news. Below is a recap of some our TIFF '12 coverage.
Front of the spring breakers line is almost entirely young girls who are here for the cast. Poor souls have no clue what they're in for.

— Way Too Indie (@WayTooIndie) September 7, 2012
Screening delayed already, dammit. Gotta catch the master no matter what even if it means skipping on this movies ending #TIFF12

— Way Too Indie (@WayTooIndie) September 7, 2012
From what I saw SPRING BREAKERS was a typical Korine movie for me. Hit and miss, with incredible highs and dull lows. #TIFF12

— Way Too Indie (@WayTooIndie) September 8, 2012
THE MASTER: going to take another watch before I get a better idea of what to think. Plenty of amazing stuff but it doesn't come together

— Way Too Indie (@WayTooIndie) September 8, 2012
Filling in for AMOUR #TIFF12 twitter.com/WayTooIndie/st…

— Way Too Indie (@WayTooIndie) September 8, 2012
Say hello to the directors of CLOUD ATLAS #TIFF12 twitter.com/WayTooIndie/st…

— Way Too Indie (@WayTooIndie) September 9, 2012
CLOUD ATLAS: Welp, they did it. Huge epic, it's faults are overshadowed by its huge ambitions. #TIFF12

— Way Too Indie (@WayTooIndie) September 9, 2012
BERBERIAN SOUND STUDIO: Some fantastic moments but it gets too bogged down in its insanity to be truly great #TIFF12

— Way Too Indie (@WayTooIndie) September 11, 2012
Thomas Vinterberg at a Q&A for THE HUNT which got a standing ovation twitter.com/WayTooIndie/st…

— Way Too Indie (@WayTooIndie) September 12, 2012
Overheard someone say they thought Morgan Freeman died a week ago, so anyone who thinks that #TIFF12 is for intellectuals can rest easy

— Way Too Indie (@WayTooIndie) September 12, 2012
LEVIATHAN: holy shit. Holy shit. Holy Shit. Holy. Shit. HOLY SHIT #TIFF12

— Way Too Indie (@WayTooIndie) September 13, 2012
In my 5 years of attending #TIFF12 I have yet to meet a nice person with a lanyard.

— Way Too Indie (@WayTooIndie) September 13, 2012
POST TENEBRAS LUX: Uh… #TIFF12

— Way Too Indie (@WayTooIndie) September 13, 2012
Well guys it has been a fun #TIFF12. Thanks for the follows, RTs and support. I now hand the reins back over to Dustin, see you next year

— Way Too Indie (@WayTooIndie) September 16, 2012