TIFF 2012 Day 1: An Introduction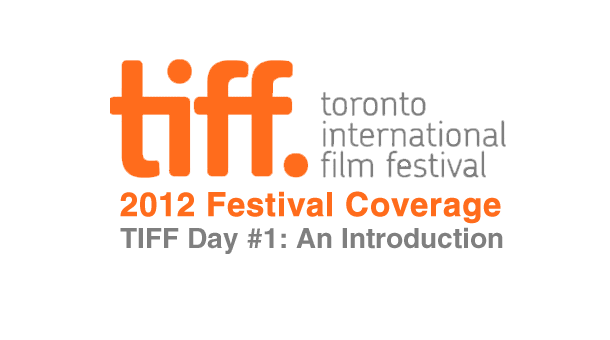 This year will be my fifth time heading out for the Toronto International Film Festival (or TIFF for short). The festival, which takes place over 11 days throughout downtown Toronto, has become more influential after the last several years. Back in 2008 TIFF premiered Slumdog Millionaire which went on to dominate the major award shows. In 2010 TIFF premiered The King's Speech which, like Slumdog Millionaire, went on to win Best Picture at the Academy Awards. Now TIFF is seen as the starting line for the Oscar race, with studios premiering their films hoping for a breakthrough hit.
Don't get the impression that TIFF is just a collection of celebrities promoting their Oscar hopefuls. This year there are 289 feature films playing at the festival, with the bigger premieres (Argo, To The Wonder, Hyde Park on Hudson) taking up a small percentage of that number. Films from all over the world play every year, and whether you're interested in a certain country, genre, venue, etc. you should be able to find a line-up of films that will cater to your interests.
The festival starts today, but I will not be attending until tomorrow. Cameron Bailey, the artistic director of the festival, has admitted that people tend to think the festival starts on the second day which is basically true. The festival has tried to combat that this year by selecting Rian Johnson's Looper as its opening film, but Thursday only has a handful of screenings that are all sold out. While I wait to become a part of the madness, here are some general pieces of information about TIFF that I've learned over the years.
You are a slave to the schedule (AKA You can't always get what you want) – There are plenty of films I would have loved to see this year at TIFF but timing and scheduling end up becoming my worst enemy. I plan on seeing more than half of our most anticipated films at TIFF, but the perfect world where I can watch them all simply doesn't exist. Like Someone in Love conflicts with The Master and Cloud Atlas. To The Wonder conflicts with Berberian Sound Studio. Other films I would have loved seeing, like Pablo Larrain's No, conflict with other screenings. While it's unfortunate I have no reason to complain, I'm perfectly happy with my current line-up. The fact that I have to make these kinds of tortured decisions goes to show how much content TIFF really has. It's better to have an embarrassment of riches than a shortage.
Emotion versus Logic – There's a debate that usually goes on between TIFF-goers every year that can be summed up like this: Is it worth the extra money to see a popular film at TIFF, even if it comes out in theatres shortly after? The 'Emotion' side says yes. With the cast and crew attending, a Q&A, and an audience of hundreds of enthusiastic fans watching it certainly feels like it would be the ideal experience to watch a movie. The 'Logic' side doesn't consider those factors worthy of the premium pricing, and that time at the festival is better spent checking out something that won't get a major theatrical release. Personally I sway back and forth between both sides of the debate. The reason why I won't be checking out Argo at TIFF is because it'll be out in theatres shortly afterward, but seeing Cloud Atlas at TIFF appeals to me a ton even if it'll be out in October. And this point brings me to…
See something different – A trip to TIFF or any other film festival wouldn't be complete without stepping outside one's comfort zone. Every year I make sure that I see one film I know little to nothing about. The greatest opportunity that TIFF brings to viewers is discovery. It's no surprise that out of 289 films some of them will be duds, but there are plenty of hidden gems as well. There's something exciting about discovering a great film no one else knows about, and in a lot of cases no one ever gets the chance to see these films again in theatres. Some people might see it as risky to spend their money on a film they don't know about, but the reward would be something worth remembering for a long time.
Besides the Looper premiere today should be relatively quiet at the festival. Jason Reitman is hosting a table read of American Beauty, while Rust and Bone and On The Road will screen for North American audiences before Dredd 3D kicks off the festival's Midnight Madness programme. It should hopefully be a nice start to another great year for TIFF.
Coming up tomorrow: I start my festival trip with one of the weirdest double features in my life, starting with Harmony Korine's Spring Breakers followed by Paul Thomas Anderson's The Master.