2015 Independent Spirit Award Predictions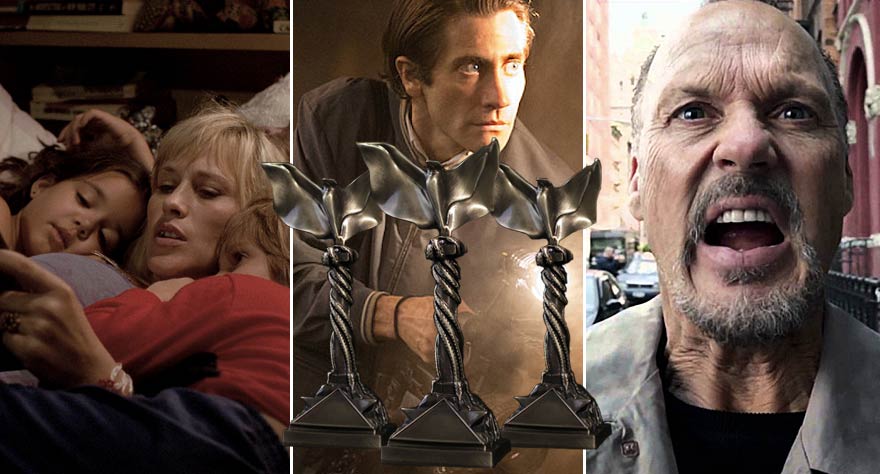 While Birdman comes in with the most Independent Spirit Award nominations this year with a total of six, I'm predicting Richard Linklater's Boyhood winning the most awards with four (including most of the big ones). Birdman will likely pick up at least two awards, same as Dan Gilroy's Nightcrawler, and the rest of the field should be fairly spread out. You're likely to see wins for smaller independent films like Dear White People, Blue Ruin, A Girl Walks Home Alone at Night, and CITIZENFOUR.
In addition to picking the winners, I explain the reasoning behind my picks underneath each category. There's still plenty of time for some shakers and movers between now and when the winners are revealed as the award season continues on. Tune into IFC on Saturday, February 21st at 2PM PT and watch live to see if my predictions hold up.
2015 Independent Spirit Award Predictions
(My prediction for the winners are highlighted in bold red font)
Best Feature:
Birdman
Boyhood
Love is Strange
Selma
Whiplash
Reason Why:
Richard Linklater's coming-of-age epic
Boyhood
landed at the top of many Best Films of 2014 lists (including
our own
), so it's easy to see the film receiving top honors here. The strongest competitors of this category are likely the politically relevant
Selma
and Alejandro G. Iñárritu's wonderfully choreographed
Birdman
. Though it's not much of a race.
Boyhood
is the uncontested winner here.
Best Director:
Damien Chazelle – Whiplash
Ava DuVernay – Selma
Alejandro G. Iñárritu – Birdman
Richard Linklater – Boyhood
David Zellner – Kumiko, The Treasure Hunter
Reason Why:
It's always a safe bet to pick Best Director and Best Picture in tandem, so Richard Linklater walks away with the Spirit Award in my mind. Considering the 12 year commitment his film required, not very many people will argue the recognition for this achievement. Still, I wouldn't completely rule out Damien Chazelle or Alejandro G. Iñárritu.
Best Male Lead:
André Benjamin – Jimi: All Is By My Side
Jake Gyllenhaal – Nightcrawler
Michael Keaton – Birdman
John Lithgow – Love is Strange
David Oyelowo – Selma
Reason Why:
Jake Gyllenhaal might have a chance to give Michael Keaton a run for his money, but I think it's Keaton coming out on top in the Best Male Lead category. I'm still baffled how André Benjamin snagged a nomination in such a competitive category.
Best Female Lead:
Marion Cotillard – The Immigrant
Rinko Kikuchi – Kumiko, The Treasure Hunter
Julianne Moore – Still Alice
Jenny Slate – Obvious Child
Tilda Swinton – Only Lovers Left Alive
Reason Why:
Best Female Lead is a strong category this year with veterans such as Tilda Swinton and Julianne Moore and promising up-and-comers like Marion Cotillard and Jenny Slate. My prediction goes to Moore though, she's the unofficial favorite after winning the Golden Globe and the SAG (and the only one even nominated for an Oscar, Marion Cotillard was nominated for an Oscar this year but for a different film).
Best Supporting Male:
Riz Ahmed – Nightcrawler
Ethan Hawke – Boyhood
Alfred Molina – Love is Strange
Edward Norton- Birdman
J.K. Simmons – Whiplash
Reason Why:
This is a fairly obvious choice, even considering the talented group of nominees. J.K. Simmons dominates in Whiplash, giving the most memorable performance of the bunch. I'm just happy to see Ethan Hawke, Riz Ahmed, and Edward Norton in the mix.
Best Supporting Female:
Patricia Arquette – Boyhood
Jessica Chastain – A Most Violent Year
Carmen Ejogo – Selma
Andrea Suarez Paz – Stand Clear of the Closing Doors
Emma Stone – Birdman
Reason Why:
Another lock in the Supporting category. This is Patricia Arquette's race to lose, especially since she's considered as a supporting role instead of lead at the Spirit Awards.
Best Screenplay:
Scott Alexander & Larry Karaszewski – Big Eyes
J.C. Chandor – A Most Violent Year
Dan Gilroy – Nightcrawler
Jim Jarmusch – Only Lovers Left Alive
Ira Sachs & Mauricio Zacharias – Love is Strange
Reason Why:
With The Grand Budapest Hotel being too expensive to be eligible for Spirit Awards, the floor for Best Screenplay is left wide open. I'm giving Dan Gilroy's Nightcrawler the slight advantage over A Most Violent Year and Love is Strange.
Best First Feature:
A Girl Walks Home Alone at Night
Dear White People
Nightcrawler
Obvious Child
She's Lost Control
Reason Why:
Another category that will be tight. Part of me wants to declare A Girl Walks Home Alone at Night as the winner, but I believe Nightcrawler will nudge it out as the victor. Dear White People and Obvious Child also have a slim chance, but the real WTF here is a nomination for She's Lost Control.
Best First Screenplay:
Desiree Akhavan – Appropriate Behavior
Sara Colangelo – Little Accidents
Justin Lader – The One I Love
Anja Marquardt – She's Lost Control
Justin Simien – Dear White People
Reason Why:
A win for Justin Simien's Dear White People seems appropriately timed considering it was a year plagued with racial tension in the media. But it's a race between Justin's. I wouldn't blink twice if Justin Lader's name is called instead for the underrated The One I Love.
Best Cinematography:
Darius Khondji – The Immigrant
Emmanuel Lubezki – Birdman
Sean Porter – It Felt Like Love
Lyle Vincent – A Girl Walks Home Alone at Night
Bradford Young – Selma
Reason Why:
Each one of these films are beautiful in their respected ways, but Birdman stands above the rest with it's brilliant camera work.
Best Editing:
Sandra Adair – Boyhood
Tom Cross – Whiplash
John Gilroy- Nightcrawler
Ron Patane – A Most Violent Year
Adam Wingard – The Guest
Reason Why:
It's only logical that a film which took 12 years to make will end up winning the Best Editing award. If Boyhood somehow loses this category, it will most likely be to Whiplash or Nightcrawler. I'm happy to see Adam Wingard's name on here for The Guest though.
Best International Film:
(Award given to the director)
Force Majeure
Ida
Leviathan
Mommy
Norte, the End of History
Under the Skin
Reason Why:
I could see every film in this category winning, but Ida seems like the most sensible pick. But don't count Under the Skin out. The film landed high on many year-end lists and could easily win enough votes with Scarlett Johansson's name.
Best Documentary:
20,000 Days on Earth
CITIZENFOUR
Stray Dog
The Salt of the Earth
Virunga
Reason Why:
There wasn't a more controversial person in 2014 than Edward Snowden and there's no doubt CITIZENFOUR is the favorite here.
John Cassavetes Award:
(Given to the best feature made for under $500,000; award given to the writer, director, and producer)
Blue Ruin – Jeremy Saulnier
It Felt Like Love – Eliza Hittman
Land Ho! – Aaron Katz & Martha Stephens
Man From Reno – Dave Boyle
Test – Chris Mason Johnson
Reason Why:
Blue Ruin is not an obvious choice here, but my guess is that it will barely edge out It Felt Like Love and Land Ho! for this award. But consider those two favorable dark horses.