Dear White People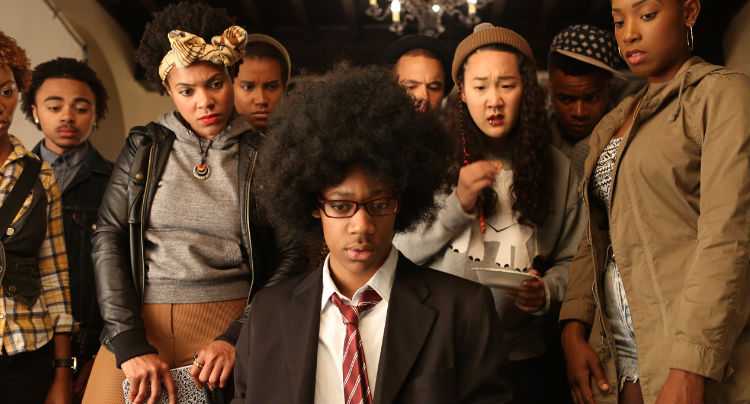 Brimming with bright ideas, Justin Simien's blistering satire breaks barriers, eliciting deep thought and big laughs.
Justin Simien naming his debut feature Dear White People is a clear provocation that suggests perhaps an indictment on white Americans by black Americans, or a grand statement on race relations by Simien, a black filmmaker. Surprisingly, you'll find that behind those three big, inciting words is a film that's as comedic as it is confrontational and as universal as it is intimate, a new-school satire about black identity that's more inclusive than exclusive.
Simien asks what value individuality holds in a modern society that, as much as we hate to admit it, still shoves us into color-coded boxes that define us more than our personal preferences and characteristics."Asks" is the operative word–Simien presents calculated snapshots of big and small absurdities black people face in the Obama era, but by no means endeavors to paint a definitive portrait of the black experience. The answers are ours to search for, in the theater lobby, on the car ride home, and over coffee the next day, or the next day, or the next. With the help of an exceptional young cast, Simien serves up a smorgasbord of food for thought that will hopefully jostle awake those who fall for the false front of "post-racial" America.
Set in the fictitious Ivy League campus of Winchester U., the film revolves around four core characters, each black students struggling with identity in their own way. Sitting atop the university food chain is Troy Fairbanks (Brandon P. Bell), son of the school dean (Dennis Haysbert) and head of Armstrong-Parker, Winchester's traditionally black residence. Troy got to his esteemed position by being as non-threatening to the predominantly white student body as possible, letting racist comments slide with a laugh, without lifting so much as a finger in protest. His reign as head of Armstrong-Parker comes to an unexpected end, though, at the hands of his activist ex-girlfriend, Samantha White (a magnetic Tessa Thompson), whose snarky radio show, "Dear White People", has been ruffling feathers with fiery comments like, "Dear white people…please stop touching my hair. Does this look like a petting zoo to you?"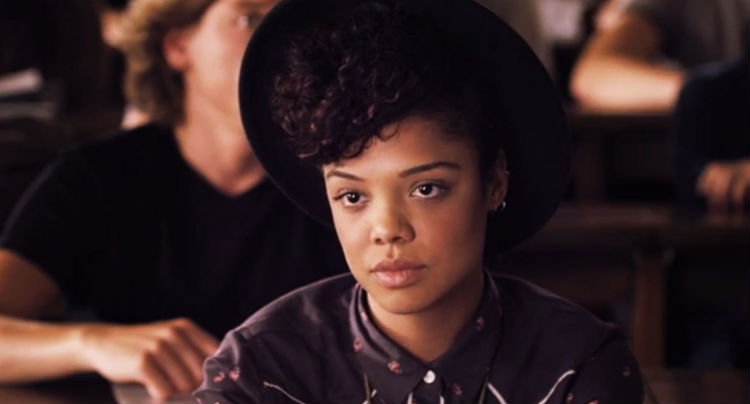 Unlike the outspoken Sam, who's fervently embraced her blackness, Lionel Higgins (Tyler James Williams) is an outcast on every level. He's a gay, introverted journalist who's shunned by his white roomies at his residence, but isn't exactly welcome at Armstrong-Parker since he doesn't fit the mold of "strong black male" at all, really. (He listens to Mumford & Sons and loves Robert Altman films, and the only reason he has a giant afro is because he has no black friends to do his hair properly.) While Lionel observes from the periphery, slinking into the limelight from the shadows is Colandrea "Coco" Conners (Teyonah Parris), who's got dreams of reality-TV stardom. Her blog gets a fraction of the viewers Sam's "Dear White People" gets, and a reality-TV producer visiting campus suggests she could make more of a splash if she stirred the pot a bit more.
It's expected that the film will appeal to black audiences (it's billed as a film about being a "black face in a white place"), but it in essence speaks to everybody; most of the deeper dilemmas faced by the characters are recognizable to anybody, regardless of race. The surface circumstances may differ from person to person, but the characters' inner-turmoil reads as decidedly human, grounded and existential, not allegorical or lofty, as some may mistakenly interpret.
Sam feels so guilty for dating a white student that she can't bear to be with him in public for risk of tarnishing her militant image in front of the Panther-ish Black Student Union members she's aligned with. She also may or may not genuinely enjoy Taylor Swift behind closed doors. Troy is forced to hide his true self away as well, as he's meticulously shaped himself into the spitting image of what his father and the powerful white people at Winchester expect of an upstanding, cooperative black leader. The expectations and assumptions of others weigh heavy on Troy and Sam every day, with every word they choose, joke they make, and person they sleep with threatening to crumble the image they've worked so hard to build. They just want to feel like they belong, and there doesn't seem to be a place for people who refuse to conform.
Case in point is Lionel, who's ostracized by just about everyone for being unique. He doesn't know how to do anything but be himself, and the black "authenticity" the other three characters chase is a mystery to him. He's a beautiful person, but like the others he's trapped by black stereotypes, rendering him a shy, fearful pushover. However, Lionel and the others each go through transformations as events move forward, though they may not arrive at places you'd expect or want them to. Again, Simien offers no answers; his characters' journeys are only meant to raise questions and act as conversation-starters for us as we return to our lives.
From affirmative action, to interracial dating, to the validity of blaming white people for their problems, the characters debate a slew of relevant topics, their clever, carefully-worded rants piercing the air like bullets. Simien's aesthetic exists somewhere in the space between Spike Lee and Wes Anderson–his characters address the camera directly, often framed symmetrically, and the camera moves are precise and elegant. The soundtrack of Tchaikovsky, Beethoven, and Schubert masterpieces makes the film feel timeless while simultaneously representing the phony air of class and properness filling the halls at Winchester.
The plot moves constantly toward the film's startling climax, a black-themed Halloween party thrown by white students in which they dress up in blackface, wave fake guns in the air, hold fake rap battles and cackle as they drop N-bombs. As you may already know, several parties just like this have sprung up on campuses across the country in recent years, making the harrowing imagery as true as anything we see in 12 Years a Slave. Simien keeps the mood mostly good-natured and humorous throughout, though, because he wants everyone, even white people, to feel comfortable enough to share their thoughts on the film with friends freely, without feeling crippled by guilt.
Simien first filmmaking foray is successful; his observations are enlightening, and his filmmaking skills are confident. While his dialogue is electric, there are a few structural problems with the script, which is too jittery at times, darting between the four characters too frequently. Also, the film's clear antagonist, Kyle Fletcher (Kyle Gallner), a racist white student whose father is the blowhard school president, feels distractingly one-dimensional next to his emotionally layered nemesis, Troy. This doesn't take away from the fact that Simien treats his leads with great care, giving Thompson, Bell, Williams, and Parris plenty of room to show us all sides of their respective personalities. A film in the tradition of thoughtful classics like Do the Right Thing and Hollywood Shuffle, Dear White People's longterm mark on modern cinema, with hope, will be that it inspires other young, talented filmmakers to explore race relations and the importance of identity in new, inventive ways, much like Simien has done here. Hopefully they hear the call.
Dear White People trailer
Dear White People Movie review