2014 Spirit Award Predictions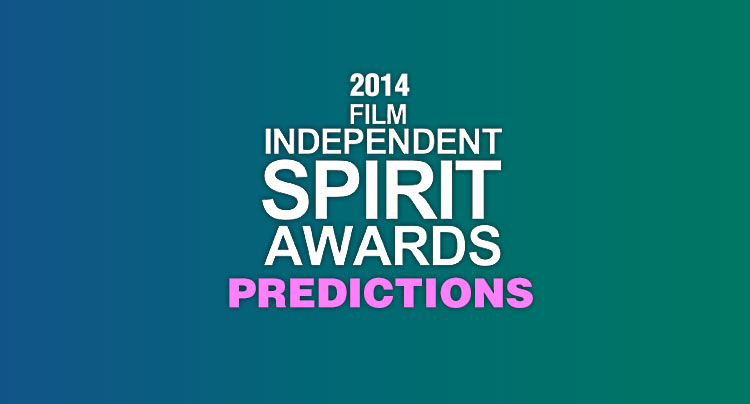 If my predictions of the 2014 Film Independent Spirit Awards hold true (nobody hold their breath), 12 Years A Slave would walk away the big winner with a projected total of 5 awards. I believe the rest of the field will be much more spread out with Before Midnight, Nebraska, Upstream Color, Fruitvale Station, Blue Jasmine, and others going home with one award. After winning the Palm d'Or and taking the Cannes Film Festival by storm this year, Blue is the Warmest Color's momentum has started to slow down and may no longer the obvious frontrunner anymore. Though I am still picking it to win Best International Film here, it is against fierce competition.
For better or worse, I am posting my Spirit Award predictions one day ahead of the official announcement of Oscar nominees. In just 45 days the Spirit Award winners will be officially announced and will dictate whether or not I can beat my prediction accuracy from last year of 53% (7 out of 13). In addition to picking the winners for each category below, I explain the reasoning behind my picks in detail under the categories.
Watch IFC on Saturday, March 1st at 10PM ET to see how my predictions hold up.
List of 2014 Independent Spirit Award Predictions:
(My prediction for the winners are highlighted in bold red font)
Best Feature:
12 Years A Slave
All Is Lost
Frances Ha
Inside Llewyn Davis
Nebraska
Reason Why:
I do not believe any of the other films have what it takes to best Steve McQueen's 12 Years A Slave. Since Gravity does not qualify for Spirit Awards because of its astronomical (pun shamefully intended) budget, the other films that have a slight chance here are Inside Llewyn Davis and Nebraska. Sadly, Frances Ha will have to accept the nomination as their prize.
Best Director:
Shane Carruth – Upstream Color
J.C. Chandor – All Is Lost
Steve McQueen – 12 Years A Slave
Jeff Nichols – Mud
Alexander Payne – Nebraska
Reason Why:
The odds are the winner of this category goes on to also win Best Feature, so I'm picking Steve McQueen to win Best Director. Based on that logic, it is in his favor that Shane Carruth and Jeff Nichols appear here as their films are not up for Best Feature.
Best First Feature:
Blue Caprice
Concussion
Fruitvale Station
Una Noche
Wadjda
Reason Why:
I think the safe pick here would be Ryan Coogler's Fruitvale Station, it certainly made the most noise on the festival circuit and was a fantastic first feature (despite some flaws). If I had to guess a runner-up here I would give it to Wadjda.
Best Male Lead:
Bruce Dern – Nebraska
Chiwetel Ejiofor – 12 Years A Slave
Oscar Isaac – Inside Llewyn Davis
Michael B. Jordan – Fruitvale Station
Matthew McConaughey – Dallas Buyers Club
Robert Redford – All Is Lost
Reason Why:
I am not going to let Matthew McConaughey's shocking win over Chiwetel Ejiofor at the Golden Globes recently affect my vote here. I still believe Ejiofor was the best in class for 2013 and deserves to win the Spirit Award. Though McConaughey was good in Dallas Buyers Club, I think this is a race between Ejiofor and Nebraska's Bruce Dern.
Best Female Lead:
Cate Blanchett – Blue Jasmine
Julie Delpy – Before Midnight
Gaby Hoffmann – Crystal Fairy
Brie Larson – Short Term 12
Shailene Woodley – The Spectacular Now
Reason Why:
I did not think I would see a better female performance in 2013 than Greta Gerwig's in Frances Ha, which was really disappointed to see her get completely snubbed, especially considering Male Leads received six nominations as opposed to just five here. However, that was before I saw Cate Blanchett's dazzling performance in Blue Jasmine, which ultimately changed my mind on this category. While I believe Blanchett runs away with this, the rest of the group (aside from Hoffmann) really did deserve to be up for the award.
Best Supporting Male:
Michael Fassbender – 12 Years A Slave
Will Forte – Nebraska
James Gandolfini – Enough Said
Jared Leto – Dallas Buyers Club
Keith Stanfield – Short Term 12
Reason Why:
Unlike Best Female Lead, I think this award is an incredibly close race. I had a really hard time deciding would will come out the victor, but ultimately give a slight edge to Jared Leto. But I would not be surprised at all if just about any of the other candidates win.
Best Supporting Female:
Melonie Diaz – Fruitvale Station
Sally Hawkins – Blue Jasmine
Lupita Nyong'o – 12 Years A Slave
Yolanda Ross – Go For Sisters
June Squibb – Nebraska
Reason Why:
Another Supporting award, another tough call. I am predicting Lupita Nyong'o walks away the winner here with her fearless performance in 12 Years A Slave. Unlike other award shows, Nyong'o will not have to complete against Jennifer Lawerence, who has been a powerhouse come award season as of late.
Best International Film:
(Award given to the director)
A Touch of Sin
Blue is the Warmest Color
Gloria
The Great Beauty
The Hunt
Reason Why:
I think this is one of the strongest categories of the whole awards. While I believe
The Great Beauty
and
The Hunt
each have a decent shot of winning, my pick for winner of Best International Film is
Blue is the Warmest Color
. If you have been following my personal
favorite films of the year
, you would know that
Blue is the Warmest Color
was my favorite film of 2013 and that I will be rooting for it to win.
Best Cinematography:
Sean Bobbitt – 12 Years a Slave
Benoit Debie – Spring Breakers
Bruno Delbonnel – Inside Llewyn Davis
Frank G. Demarco – All Is Lost
Matthias Grunsky – Computer Chess
Reason Why:
Oh how badly I wanted to pick Benoit Debie for the insane look of Spring Breakers. Picking him to win would be a dark horse bet, but I have my precious prediction percentage to consider. So for this award, I am going with the safer pick of Sean Bobbitt of 12 Years a Slave. It is nice to see Computer Chess get recognized here though.
Best Documentary:
The Act Of Killing
After Tiller
Gideon's Army
The Square
Twenty Feet From Stardom
Reason Why:
Hardly anyone would argue (
Armond White
aside) that 2013 was an exceptional year for documentaries. The one that had a tendency to move people the most was Joshua Oppenheimer's
The Act Of Killing
. He even got the attention of legendary documentarians Errol Morris and Werner Herzog by having them serve as executive producers on the film. The film is up against some stiff competition (namely
The Square
), but for some reason the film that could really give it a run for its money,
Blackfish
, did not earn a nomination.
John Cassavetes Award:
(Given to the best feature made for under $500,000; award given to the writer, director, and producer)
Computer Chess – Andrew Bujalski
Crystal Fairy – Sebastian Silva
Museum Hours – Jem Cohen
Pit Stop – Yen Tan
This Is Martin Bonner – Chad Hartigan
Reason Why:
Here is where I think Computer Chess will receive its win. Clearly voters thought the camera work was noteworthy as the film earned a nomination for Best Cinematography. But in this category it is more evenly matched with the rest of the films thanks to the very limiting $500,000 budget cap for this award. However, do not be surprised if Museum Hours or This Is Martin Bonner get presented the award instead.
Best Editing:
Shane Carruth & David Lowery – Upstream Color
Jem Cohen & Marc Vives – Museum Hours
Jennifer Lame – Frances Ha
Cindy Lee – Una Noche
Nat Sanders – Short Term 12
Reason Why:
This award is a new addition to the Independent Spirit Awards this year. Honestly, I think it is a pretty even match between Upstream Color, Frances Ha, and Short Term 12. But the editing work of Shane Carruth & David Lowery in Upstream Color was nothing short of magnicfgient and for that reason I am placing my hypothetical money on them.
Best Screenplay:
Woody Allen – Blue Jasmine
Julie Delpy, Ethan Hawke, Richard Linklater – Before Midnight
Nicole Holofcener – Enough Said
Scott Neustadter & Michael H. Weber – The Spectacular Now
John Ridley – 12 Years a Slave
Reason Why:
In my opinion, Before Midnight's best chance of earning a Spirit Award this year is in the Best Screenplay category. The third installment of Richard Linklater's highly-praised Before series has received several Best Screenplay nominations at other award ceremonies, but a win at this award show might be the most meaningful for the film.
Best First Screenplay:
Lake Bell – In A World
Joseph Gordon-Levitt – Don Jon
Bob Nelson – Nebraska
Jill Soloway – Afternoon Delight
Michael Starburry – The Inevitable Defeat Of Mister & Pete
Reason Why:
I went back and forth between In A World and Nebraska on this one. Only after realizing that I did not have an award going to Nebraska in my picks above did I give the nudge to Nebraska. I could see voters getting behind Lake Bell as she also directed and starred in the film. Maybe there should be a category for that?