Best 50 Movies Of The Decade So Far (#30 – #21)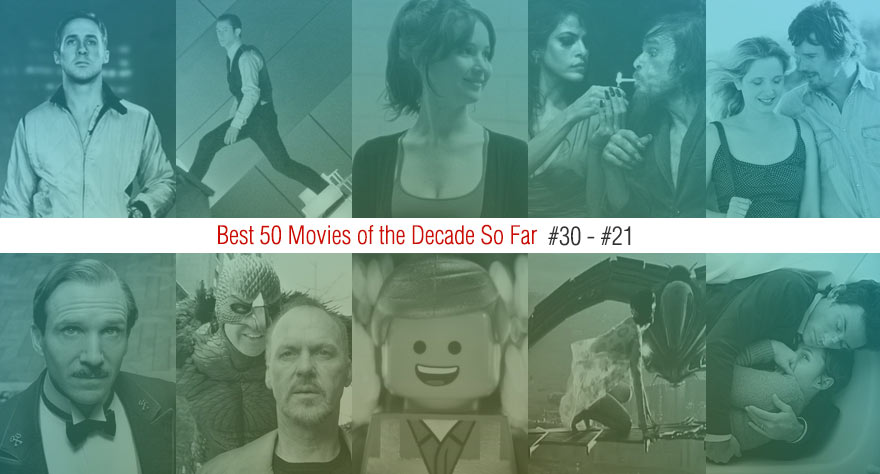 Our staff at Way Too Indie compiled a list of the Best 50 Movies that came out between 2010 and 2014. These films mess with our heads, expand our imagination, push the art form forward, fill up our hearts, and then rip them out for good measure. And for all this, we'll love and cherish them for years to come. Here's to an amazing first half of the decade, and to an even better next five years.
Every day this week we are releasing ten films from our list, here is #30 through #21.
Best 50 Movies Of The Decade So Far
(#30 – #21)
Drive
(Dir. Nicolas Winding Refn, 2011)
I remember walking out of the theater one hot and muggy September night in Toronto after experiencing Nicolas Winding Refn's Drive. I really didn't care for it. Maybe it was the hype. I saw it again. And again. And again. It's now one of my favorite films (when we made our individual lists that this list was culled from, I had it at number one). Refn's film is colorfully bold. It's loud. It's vibrant. It's violent. And it's just so much goddamn fun. Ryan Gosling had a breakout year in 2011 and one of the reasons was this pseudo-Euro-pop-western set in the modern day metropolitan jungle of Los Angeles. Gosling plays a man with no name (wink-wink) who works at a body shop by day, but at night masquerades as a driver for hire whom criminals pay good money to extract their cohorts from robberies and other odd jobs. When one of these jobs goes wrong and a woman he is smitten with is put in danger, he reacts swiftly and violently. Refn won the Best Director prize at Cannes where the film premiered, and now four years later I'm sad it's not universally loved. Drive is a pulsating work. Everyone involved is at the top of their game, especially Gosling, who here announced himself as one of Hollywood's brightest young stars. [Blake]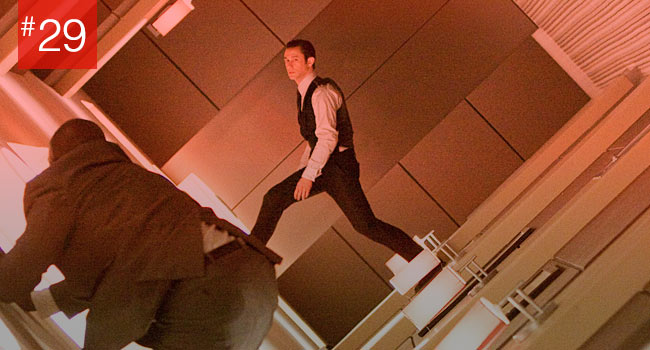 Inception
(Dir. Christopher Nolan, 2010)
Still a staple in film critics' conversations since it's inception into celluloid (I had to), Christopher Nolan's sci-fi heist thriller won over our hearts and minds with it's wig-out-worthy concept of dream hacking. Winning Oscars for Best Cinematography, Best Sound Editing, Best Sound Mixing, and Best Visual Effects, this epic sensory roller coaster garnered acclaim among critics and the box office, grossing over $800 million internationally. With incredible performances by an indomitable cast including Leonardo Dicaprio, Joseph Gordon-Levitt, Ellen Page, Michael Caine, Marion Cotillard, and Tom Hardy, it's no wonder this film is likely to go down as one of the best in the century, let alone the decade. Personally, I think any movie that gives us an opportunity to experience that which is Lukas Haas is a winner. And who wasn't holding onto their butts for the funhouse-like fight scene as they tumbled through the spinning hallway? It is rare that we see something that is not a recreation, adaptation, revision, or remake in Hollywood and it is always refreshing when a new concept is able to reawaken that ever sleeping giant that is our imagination. [Scarlet]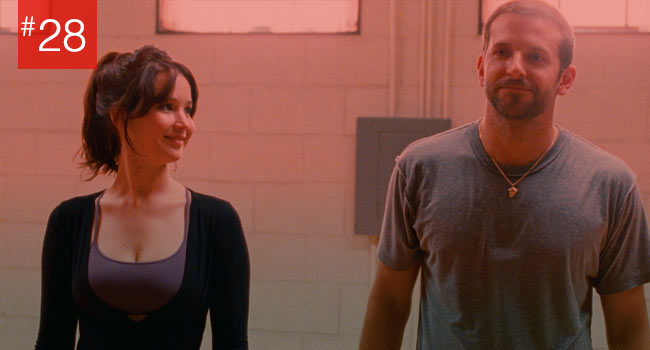 Silver Linings Playbook
(Dir. David O. Russell, 2012)
One of the most charming, lovable and painfully honest depictions of mental illness I have ever seen in cinema, Silver Linings Playbook is a bona fide gem and a modern classic of the genre. Pat and Tiffany, our main characters, embark upon a journey that, for most others, would be a Hollywood cliché. But it has to be acknowledged from the beginning that these two are not most other characters. They do not act the way we expect them to; they live the way they expect themselves to. Bradley Cooper and Jennifer Lawrence provide stunning performances, demanding to be taken seriously whilst at the same time being entirely aware of the comedy they inspire. Perhaps this is key to understanding the characters themselves though—just a few scenes into the film we can tell that they are walking contradictions. Pat could genuinely be described as an optimistic pessimist. Tiffany seems to be both intrusive and elusive. In much the same way, Silver Linings Playbook couldn't possibly be described as an ordinary romcom—not because it subverts the genre, but because it so thoroughly surmounts it. [Pavi]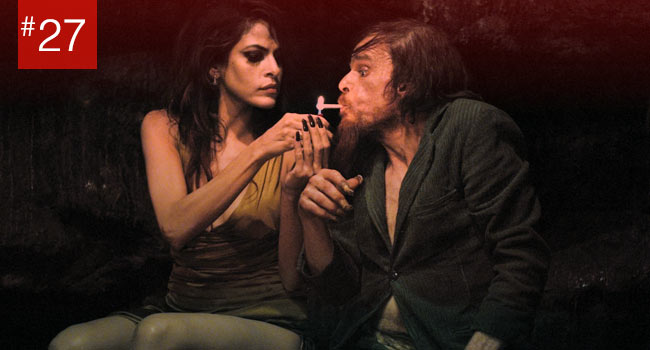 Holy Motors
(Dir. Leos Carax, 2012)
After his 1999 film, Pola X, ended up a disastrous financial failure, the peculiar French director Leos Carax recoiled into seclusion to lick his wounds. Aside from his contribution to the Tokyo! triptych of films in 2008, he hadn't filmed anything for the public for over a decade, which turned the Holy Motors premiere at Cannes, in 2012, into an arthouse event and a triumphant return of a beloved film lover and emphatic romantic at heart. Working with his most trusted collaborator, Denis Lavant (who turns in an Oscar-worthy performance), Carax sets Holy Motors in a cinephile's wet dream fantasy land, where a man pops in and out of various characters, various stages of film history, and multiple storylines revolving around love, loss, family, and coming home. It plays out concurrently as a love letter to everything that has inspired Carax as a filmmaker, and an elegy to the current state of an art dominated by technology and profit. Some have called it pretentious, some WTI staffers didn't care for it, but the majority of us beg to differ (personally, it's my second favorite film of the decade so far). By delving into the personal, Carax has made something enchantingly universal, where even the space between the frames captivates and celebrates cinema as poetry. At times hilarious, at times frightening, always passionate, Holy Motors is watching magic conjured on screen by a magician in love with creation itself. [Nik]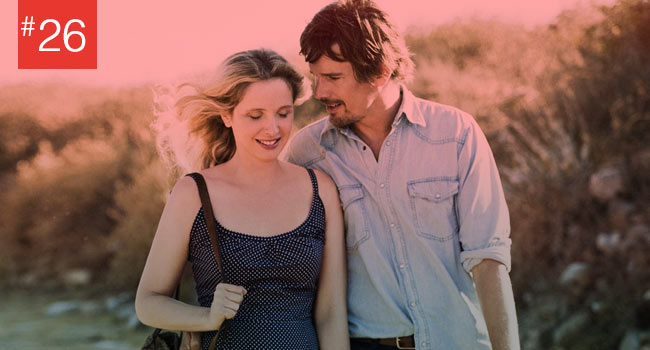 Before Midnight
(Dir. Richard Linklater, 2013)
Before Midnight, Richard Linklater's third entry in his widely adored Before romance series, trades in Before Sunrise's twenty-something charm and Before Sunrise's lost-lover flirtation for mid-life fatigue and melancholy. As the loquacious Jesse and Celine, now together for several years and with children, Ethan Hawke and Julie Delpy are as verbally adept and compatible on screen as ever, but here they're given decidedly heavier material than the previous entries in the series (a nine-year gap in between each), tasked with telling a story not about finding love, but about not letting it slip through your fingers. Shot on the stunning Greek isles, the film keeps in tradition with its predecessors, following Jesse and Celine as they flirt and chat and bicker (mostly bicker) walking down country lanes and driving down winding roads. The sense of dread that this may be the end for the once lovestruck couple, especially for those who've come to love the characters over the years, hangs over the movie like a dark cloud. Do they have it in them to stick together for another nine years? Before Midnight is so damn good you can't help but want to see how it'll all pan out come 2022. [Bernard]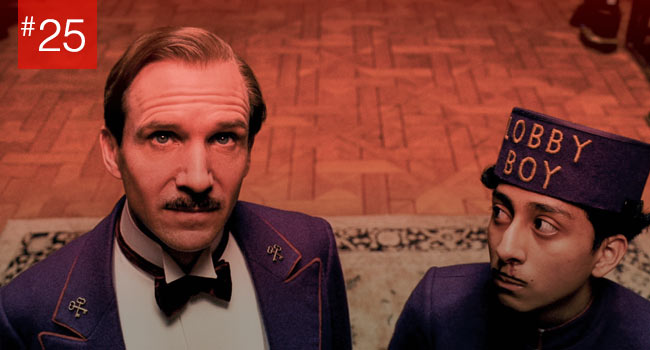 The Grand Budapest Hotel
(Dir. Richard Linklater, 2014)
We've only yet had a year to appreciate this one (though we're not the only ones as it took home four of the Academy's Oscars this year), but it seems safe to say that The Grand Budapest Hotel will live on to see Best of the Decade lists five years from now. Indeed, Wes Anderson is likely to have this one attached to his name as one of the greatest of all his works, no matter what he goes on to achieve. Bombastic? Perhaps, but let's just remember Anderson had another film out in the past five years (Moonrise Kingdom) and it didn't make this list at all. The endearing story of a revered concierge at a mountaintop hotel and his growing friendship with devoted lobby boy, Zero, is told through Anderson's unique and fantastical lens. Together they gallivant through diorama-like settings, each frame of the film a meticulously crafted scene out of Anderson's colorful mind. While Anderson has a great many films under his belt, The Grand Budapest Hotel gleams as his best yet to pair his idiosyncratic imagination with likable and intricate characters. He hit new depth with this film, even with all its witty diversions. In fact I'd say it's every wacky puzzle piece that makes the overall picture that much more splendid. [Ananda]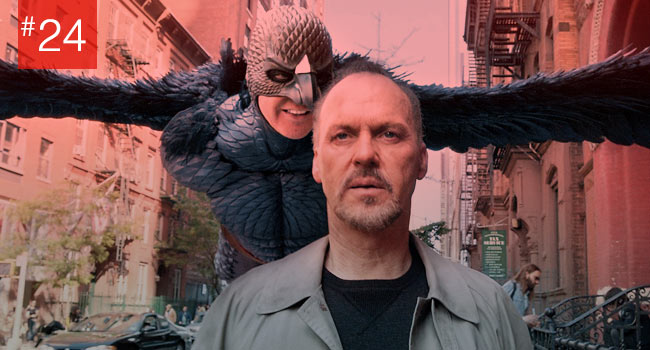 Birdman
(Dir. Alejandro G. Iñárritu, 2014)
Winner of the Academy Awards for Best Picture, Best Director, and Best Cinematography as well as Golden Globes for Best Screenplay and Best Actor in 2014, Birdman will sit solidly on our list making it strongly probable that it will remain in the Top 50 for the rest of the decade. Made to look like it was filmed in one continuous shot, there were actually at least 16 (visible) cuts. The actors had to memorize up to 15 pages of lines at a time while also landing on all of the choreographed marks set for the scenes. With this in mind, the performances of Edward Norton, Emma Stone, and Naomi Watts, were brilliant. The anticipation of seeing how Michael Keaton would play this out was almost more than I could bear, however. Four years since his last movie role and playing a part that seemed like it could truly be a glimpse into his real life, being an ex-superhero, one couldn't help but await witnessing his artistry. And he did not disappoint. I think there has never been a doubt that Keaton has some mad acting skills, it's just so nice to be able to experience it any time we can. We want more. [Scarlet]
The Lego Movie
(Dir. Phil Lord & Christopher Miller, 2014)
Directed and co-written by Phil Lord and Christopher Miller, Warner Animation Group hadn't produced a film since 2003's Looney Tunes: Back in Action. Released to critical and commercial acclaim, The Lego Movie was nominated for a Golden Globe for Best Animated feature and an Oscar and Grammy for Best Original Song, "Everything is Awesome." While it didn't win any of those, it did win 48 other awards including the BAFTA award for Best Animated Film, as well as the Critic's Choice Movie Award for Best Animated Feature. Its popularity was so great, actually, that there was a shortage of LEGO products in September. The animators paid such close attention to detail that only bricks from the official LEGO Brick Library were used to construct everything—with the exception of President Business' hair and evil helmet—in the Lego universe. Amazingly, not once does the film mention the word "LEGO." Characters were voiced by some of the industry's biggest comics, most notably Chris Pratt, Will Ferrell, Elizabeth Banks, Will Arnett, and Nick Offerman, among many others. In fact, this was the first time Morgan Freeman had voiced an animated character. It was so successful that two spin-off films are already in the works as well as a sequel planned for a 2018 release. Which is just plain awesome. [Scarlet]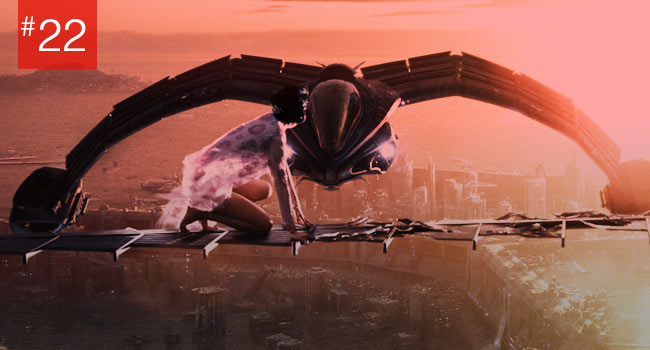 Cloud Atlas
(Dir. Tom Tykwer, Andy Wachowski, Lana Wachowski, 2012)
Produced independently for over $100 million (one of the highest-budgeted indies of all-time), Cloud Atlas was doomed to fail from the beginning. With Lana & Andy Wachowski (whose previous film, Speed Racer, flopped hard) co-directing alongside Tom Tykwer to adapt a dense, structurally ambitious novel, all signs pointed to a bust. When Cloud Atlas finally came out, audiences rejected it wholeheartedly, but some people (including more than a few of us here) saw something amazing. Sure, Cloud Atlas has its flaws (no one's going to defend those make-up effects), but it more than makes up for them with sheer ambition. Comprising of six stories ranging from the 1800's to centuries in the future, Cloud Atlas shows how one act of defiance against oppression can inspire a revolution centuries later. And despite being an adaptation within the world of Hollywood tentpoles, Cloud Atlas is wholly original, the sort of film that should be championed rather than disparaged. The Wachowskis–whose follow-up Jupiter Ascending suffered a similar fate as this film–are some of the most earnest, daring and original filmmakers working on a large scale today, their films teeming with more ideas than an entire phase of Marvel films. Give Cloud Atlas a chance, and it may surprise you. [CJ]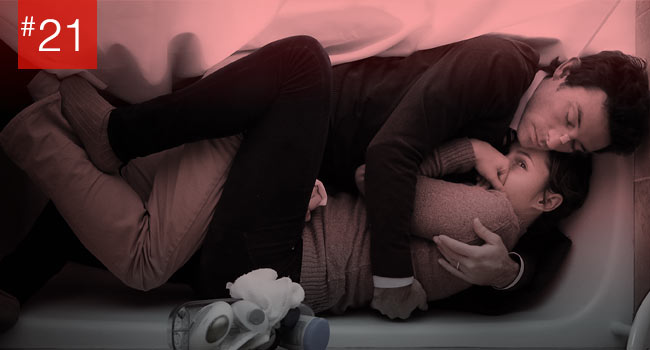 Upstream Color
(Dir. Shane Carruth, 2013)
Eight years after he left audiences stunned and stumped with the sci-fi mind-fuck Primer, Shane Carruth returned out of nowhere with an ambitious and equally confusing film called Upstream Color. Perhaps he kept such a low-profile because he was so busy; he directed, produced, acted, shot, edited, scored, and even distributed Upstream Color. Trying to decipher the logic behind the film is challenging by design. As the story unfolds, two strangers develop an unexplainable connection when they begin to see each other's memories, and eventually their memories mesh together, making it difficult to distinguish which memories came from who. Carruth creates this disorienting dream-like state by combining frequent narrative jumps and fragmented dialog. Adding to the film's strangeness, the two characters also experience a bizarre physical and spiritual connection to nature through organisms such as blue orchids, worms, and pigs. Like a surrealist painting, Upstream Color is open for interpretation and practically dares you to only look at it once. [Dustin]
See the rest of our Best Movies Of The Decade lists!
View Other Lists of this Feature:
Best 50 Movies Of The Decade So Far (#50 – #41)
Best 50 Movies Of The Decade So Far (#40 – #31)
Best 50 Movies Of The Decade So Far (#20 – #11)
Best 50 Movies Of The Decade So Far (#10 – #1)