CIFF 2012 Day 1: Holy Motors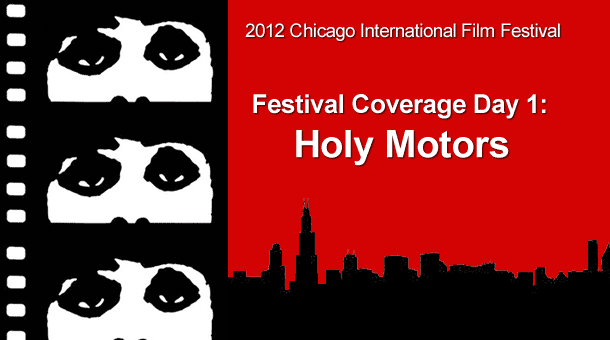 My first day at the Chicago International Film Festival one is a relatively light one considering that I will only be seeing one film. That film happens to be the one I am most excited to see here, Holy Motors. Before the film I got a chance to meet up with one of the coordinators of the festival. When I mentioned that I would be seeing Holy Motors first, his eyes light up and said, "Wow. You are jumping right in."
Leos Carax's Holy Motors was incredibly well received at the Cannes Film Festival earlier this year where it was nominated for the top prize of Palme d'Or and won Award of the Youth. Going into Holy Motors blind (not seen any of the directors previous work nor read too much about the film) seemed like a good idea but you must prepare yourself for this film. Even though I figured it would not be your average film, it was impossible to expect this.
I could not argue that this film is not intriguing, because it is very much is. In fact, I applaud its efforts to push the envelope in cinema. However, as much as I wanted to love the film, I could not. It was a shame that the film I was looking forward to the most at the festival was a bit of a disappointment. Maybe that means some of the others will surprise me.
(Full review to come)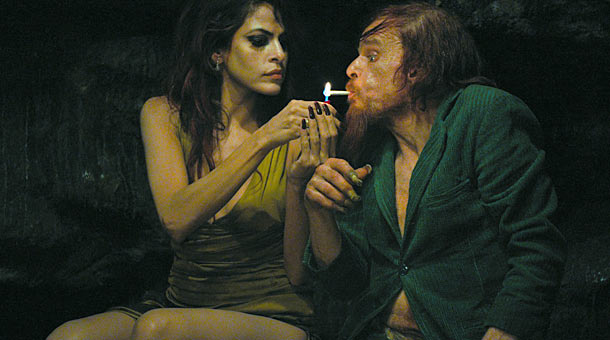 Holy Motors
RATING: 6.3/10
COMING UP: I start my first full day with a bang; the inspiring story of War Witch, Abbas Kiarostami's Like Someone In Love and Un Certain Regard prize winner After Lucia.
Recap of some of my Tweets from today:
Follow @WayTooIndie for full coverage of the 2012 Chicago International Film Festival!
Welcome the Chicago International Film Festival. I could smell the popcorn from the street. #CIFF12 twitter.com/WayTooIndie/st…

— Way Too Indie (@WayTooIndie) October 12, 2012
My first film of the festival, HOLY MOTORS, is the one I'm most excited for. But before I make my way to that, filmmakers lounge! #CIFF12

— Way Too Indie (@WayTooIndie) October 12, 2012
HOLY MOTORS was completely baffling. It didn't take itself seriously which was both a blessing and a curse. #CIFF

— Way Too Indie (@WayTooIndie) October 13, 2012
HOLY MOTORS: You will never look at limos the same way again. #CIFF

— Way Too Indie (@WayTooIndie) October 13, 2012