Best 50 Albums Of The Decade So Far (#20 – #11)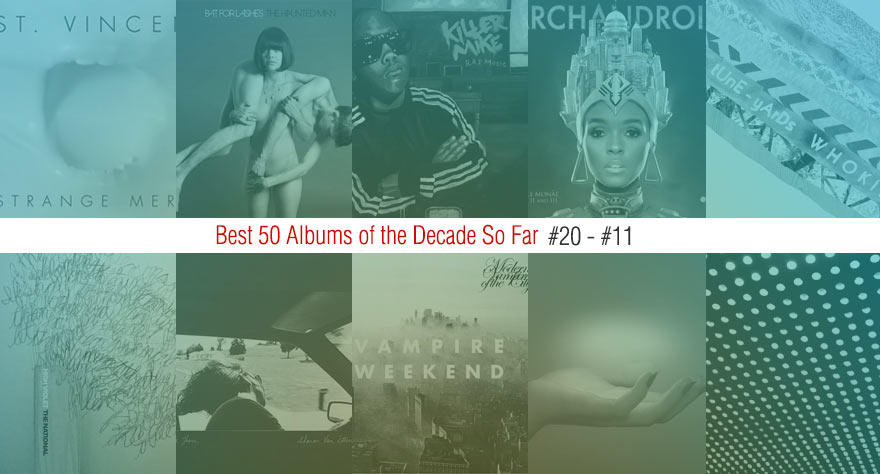 It's safe to assume that thousands, perhaps even tens of thousands, of albums have been released so far this decade. What we're about to present to you begins the twenty albums we've selected from this batch as our favorites of the decade so far. Narrowing down such a vast array of releases is no simple task, but these albums stick out from the pack.
Get ready for some of the best music this decade's offered us to date. Listen to today's 10 albums via our Spotify Playlist and check out the previous three while you're over there.
Best 50 Albums Of The Decade So Far (#20-#11)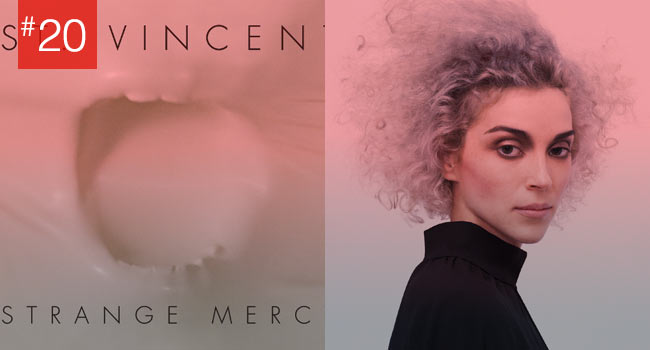 St. Vincent – Strange Mercy
(Label: 4AD, 2011)
After the omnipresent, seemingly eternal buzz surrounding St. Vincent, Annie Clark's 2014 breakthrough, finally receded, it became clear that Strange Mercy, her previous album, remains her strongest effort, as well as one of the century's most gratifying works. Easily her most cohesive and best sequenced album, it ditches the ostentatious, ornate orchestration of previous albums Marry Me and Actor in favor of a grey, stark, stripped-back aesthetic. Although it contains a few crafty, frenetic fuzz guitar blazes that recall Actor's anxious, grungy glory ("Cruel," "Chloe in the Afternoon," the verses of "Northern Lights"), the majority of Strange Mercy is unnervingly bare. Clark's guitar playing retains the bleak anxiety of her past songs while also forming soundscapes that are much more notably lurching and crystalline, yet more subtly groovy than before. "Cheerleader" contrasts desolate, somber verses with the growling, gradual guitar smashes of its whopping chorus; "Dilettante" sees Clark applying only the smallest amount of distortion to her guitars, favoring newer wah and modulating effects; "Neutered Fruit" proceeds with a squelch and a crunch unheard before in Clark's music. Strange Mercy's songs rank among her least frenetic, so it's fitting that her voice sounds both grounded and poignant. It takes control of central slow-burner "Strange Mercy," controlling the song's emotions as it transforms from stable into urgent. A similar transition occurs on "Surgeon," both Clark's best song to date and one of the most innately thrilling ever recorded. A bridge following the second chorus delivers on the promise of the song's slowly growing guitar funk, rising half a key to allow Clark to deliver her most dire vocal performance on record. "Best finest surgeon/come cut me open," Clark pleads, and it's hard to resist dissecting the detailed body that is Strange Mercy. [Max]
Bat for Lashes – The Haunted Man
(Label: Parlophone, 2012)
Natasha Khan has been making music as Bat For Lashes for about a decade now, and her third solo EP, 2012's The Haunted Man, is the latest and grandest artistic statement she's made thus far. Aside from having the most badass album covers of that year, in which she's standing tall, a helpless man draped across her shoulders, The Haunted Man is Khan's vastest, most instrumentally adventurous outing yet. From the mystical choral chants of the title track and "Oh Yeah," to the gentle drones of "Marilyn" and "Lilies," to the plucky riff on "All Your Gold," she's got an orchestra of wild and weird sounds at her back as she lays down her sensuous, breathy vocals.
In "Laura," the albums most successful single, Khan sings a melody so timeless and classic it's a wonder that nobody had written it until now (a "holy grail" accomplishment for most songwriters of her ilk). She coos, "Ooh Laura you're more than a superstar" and you're immediately wrapped up in her emotion. Living up to its title, The Haunted Man is, in fact, pretty haunting, a collection of well crafted indie pop tracks shrouded in a haze of ominous, hypnotic sounds you might hear in a particularly spooky graveyard during a full moon. With this album Khan proves she has the potential to hang with the songwriting elite; her main sources of inspiration—-Bjork, Kate Bush, PJ Harvey—-should all be very proud mamas. [Bernard]
Killer Mike – R.A.P. Music
(Label: Williams Street, 2012)
Before Run the Jewels took over and won the hearts of hipsters worldwide, El-P and Killer Mike collaborated on dual solo albums released in 2012 under their individual monikers. Killer Mike laid down his hard-hitting flow on El-P's Cancer 4 Cure, while the NYC producer/rapper whipped up the beats for Mike's R.A.P. Music. The latter is an old-school record with heavy, neo-boom-bap beats masterminded by Producto that fit snugly with the Atlanta emcee's no-nonsense, in-yo-muhfuckin-face flow. "Butane" is a perfect example of the odd couple's strength as a team, a shot-to-the-face of a track that stomps around like a T-rex and is guaranteed to terrorize your neighborhood should you bump it in your car loud enough.
Mike's emerged as a light human rights activist in recent years, writing an op-ed in Billboard magazine and appearing on CNN in reaction to the Ferguson shootings. R.A.P. Music reflects his impassioned socio-political stances in the form of "Reagan," a searing indictment of the U.S. government and its costly obsession with foreign oil. The album's full of ass-kickers, like the unforgettable intro "Big Beast" in which Mike announces with his shotgun baritone and a clenched fist, "Hardore G shit, homie I don't play around." No, he doesn't. No one says it better than Kendrick Lamar: "Critics want to mention that they miss when hip-hop was rappin'/motherfucker, if you did, then Killer Mike would be platinum." [Bernard]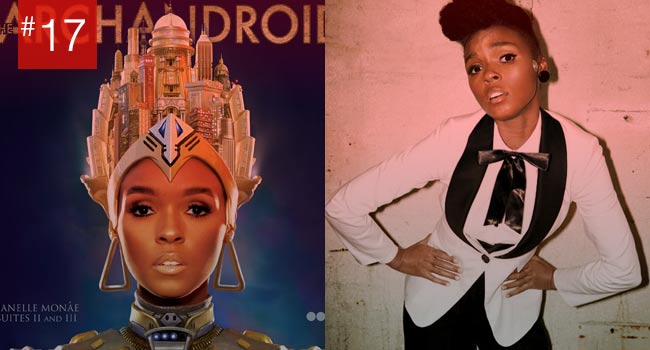 Janelle Monáe – The ArchAndroid
(Label: Bad Boy, 2010)
As far as first impressions go, Janelle Monáe's The ArchAndroid is about as good as it gets. She was 24 years old and one of the newest signees at Bad Boy when her debut full-length studio album dropped, and she immediately caught the ears and eyes (check out her blistering performance of "Tightrope" on Letterman if you haven't seen that awesomeness) of music lovers across the world and across genre lines. Soul kids, indie rock kids, hip-hop heads; they all loved Miss Monáe with equal amounts of passion, and the enthusiasm was out of respect for how freakin' amazing her album was, front to back.
The ArchAndroid is a gigantic, sprawling production that'll take you on the ride of your life, touching on more emotions and sounds and music genres than you can shake a stick at. Songs like the irresistible "Dance or Die," the anthemic "Cold War," and the relentless "Tightrope" are speedy and thrilling and have a scintillating sense of locomotion; more whimsical tracks, like the lilting "Oh, Maker" and "Wondaland," slow things down and take you to a funky, colorful paradise. It's hard not to think of the great Lauryn Hill as a direct precursor to Monáe—-they both had terrific debut albums and transcend genres—-but the young "mini mogul" (she's got a label of her own now, Wondaland Records) looks to have a longevity Hill unfortunately never attained. [Bernard]
tUnE-yArDs – W H O K I L L
(Label: 4AD, 2011)
A term ascribed to Merrill Garbus' tUnE-yArDs often is "kooky." The word fits: the alternating capital letters, lack of immediately obvious meaning, and seemingly unnecessary dash in the middle of her moniker suggest the eccentric, outlandish nature of her music. Certainly, her sound is bizarre, and quite often divisive among listeners, but W H O K I L L unites her oddball tendencies with intensely catchy, fiery songwriting. It's not just dumb luck that this album catapulted her to the forefront of blogosphere stardom: the LP is a gripping, ear-popping account of independence and protest delivered in one of the most urgent voices in recent memory. Opener "My Country" hints at the topics ahead with its opening mantra: "My country 'tis of thee/sweet love of liberty/how come I cannot see my future within your arms?"
The booming, unorthodox percussion and peripheral vocal harmony loops also offers foresight into the album's novel, alarming sonic palette: Garbus often sings, shouts, yelps, hollers, drums, or strums (on an electric ukulele, not a guitar) several different parts into a looping machine and arranges them into cascades of stomping, direct force. The hood politics of "Gangsta" arrive surrounded by wails intertwined in a cat's cradle of loops; the skitter of "Doorstep" derives solely from Garbus' playing; "Powa" blesses her ukulele with the emotional depth of a traditional guitar. Even more idiosyncratic is trailblazing favorite "Bizness," a fierce, riotous anthem for anyone who's ever suffered for reasons out of their control. If the sonics of W H O K I L L don't arrest you, let the words do the talking. [Max]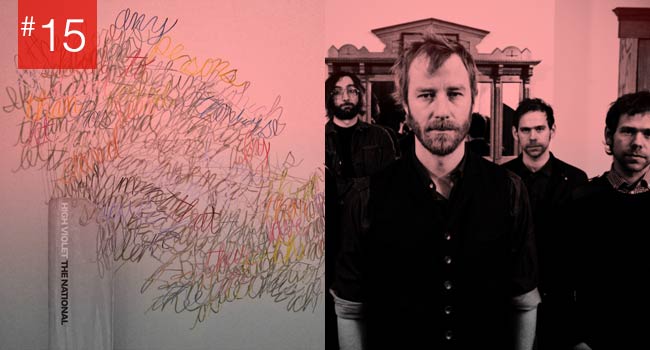 The National – High Violet
(Label: 4AD, 2010)
If Wilco is the preeminent "Great American Band," the guys in The National are the slightly younger runners-up. They've been making critically acclaimed, notoriously glum music since the turn of the century, churning out great albums like 2005's  Alligator and 2007's incredible Boxer, touring the country seemingly non-stop all the while. In 2010, they released High Violet, their fifth studio album which, despite continuing the band's tradition of writing "sad bastard" music, was a triumph in that it showed an improved, refined version of their patented sound without pandering to fans who constantly begged for them to "cheer up."
If you ask the band, they'll tell you there's always been a sense of humor about their pathos. In a 2010 interview on CBC radio, guitarist Aaron Dessner explained this misconception, using the song "Conversation 16" as a reference point. "When Matt [Berninger, lead singer] says, 'I was afraid I'd eat your brains,' there is something dark and weird about that line, but it's also kind of funny." The lyrical content on High Violet, written by Berninger, is undeniably dour and sometimes frightening, but musically, the Dessner twins created some uncharacteristically bright and infectious tunes, like the lead single, "Bloodbuzz Ohio," whose syncopated groove and bright piano accents sound more pop rock than sob rock. Few bands sound as grandiose and exhilarating as The National does when they reach the height of crescendos on epics like "Terrible Love" and "England," and High Violet's soaring sonic foundation makes it their most accessible album in their catalogue. [Bernard]
Sharon Van Etten – Are We There?
(Label: Jagjaguwar, 2014)
Those who familiarized themselves with our Best Songs of the Decade So Far feature shouldn't be too surprised to see Sharon Van Etten popping up here. I take special enjoyment in it myself, since Van Etten's "Your Love Is Killing Me" (from this same album) was a personal pick. Brooklyn-based Van Etten has been rising in prominence within the indie rock community in New York and the rest of the U.S. for a few years now, but few expected the kind of attention her last album received. Except, of course, those who've never doubted the limits she was destined to reach. Are We There ended up on several year-end best lists, and gave the singer-songwriter her first real taste of fame. The first-time access to a big studio helped Van Etten in the only area she needed improving: production. Now, she's able to pour her heart out about love, loss, and longing in a way that emphasizes her emphatic vocal range while imbuing the entire mood of Are We There in a coating of grandiose melancholia. Besides the song I've already discussed last month, the album is filled with Van Etten's signature heart-on-sleeve approach, accompanied by mournful pianos, guitars, and drums; other stand outs include the lullaby-like "Our Love," and "You Know Me Well" where she makes the simplest of lyrics, "You know me well/You show me hell when I'm looking/And here you are/Looking," drip with immense pathos. Then there are tracks like "Break Me;" shining examples of how far Van Etten has gone in terms of having appropriate production that enable her songs to resonate with more gut-punching force. Equally intimate and universal, Are We There is a must for everyone who's felt the pangs of love, and one of the greatest examples of how loss can be turned into an exceptionally creative outlet. [Nik]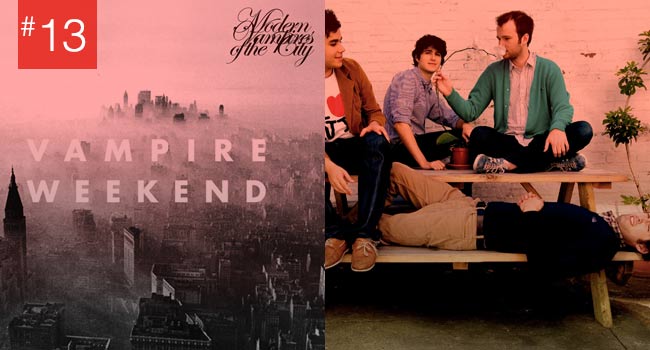 Vampire Weekend – Modern Vampires of the City
(Label: XL, 2013)
I enjoyed Vampire Weekend's first two LPs thoroughly, and I half expected their third album, Modern Vampires of the City, to be a bit of a letdown, partly because I found their skills as musicians limited, but mostly because I'm a recovering pessimist. I was proven wrong once I gave the album a spin: The indie pop kings from New York City upped every facet of their game, from their playing, to lead singer Ezra Koenig's singing, to their writing. Exploring themes like faith, mortality, and lost love, the band seems to have grown up considerably in this, the final chapter in a trilogy of great records.
The most notable aspect of Modern Vampires is the earthy, warm quality of the recordings themselves. Utilizing analog equipment whenever possible, the band sidestepped their signature Afro-inspired sound, embracing a more measured, chamber pop style. The heart-meltingly pretty opening track, "Obvious Bicycle," immediately shows off Koenig's full range of vocal ability as he gently hums, "You ought to spare yourself the razor/because no one's going to spare the time for you." Lyrically, the band's breached a whole new stratosphere, crafting humble gems like, "I was born to live without you/but I'm never going to understand/hold me in your everlasting arms." "Hanna Hunt" is one of the best songs they've ever written, a quiet interlude charting a lover's gradual, coast-to-coast dissolution. My pessimism's been purged; I'll be anticipating whatever Vampire Weekend offers up with a hopeful smile and bated breath. [Bernard]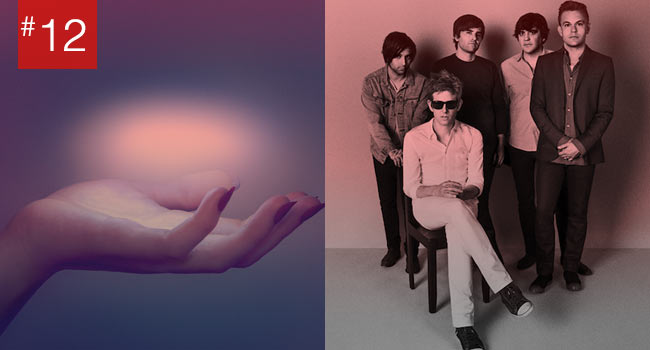 Spoon – They Want My Soul
(Label: Loma Vista, 2014)
Back when They Want My Soul dropped last August, there was much ado about things that really didn't matter. Yes, the LP was the band's first in four years (frontman Britt Daniel had a stint in the Divine Fits in the interim, where he nabbed Alex Fischel as Spoon's new keyboardist). And yes, there was a fun title track, ripe for interpretation, about all the haters that want Daniel's soul. But none of that is why we're talking about this album nearly a year later.
In a year dominated by breakout electronic producers, They Want My Soul serves as one of the strongest reminders that the classic indie rock setup can still produce one hell of a worthwhile listen. It's got the technical prowess and cohesion you'd expect from an entry on a year-end list (surely producer Dave Fridmann, known for his work with The Flaming Lips, deserves a nod), but more importantly, Spoon doesn't just find their sound—they have a whole lot of fun with it. Whether it's that killer bridge taking us up an octave in "Rainy Taxi" or the unhinged distortion in "Knock Knock Knock," Spoon fills their latest with nuggets of ear candy that make re-listens feel varied and new.
Their optimistic moments have that slight reservation that comes with experience, but there also seems to be a new freedom: the one that comes from letting go of expectations. Screw whatever you thought of the Spoon of yesteryear—they've certainly let go of any demons tugging at their soul. As a result, They Want My Soul is both a standout in the band's 20-year catalog and a well-deserved #12 for us. [Susan]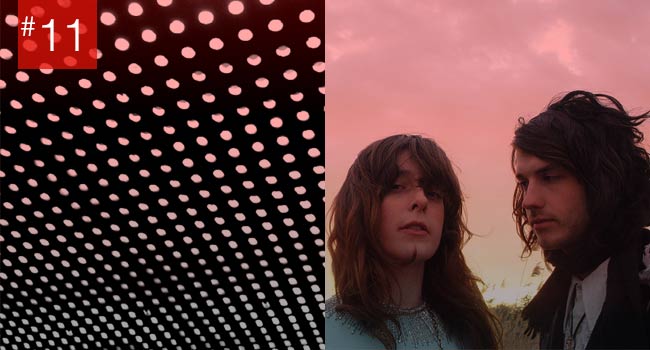 Beach House – Bloom
(Label: Sub Pop, 2012)
Beach House's career arc from their self-titled debut to third album Teen Dream guided their gradual ascent to legends of dream pop melancholy, heartache, and cosmic resonance. Bloom, the Baltimore duo's fourth album, is far more optimistic than its predecessors, a shift that few expected. A daring change, in lesser hands it could've been a disaster, but Victoria Legrand and Alex Scally can't help but write tragedy and affliction into even their most beaming songs. Bloom retains the husky, breathy vocals that defined Legrande as the rebirth of Nico to a generation of young music lovers, and recasts Scally's slide and tremolo-picked guitar beauty as the sound of hope after defeat rather than misery after failure. Where past tracks might wallow in their own deep sadness to unparalleled avail, Bloom tunes including "Wild" and "The Hours" strive upwards from down in their pits. "Wishes" sounds straight up grateful in comparison to the pain of past releases, "New Year" bleeds with resolve, and "Lazuli" shines as brightly as the gem for which it's named. For all the drastic reductions in woe present, Beach House's sound differs only somewhat; here, they grow gradually without entirely shedding their skin. Bloom couldn't be a more appropriate title. [Max]
See the rest of our Best Albums Of The Decade lists!
View Other Lists of this Feature:
Best 50 Albums of the Decade So Far (#50 – #41)
Best 50 Albums of the Decade So Far (#40 – #31)
Best 50 Albums of the Decade So Far (#30 – #21)
Best 50 Albums of the Decade So Far (#10 – #1)