Best 50 Albums Of The Decade So Far (#30 – #21)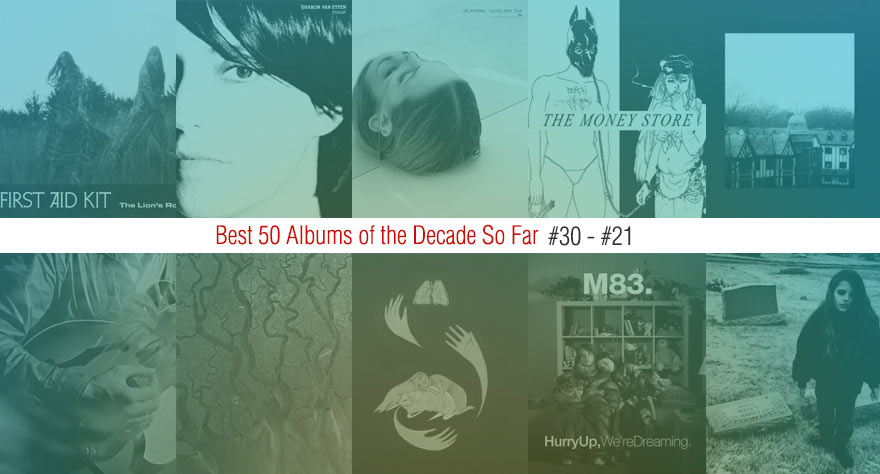 Today we present #30-21 of our Best Albums of 2010-2014 list. This is the middle section of our list: twenty songs precede it, and twenty songs come after it. We think you'll find these ten to be incredibly strong contributions of the past five years, which really ought to get you extra excited for what's to come tomorrow and Friday. With music this good, its hard to imagine things get better. But we assure you they do. Let us know if you think we've made wise choices thus far, and listen to all of today's best albums on our accompanying Spotify playlist.
Best 50 Albums Of The Decade So Far (#30-#21)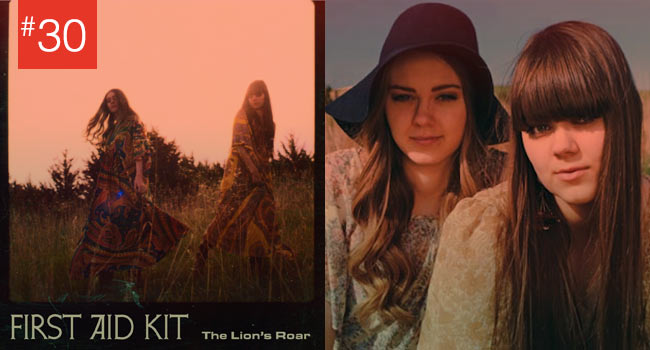 First Aid Kit – The Lion's Roar
(Label: Wichita, 2012)
I like to imagine that if Fleet Foxes had two younger sisters who spent summers in the country with their Auntie Neko Case, they would sound like First Aid Kit. Of course, no such familial ties exist, but musical ties certainly do.
Most obviously: harmony. Johanna and Klara Söderberg spend much of The Lion's Roar harmonizing wonderfully through verse, chorus and bridge. The bright tonality and rich quality of their vocals are the true backbone of this album. Though any of the ten songs on The Lion's Roar could back this point up, "To a Poet," a track punctuated by sporadic and particularly beautiful harmonies, really shows Johanna and Klara's cohesion as vocalists, while "New Year's Eve" sees them at their echoing, raging best.
Clearly this album is worth the time of any fan of alternative country, but this beautiful songwriting really needs to be heard by fans of all genres. The lyrics are thoughtful without excess, and they're refreshingly memorable and clear at a time when fuzzy lo-fi bands let their words sink into the mix. You know, sometimes a good ol' roar does the trick, too. [Susan]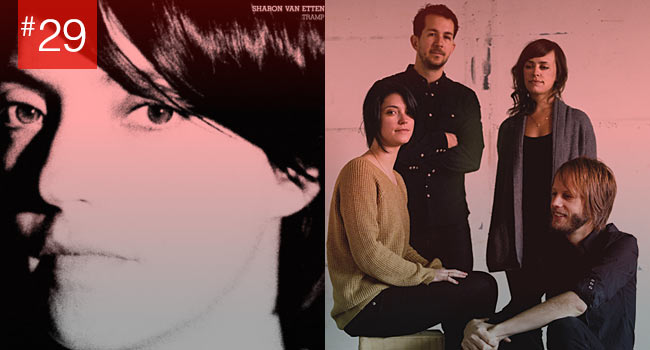 Sharon Van Etten – Tramp
(Label: Jagjaguwar, 2012)
"There was your breath / on the back of my neck / the only one holding / the only one I had felt in years." Lyrics like that are emotive and cinematic on their own, but in the hands (or rather, lungs) of Sharon Van Etten, they can move mountains. Tramp, the Brooklyn-based songwriter's third solo album, is a study in raw artistic expression; Van Etten sounds as if she's sitting beside us, sharing her darkest secrets about the ravages of love. These are break-up songs, but not girly ones sung by a petty teenage girl with zero life experience (you know who I'm talking about). Van Etten sounds like a woman, writes like a woman and commands respect because she writes with maturity. Every song is a doozy, from the roaring "Serpents," to the tender "Leonard," to my personal favorite, the stripped-down "We Are Fine." Her best outing yet. [Bernard]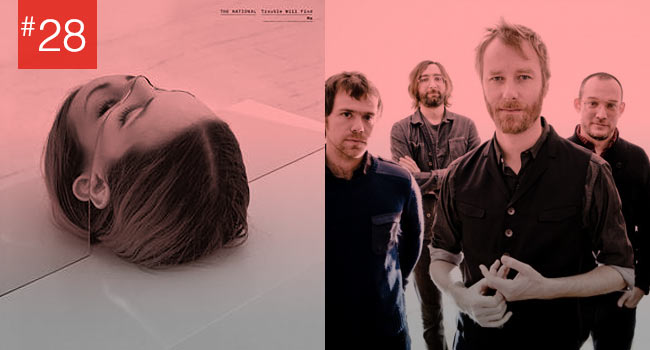 The National – Trouble Will Find Me
(Label: 4AD, 2013)
The National's rise to indie-rock kingpins did not happen overnight. After five albums and a handful of EPs, the band finally reached a career peak with the release of Trouble Will Find Me.
The band's sixth full-length was the perfect combination of elements from their previous five records without seeming trite: their usual darkly romantic lyricism (when I walk into a room / I do not light it up), their chamber-pop instrumentation (the strings in "This Is The Last Time"), their unconventional rhythms (the shifting time signature of "I Should Live In Salt"), and their classically inspired complex arrangements courtesy of the Dessner brothers (the intricate melodies of "Sea Of Love").
While certain aspects of Trouble Will Find Me take after the band's previous works, the highlight, at least to me, was the unpretentious array of guest instrumentals from Sufjan Stevens and Arcade Fire's Richard Reed Parry to back-up vocals from Sharon Van Etten and St. Vincent mastermind Annie Clark.
It's hard to listen to Trouble Will Find Me without thinking, "Yeah, so this is some sort of masterclass in indie music." [Susan]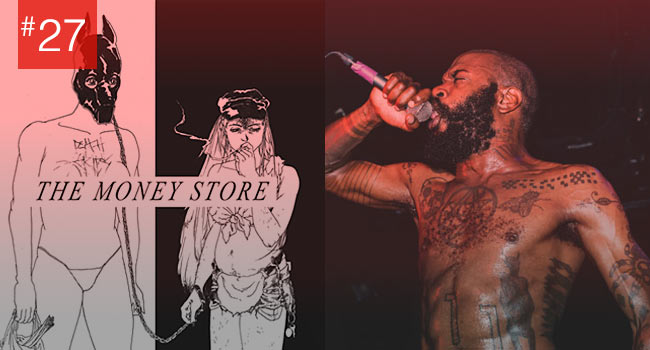 Death Grips – The Money Store
(Label: Epic, 2012)
Experimental hip-hop trio Death Grips assured us they had disbanded last year. Then, they released a bunch of music and hinted that a tour might be on the way with a cryptic YouTube video of them rehearsing. They're weirdos. The Sacramento-based outfit are outcasts not just in hip-hop, but in the music industry in general, dropping records whenever they please, and on their own terms. Their sound is notoriously glitchy and chaotic and often impenetrable, but their first studio album, The Money Store, is arguably their catchiest and most approachable work of all. I'd also argue it's their best. MC Ride's violent, bellowing delivery and surrealist lyrics mesmerize on standout tracks "Hacker" and "Fuck That," and the firecracker opener "Get Got" might be the closest thing Death Grips have resembling a radio hit. This is the perfect entryway album for one of the most insane groups to hit the rap scene in years. [Bernard]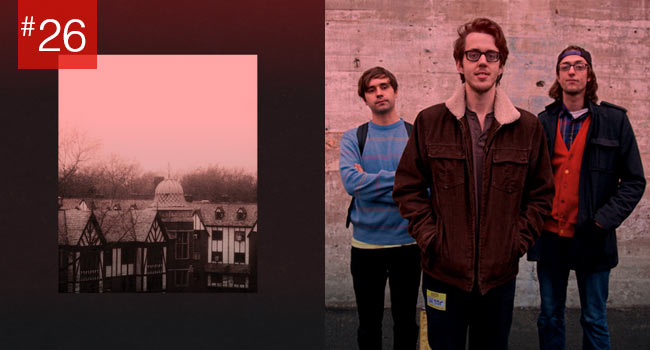 Cloud Nothings – Here and Nowhere Else
(Label: Carpark/Mom & Pop, 2014)
In 2012, Dylan Baldi pulled a fast one on his fans, renovating Cloud Nothings' from a lo-fi pop band into a noise punk outfit. That year's Attack on Memory remains one of the decade's most brooding garage rock albums; follow-up Here and Nowhere Else casts some sun on that LP's sound, but this light is filtered through a semi-thick layer of clouds. Its songs are somewhat more upbeat and significantly more optimistic than on Attack on Memory, but it remains a hostile, fiery collection. "Quieter Today" distills Baldi's punk ferocity with a blanket of melodic hope; "No Thoughts" breeds both contentment and angst with its vibrant yet deranged power chords; "I'm Not Part of Me" recasts '90s power pop as a blazing, confident rumble. The mixture of bliss and rage Baldi achieves here is in part indebted to his band's increased technical proficiency, particularly in the percussive section. Drummer Jason Gerycz ranks among the most vicious, brutal drummers playing today, and his manic performances embolden Here and Nowhere Else with the frantic presence contrasting its more vivid chord progressions. A feat in both sound and performance, Here and Nowhere Else distinguishes itself potently among its fellow punk albums of the decade. [Max]
Chromatics – Kill for Love
(Label: Italians Do It Better, 2012)
Like many musical non-aficionados, I was first introduced to the Chromatics through Nicholas Winding Refn's Drive, which opened my ears to the band's evocative sound thanks to their song "Tick of the Clock" featured in the film. This song led to me discover their fourth studio album, Kill For Love, long after the band had gone through their own musical evolution, from rock-influenced noisy punk to Italo disco-influenced synthpunk in the early 2000s. Though it takes three men to create the band's special aural aesthetic—Adam Miller, Johnny Jewel, and Nat Walker—it's tough to think about anyone or anything else while listening to Ruth Radelet, and feeling her get under your skin with her beguiling amarantine voice. "Into The Black" and "Candy" are perfect examples. But it's not all Radelet, though. Instrumentals like "There's A Light Out At The Horizon" showcase the Chromatics' powerful soundscapes without the support of their main voice. Kill For Love drips with melancholic romance, and sheaths the listener in an everlasting embrace of silky retro sounds. [Nik]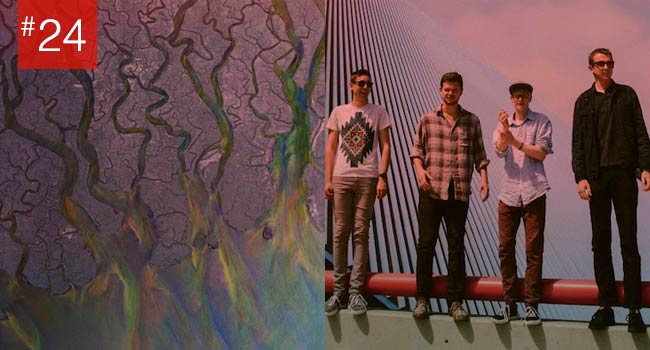 Alt-J – An Awesome Wave
(Label: Canvasback, 2012)
Gwil Sainsbury, Joe Newman, Gus Unger-Hamilton, and Thom Green formed Alt-J in 2007, but didn't release their debut album until 4 years later. These years gave them the time to hone in their unique sound, one where bass doesn't factor in too much since they were mostly practicing in student halls and couldn't make too much noise. Instead, the heavily electro-influenced production values places emphasis on impossibly melodious synth lines, Newman's peculiar vocals, and a refreshingly unpredictable song structure. Take "Breezeblocks," for example. Neither its infectious hook or Newman's falsetto can prepare you for what comes after the two-minute mark, and the "please don't go, please don't go, I love you so" chant that injects the track with an incredible kind of energy. With tracks like this, and other stand outs like "Something Good," "Matilda," and "Fitzpleasure," An Awesome Wave washed over indie rock soundwaves in 2011 and heralded Alt-J in an exciting way, representing a shining example of a refreshingly new take on contemporary indie. Accompanying the familiar quarter of keyboard, guitar, drum, and single vocal are samples, electro twitches, and harmonious duets between Newman and Unger-Hamilton, infusing the album with an atmosphere that soothes eardrums with every listen. [Nik]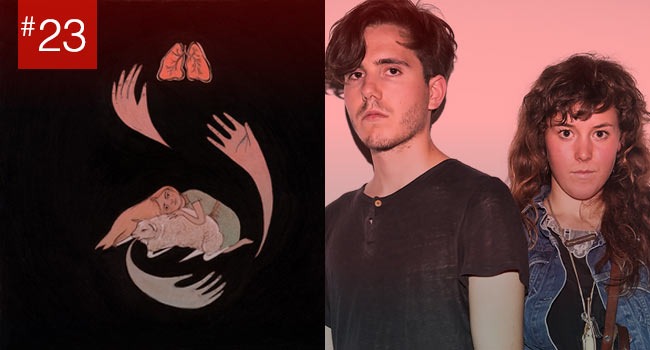 Purity Ring – Shrines
(Label: 4AD, 2012)
In a decade when "dark" evolved into an overused, superficial descriptor, Purity Ring may be the outfit best-suited to the word. Corin Roddick's unnerving, bleak dashes of wide, sprawling synths and Megan James' anatomical, disturbing lyricism casts absolutely no light on the romances inspiring the songs on their debut Shrines. The album gives a sonic form to the visual of a face-deformed monster rising from a black, nameless murk and following terrified victims around everywhere—but the twist is, this beast seeks love, not the infliction of pain. Sure, Megan James demands that the subject of club-rattling career highlight "Fineshrine" which goes, "cut open my sternum and pull/my little ribs around you," but this gory image desires as deep an intimacy as humanly possible rather than the sociopathic pouring of blood. Likewise, when James commands that a lover take full control over her body over the trap skitter of "Saltkin," she seeks a human connection that transcends what our physical existence can provide. She conveys beautiful ideas in deceptively unsettling words, just as Roddick delivers eerily mobile instrumentals with surprisingly intricate arrangements. Although darkness dominates on Shrines, light shines through with consecutive listens, and this constantly growing lens invites listeners back for endless replays. [Max]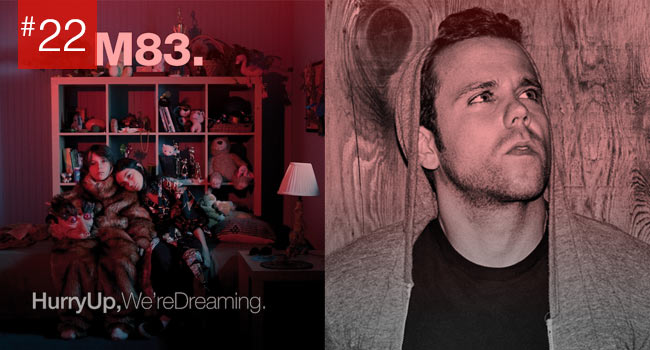 M83 – Hurry Up, We're Dreaming
(Label: Mute, 2011)
"I'm slowly drifting to you/The stars and the planets/Are calling me/A billion years away from you…" so go the lyrics to M83's "My Tears Are Becoming A Sea," a track no amount of movie trailers can possibly ruin. These words perfectly encapsulate the transporting and cinematic quality of M83's music, and his 2011 double album, Hurry Up, We're Dreaming is more of an intergalactic space voyage commandeered by a child's exuberant energy than just another album. We singled out "Midnight City" in our Top 50 Songs of the Decade So Far feature last month, but once you play both discs it's almost impossible to separate any part from the whole experience; even the short intermission-style tracks like "Another Wave From You" and "This Bright Flash" feel necessary and add further dimension to a fantastically realized project. Then, of course, tracks like "Reconte-Moi Historie" on the first disc, and "Echoes of Mine" on the second disc, enhance the storytelling and nostalgic aspects with a beautiful balance of subtle vocals and tremendously spirited production. You'd be forgiven if you thought M83 was 10 people after listening to Hurry Up, but it all comes from the imagination and creative talent of Frenchman Anthony Gonzales, inspired by his new home-city of Los Angeles, and realizing his dream of completing a double album that's not too long and places more emphasis on emotion than narrative. It's easily the most gloriously sonorous album of the decade so far. [Nik]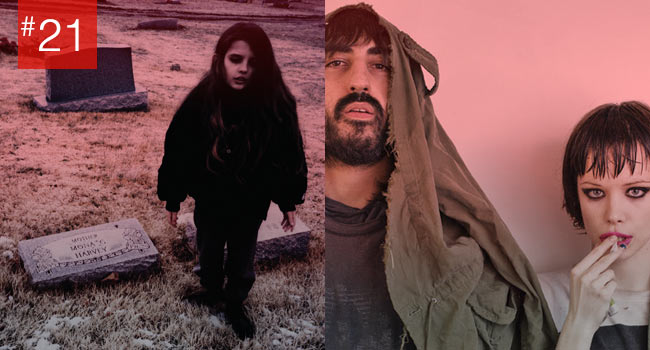 Crystal Castles – II
(Label: Fiction, 2010)
II is truly a strange album. It features—each in a different song—no wave punk, droning metal, explosive industrial, flowery electro-pop, nightmarish rave, slowly expanding IDM, and overwhelming glitch. Cohesion is exactly the opposite of what drives II, yet each of its fourteen songs fits incredibly well under the same roof, resulting in Crystal Castles' best album, and one of the decade's most memorable electronic LPs. Surprising in description, the success of its scattered nature makes sense when listening to the album, since each and every song is thoroughly enjoyable despite the lack of common threads among them. Neon light anthem "Empathy," muddy metal snippet "Birds," and horror film rave blast "Baptism" sound like the word of three different acts, but since each is a wildly resonant piece of music, Crystal Castles is able to include them, as well as fanged screamer "Doe Deer," glitch journey "Intimate," and heartwarming dance tune "Suffocation," on the same album, one for which solely they are responsible. II restores meaning to the phrase "there's something for everyone here": really, anyone who even distantly enjoys electronic music is bound to obsess over something they hear on this album. [Max]
See the rest of our Best Albums Of The Decade lists!
View Other Lists of this Feature:
Best 50 Albums of the Decade So Far (#50 – #41)
Best 50 Albums of the Decade So Far (#40 – #31)
Best 50 Albums of the Decade So Far (#20 – #11)
Best 50 Albums of the Decade So Far (#10 – #1)