Best 50 Albums Of The Decade So Far (#40 – #31)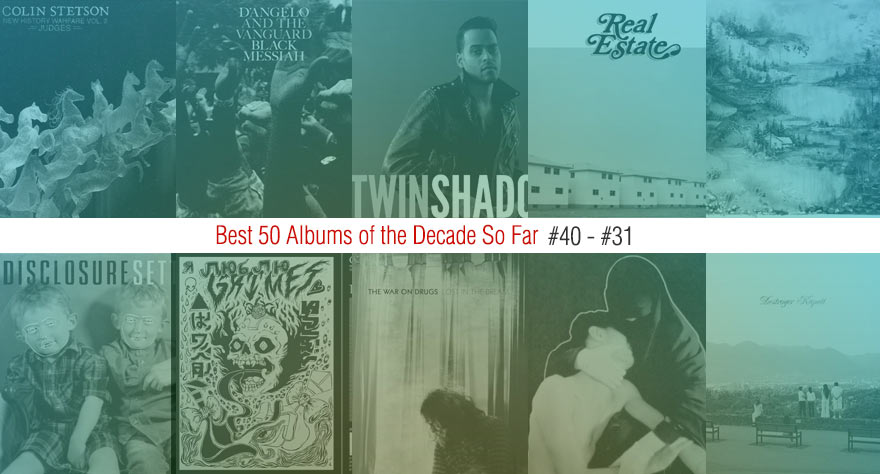 We've got some modern classics lined up among today's section of our Best Albums of 2010-2014 list. Get ready to dance, but also prepare to be entranced in early morning stupors of tranquil, gorgeous bliss. We'll be talking about even more great albums in the days to come, so keep an eye out for most of our ongoing list. Until then, check out these ten solid collections and listen to them all on today's Spotify playlist.
Best 50 Albums Of The Decade So Far (#40-#31)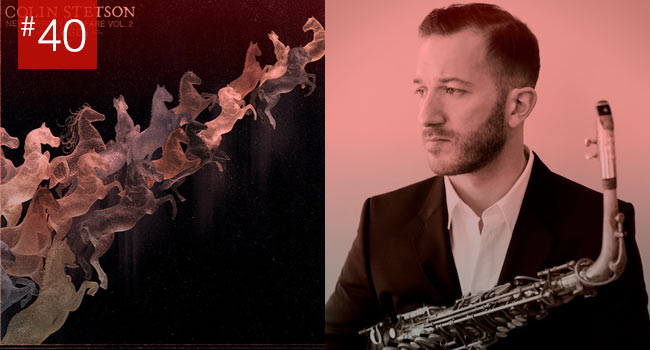 Colin Stetson – New History Warfare Vol. 2
(Label: Constellation, 2011)
Colin Stetson's New History Warfare Vol. 2: Judges is the damnedest thing. Stetson recorded every track in one take, and every sound you hear is made by him and his muse, the saxophone. Thanks to a carefully rigged microphone setup, we hear every click, breath, and note he makes as he plays, sounds which are then manipulated (but not looped) to sound like some sort of alien mating song. It's percussive, almost electronic-sounding music that's beyond compare. My Brightest Diamond's Shara Worden and Laurie Anderson also feature on the album, but Stetson's the real star of the show. He apparently mastered the art of circular breathing before recording the album, which allows him to create a stream of uninterrupted sound. If you haven't experienced New History Warfare Vol. 2 yet, I'm envious; it's one of the coolest, most unique things you can put into your ears (besides, I don't know, a gold-leaf q-tip, or something). [Bernard]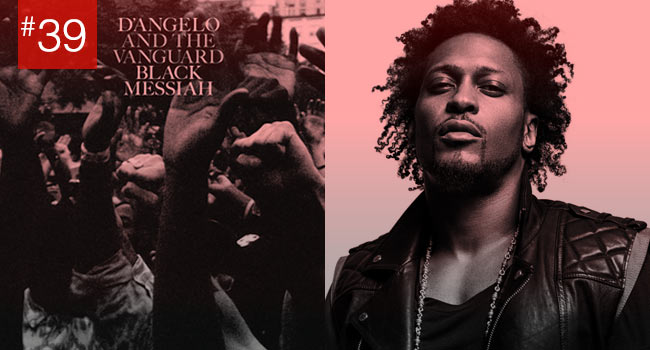 D'Angelo/The Vanguard – Black Messiah
(Label: RCA, 2014)
He kept us waiting (almost 15 goddamn years, actually), but D'Angelo made his triumphant return to the music game in 2014 with Black Messiah, an avant-garde collage of jazz, hip-hop, soul, and funk that is frankly mind-blowing. The funny thing about Black Messiah is, a lot of the time, you can't hear what the hell the man is saying. His voice is either too nasally or gets so fuzzed out at times that it sounds like he's talking into a toy megaphone, but that's okay; once you accept that he's virtually unintelligible, you notice that the emotion in his voice is actually accentuated by being so obstructed. (Look up the lyrics, and your mind will be blown again.) The instrumentation is a wonderful cacophony of loose jazz grooves and whirring synths that recall a bygone era of progressive R&B and soul, reminding us of how expansive the possibilities are of a genre typically wrongfully regarded as narrow. In short, D'Angelo blew open the doors. [Bernard]
Twin Shadow – Confess
(Label: 4AD, 2012)
As Twin Shadow, George Lewis Jr. digs into the pop-friendly realm of blistering self-assessment where the only obvious method is to pump out insanely engaging, dance-friendly numbers. Throughout Confess, listeners aren't sure whether to root for Lewis or hope he'll just stop investing in unrequited love. Regardless, Confess sees him getting over his humble debut album, Forget, as an electronic star with a predisposition for bad decisions.
Confess has given Lewis a chance to develop songs further than Forget, which was much more synth-heavy, featuring vocals that were slightly warped. The music on Confess adheres to a genre of his own creation, which appears to be a collage of sounds from the '80s. "Beg For The Night" ends with a sweet guitar solo accompanied by Lewis' crooning and sweeping synths.  What I like most about Twin Shadow is that, though he's not the strongest vocalist, he absolutely devotes himself to his melodies and never falters from being a hopeless romantic in the process. We're fortunate that he's complex enough to avoid outright happiness and Confess, as an album showed notable growth that still stands three years on. [Susan]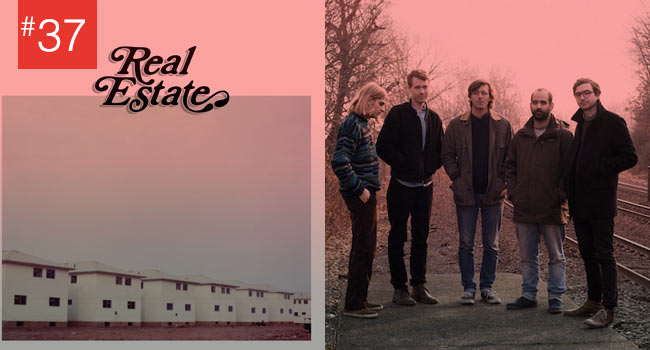 Real Estate – Days
(Label: Domino, 2011)
Real Estate formed as a Strokes cover band, but their music only scarcely hints at this influence. While all the other suburban kids were ripping off Is This It in their parents' garages, Real Estate discovered reverb, delay, and vocal harmonies. They also stumbled upon a feeling not often present in their peers work: an underbelly of sadness, longing, and nostalgia. Days, their sophomore album, details suburban life via these emotions, recalling love at autumn's onset on sprightly lead single "It's Real," home-bound yearning on woozy hypnotizer "Municipality," and youthful bliss on sunlit opener "Easy." The themes presented are bound to resonate among many listeners, but for those more familiar with the frantic city lifestyle, solace is found in the band's heart-wrenching melodies. Days' songs unfold at a cozy, intimate pace, granting songs such as "Green Aisles" and "Three Blocks" ample space and time to connect to anyone with an open ear. Forget your background; Days will charm anyone willing to emotionally engage. [Max]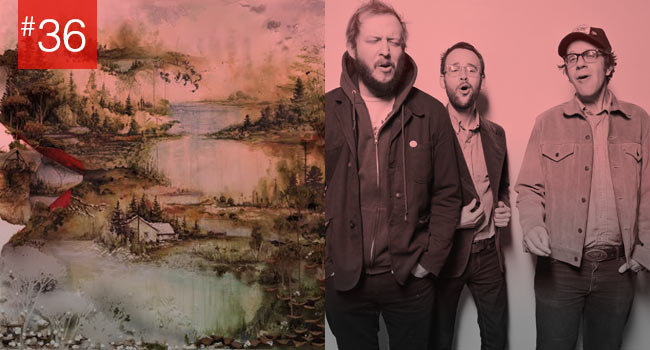 Bon Iver – Bon Iver, Bon Iver
(Label: Jagjaguwar/4AD, 2011)
Justin Vernon is a capital "M" musician, and it shows no more clearly than on his 2011 record, Bon Iver, Bon Iver. In many ways, the record follows the well-worn path of lush, instrumental expansion that often accompanies success for solo singer/songwriters. By this point, four years has passed since his debut album, For Emma, Forever Ago, and in the interim, he recorded a live album with his old high school jazz band, collaborated with supergroup Gayngs, formed Volcano Choir, and yes, lent a helping hand to Kayne West.
All of that stretching in various directions shows on this record, from the echoed piano layers of "Hinnom, TX" to the big cymbal crashes and digital guitars on "Perth" and the groove-laden spiral of "Minnesota, WI."
None of the isolated man with a guitar, backwoods shut-in tone from Emma makes its way through here—the only connective tissue is that voice. Vernon's voice is one of the most haunting and distinctive to come around in a long time, and he layers harmonies so deep that comparisons to Fleet Foxes or even the Beach Boys don't seem to do it justice. His voice alone is worth a nod on this list. [Susan]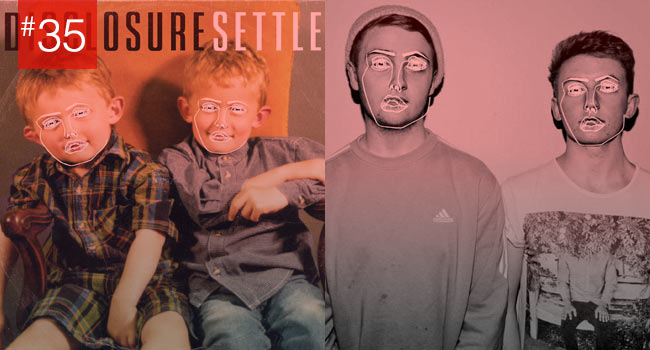 Disclosure – Settle
(Label: PMR, 2013)
While the independent music world battled EDM culture in an increasingly tense fight between the former's complex structures and the latter's simplistic, bombastic nature, both sides agreed on the merit of two young brothers from Surrey, England. Disclosure blurred the line between aggressive, superficial dance music and subtle, sensual deep house, recalling the latter genre while appealing to the greater masses. Impossible to dislike, their debut Settle underpins an ensemble cast of guest vocalists with digital hooks and jackhammer grooves. It maintains an active, stimulating energy without compromising songwriting prowess and emotional impact. "You & Me" oozes sex while keeping four on the floor; "White Noise" both asserts power and opens the room to a dance circle. The party continues for an hour, but that's only because no one wants it to end. [Max]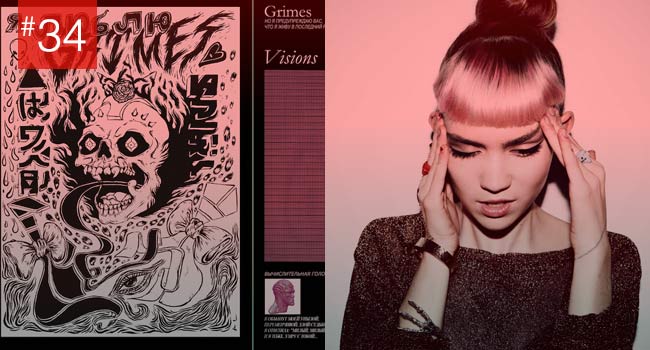 Grimes – Visions
(Label: Arbutus/4AD, 2012)
An electronic musician who cites Enya and Mariah Carey among her primary influences and records dark pop music from her bedroom? Either a nightmare or a dream come true, depending who you ask. If you did take the initiative to ask, it's likely that most people would describe this situation as a dream, seeing as Grimes has climbed to the forefront of modern electronic music in just over three years. The album responsible for this shift, 2012's Visions, filters Top 40 pop music through an ominous, robotic lens, contrasting the angelic, whistle-register voice of mastermind Claire Boucher with eerie, nocturnal synthetic pulses. Bubblegum melodies and myriad hooks outline Visions, but the brooding, mechanical murk underlying them saves these songs from their potentially tacky outcome. Without a Terminator-like presence pervading the underside of this album, songs like "Circumambient" and "Symphonia IX (My Wait Is U)" might go to waste as childlike, innocent fairy tales. Instead, we have the apocalyptic banger "Be a Body" and the trailblazing "Oblivion," thought by many to rank among the greatest electronic songs ever recorded. Fear not pop; embracing it results in albums as distinct and enjoyable as this one. [Max]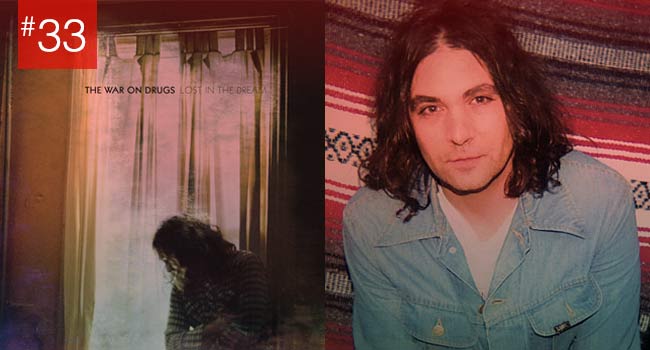 The War on Drugs – Lost in the Dream
(Label: Secretly Canadian, 2014)
Lost in the Dream may be the first War on Drugs album to feature this newest incarnation of the band (longtime collaborator, Kurt Vile, is nowhere to be found on this one), but it's also the purest of the band's three albums. Singer, guitarist, and leader Adam Granduciel has touched on themes of listlessness in his previous records, but here his lyrics and song structures hit upon something universal, making these tunes grab ahold of you, refusing to let go. Right from the piano and drum machine opening of "Under the Pressure," every immaculately produced bar and guitar strum feels like a classic, as if that siren's call to wander and ramble has pushed Granduciel to greater heights.
Each song on Lost in the Dream feels like its own saga—a story just aching to be told, lived, and retold again with a new perspective. Granduciel has not only made the best album of his career, but he's surpassed Vile in songwriting and skill. It's a piece of work that will not only stick with you through the week, but into the summer and fall as well. [Susan]
Crystal Castles – III
(Label: Fiction, 2012)
Crystal Castles may well be this decade's most prominent example of a non-metal act fully embracing fear. Their songs sound like industrial techno soundtracks to the most visceral of horror films, and III, their final album recorded with vocalist and co-writer Alice Glass, is their bleakest and most abrasive. Its first song is titled "Plague" and stabs the senses with newly sharpened knives, and the rest of the album falls in even deeper suit. Song titles include "Kerosene," "Violent Youth," and "Mercenary," not to mention "Wrath of God." Musically, III more consistently sounds fanged and slashing than any previous Crystal Castles release; where past albums explored more inviting sonics, this one is all repulsion. Sure, there's a faint glimmer of hope in the soft vocal lines of "Transgender" and the peripheral flashes of "Sad Eyes," but the quilt of doom burying this album weighs down with insurmountable force. Even the vaguely optimistic intro of "Wrath of God" gives way to a barrage of angry, intimidating synths and harsh vocals. It makes sense that Alice Glass would leave the band after this album; III narrates the journey down a dead-end road with no way out. [Max]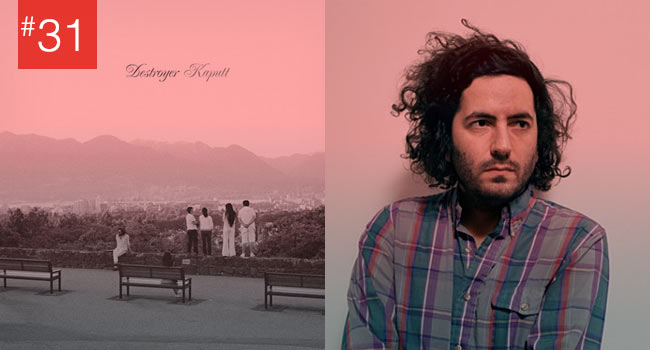 Destroyer – Kaputt
(Label: Merge, 2011)
The story goes like this: a guy who's been compared to David Bowie, T. Rex, and other glam rock acts for his entire career changes direction completely, recording an album that draws its primary inspiration from smooth jazz and soft rock. This new album is often described, surprisingly, as his most accessible yet. The LP in question here is Dan Bejar's ninth album as Destroyer, Kaputt, a gorgeous album that constantly borders on cheesy without ever reaching it. In theory, nothing here should work—smooth jazz and soft rock as done by a glam rock worshipper—yet its further influences from new wave, dream pop, and even disco embellish it with an innately affecting shine. Bejar's voice matches his newly silky sonics; here, he abandons the yelping, unpredictable, extreme vocals of past records for an eternally calm, relaxed demeanor. Rumor has it he recorded some of Kaputt's vocal takes while lying down on a couch, and the (lack of) effort shows. Bejar is well aware of how disarmingly tranquil this album is; a vinyl-only suite entitled "The Laziest River" describes this album's aura in just three words. When Bejar sings "I sent a message/in a bottle/to the press" on album highlight "Blue Eyes," you wonder how it reached them so successfully when there's no current in this water. [Max]
See the rest of our Best Albums Of The Decade lists!
View Other Lists of this Feature:
Best 50 Albums of the Decade So Far (#50 – #41)
Best 50 Albums of the Decade So Far (#30 – #21)
Best 50 Albums of the Decade So Far (#20 – #11)
Best 50 Albums of the Decade So Far (#10 – #1)