Hateship Loveship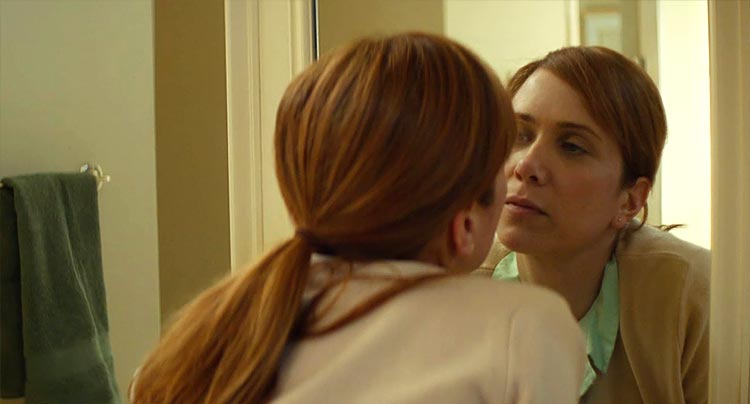 Each time the film tip-toes around the obvious, it becomes more and more cringe worthy.
2013 was the year for Saturday Night Live alums to break out of their comedic roles to star in smaller indie dramas. First there was Will Forte who set aside his MacGruber impersonations for a more serious father and son road trip film in Alexander Payne's Nebraska. In Hateship Loveship it's Kristen Wiig who boldly steps outside of her wheelhouse of wise-cracking joker (Bridesmaids, Knocked Up) for a role in which she barely cracks a smile. Unfortunately, her transition is not quite as smooth or effortless as Forte's, though the uninspiring material doesn't do her any favors.
The story begins as a painfully shy personal caregiver named Johanna (Kristen Wiig) must find a new client after the elderly woman she was looking after passes away. She is referred to the McCauley household to look after a teenage girl named Sabitha (Hailee Steinfeld) who has lived with her grandfather (Nick Nolte) ever since her mother passed away. As expected from a rebellious teenager, Sabitha is standoffish towards Johanna from the beginning and eventually exploits the caregiver's gullible and delicate personality.
From the moment Sabitha's estranged father Ken (Guy Pearce) arrives on-screen the film attempts to subtly reveal his backstory of addiction problems, but the moments are so deliberately presented that they feel forced. In Johanna's first interaction with Ken, she finds him stealing prescription pills for which he awkwardly asks her to look the other way. In the very next scene Johanna learns that Ken's wife passed away and that Sabitha's best friend is not allowed to get a ride from him. Immediately following that scene, Johanna overhears an argument where Ken is shouting, "It was an accident!" As if it wasn't obvious enough that he killed his wife while driving under the influence, a gossiping bank teller informs Johanna that he spent time in prison for "what happened". Each time Hateship Loveship tip-toes around the obvious, it becomes more and more cringe worthy.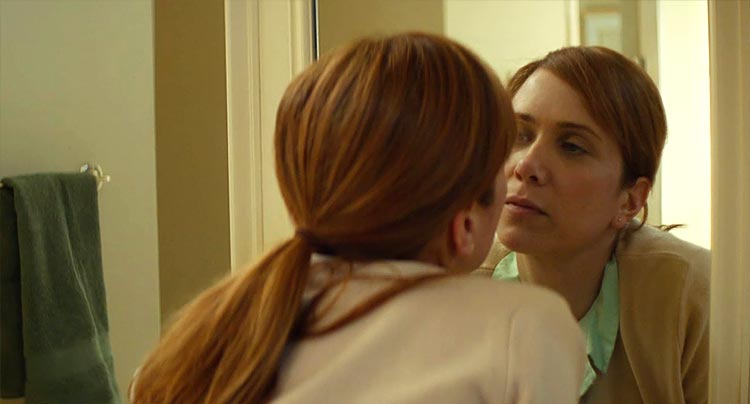 It's frustrating that so much exposition is given to characters other than its main star. It's easy to see Wiig is a sexually repressed woman, in the film's best scene she passionately makes out with herself in a mirror, but it's never revealed why she acts the way she does. She comes off as a flat two-dimensional character incapable of expressing any emotions, despite enduring some colossal ups and downs. Even Pearce, who is normally excellent, has trouble making his out-of-control junkie character seem convincing.
Unfortunately, it's pretty easy to tell that Hateship Loveship is adapted from a short story. There's simply not enough material to call for a full-length feature, even the best moments were only mildly interesting and very short-lived. Not only does the film derive from a stifling script full of predictable outcomes, but it also dedicates too much time toward its minor subplots (like Nolte's relationship with the bank teller), while skimming over important details like marriage and pregnancy. Perhaps Hateship Loveship would have been better suited as a short film, or maybe it should have just remained a short story.
Hateship Loveship trailer
Hateship Loveship Movie review