Win: $25 American Express Gift Card for a Night at the Movies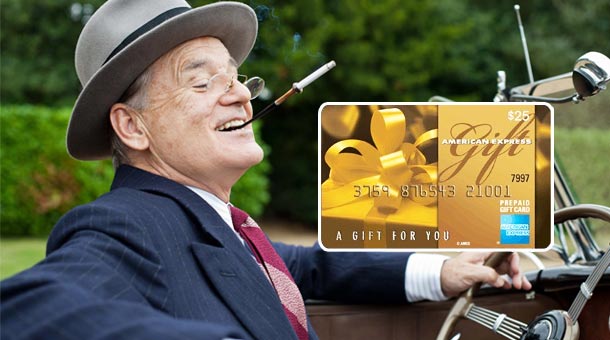 Any film that has Bill Murray in some capacity has me excited, let alone when it is a lead role. In his new film Hyde Park on Hudson, he plays the historical President FDR. To celebrate the film in theaters, Way Too Indie is giving away a night out at the movies to go see it.
Hyde Park on Hudson is a based-in-reality story told from the perspective of Franklin D. Roosevelt's 5th cousin, Margaret "Daisy" Suckly (played by Laura Linney), and takes place for the most part during the weekend that King George VI (Samuel West), along with his wife Queen Elizabeth (Olivia Coleman) became the first British Monarchs to visit America. The royal couple visit President Roosevelt (Bill Murray) at his mother's home in upstate New York, Hyde Park, with the agenda of asking the President for the help of the United States when the inevitable World War breaks out.
To win a $25 American Express Gift Card for a night at the movies, email us your favorite Bill Murray film.
For an additional entry, tell us your favorite film of his in the comments below (please also include your email).
This giveaway will end on Friday, January 18th at noon EST. The winner will be notified via email.
Official trailer of Hyde Park on Hudson:
Hyde Park on Hudson movie cover: