Giveaway: Moonrise Kingdom Blu-ray Prize Pack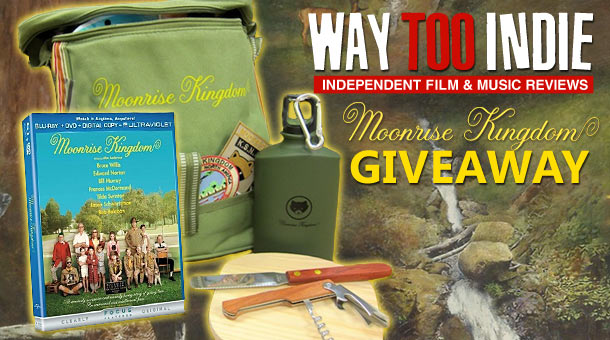 We have got two Blu-ray copies of Wes Anderson's quirky indie hit Moonrise Kingdom to give away to a couple of our Facebook and Twitter followers. As a bonus, one of those winners will receive a special "Survival Package" to go along with the Blu-ray.
We are giving away one (1) Moonrise Kingdom on Blu-ray and one (1) Moonrise Kingdom Survival Package" which includes:
Moonrise Kingdom on Blu-ray
Patches
Cooler
Canteen
Cutting board with cheese knife
How do you enter the giveaway?
Step 1: LIKE Way Too Indie on Facebook
Step 2: Leave a comment on this page telling us who your favorite Wes Anderson character is.
* Additional chance to win: Follow @WayTooIndie on Twitter. Then tweet: @WayTooIndie (your favorite Wes Anderson character) http://tooin.de/moonrise, to enter.
Details on the giveaway
Winners will be selected at random. One (1) winner will win a Blu-ray and one (1) winner will a "Survival Package" (which includes a Blu-ray and more). If you are chosen, you will be notified by email. Winners must respond within three days of being contacted. If you do not respond within that period, another winner will be chosen. Must be in the United States to win. Entries can be submitted until October 11th, 2012 at 11:59PM CT. This Sweepstakes is in no way sponsored, endorsed or administered by, or associated with, Facebook or Twitter. Good luck!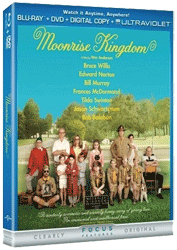 AVAILABLE OCTOBER 16, 2012 ON BLU-RAY™ COMBO PACK WITH ULTRAVIOLET™, ON DVD AND ON DEMAND FROM UNIVERSAL STUDIOS HOME ENTERTAINMENT
Set on an island off the coast of New England in the summer of 1965, two twelve-year-olds fall in love, make a secret pact, and run away together into the wilderness. As various authorities try to hunt them down, a violent storm is brewing offshore — and the peaceful island community is turned upside down in more ways than anyone can handle.
Moonrise Kingdom director Wes Anderson is a master at poignantly depicting those who are a bit different from most of the other characters in the world around them. Regardless of gender, era, and even species, Anderson manages to perfectly represent characters that we can all relate to in one way or another. Here, we've highlighted our top 5 most beloved "outsider" characters created by this Academy Award nominated director.
Rushmore – Max Fischer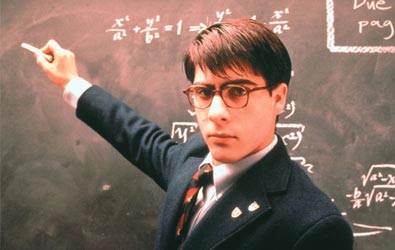 1998's Rushmore focuses on the life of Max Fischer (Jason Schwartzman), a 15 year old with high ambitions and a low grade point average. He is ridiculed and rejected by most of his fellow classmates of Rushmore Academy and his closest confidante is Dirk, a much younger attendee of the school. Desperation for companionship, Max attempts to befriend both a young teacher (Olivia Williams), as well as the father of his classmates (Bill Murray). The two adults soon become involved in a love affair, leaving Max upset and jealous; however, he soon finds himself bonding with someone more his age – the equally ambitious Margaret Yang – and is able to find a place for himself at school.
The Royal Tenenbaums – Margot Tenenbaum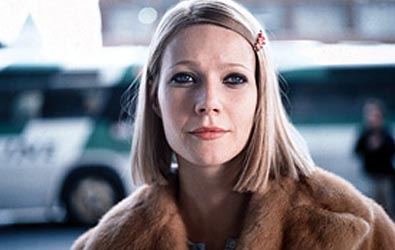 It's true that every member in the Tenenbaum family could be marked as an outsider:
Overprotective parent Chas (Ben Stiller), Riche (Luke Wilson), the anxiety-ridden tennis prodigy, insensitive patriarch Royal (Gene Hackman). But arguably the character who dons the biggest outsider status is none other than Margot, the notoriously secretive adopted daughter who mysteriously lost half of a finger during a two-week period when she ran away from home as a child. Utterly depressed and unsatisfied with her life, Margot ends up being the object of not one, but two men's affection – both her brother Richie, and his best friend – self declared "honorary Tenenbaum", Eli Cash.
Fantastic Mr. Fox – Ash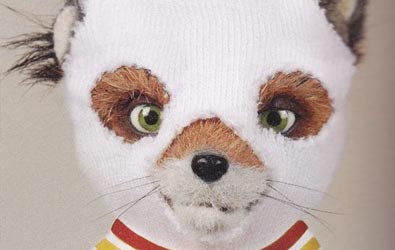 Awkward little Ash Fox has a lot to live up to, as his father, the "Fantastic" Mr. Fox, is quick, cunning, and essentially, everything their species should be. And to make matters worse, his soft-spoken and athletically gifted cousin, Kristofferson, comes to live with him in his family's tree while his father recovers from double pneumonia. The two boys are barely on speaking terms, but begin to start their friendship anew once Kristofferson comes to Ash's rescue when he is being bullied at school. Later on as the cousins aid Mr. Fox' in his plan to rob three infamously nasty farmers, Ash must brave many obstacles to rescue his cousin from captivity. The young fox quickly matures and realizes that he has strengths of his own – his quirkiness being one of them!>
Moonrise Kingdom– Sam Shakusky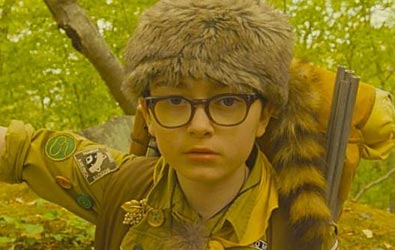 Khaki Troop 55's most eccentric member is without a doubt 12-year-old Sam Shakusky, played by newcomer Jared Gillman. Although Sam is extremely smart and resourceful in his outdoor survival skills, this misunderstood character just doesn't quite fit in with his fellow scouts was abandoned by both his real parents and his foster family. Luckily, Sam finds a refuge in Suzy, his one true love, and the two are able to help each other feel like less of outsiders, and more like a part of their own little community.