Chicago International Film Festival Announces First Titles For 2012 Lineup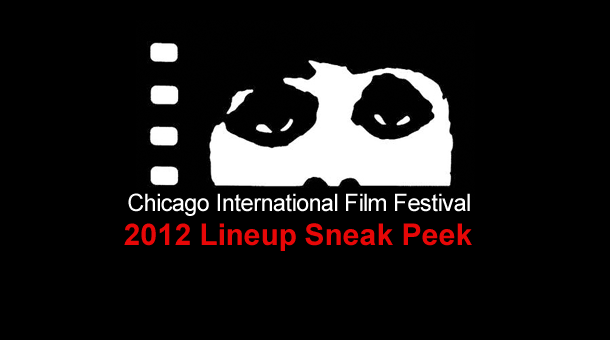 Part of the 2012 Chicago International Film Festival Lineup has been revealed today when they announced the first 22 titles that will be shown at the festival. This gives us just a small taste of what is in store for the festival this year.
Some of the most noteworthy films include Cristian Mungiu's Beyond The Hills, Abbas Kiarostami's Like Someone In Love, and Leos Carax's Holy Motors, which all premiered at Cannes Film Festival earlier this year. Other standouts are Keep the Lights On, Caesar Must Die and The Sessions.
The biggest surprise from the announcement is the absence of Michael Haneke's Amour, which is making strong festival runs after winning the Palme D'Or at Cannes. But that does not mean the film will not be in the lineup, we will just have to wait until the full lineup is announced in September to see if that is the case.
These 22 films will be among more than 150 that will be playing throughout the 48th Chicago International Film Festival that will be held October 11th-25th, 2012. Way Too Indie plans to be in attendance this year and reporting back so stay tuned for further updates. Below is the full list of films that were announced today.
2012 Chicago International Film Festival Lineup (so far):
As Goes Janesville (Brad Lichtenstein)
The recession hits home in Janesville, WI, where the shutdown of a GM plant has devastated the town. Following laid-off employees struggling to make ends meet and local business owners trying to lure back investors, this intimate verité-style documentary supplies refreshingly human insight into America's economic crisis.
Benji (Coodie & Chike)
In 1984, all eyes were on Ben Wilson, one of Chicago's top high school basketball prospects. But in his senior year, Benji's story was suddenly cut short. Interviews with family and friends give fresh insight into Benji's life and untimely end, illuminating one of sport's most tragic "what if"s.
Beyond The Hills (Cristian Mungiu)
Mungiu (4 Months, 3 Weeks and 2 Days) returns to feature filmmaking with this gripping existential drama. Inspired by the real-life horror of a modern-day exorcism-gone-wrong, the film follows two women, close friends whose lives have taken them down drastically different paths: one into a convent, the other much further astray.
The Cleaner (Adrian Saba)
In the midst of a mysterious, devastating epidemic, Eusebio – a forensic cleaner who sterilizes the apartments of the dead discovers an eight-year-old boy hiding in an uninhabited house. A grizzled loner all his life, Eusebio suddenly finds that he must care for this young boy as civilization crumbles around them in this quietly compelling dystopian drama.
Caesar Must Die (Paolo & Vittorio Taviani)
The top prize winner in Berlin, this docudrama from the legendary Taviani brothers depicts the preparations for a staging of Shakespeare's Julius Caesar by inmates in Rome's Rebibbia Prison. The performers, many of whom are in jail for violent crimes, bring powerful new layers of meaning and emotion to the canonical play.
Coming of Age (Sabine Hiebler & Gerhart Ertl)
In their 80s, Rosa and Bruno meet and are suddenly reminded what it means to love and live fully. The two – knowing that their time is limited – run off together, leaving much and many in their wake. This unconventional romantic drama paints a powerful portrait of love by turns stark, passion-filled and heart-breaking.
Consuming Spirits (Chris Sullivan)
A melancholic, mesmerizing vision of backwoods gothic Americana that was 15 years in the making, Consuming Spirits weaves together a spell-binding blend of animation techniques. Folksy storytelling tinged with the dark surrealism of David Lynch, this atmospheric, multi-layered tale of outcasts and misfits is haunting, funny and occasionally heart-breaking.
Don't Click (Kim Tae-Kyeong)
When cyber junkie Jung-mi learns of a sinister new "forbidden" internet video, she'll stop at nothing to find it. However, the morbid video has strange effects on its viewers, and soon Jung-mi and her sister seem to be under a bizarre and terrifying curse in this disturbing take on 21st-century technology, surveillance, and internet fame.
Holy Motors (Leos Carax)
Several lifetimes pass in the span of a few hours for Monsieur Oscar, a shadowy character who effortlessly transitions from one realm to the next. He is, in turn, captain of industry, assassin, beggar, monster, family man. This mysterious, hallucinatory epic has ignited passions around the world for its bold, euphoric virtuosity.
In Their Skin (Jeremy Power Regimbal)
A relaxing trip to the country takes a dark and disturbing turn when a seemingly friendly visit from the neighbors turns into a terrifying and potentially deadly situation. Skillfully building the claustrophobic atmosphere with masterful control over mood and pacing, In Their Skin is a chilling, sophisticated slice of terror.
The Jeffrey Dahmer Files (Chris James Thompson)
By the time he was arrested, Jeffrey Dahmer had killed and dismembered 17 victims, mostly in his nondescript Milwaukee apartment. Using a mixture of archival footage, new interviews and recreations, this documentary paints a complex, intimate portrait of one of America's most notorious serial killers.
Keep the Lights On (Ira Sachs)
A one-night stand between Erik and Paul quickly grows into something more, but their differences – along with Paul's struggles with addiction – soon chip away at their relationship. This sensitive, subtle account of an intense, nine-year on-off relationship tenderly reminds us that love is not always enough.
Like Someone In Love (Abbas Kiarostami)
Iran's greatest living filmmaker travels to Tokyo for this understated, enigmatic romantic drama. Unbeknownst to her boyfriend, the enchanting university student Akiko secretly moonlights as an escort. An encounter with a client – a shy, elderly academic – leads to an unconventional, unexpectedly intimate relationship in which nothing is quite as it seems.
Marie Krøyer (Bille August)
Married to one of Denmark's most celebrated 19th century painters, Marie Krøyer's life is both privileged and fraught. Struggling to discover her own identity while managing her husband's increasingly erratic behavior, Marie begins to look outside of her marriage for affirmation and autonomy. But at what cost?
A Modest Reception (Mani Haghighi)
Tasked with giving away huge sums of money by whatever means possible, Kaveh and Layla drive through the remote, war-torn mountains of Iran with a trunkful of cash. What begins as a seemingly harmless game soon reveals itself to be a twisted bout of charity as the power, humiliation, and shame inherent in their act plays out between the privileged couple and the impoverished villagers.
Out in the Dark (Michael Mayer)
Nimer, a Palestinian student, dreams of a better life abroad. One fateful night he meets Roy, an Israeli lawyer. As their relationship deepens, Nimer is confronted with the harsh realities of a Palestinian society that refuses to accept his sexual identity, and an Israeli society that rejects his nationality.
The Scapegoat (Charles Sturridge)
The Scapegoat tells the story of two very different men who have one thing in common: a face. Near exact replicas, these doppelgangers meet by chance, each at a major crossroads in his life in this adaptation of Daphne Du Maurier's novel, which recalls the productions of Merchant- Ivory at their finest.
The Sessions (Ben Lewin)
Based on the poignantly optimistic autobiographical writings of California-based journalist and poet Mark O'Brien, The Sessions tells the story of a man confined to an iron lung who is determined – at age 38 – to lose his virginity. With the help of his therapists and the guidance of his priest, he sets out to make his dream a reality.
Shameless (Filip Marczewski)
In an incendiary story of love, desire, and betrayal between siblings, the rebellious young Tadek returns to sister Anka's home in search of solace and affection. Bound together by a painful shared family history, brother and sister must find a way to break free in order to survive.
Tey (Alain Gomis)
What would you do if you knew today was your last? A joyous, impressionistic celebration of life and death, Tey follows Satché from the moment he wakes, with full knowledge of his imminent passing. Wandering through the streets of his hometown, Satché reflects on the choices he has made and their consequences.
Valley of Saints (Musa Syeed)
Gulzar, a boatman on Kashmir's gorgeous, peaceful Dal Lake, plans to leave for the city when a military curfew forces him to remain in his hometown. When Gulzar meets Asifa, a pretty young scientist studying the lake, a romance develops against a backdrop of jealousy, competition, and ongoing political turmoil.
Short Films: Highlights of this year's programs include: Paraíso, in which three Chicago window cleaners wax philosophical as they work on a high-rise; the animated Oh Willy…, in which the hero returns to the naturist community where he spent his youth; and Yardbird, in which a young girl uses special powers against bullies.