Home » News » Film Festival » Chicago International Film Festival 2012 Lineup Announced
Chicago International Film Festival 2012 Lineup Announced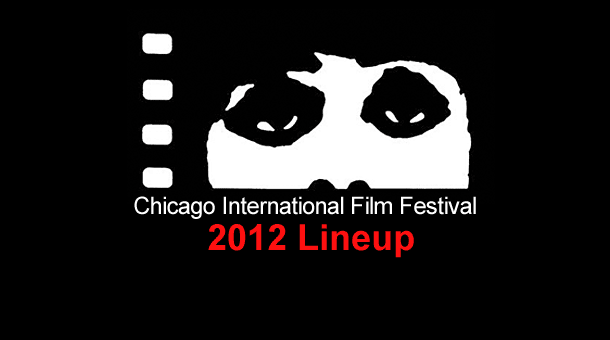 Nearly a month ago the first wave of 22 tiles were announced that would play at the 2012 Chicago International Film Festival and today the rest of the lineup has been revealed. Some of the notable additions to the lineup were; Paradise: Love which played at Cannes, Carlos Reygades' baffling Post Tenebras Lux, the obsessive The Shining documentary Room 237, Brandon Cronenberg's debut Antiviral and SXSW winner Gimme The Loot.
CIFF is shaping up to be a festival that is worth attending as the lineup is certainly stacked with some reputable films including the controversial Holy Motors and other Cannes film festival titles such as Beyond the Hills and Like Someone in Love. Other anticipated films that will play at the festival are; The Sessions, Leviathan (which was CJ's favorite film at TIFF) and The Impossible.
Also a special presentation of Cloud Atlas will play at the festival and serve as the Centerpiece Film. Scheduled to attend that screening are the directors of the film; Tom Tykwer and the Chicago natives Lana and Andy Wachowski.
The 48th Chicago International Film Festival will be held on October 11th through October 25th 2012 at AMC River East 21 in downtown Chicago. This year I will be attending the festival and reporting back with capsule reviews and tweets for Way Too Indie so stay tuned.
2012 Chicago International Film Festival Lineup
Here is a link to .PDF with schedule and descriptions of the films.
The ABCs of Death (various directors)
After Christmas (Benjamin Kegan)
After Lucia (Michel Franco)
Ken Nordine Presents Agenbite of Inwit
Agon (Robert Budina)
Alaskaland (Chinonye Chukwu)
Another Bullet Dodged (Landon Zakheim)
Antiviral (Brandon Cronenberg)
Any Day Now (Travis Fine)
Art of Conflict (Valeri Vaughn)
As Goes Janesville (Brad Lichtenstein)
Astrid (Fijona Jonuzi)
Bad Seeds (Safy Nebbou)
The Believers (Clayton Brown Monica Long Ross)
The Bella Vista (Alicia Cano)
Benji (Coodie and Chike)
Beyond the Hills (Cristian Mungiu)
Bite of the Tail
Black Pond (Tom Kingsley and Will Sharpe)
Black's Game (Axelsson)
Body Memory (Ülo Pikkov)
Boys Are Us (Peter Luisi)
Cadaver (Joseph Ansell)
Caesar Must Die (Paolo and Vittorio Taviani)
Café Regular, Cairo (Ritech Batra)
A Caretaker's Tale (Katrine Wiedemann)
CatCam (Seth Keal)
The Central Park Five (David McMahon, Ken Burns and Sarah Burns)
The Chair (Grainger David)
Chill (Hana Jušić)
Citadel (Ciaran Foy)
The Cleaner (Adrian Saba)
Clip (Maja Milos)
Cloud Atlas (Andy Wachowski, Lana Wachowski and Tom Tykwer)
Color of Sky (Dr. Biju)
Come to Harm (Bokur Sigthorsson)
Coming of Age (Gerhart Ertl and Sabine Hiebler)
The Conquerors (Sarolta Szabó and Tibor Bánóczki)
Consuming Spirits (Chris Sullivan)
Dad, Lenin and Freddy (Rinio Dragasaki)
Day of the Crows (Jean-Christophe Dessaint)
Dear Hunters (Zack Bornstein)
The Delay (Rodrigo Plá)
Diaz: Don't Clean up this Blood (Daniele Vicari)
Dinosaur Eggs in the Living Room (Rafael Urban)
Don't Click (Tae-kyeong Kim)
Dragon (Peter Chan)
Dreams for Sale (Miwa Nishikawa)
Drought (Everardo González)
The Drudgery Train (Nobuhiro Yamashita)
Edmond Was A Donkey (Franck Dion)
Ellen is Leaving (Michelle Savill)
Empire Builder (Kris Swanberg)
Everybody's Got Somebody…Not Me (Raúl Fuentes)
The Exam (Peter Bergendy)
F*ckload of Scotchtape (Julian Grant)
Fable (Lester Hamlet)
Faces (Said Najmi)
The Final Member (Jonah Bekhor and Zach Math)
Flight (Robert Zemeckis)
Flowerbuds (Zdenek Jirasky)
Footnote (Joseph Cedar)
Friend Request Pending (Chris Foggin)
Full Circle (Zhang Yang)
Germania (Maximiliano Schonfeld)
Gimme the Loot (Adam Leon)
Hemel (Sacha Polak)
Holy Motors (Leos Carax)
Hometown Boy (Hung-I Yao)
The Impossible (Juan Antonio Bayona)
In Hanford (Chris Mars)
In Their Skin (Jeremy Power Regimbal)
Jai Bhim Comrade (Anand Patwardhan)
The Jeffrey Dahmer Files (Chris James Thompson)
John Dies at the End (Don Coscarelli)
Keep the Lights On (Ira Sachs)
Kern (Veronika Franz & Severin Fiala)
King Curling (Ole Endresen)
Kuma (Umut Dag)
La Demora (Rodrigo Plá)
The Land of Eb (Andrew Williamson)
The Land of Hope (Sion Sono)
Land of the Heroes (Sahim Omar Kalifa)
The Last Friday (Yahya Al Abdallah)
The Last Ice Merchant (Sandy Patch)
The Last Sentence (Jan Troell)
Leviathan (Lucien Castaing-Taylor and Verena Paravel)
Like Someone in Love (Abbas Kiarostami)
Maniac (Franck Khalfoun)
Marie Kroyer (Bille August)
Marla (Nick King)
Mea Maxima Culpa: Silence in the House of God (Alex Gibney)
Meeting Leila (Adel Yaraghi)
Mekong Hotel (Apichatpong Weerasethakul)
Modest Reception (Mani Haghighi)
A Monkey on My Shoulder (Marion Laine)
Mr. Christmas (Nick Palmer)
Mr. Sophistication (Danny Green)
Murderer Alias X (Lynn Devillaz & Antonio Veiras)
My Bow Breathing (Enrico Maria Artale)
Next Door Letters (Sascha Fülscher)
Night Across the Street (Raoul Ruiz)
Not Fade Away (David Chase)
Numbered (Dana Doron and Uriel Sinai)
Of Snails and Men (Tudor Giurgiu)
Off White Lies (Maya Kenig)
Oh Willy… (Emma de Swaef)
Old Man (Leah Shore)
Once Upon a Time Was I, Veronica (Marcelo Gomes)
Otelo Burning (Sara Blecher)
Our Children (Joachim Lafosse)
Out in the Dark (Michael Mayer)
An Oversimplification of her Beauty (Terence Nance)
Paradise (Nadav Kurtz)
Paradise: Love (Ulrich Seidl)
The Patsy (King Vidor)
Paul (Adam Bizanski)
The Perfect Fit (Tali Yankelevich)
Pitch Black Heist (John Maclean)
La Playa DC (Juan Andres Arango Garcia)
Post Tenebras Lux (Carlos Reygadas)
Postcards from the Zoo (Edwin)
The Pub (Joseph Pierce)
Quartet (Dustin Hoffman)
The Queen of My Dreams (Fawzia Mirza)
Rat Fever (Cláudio Assis)
Reality (Matteo Garrone)
The Repentant (Merzak Allouache)
Return (Shay Levi)
Rhino Season (Bahman Ghobadi)
Room 237 (Rodney Ascher)
Room 69 (Claude Barras)
A Royal Affair (Nikolaj Arcel)
The Runner (Ana Lazarevic)
The Sapphires (Wayne Blair)
The Scapegoat (Charles Sturridge)
Sea Shadow (Nawaf Al-Janahi)
A Secret World (Gabriel Mariño)
The Sessions (Ben Lewin)
Shadow Dancer (James Marsh)
Shameless (Filip Marczewski)
Sharqiya (Ami Livne)
Shun Li and the Poet (Andrea Segre)
Simon Killer (Antonio Campos)
Sister (Ursula Meier)
Sleep Tight (Jaume Balagueró)
Something in the Air (Olivier Assayas)
Stand Up Guys (Fisher Stevens)
Starlet (Sean Baker)
StringCaesar (Paul Schoolman)
Tastes Like Chicken? (Quico Meirelles)
Tchoupitoulas (Bill Ross and Turner Ross)
Tey (Alain Gomis)
This is London (Mohammed Rashed Buali)
The Three Disappearances of Soad Hosni (Rania Stephan)
TSTL/ King Lost His Tooth (Gheith Al-Amine)
Under the Colors (Esmaeel Monsef)
Valley of Saints (Musa Syeed)
Voice Over (Martin Rosete)
Waiting for P.O. Box (Bassam Chekhes)
War Witch (Kim Nguyen)
The Weekend (Nina Grosse)
Westerland (Tim Staffel)
Where the Buffalo Roam (Brad Bischoff)
Winter of Discontent (Ibrahim El-Batout)
The World Is Funny (Shemi Zarhin)
Written in Ink (Martin Rath)
Xingu (Cao Hamburger)
Yardbird (Michael Spiccia)
Yuma (Piotr Mularuk)
38-39°C (Kangmin Kim)
43,000 Feet (Campbell Hooper)
Author: Dustin Jansick
Dustin Jansick is an independent film critic who also enjoys; indie music, cooking, technology, sports, puzzles, graphic design, and P.T. Anderson films. He is the founder and editor-in-chief of Way Too Indie, which means he reviews hundreds of movies each year. Also a proud member of the OFCS.