2015 Spirit Award Nominations Announced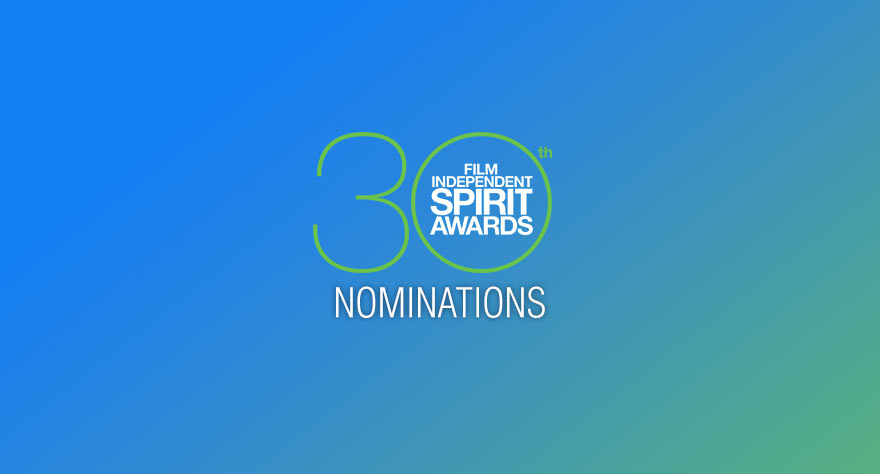 It's starting to feel like Christmas already as the nominations for our favorite awards show, the Film Independent Spirit Awards, were announced moments ago. Leading the pack with a total of six nominations was Alejandro G. Iñárritu's Birdman or (The Unexpected Virtue of Ignorance) grabbing nods for Best Feature, Best Director, Best Editing, and three acting categories. Not far behind it was Richard Linklater's masterful Boyhood which received a total of five nominations in major categories. Also landing five nominations were Dan Gilroy's Nightcrawler, and Ava DuVernay's Selma.
Perhaps the biggest surprise was the absence of Jean-Marc Vallée's Dallas Buyer's Club follow-up Wild, since a lot of people have been talking about Reese Witherspoon's performance in it. However, the biggest snub this year belongs to The Overnighters for not getting a nod for Best Documentary, as this indie doc is getting some serious Oscar buzz. Also, I had to do a double take when seeing André Benjamin's name under the Best Actor category, which seems a little out of left-field but also edged out Ellar Coltrane for Boyhood and Oscar Isaac for A Most Violent Year.
Here at Way Too Indie, we were especially happy to see nominations for some smaller films such as A Girl Walks Home Alone at Night (which picked up 3 noms and landed on our Must See Indie list), The One I Love, and It Felt Like Love. The 2015 Independent Spirit Awards will broadcast live (new this year) on IFC at 2:00/5:00pm PT/ET on Saturday, February 21, 2015.
Watch For: Our Spirit Award predictions coming soon.
2015 Independent Spirit Award Nominations:
Best Feature:
Birdman
Boyhood
Love is Strange
Selma
Whiplash
Best Director:
Damien Chazelle – Whiplash
Ava DuVernay – Selma
Alejandro G. Iñárritu – Birdman
Richard Linklater – Boyhood
David Zellner – Kumiko, The Treasure Hunter
Best Screenplay:
Scott Alexander & Larry Karaszewski – Big Eyes
J.C. Chandor – A Most Violent Year
Dan Gilroy – Nightcrawler
Jim Jarmusch – Only Lovers Left Alive
Ira Sachs & Mauricio Zacharias – Love is Strange
Best First Feature:
A Girl Walks Home Alone at Night
Dear White People
Nightcrawler
Obvious Child
She's Lost Control
Best First Screenplay:
Desiree Akhavan – Appropriate Behavior
Sara Colangelo – Little Accidents
Justin Lader – The One I Love
Anja Marquardt – She's Lost Control
Justin Simien – Dear White People
Best Male Lead:
André Benjamin – Jimi: All Is By My Side
Jake Gyllenhaal – Nightcrawler
Michael Keaton – Birdman
John Lithgow – Love is Strange
David Oyelowo – Selma
Best Female Lead:
Marion Cotillard – The Immigrant
Rinko Kikuchi – Kumiko, The Treasure Hunter
Julianne Moore – Still Alice
Jenny Slate – Obvious Child
Tilda Swinton – Only Lovers Left Alive
Best Supporting Male:
Riz Ahmed – Nightcrawler
Ethan Hawke – Boyhood
Alfred Molina – Love is Strange
Edward Norton – Birdman
J.K. Simmons – Whiplash
Best Supporting Female:
Patricia Arquette – Boyhood
Jessica Chastain – A Most Violent Year
Carmen Ejogo – Selma
Andrea Suarez Paz – Stand Clear of the Closing Doors
Emma Stone – Birdman
Best Cinematography:
Darius Khondji – The Immigrant
Emmanuel Lubezki – Birdman
Sean Porter – It Felt Like Love
Lyle Vincent – A Girl Walks Home Alone at Night
Bradford Young – Selma
Best Editing:
Sandra Adair – Boyhood
Tom Cross – Whiplash
John Gilroy – Nightcrawler
Ron Patane – A Most Violent Year
Adam Wingard – The Guest
Best International Film:
(Award given to the director)
Force Majeure (Sweden)
Ida (Poland)
Leviathan (Russia)
Mommy (Cananda)
Norte, the End of History (Philippines)
Under the Skin (United Kingdom)
Best Documentary:
20,000 Days on Earth
CITIZENFOUR
Stray Dog
The Salt of the Earth
Virunga
John Cassavetes Award:
(Given to the best feature made for under $500,000; award given to the writer, director, and producer)
Blue Ruin – Jeremy Saulnier
It Felt Like Love – Eliza Hittman
Land Ho! – Aaron Katz & Martha Stephens
Man From Reno – Dave Boyle
Test – Chris Mason Johnson
Special Distinction Award:
Foxcatcher
Robert Altman Award:
(Given to one film's director, casting director, and its ensemble cast)
Inherent Vice
Director: Paul Thomas Anderson
Casting Director: Cassandra Kulukundis
Ensemble Cast: Josh Brolin, Martin Donovan, Jena Malone, Joanna Newsom, Joaquin Phoenix, Eric Roberts, Maya Rudolph, Martin Short Serena Scott Thomas, Benicio Del Toro, Katherine Waterston, Michael Kenneth Williams, Owen Wilson, Reese Witherspoon
Piaget Producers Award:
(Award given to a producer)
Chad Burris
Elisabeth Holm
Chris Ohlson
Truer Than Fiction Award:
(Award given to the director)
Amanda Rose Wilder – Approaching the Elephant
Darius Clark Monroe – Evolution of a Criminal
Dan Krauss – The Kill Team
Sara Dosa – The Last Season
Someone to Watch Award:
(Award given to the director)
Ana Lily Amirpour – A Girl Walks Home Alone at Night
Rania Attieh & Daniel Garcia – H.
Chris Eska – The Retrieval