2013 Independent Spirit Award Predictions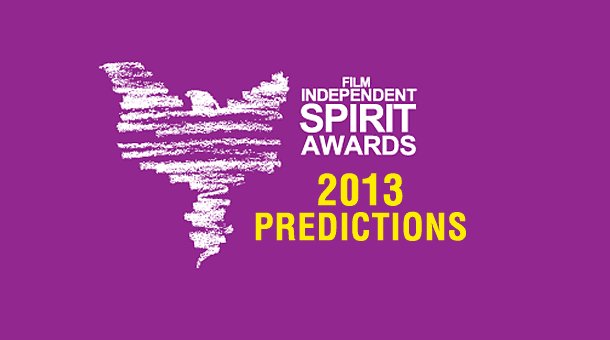 We are a mere 36 days until the official winners are announced at the 2013 Independent Spirit Awards, so I will offer my predictions of who the winners will be this year. Last year my predictions were pretty solid, with an roughly 70% accuracy I correctly predicted 9 of the 13 unannounced awards. Unlike last year's juggernaut The Artist, I believe this year there are two films that could both easily win the top awards. Both Beasts of the Southern Wild and Silver Linings Playbook stand good chances of being winners, making the predictions more difficult this year. I predict that Beasts of the Southern Wild will win the top two awards while Silver Linings Playbook cleans up the top acting awards. In addition to picking the winners for each category, I explain the reasoning behind my picks in detail under the categories.
Watch IFC on Saturday, February 23rd to see how my predictions hold up.
2013 Independent Spirit Award Predictions:
(My prediction for the winners are highlighted in bold red font)
Best Feature:
Beasts of the Southern Wild
Bernie
Keep The Lights On
Moonrise Kingdom
Silver Linings Playbook
MY REASONING:
As I mentioned in the opening, I believe two films have a great chances of walking away with the top prizes. I believe Beasts of the Southern Wild will slightly edge out Silver Linings Playbook for the Best Feature Award. But both probably have equal chance of winning as both films also got an Oscar nomination for Best Picture. I will have to go with my instincts on this, even though Silver Linings Playbook is more of an audience pleaser.
Best Director:
Wes Anderson – Moonrise Kingdom
Julia Loktev – The Loneliest Planet
David O. Russell – Silver Linings Playbook
Ira Sachs – Keep The Lights On
Benh Zeitlin – Beasts of the Southern Wild
MY REASONING:
Just like the Oscars, this category is closely tied with the Best Feature category. Typically, the winner of this category will go on to win the other. So I will stick with Beasts of the Southern Wild and say Benh Zeitlin will win, with David O. Russell in a close second. Glad to see Wes Anderson on this list though.
Best First Feature:
Fill The Void – Rama Burshtein
Gimme The Loot – Adam Leon
Safety Not Guaranteed – Colin Trevorrow
Sound of My Voice – Zal Batmanglij
The Perks Of Being A Wallflower – Stephen Chobsky
MY REASONING:
Rules state that a film cannot be in both the Best Feature and Best First Feature category, so when Beasts of the Southern Wild got slated for Best Feature, this category really opened up. I believe The Perks Of Being A Wallflower received the warmest reception and is the most well-rounded film of the bunch, so it is a safe pick. Safety Not Guaranteed might be the dark horse here.
Best Male Lead:
Jack Black – Bernie
Bradley Cooper – Silver Linings Playbook
John Hawkes – The Sessions
Thure Lindhart – Keep The Lights On
Matthew McConaughey – Killer Joe
Wendell Pierce – Four
MY REASONING:
Bradley Cooper should walk away with this award. His biggest competition should be previous Spirit Award winner John Hawkes, but likely will not be much of a "fight". The sleeper pick here would be Jack Black for Bernie, but consider it an hefty long-shot.
Best Female Lead:
Linda Cardellini – Return
Emayatzy Corinealdi – Middle of Nowhere
Jennifer Lawrence – Silver Linings Playbook
Quvenzhane Wallis – Beasts of the Southern Wild
Mary E. Winstead – Smashed
MY REASONING:
Jennifer Lawrence probably has a little more momentum behind her to be the favorite in this category. But not by much. Quvenzhane Wallis is likely right on her heels and I will be rooting for her to win.
Best Supporting Male:
Matthew McConaughey – Magic Mike
David Oyelowo – Middle of Nowhere
Michael Pena – End of Watch
Sam Rockwell – Seven Psychopaths
Bruce Willis – Moonrise Kingdom
MY REASONING:
I thought about this pick the longest out of all the categories, but feel the least confident in my choice. The reason being is that I do not see a clear standout here. If it were me voting, I would pick Michael Pena. But I will say the actual voters go with David Oyelowo.
Best Supporting Female:
Rosemarie DeWitt – Your Sister's Sister
Ann Dowd – Compliance
Helen Hunt – The Sessions
Brit Marling – Sound of My Voice
Lorraine Toussaint – Middle of Nowhere
MY REASONING:
This is probably the most solid category form top-to-bottom, any one of theses nominees could easily win here. But I think Helen Hunt has the best odds of winning because of her daring role in The Sessions.
John Cassavetes Award:
Breakfast With Curtis – Laura Colella
Middle of Nowhere – Ava DuVernay
Mosquita y Mari – Aurora Guerrero
Starlet – Sean Baker
The Color Wheel – Alex Ross Perry
MY REASONING:
Middle of Nowhere generated some buzz last year at Sundance, earning two nominations and one win. For that reason, my bet is on it to win this award. Sean Baker's Starlet has a real solid shot at winning though.
Best Documentary:
How To Survive A Plague – David France
Marina Abramovic: The Artist Is Present – Matthew Akers
The Central Park Five – Ken Burns, Sarah Burns, David McMahon
The Invisible War – Kirby Dick
The Waiting Room – Peter Nicks
MY REASONING:
There are two nominees here that were also nominated for an Oscar, How to Survive a Plague and The Invisible War but I feel like the former will win. Joining the tight race is Ken Burns' The Central Park Five, which makes this category a competitive one.
Best International Film:
Amour – Michael Haneke
Once Upon A Time In Anatolia – Nuri Bilge Ceylan
Rust and Bone – Jacques Audiard
Sister – Ursula Meier
War Witch – Kim Nguyen
MY REASONING:
I believe for the second year in a row, the winner of the Oscar and Independent Spirit Award for foreign film will be the same. Before last year, it had been 25 years since the same film won in both award shows. Amour is the clear front runner to win at the Academy Awards and should win here as well, despite the rest of the films all being worth-while watches.
Best Cinematography:
Yoni Brook – Valley Of Saints
Lol Crawley – Here
Ben Richardson – Beasts of the Southern Wild
Roman Vasyanov – End of Watch
Robert Yeoman – Moonrise Kingdom
MY REASONING:
My pick here goes to Moonrise Kingdom, in what I think will be the only award the film will win. I am not sure if you can call it an upset, but I think it will beat out Beasts of the Southern Wild, which might seem like the most likely to win.
Best Screenplay:
Wes Anderson and Roman Coppola – Moonrise Kingdom
Zoe Kazan – Ruby Sparks
Martin McDonagh – Seven Psychopaths
David O. Russell – Silver Linings Playbook
Ira Sachs and Mauricio Zacharias – Keep The Lights On
MY REASONING:
The two films that have the best odds of being declared the winner are Silver Linings Playbook and Moonrise Kingdom. It was great to see Ruby Sparks nominated for an award and Keep The Lights On nominated for four, but I think the winner here is Silver Linings Playbook.
Best First Screenplay:
Rama Burshtein – Fill The Void
Derek Connolly – Safety Not Guaranteed
Christopher Ford – Robot & Frank
Jonathan Lisecki – Gayby
Rashida Jones and Will McCormack – Celeste and Jesse Forever
MY REASONING:
Because Safety Not Guaranteed will likely get edged out of the Best First Feature award by The Perks Of Being A Wallflower, which is not present in this category, it has the best shot at winning in my eyes.