The Mainstream: June Recap & July Preview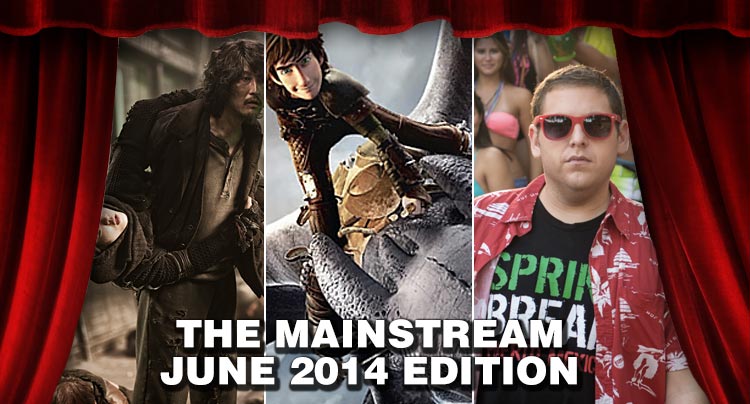 We may seem like reclusive budget-shirking obscure film enthusiasts over here at Way Too Indie, and well, some of us are, but we're not living in any dark holes and far be it from of us to say that a film that had a little money behind it isn't worth our notice. So here we are, covering our bases. In The Mainstream we'll look at what's doing well at the box-office (and secretly hoping it's an indie darling) and all those major releases that demand our attention in the name of pop culture.
With its unfortunate calendaring (yeah, we're missing last year's 4-day weekend too), this year's 4th of July weekend  has been pretty lackluster for our friends at the studios and brought in the lowest box-office numbers in a decade. (We have a feeling they'll end up on their feet.)
June Recap
June was filled with lots of fun in the not-so-lazy river of the mainstream. Franchises continue their summer dominance. Obviously there was that one film, about robot cars from space, um, or something like that. There was 22 Jump Street where our undercover cops graduated to college and took home the box-office for the month so clearly it's got enough laughs to draw the crowds. We get further instruction on flying monsters with How to Train Your Dragon 2, a definite example of sequels done right. Also, a cowboy made a musical, but it wasn't great. Personally, we thought the shmoopy YA movie The Fault in Our Stars with its clever dialogue and straightforward romance was better than all that CG fare. But if you are going to CG it up (and haven't yet indulged) we can't push Snowpiercer on you enough. It's the June release most worth rooting for — both CJ and Ananda loved it.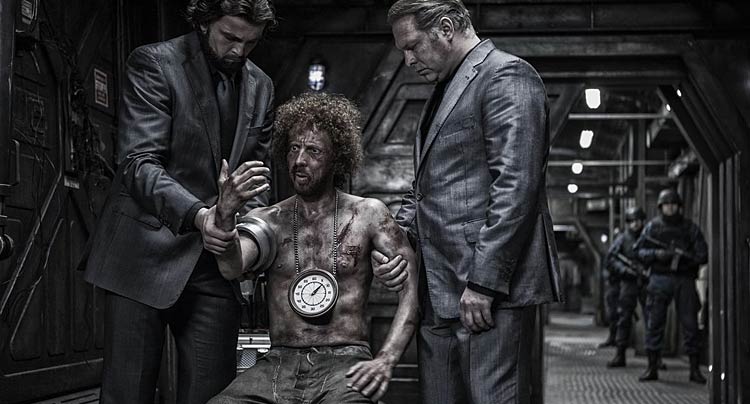 Snowpiercer
July Preview
Now we're in the thick of it and the previously released studio behemoths will battle it out for the rest of the summer to see who can suck in the most cash. June cash cows will likely continue to dominate, but July has a few mainstream films that look enticing including Dawn of the Planet of the Apes which may take the rebooted series to new levels, or just creep us out with heavily animated gorillas trying to get us to care. Otherwise,  we already love her as Black Widow so we know Scarlett Johansson can kick ass, and after mesmerizing us in Under the Skin we are excited to see her be a high functioning super-human in Lucy. Below is the release schedule for July, including limited releases, so don't forget to mix in a few indies with your blockbusters for a well-rounded summer movie diet.
The Week of July 4
Life Itself, Earth To Echo, My America, Tammy, Behaving Badly, Beyond The Edge, A Brony Tale, Deliver Us From Evil, Gabrielle, Me And You, Nothing Bad Can Happen, Premature, School Dance
The Week of July 11
Dawn Of The Planet Of The Apes, Affluenza, Boyhood, Land Ho!, Rage, And So It Goes, Closed Curtain, A Long Way Down, Made In America
The Week of July 18
Sex Tape, I Origins, Mood Indigo, Planes: Fire & Rescue, The Purge: Anarchy, Video Games: The Movie, Wish I Was Here, Aftermath, Among Ravens
The Week of July 25
Magic In The Moonlight, The Congress, Happy Christmas, Hercules, The Kill Team, Lucy, A Master Builder, A Most Wanted Man, Very Good Girls, Beneath, The Fluffy Movie, Ironclad: Battle For Blood, My Man Is A Loser, Step Up: All In
June Box Office Domestic Grosses
1. 22 Jump Street (Sony) — $146,974,343
2. How to Train Your Dragon 2 (Fox) — $128,810,252
3. Transformers: Age of Extinction (Paramount) — $128,685,351
4. The Fault in our Stars (Fox) — $112,635,75
5. Edge of Tomorrow (WB) — $86,414,785
2014 Year-To-Date Box Office Domestic Grosses
1. Captain America: The Winter Soldier (BV) — $257,225,897
2. The LEGO Movie (WB) — $257,092,045
3. X-Men: Days of Future Past (Fox) — $224,809,730
4. Maleficent (BV) — $206,231,009
5. The Amazing Spider-Man 2 (Sony) — $200,376,363