LAFF 2014 Closing Night: Jersey Boys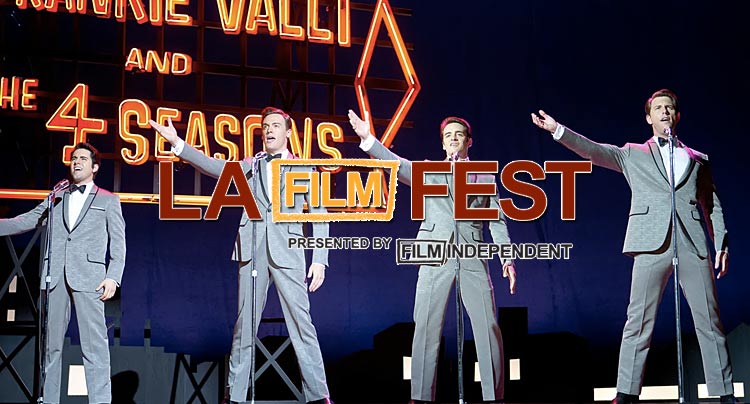 A little more on the biopic spectrum than a lavish stage-to-screen production as most cinematized musicals tend to be, Jersey Boys evokes the same nostalgia putting on a record of The Four Seasons would illicit but tends to lose steam between musical numbers. Clint Eastwood, as beloved as he is, shows his age somewhat in this clean-cut adaptation.
Plucking his lead actor straight off the stage, Jersey Boys stars Tony award-winning John Lloyd Young as Frankie Valli, Vincent Piazza as Tommy DeVito, Erich Bergen as Bob Gaudio, Michael Lomenda as Nick Massi, and Christopher Walken as mob boss Gyp DeCarlo. Starting on the streets of Jersey where the boys began, the film uses the same narration-driven model as the musical, allowing it's characters to speak directly to the camera as they describe their struggle from street-hooligans to one of America's most beloved and innovative musical acts. Young Frankie Castelluccio hangs with a tough crowd, especially Tommy DeVito, who, although he teaches Frankie about music and encourages his talent, has a penchant to get into trouble and is in and out of jail at a young age. Despite the rough people around him, people seem to want to protect Frankie and his talent, keeping him off the streets and setting him up with singing gigs. Tommy, Frankie, and Nick struggle with making anything of their musical act (nobody's looking for trios anymore says Tommy), but when they meet Bob Gaudio, a songwriting hit machine, they finally have the missing magical element.
The film navigates their career keeping up energy with each ah-ha moment of each hit song's inception and then race to the top of the charts. The more serious in-between scenes, Frankie's ill-advised romance and marriage to Mary Delgado (Renee Marino), the mounting debt and drama caused by Tommy, the ambition of Bob as he forms an alliance with Frankie, the decline of marriages, the struggle of touring life — all suck the energy right out of the film. The pressures of success are familiar territory and the only thing that is remarkably different, as the group's tension builds toward an inevitable breakup, is Frankie's role as a lead singer never inflated his ego or led to their decline, in fact his forgiveness and gracious attitude toward his friends and his sense of loyalty are painted as absolutely saint-like.
The Four Season's notorious songs such as "Sherry", "Walk Like a Man", "Big Girls Don't Cry" and "December 1963 (Oh What a Night)" are impossible not to tap a toe to, to the point where its easy to be distracted away from how deflated the film really is. The end builds well, past all the troubles the group, especially Frankie, have experienced, to a fantastic rendition of "Can't Take My Eyes Off You" but then undoes (once again) its good work by showing an overly sentimental ending that commits what I consider to be a cardinal sin of biopics in attempting to provide closure by showing it's subjects years later, bygones being bygones.
Throw in awkward curtain-call style ending credits and the film just proves that stage and screen hold their respectable differences for good reasons. There will always be charms that one can hold over the other. Eastwood tried a bit too hard to mix those charms, only proving further that both film and stage hold their own artistic purposes. Jersey Boys is a good film, but not a great musical adaptation.