Best 50 TV Shows Of The Decade So Far (#10 – #1)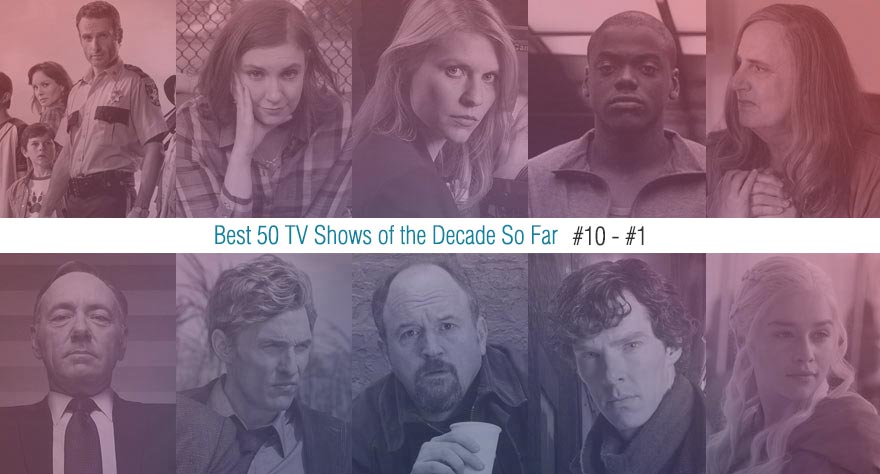 Here it is. We've made it to the top. The top ten that is.
Breaking down all of the television shows we've come to love over the past five years (not even mentioning all the shows that premiered previous to 2010 that we've been dedicated to all this time) has been a monstrous undertaking. Collaborating on these lists not only made us want to re-watch everything we've put on here, but exposed us to great shows we hadn't already been watching. Basically none of us have had much of a social life the past few weeks.
Talking about all this great TV, with stories, visuals, characters, and creativity that rivals the very best that cinema offers us, has also just whet our appetite to talk about it more. All we can say is keep an eye out, you may just see more of the small screen represented here on Way Too Indie in the near future. No need to prattle on about the many virtues of the following ten shows by way of introduction. The writers can explain how they made their way to the top, and you can let us know if you agree or not and which you plan to binge first.
Best 50 TV Shows Of The Decade So Far
(#10 – #1)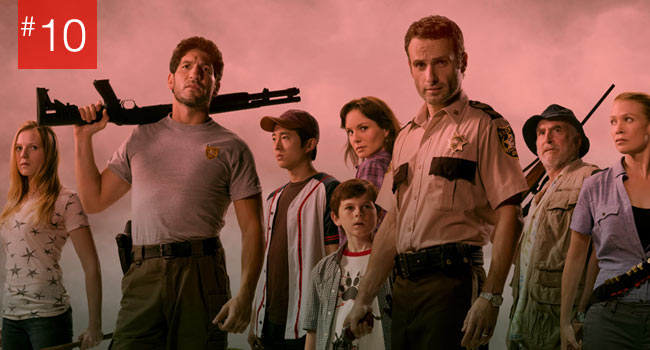 The Walking Dead
(AMC, 2010)
Based on the The Walking Dead comic book series created by Robert Kirkman, Tony Moore, and Charlie Adlard that was first published by Image Comics in 2003 and follows the survival of sheriff Rick Grimes and his team surviving a zombie apocalypse, Frank Darabont who's known for his screenplay for The Shawshank Redemption created the show in 2010 to much praise and popularity. Winning two Emmy's for outstanding prosthetic makeup and countless other nominations, it hasn't been without a significant amount of professional accolades as well.
Since its premiere on AMC on October 31, 2010, however, it has veered off significantly from some of the storylines within the comics from the deaths of certain characters and the survival of others to the outright creation of characters never seen in the comics at all (Daryl Dixon). That has not stopped it from being the most-watched drama series in basic cable history, with a viewership of 17.3 million for it's season five premiere. Executive Producer David Alpert has stated that there are enough storylines from the comic series to take the show well into the 12th season and then some. Us fans grab hold of bits of hope like this as we would follow the show to the end of the world. Both figuratively and literally speaking. Other shows have gone creepy and weird (American Horror Story and The Returned are two on our list) but no show delivers scream-out-loud scares the way those always gruesome walkers do. Even more scary, is that as attached as we get to characters—and boy, do we—Kirkman and the writers have shown us time and again that no one is ever safe. [Scarlet]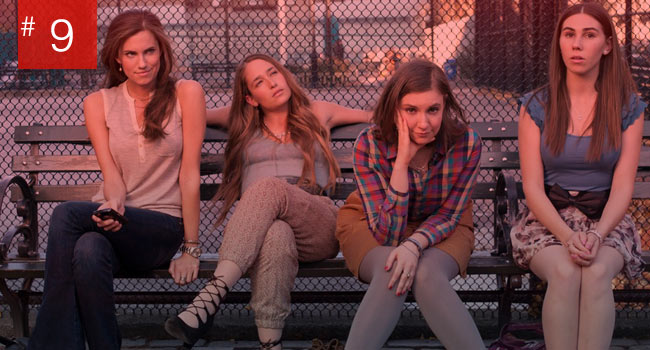 Girls
(HBO, 2012)
Watching Lena Dunham, creator and star of Girls, rise to the top with such rapid momentum used to be somewhat of an annoyance to me. I'd seen her film Tiny Furniture before Girls came about and found her portrayal of someone basically like herself—aimless and emotionally stunted—to be narcissistic and weird. Hearing she'd fallen into the favor of Judd Apatow and was being handed a show by HBO felt like a joke. Thus I began my viewership of Girls armed and ready to rip it to shreds. And then in those incredibly quick 30 minutes making up the first episode, I found myself not only guiltily laughing, but strangely seeing through the general weirdness of the film's central characters—Hannah, Marnie, Shoshanna and Jessa—to find that I understood them. I understood their motivations because the part of me that can't deny my millennialness (I'm on the oldest side of the spectrum) doesn't behave the way they do, but understands the thought process that gets them into their ridiculous situations.
Thoughts on pursuing dreams and needing work to feel meaningful. Thoughts on being loved. Thoughts on sex. And most significantly thoughts on the importance of one's girlfriends. In an age where women marry older and older, female friendships are sort of the early loves of our lives. The candor and sometimes graphic intimacy these girls share, its very real. And the ways in which they mess up their lives is happening on a daily basis among twenty-somethings somewhere. We don't watch for the storylines necessarily, and the gritty and deliberately dirty state of the characters is at times gag-worthy, but if you want to understand the insecurities and general hopes of the female new-adult generation, Girls is a great place to start. Plus the music is always seriously solid. [Ananda]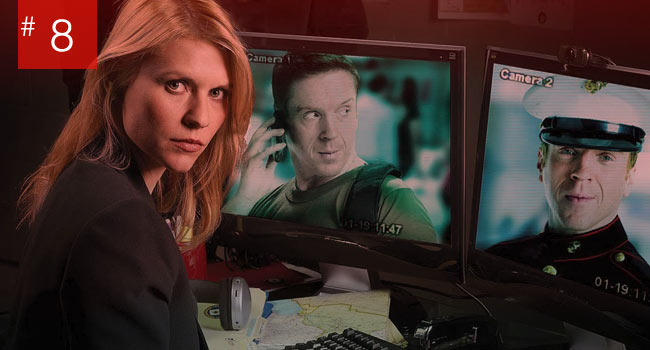 Homeland
(Showtime, 2011)
It's odd to have to defend a show that's so high up on our list. But that's because a lot of people fell in love with Homeland early, only to be let down by a somewhat ho hum third season that contained such a daring ending that it actually divided fans. It's true the first two seasons set the bar incredibly high—first by making us decide if Brody is telling the truth or if Carrie is just plain nuts–then by pairing the two as a couple despite finding out the truth. But if we learned anything from season three, it's that Homeland loves to paint itself into corners and has no qualms about killing off major characters. Some of its big gambles pay off while others don't, but it deserves respect for attempting such risky storytelling. Not to mention continuous outstanding performances from Claire Danes, who has picked up two well-deserved Emmys so far. Those who kept watching the show were rewarded with a brilliant fourth season (just don't ask us to comment on its finale) and recent news that Season five will shift locations again and jump ahead in time. Homeland finally made Showtime a major player in original programming. [Dustin]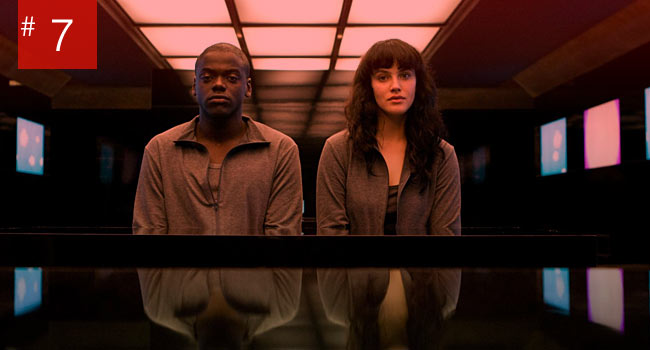 Black Mirror
(Channel 4, 2011)
As smart phones or other 'black mirrors' become an increasingly prevalent aspect of modern life, Black Mirror examines our increasingly complicated relationship with emerging technologies, as well as their unforeseen, unintended consequences. English satirist Charlie Brooker created the series, an anthology where each 45-minute installment exists independent of the others. The episodes take place in varying, unspecified periods of the not-so-distant future; whether they're taking place 1 or 100 years from now, the conflict is derived from evolutions of contemporary tech. Brooker poses that these aren't only problems we can see now, but dilemmas that will grow worse with time.
Beyond the moral questions that the series asks, Black Mirror is an exciting, highly unpredictable show. Every episode paints a detailed picture of the world in which it exists. The intriguing circumstances only become more captivating as the storylines take wicked twists. Brooker's pitch-black wit provides dark laughs, relieving the tension in Black Mirror's most shocking moments; however, the series' strength is in its ability to build to a devastating conclusion. You won't know whether to laugh, cry, or get angry. Brooker develops a universe in which he introduces advancements that visionaries might one day dream up, only to reveal the awful implications each change may provoke, and our seeming hopelessness against them. [Zach]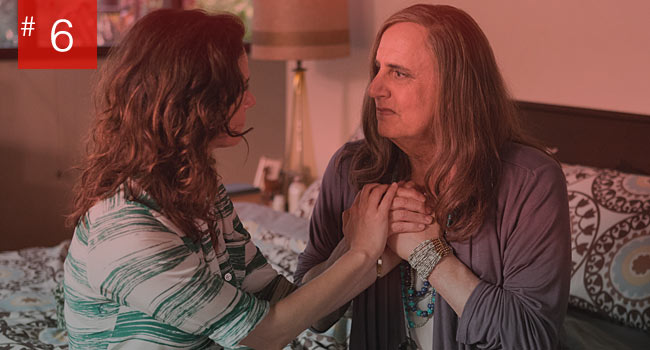 Transparent
(Amazon, 2014)
The first season of Transparent premiered less than a year ago, and yet here it sits in the top ten shows of the last five years. If you think this ranking might be a little unreasonable, you probably haven't seen Transparent. Jill Soloway's show packs more drama, character development and naturalism in its ten half-hour episodes than most cable and network dramas do over an entire series. The show, for those living under a rock, profiles the Pfefferman family as their father Mort (Jeffrey Tambor, who already won a Golden Globe for his performance) comes out as transgender to her three selfish children (Amy Landecker, Gaby Hoffmann, and Jay Duplass).
And as Mort becomes Maura, Transparent focuses on the effects of her transition on herself and those around her. The show's premise alone makes Transparent something entirely new to TV, but it's the smart, sensitive portrayal of Maura and the Pfefferman family that makes this first season launch straight into the pantheon of great TV shows. Maura isn't the only one going through some sort of transition; all of her children find themselves going through major changes themselves, whether it's starting a new family, coming into adulthood, or just trying to figure out what to do with their lives. Transparent puts these stories together, but it never equates them. It uses the Pfefferman children's stories to highlight their privilege when it comes to uprooting their lives in comparison to the intense struggle Maura faces for wanting what is essentially the same thing: to find happiness being herself, and finally living the life she wants to live. It's a marvel that the show does this without compromising any of its characters, showing them as people just trying to do the best they can instead of putting them into easy archetypes. Transparent is, quite simply, revolutionary TV. [C.J.]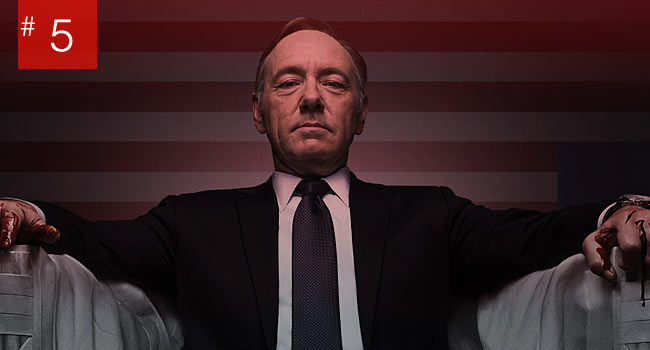 House of Cards
(Netflix, 2013)
Because season three is still so fresh in my memory, having binged it only within the past few weeks, my ability to talk smoothly around its many merits might just be a waste of time. The show's main character, Frank Underwood, played by Kevin Spacey, is next-level evil. Like, forget ax-murderers and sociopaths (though he may be borderline), Frank is a purebred egomaniac filled with oodles of charisma and a cunning and sharply calculated brain. Beside him in his pursuits of the most powerful spot in the country, and the world, is Robin Wright's Claire. She, the most poised and well-spoken woman to ever understand exactly how to use her femininity to befuddle, bemuse, and work her way to the top. And these are the MAIN CHARACTERS. Watching their relentless political pursuits, their consensual affairs, wily networking and bargaining and consistent success, makes one wonder who to even root for in this world. And harboring even the smallest fear that politics could be half as dirty as they are in this show really makes one question their patriotic pride.
The show is based on the British version, which I tried watching an episode of and found I just couldn't trade Underwood's smooth southern drawl for a British accent.His asides to the camera, where he tells viewers directly all the evil things he'd like to say but won't, make it impossible to wonder if Frank is at all conflicted. Knowing he's 100% depraved somehow makes him even more intriguing. But it's Frank and Claire's psychologically-muddled marriage that fascinates to no end—especially in this last season where it was tested to its limits. No word yet on a confirmed fourth season, the network wants to toy with us like Frank toys with congress, but we'll be waiting to hear. Simultaneously dreading and hoping. [Ananda]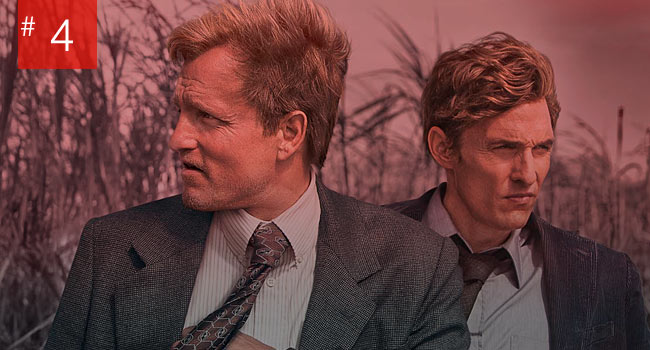 True Detective
(HBO, 2014)
Not four months had passed since Breaking Bad ended its run, and rumblings already started to spread: there was a new show in town that might give Vince Gilligan's crystal meth-epic a run for its money as One Of The Greatest TV Shows Ever. In hindsight, much of this is chalked up to hyperbole since True Detective only has the one season to its name. But, my goodness, how magnificent, absorbing, twisted, darkly poetic, and sickeningly compelling that first season is! Created by crime novelist Nic Pizzolatto, True Detective shifted the paradigms of television before Steven Soderbergh got a chance to do the same (see No.19 on this list).
So, let's break down the "how." Firstly, the architecture of the story's arc is the Golden Gate Bridge of television writing: a single case involving two detectives in Louisiana, spread across decades, into a single season, divided not so much into "episodes" as much as "chapters." Pizzolatto's background in fiction and academia filters through his cadenced dialogue and exceptional layering of the psychology of his two detectives. Secondly, casting two movie stars in the form of Matthew McConaughey and Woody Harrelson, who were able to commit thanks to the show's anthological nature and deliver mind-blowing performances. And lastly, nabbing Cary Joji Fukunaga, one of the most promising young directors out there, to direct every single episode (it was almost Alejandro Gonzales Inarritu, but my gut tells me it's a good thing it wasn't). One astute writer, one exciting director, one formidable DP (Top of the Lake's Adam Arkapaw) and one knockout ensemble cast. True Detective combines all the sensibilities of cinema, and spreads them out over the temporally-liberal format granted by television. The result is nothing short of groundbreaking. [Nik]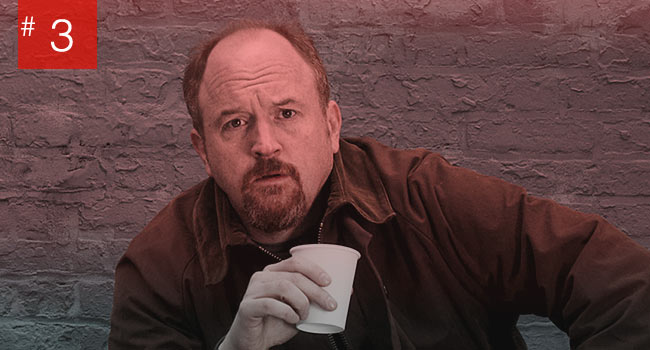 Louie
(FX, 2010)
The fact that Louis CK landed a deal with FX that grants the comedian full creative control over his show, and nearly unlimited leeway to mold it to his pleasing, was unprecedented. His ability to turn Louie into the most surprisingly honest and endearing program on TV is a testament to CK's creative genius. Writing, directing, editing, and starring in nearly every episode, Louis' series sacrifices traditional sitcom continuity for flexibility. Each episode's situation has been crafted to fit the story that Louis intends to tell, which means that introducing a new sibling or a black wife for your white children is simply a new reality in which CK can craft a hilarious, engaging narrative.
Louis CK has developed into one of the funniest, most successful stand-up comedians in the world today (he splices clips of stand-up into most episodes); however, he was already an experienced television writer, self-taught video editor and aspiring filmmaker without a vehicle suited to his sensibilities. This series occasionally feels like a collection of CK's early short films. Some stories simply serve as brief cold opens to episodes, while others unfold in 2, 3, or 6 part installments. Louis allows the story to inform the structure, and consequentially his bits don't appear cut short or too drawn out. Each episode is hysterical, beautifully crafted, and often climaxes with touching vulnerability. It's easily the most essential comedy on television so far this decade. [Zach]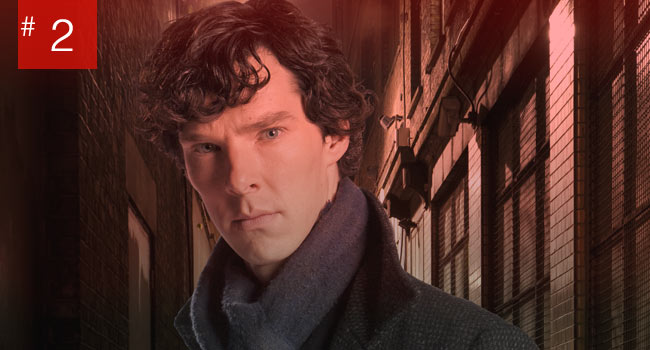 Sherlock
(BBC, 2010)
In the same year Steven Moffat replaced Russell T. Davies as showrunner, lead writer and producer of the 2005 revived Doctor Who, he was also launching, with Mark Gatiss, what would become a pop culture phenomenon and sensation for British Television and the world: Sherlock with Benedict Cumberbatch and Martin Freeman. In 2014 it won 7 Emmy's including Outstanding Lead Actor for Cumberbatch, Outstanding Supporting Actor for Freeman, and Outstanding Writing for Moffat. Moffat and Gatiss were also nominated for two more Emmy's for their creation of the show. Gatiss, who also plays Mycroft Holmes on the series, had also been a writer for Doctor Who along with Moffat before their co-creation of the tv-adaptation of Sir Arthur Conan Doyle's character who personifies the essence of intelligence…and neuroses. Its intense and catchy theme music was composed by David Arnold and Michael Price for which they also won an Emmy in 2014.
The show incorporates technology into the show inventively, especially considering the dated source material. What it does best, however, is plays up the bromance between Holmes and Watson, letting their friendship be the driving dynamic that carries the show forward. The 'ol Conan Doyle penchant for cliffhangers helps, too. One of the most frustrating parts of being a fan of Sherlock is the aggravating wait between each series which averages a break of two years in between each 3-4 episode season. Moffat and Gatiss announced that they have already developed plots for a fourth and fifth series as well as a Christmas episode that will supposedly be broadcast this November. Filming for the next series should begin late 2015 for its 2016 release. [Scarlet]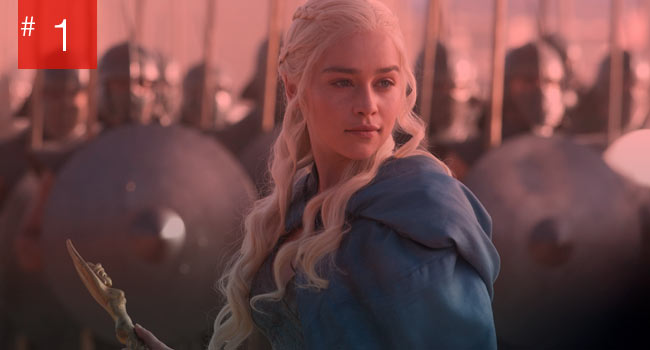 Game of Thrones
(HBO, 2011)
The king—or queen—of the shows has arrived and I only hope I can express accurately why it is. Just. So. Good. In an age of DVRs, Roku's, AppleTVs, and Chromecasts there is very little reason to watch anything live (not to mention have cable), but Game of Thrones is one of the shows I make time for every Sunday night during its season. For one, the fear around spoilers as people discuss the show is very real. There ain't no fan, like a Game of Thrones fan. They want to discuss episodes and events, and they want to do it immediately. But what really makes me shirk Sunday Funday plans to plant myself in front of my TV every week is that my devotion to the heroes and villains of the show is so strong that I literally can't wait to see where each new episode will bring them.
Set in the fantasy realm of Westeros and Essos, the show follows a great many characters, some who live, some who die, some we hate, some we love, some we don't know how to feel about. The main premise is political. Everyone wants to sit on the iron throne. Some would claim it based on lineage, some would like to simply take it for their own. The film has outstanding visuals and amazing actors and falls firmly within an R-rated sensibility. It has given great roles to Sean Bean, Peter Dinklage, Emilia Clarke, Kit Harrington, Nikolaj Coster-Waldau, Lena Heady and so, so, so many more. The costumes are elaborate, the magic is subtle but exciting, the dragons are awesome, and scope is epic. All of this make Game of Thrones feel timelessly legendary. It doesn't matter if you read the books or not (personally I'm saving them for once the show is over and I need my fix, though apparently the ending will have already been ruined for me), this show, and its source material, capture imaginations and don't let go. It's the kind of show people will return to for many years to come, and it feels exciting to be experiencing it with the world week after week. [Ananda]
Check out the rest of our Best TV Shows Of The Decade lists!
View Other Picks in this Feature:
Best 50 TV Shows Of The Decade So Far (#50 – #41)
Best 50 TV Shows Of The Decade So Far (#40 – #31)
Best 50 TV Shows Of The Decade So Far (#30 – #21)
Best 50 TV Shows Of The Decade So Far (#20 – #11)