Best 50 TV Shows Of The Decade So Far (#20 – #11)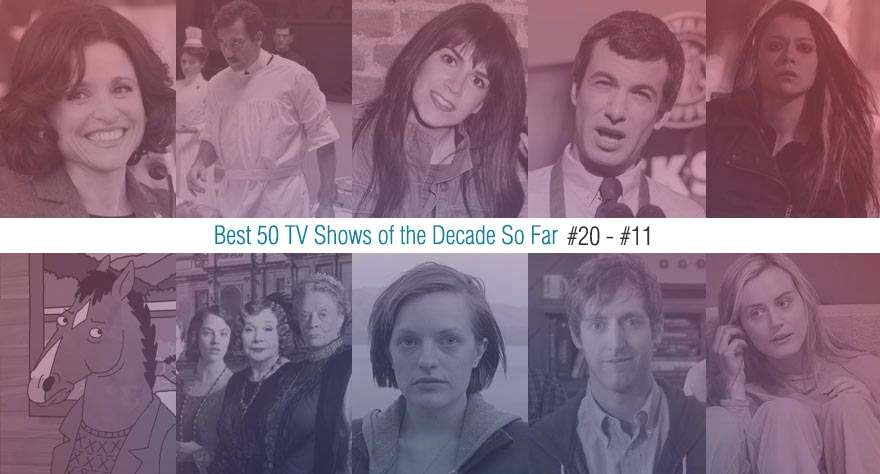 We've reached our choices for the top 20-11 TV shows to come out of this decade so far and once again there is no surefire way to classify this next list as we work our way to the top ten. By now you might be feeling the strain of what feels like a golden age of television. Strain? Yes, strain. Because by now you may have realized there is more good TV than time in which to consume it all. FOMO (fear of missing out) has been replaced with FOMASITTD (fear of missing a show in time to discuss). If everyone is all caught up and you aren't, your left with an excuse we hear ourselves muttering more and more: "well, it's in my queue."
But it doesn't matter if you watch them all, or only some. The great part of there being so much incredible television is that chat long enough with anyone and you're bound to find a show in common. It's a familiar language that brings the people together. And the advent of interesting and flawed characters makes talking TV at dinner parties feel more satisfying than gossiping about someone real. And best part, no one's feelings get hurt.
So watch on and gossip on. Feel free to gossip with us in the comments, and don't forget to check back tomorrow for our top 10 list of the best shows of the decade so far.
Best 50 TV Shows Of The Decade So Far
(#20 – #11)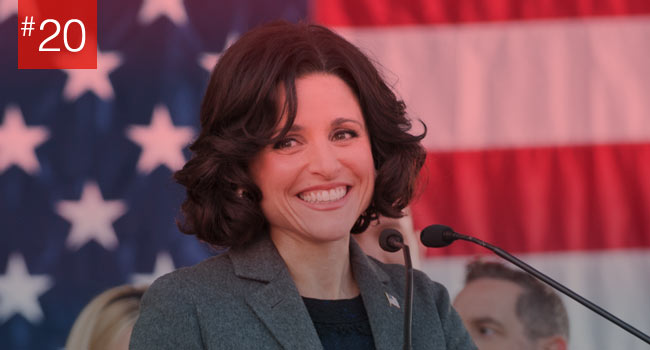 Veep
(HBO, 2012)
With Curb Your Enthusiasm suspended in limbo and Eastbound & Down ending in 2013, HBO took a big blow to its comedy roster (though, a big blow translates to a slight flick considering this is HBO we're talking about, not TV). In my opinion, the dark dramas and high-end fantasies are successfully balanced off by Veep, a.k.a. the greatest thing that could have happened to Julia Louis-Dreyfus' post-Seinfeld career. Series creator Armando Iannucci brings a world of experience from across the pond in the UK, having created Veep's older cousin The Thick Of It in 2005 and the fantastic feature film In The Loop in 2009. All three are set in the same fictional universe, with Veep being the current masthead.
Called "the most accurate of D.C. TV Shows" by real-life Washington staffers (which is absolutely terrifying, by the way), Veep follows Selina Mayer (Louis-Dreyfus) as she commandeers the offices of Vice President and President, despite the consistent clusterfucks and shitstorms she keeps running into. With a brilliant cast to support the on-point Louis-Dreyfus, and Iannucci's razor-sharp wit influencing every facet of production, Veep is political satire done blazingly right. [Nik]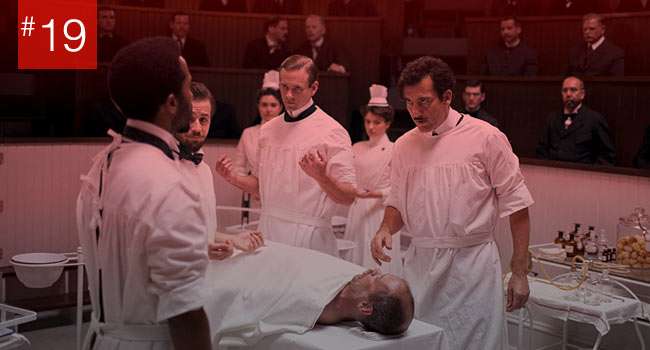 The Knick
(Cinemax, 2014)
On a hypothetical whiteboard, which some lunatic has picked to show the momentum-shifts between television and cinema, all arrows, stats, and pie charts would feature Steven Soderbergh's The Knick in a big, big, way. Soderbergh can direct himself out of a locked treasure chest buried under sea, and switching to the smaller screen could be the greatest career-move he could've possibly made. Cinemax gave him free rein and Soderbergh used every inch of it by directing, shooting, and editing (!!) the entire first season of The Knick. Set at the turn-of-the-20th century in vintage New York City, the show follows the inner-workings of Lower East Side hospital The Knickerbocker and its main surgeon (brilliantly portrayed by Clive Owen, remember him?) whose addiction to breaking new medical ground is only rivaled by his addiction to cocaine.
Patients dying on a daily basis, faulty maintenance, and stringent racism: it's all happening at The Knick, where egos collide, taboo love flourishes, and careers get defined. The only tiny chink in the well-oiled machine is the shaky writing from Jack Amiel and Michael Begler, but it's a teeny flaw. With this show, I can honestly say that Steven Soderbergh redefines the art of control for the small screen. [Nik]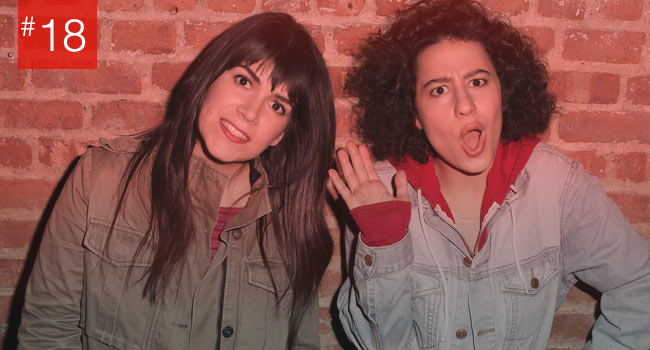 Broad City
(Comedy Central, 2014)
As far as comedy goes, Broad City is one of the most brutally honest TV shows to grace our screens not only this decade, but perhaps in the history of television. With Amy Poehler as one of its executive producers, it's not hard to see why. Created by costars Ilana Glazer and Abbi Jacobson, the show follows the lives of two "Jewish feminist" young women living in New York. This may not seem like the most original premise, but not only is it one of the only TV shows out there that focuses on the female perspective, it also manages to do so without being centered around them desperately searching for love. It's crude, hilarious, and above all, has a distinct and unique voice that makes it unlike any other show. The characters of Abbi and Ilana are not "adorkable", they are not too focused on their careers to see the perfect man in front of them, and they are not perfect save for one flaw that makes them "relatable" – they just are relatable. They are real. Broad City takes the elements of slapstick and absurdism that create laughs and inject them with so much honesty and openness that it's impossible not to see the genius of its humour. [Pavi]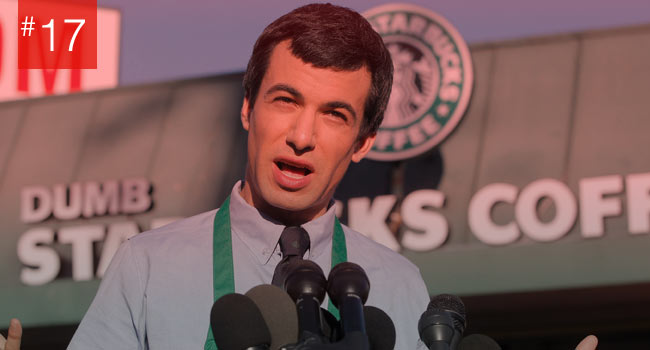 Nathan For You
(Comedy Central, 2013)
Nathan Fielder is a nice guy, or at least he'd want you to think that. His show Nathan for You has a premise that sounds like a business-fied version of something on HGTV. Fielder, a self-professed business expert, offers his services to help small companies become more successful. But this is a Comedy Central show, and Fielder really has no idea what he's doing. Instead, he proposes a ridiculous idea to each business, and follows things through right to the end. Nathan for You feels like a direct inspiration from Sacha Baron Cohen's work on Da Ali G Show, with Fielder assuming an identity to trick unsuspecting-yet-willing participants into doing the most absurd things. The results are hysterical, with ideas like poo-flavoured yogurt and the creepiest dating site ever being some of the tamer things Fielder pulls off (the real highlights of the show: a elaborate mail-in rebate for a gas station that goes to the most unexpected places, and the infamous "Dumb Starbucks" stunt). With Nathan for You growing in popularity since its second season, the show's format will probably mean it won't last too long. But as long as Nathan for You keeps going, I'll keep watching and hurting myself from laughter. It's one of the most mean-spirited shows on TV right now, but that doesn't make it any less funnier. [C.J.]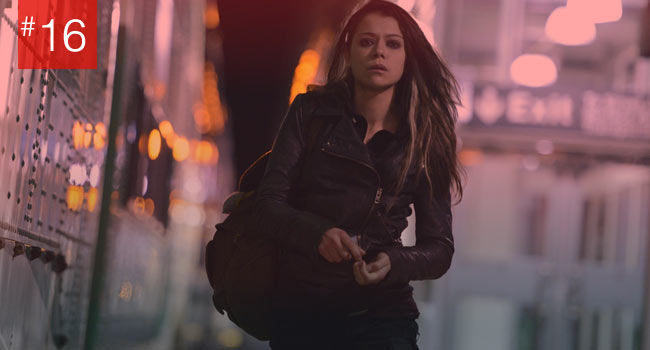 Orphan Black
(Space, 2013)
Orphan Black boasts 11 writers as creators of the show (with Graeme Manson as showrunner), an interesting fact considering the show's basic premise surrounds a young woman who attempts to swap lives with her dead doppelgänger only to discover she has more look-alikes than she could have even imagined. 12 in fact, and they aren't look-alikes, they're clones. This is an intriguing enough premise but what makes each and every episode of Orphan Black so engaging is that all of these clones are played by the amazingly talented Tatiana Maslany. Luckily, she doesn't play 12 characters at once. In any given episode she fluctuates between Sarah, the main character and punk-ish single mom, to Ukranian psychopath Helena, soccer mom Alison, studious scientist Cosima, and more recently Tony, a transgendered version of the clones, and a few others.
It's impressive Maslany is able to go between the characters so well, sometimes having them imitate each other, which is even more entertaining, but the fact that the show allows for a self-awareness that they know that we know that really it's all just Maslany somehow makes it easy not to be picky about looking for flaws between her varying performances. The show's unraveling mystery around the creation and purpose of the clones is revealed in well-timed bursts, but its the dynamic between the "sisters" that makes the show interesting. Not to mention the laughs, often imbued by Jordan Gavaris who plays Sarah's foster brother and best friend, Felix. That the show touches on an astute number of issues pertaining to women, including property of body and gender expectations, not to mention nature vs. nurture, is a subtle but very real bonus to an already addicting and well produced show.  [Ananda]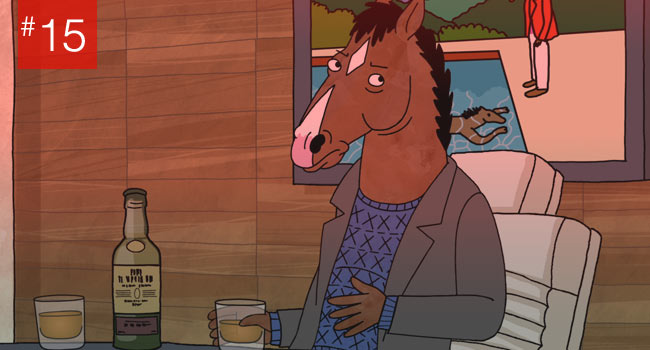 Bojack Horseman
(Netflix, 2014)
Back in the '90s, he was in a very famous TV show. But BoJack Horseman is much more than the asshole he appears to be from the show's onset. Voiced by the gravel-voiced Will Arnett (Arrested Development,The Lego Movie's Batman) BoJack at first seems like a knock-off of the mean-spirited characters normally voiced by H. Jon Benjamin (think Home Movies or Archer), but as the series progresses new layers to BoJack's misshapen ego are revealed. Over the course of its 12-episode first season, BoJack Horseman develops into an examination of ego, the fleeting pleasures of fame, and the qualities necessary for happiness. By its drug-fueled penultimate first season episode "Downer Ending," BoJack's pleas for Diane's approval turns devastating. Not too shabby for an animated show starring a horse(man).
The Netflix comedy was created by Raphael Bob-Waksberg, and dispenses its laughs liberally. BoJack's penchant for short-sighted decisions making and alcohol-fueled excursions packs BoJack Horseman with crude laughs, but the jokes are derived from character rather than simple vulgarities. The laughs are guided by BoJack's cast full of hilarious performers, including regulars Alison Brie, Aaron Paul, Amy Sedaris & Paul F. Thompkins. Guest talents like Patton Oswalt, Stephen Colbert & Naomi Watts provide voices as well. BoJack Horseman proves it packs surprising depth with hearty laughs. And animal puns. [Zach]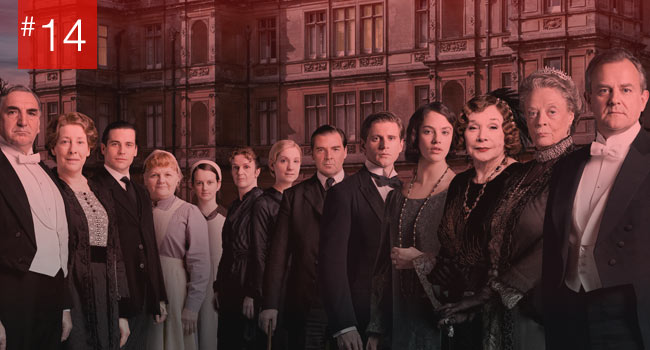 Downton Abbey
(ITV, 2010)
I first put on Downton Abbey when the first season had made its way to Netflix and its popularity was mostly confined to the UK. I'd made my way through every other British miniseries at my disposal on the site and figured this would be yet another mild escape full of lovely accents. I got the accents right, but mild is a word no one would use to describe Downton Abbey. Filled to the brim with the sort of sophisticated melodrama that the Brits are so good at, one is constantly deceived into forgetting that the show essentially bowls down to a soap opera. It drapes itself in history, sociopolitical dynamics, and a great deal of true British slow-burn romance. The show focuses on the upstairs/downstairs aspects of an established estate in rural England. The Crawley family, led by patriarch Lord Grantham (Hugh Bonneville), adhere to the rules of their class standing, dressing for dinner and maintaining propriety. Beginning with the Titanic disaster in 1912 and its effects on the named heir of Downton and now having worked its way through a World War and several non-war related deaths (for which many of our wounds have not yet healed) the show is now up to 1925. The utter devotion the show's characters instill in viewers is enough to keep us muddling through the show's more somber or overly dramatic moments. With one more season left to go, here's hoping season six means happy endings for all. [Ananda]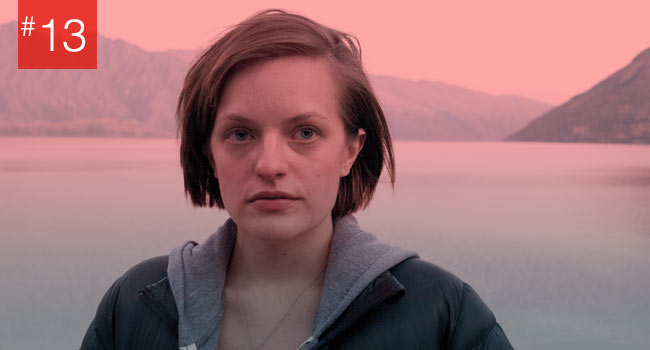 Top of the Lake
(Sundance Channel, 2013)
Jane Campion joins the ever-increasing list of film directors who took their talents to the small screen, and creates, co-writes and co-directs Top of the Lake. Due to its 4-episode structure, it's considered a mini-series, and only qualifies for our list because of the recent (awesome) news that a second series is officially happening. Set in the incredibly photogenic land of New Zealand, in a small town called Laketop, the show is an ideological detective mystery wrapped around various ethical and moral conundrums. It follows Detective Robin Griffin (Mad Men's Elizabeth Moss, who won a Golden Globe for her raw performance) as she investigates the disappearance of a pregnant 12-year old girl. Like working on two cases at the same time, Griffin must ruffle through the girl's eccentric family tree lead by patriarch Matt Michum (a vivacious Peter Mullan), in order to find out who impregnated the girl, and why she disappeared.
DP Adam Arkapow (who's also got HBO's True Detective under his belt) shoots Top of the Lake in gloriously brooding shades. Campion and her writing-directing partner Gerard Lee have an overwhelmingly tight grip on the compelling story that evolves in unexpected ways. It's these things, along with the excellent cast, (Holly Hunter's greatest role ever?) that confirm Top of the Lake as one of the strongest examples of masterful television in the decade so far. [Nik]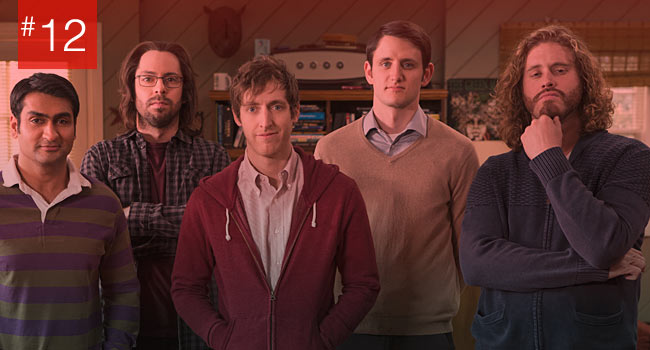 Silicon Valley
(HBO, 2014)
There is something very cool about Silicon Valley, and it's not any of its main characters. The brash attitude with which Mike Judge's newest series depicts tech firms elicits waves of laughter. Judge has had a rebellious streak that has run through both his TV (Beavis & Butthead, King of the Hill) & film comedies (Office Space, Idiocracy), but what's surprising about his approach is how easy it is to empathize with his characters, even as they do appalling things. His Silicon Valley characters are socially inept, they have embarrassing failures, and act unnecessarily rude or self-interested with one another. But the ensemble feel like real people plucked straight from the offices of Google and some as-of-yet undiscovered app start-up.
The show's extremely likeable cast is lead by a lineup of emerging comedians, many of whom have their best role to date on the show. Particularly odd is the casting of Thomas Middleditch as the show's protagonist, Richard. Rarely have leading men ever appeared so meek and ineffectual, but his neurosis is so believably articulated.  Beyond Middleditch, T.J. Miller, Martin Starr, Kumail Nanjiani, Christopher Evan Welch, and Zach Woods delivered eight hysterical episodes in its first season, and we're extremely eager to see where Pied Piper leads us next when Season two starts in April. [Zach]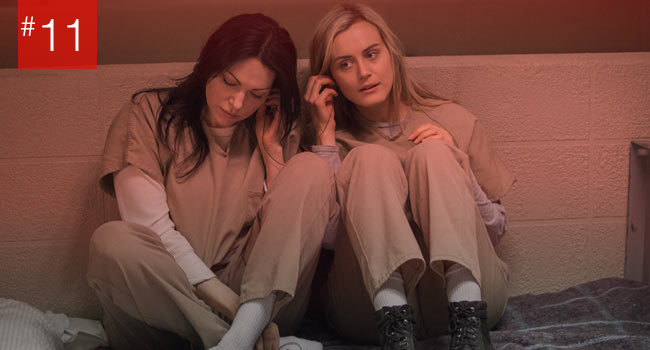 Orange is the New Black
(Netflix, 2013)
The good people of the Emmy's can argue all they want whether OITNB is a drama or a comedy, but the truth is that for everything other than winning awards (for which OITNB deserves all it can get) genre defining has nothing to do with the show's success. In fact this ambiguity is why the show is so good. It deals with hard and real human interactions in a setting where freedoms are stripped and all one has is their basic primal human nature. The show isn't comedy or drama, it's the human condition and people are not funny or dramatic, we're complex and multi-faceted. Heck, I'd even argue that comedians are some of the most somber people I've met, their comedy coming out of their sadness, fear, anger, etc. But I digress, OITNB is about Piper Chapman (Taylor Schilling)—and based on the real life experience of Piper Kermen—who aided in a drug-smuggling ring while in her twenties when influenced by a girlfriend she was smitten with. Many years later she was outed and forced to do a year of prison. Piper's experiences in the women's prison are hilarious, as she's a privileged white girl among a more diverse demographic than she is used to, they are terrifying at times, as prison families and gangs rival and intimidate each other for control, and, yes, they are also quite sensational, because prison don't mean you turn off your libido.
Netflix continues to prove they give zero you-know-whats about following convention and the freedom of expression in their shows makes for some exciting and original experiences. The characters—Crazy Eyes, Red, Nicky, Pennsatucky—are among the most colorful I've seen in any show ever. The day in and day out efforts they push through to maintain some sort of existence and feel significant are strangely enthralling considering the small scale of their gated world. It boils down to free-formed families and bonds more real than many of the loose ties people form in their lives of freedom. Full of truth, scopious feminism, and untraditional love, this is thoughtful engrossing TV. [Ananda]
Check out the rest of our Best TV Shows Of The Decade lists!
View Other Picks in this Feature:
Best 50 TV Shows Of The Decade So Far (#50 – #41)
Best 50 TV Shows Of The Decade So Far (#40 – #31)
Best 50 TV Shows Of The Decade So Far (#30 – #21)
Best 50 TV Shows Of The Decade So Far (#10 – #1)