Best 50 TV Shows Of The Decade So Far (#50 – #41)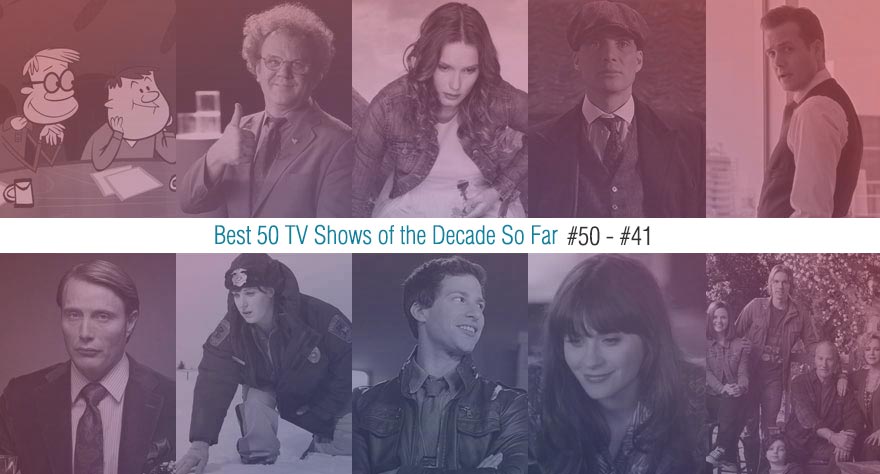 The evolution of television to its current stage of cinematic excellence feels very similar to the evolution of life itself. In competition with all of the entertainment industry for resources and audiences, television has evolved and natural selection has helped to weed out the weaklings (goodbye Selfie, Desperate Housewives, 666 Park Avenue, Don't Trust the B in Apartment 23, and many more). But in the past five years we've really begun to see an evolutionary mutation, wherein television figured out that it didn't need to be in competition with film, but could be every bit as beautiful, intelligent, and character-driven. With the advent of DVRs and online binge-watching, TV viewing feels like film watching, with extended sessions and an almost hungry psychological need to get through whole seasons as quickly as possible. Now the question around the water cooler isn't "Did you catch last night's episode?" it's "Did you finish this season of __?"
As film lovers AND TV lovers, we've been enjoying this shift. Television now embraces the indie model as web series get cable pick-ups, and websites that used to be solely for our DVD needs (Netflix) or online shopping sprees (Amazon) are now full-blown production companies, using their freedom as Hollywood outsiders to test waters and limits, and be innovative and fresh.
After much deliberating, debating, and voting we at Way Too Indie have compiled what we consider to be the best 50 shows to come out of the decade so far. Check back each day this week as we count down to the top ten.
Best 50 TV Shows Of The Decade So Far
(#50 – #41)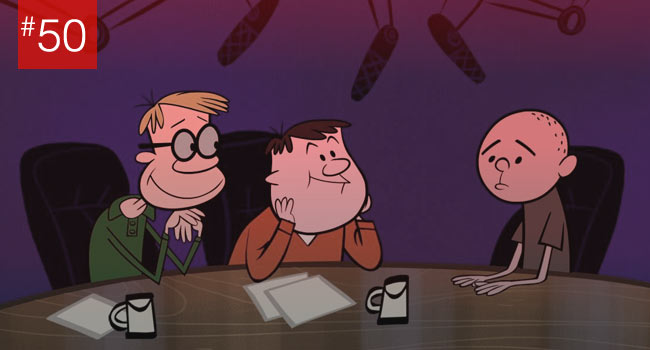 The Ricky Gervais Show
(HBO, 2010)
The Office & Extras creator Ricky Gervais had been recording a series of "pointless conversations" for radio with his friend and frequent writing partner Stephen Merchant since the late 90s; however, in 2010 HBO & Channel 4 co-produced a series of lively, animated half-hours to accompany the conversations, bringing them to life in hilarious ways. Ranging from discussions on semantics, bizarre theories about the afterlife, or the semi-frequent Monkey News updates, Ricky and his crew turn their focus to the tangents, exploring comedic digressions for even bigger laughs.
Despite featuring two widely known comedic voices in Gervais and Merchant, it's actually radio producer Karl Pilkington who deservedly earns the show's most gut-busting moments. Appearing too earnest to merely be an act, Karl's thought process is wholly, hilariously unique. Pilkington will often read a news article headline, or recall a small detail about something, only to extrapolate a slew of illogical explanations that inevitably leave both Gervais and Merchant stunned. "You know the Flintstones is only partially based on fact," Merchant has to inform Karl after an aside about cavemen. The Ricky Gervais Show is the perfectly disposable show; about nothing in a way Seinfeld could have only wished, yet endlessly entertaining.  [Zach]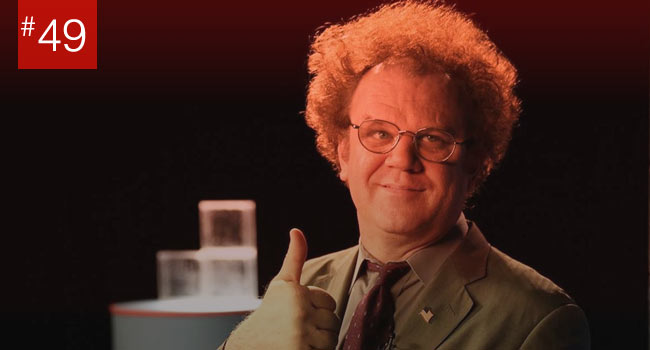 Check It Out! With Dr. Steve Brule
(Adult Swim, 2010)
Back in 2007, it was surprising to see someone like John C. Reilly show up as a guest star in Tim and Eric Awesome Show, Great Job!, which at the time was a tiny show in an experimental live-action block on The Cartoon Network. But the moment Reilly showed up as Dr. Steve Brule, a simple, childlike "doctor" on Channel 5 News, it was obvious that Reilly and the show had something truly special on their hands. Brule became one of the show's most popular characters, and after Awesome Show ended, creators Tim Heidecker & Eric Wareheim announced a spinoff series with Brule as the central character. Fans of Awesome Show were excited, but could Dr. Brule hold a show entirely on his own?
It didn't take long for Check It Out!, with Dr. Steve Brule to answer that question with a resounding yes. Made to look like a Channel 5 show aired at an ungodly hour, Check It Out! is Brule's attempt at an educational program, but in typical Tim & Eric fashion, things take a very dark and strange turn. What starts out as a pitch-perfect emulation of low-rent public access shows becomes a disturbing, unfiltered glimpse into Brule's mind, and an excuse for Tim & Eric to continue expanding the bizarre universe they created in Awesome Show. The fact that something so unsettling can be so funny falls entirely on Reilly's shoulders, who miraculously makes Brule seem human and likable. It is, no joke, Reilly's best work to date. [C.J.]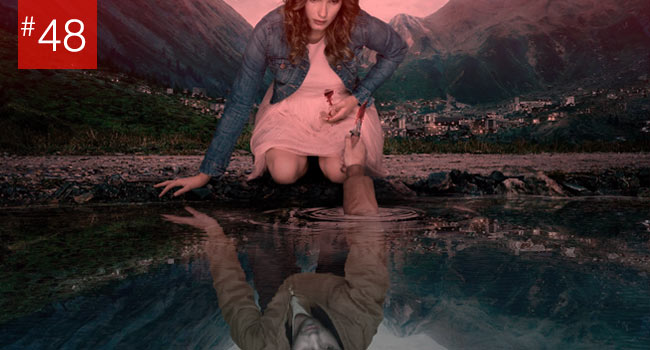 The Returned
(Canal+, 2012)
It's not every day you hear about TV shows adapting their stories from movies, but that's just another reason Fabrice Gobret's The Returned works so well. As perfect an example as any from the decade so far of the tectonic plates that are continuously shifting between television and cinema, this supernatural French drama-thriller hybrid could only truly work in this format. Stylistically, it's David Fincher's French doppelgänger camping out in Twin Peaks. All the action happens in a tiny provincial town, its mountainous location proving prime real estate for series DP Patrick Blossier to weave spectacularly photogenic exterior shots. And if you're sick of the whole zombie shtick, not to worry: The Returned brings the concept down to earth by having the dead return in perfectly natural form. This allows Gobret and co-director Frédéric Mermoud ample opportunity to dig deep into the psychological consequences of one absurdly simple idea: how would you cope if a departed loved one showed up one day, alive and well?
With room to breathe in an 8-episode format, The Returned allows you to spend quality time with these peculiar characters, and build familiarity with places like The Lake Pub, the Helping Hand, and that gigantic dam. The scintillating atmosphere is amplified even further by having post rock legends Mogwai score the entire series. If it slightly wobbles with some narratives, The Returned makes up for it in spades with its hypnotic mood. A second season is in the works, and there's a US remake on the way as well, so there's no time like the present to catch up! [Nik]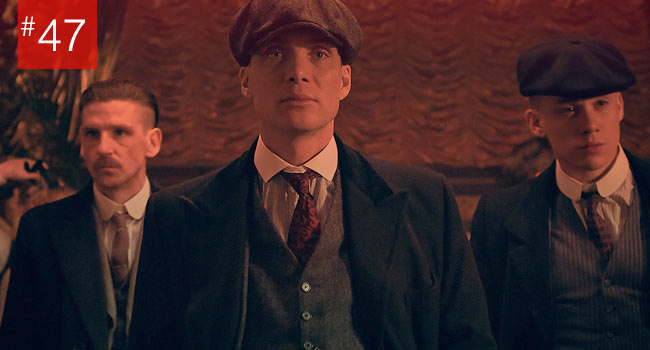 Peaky Blinders
(BBC Two, 2013)
Steven Knight blimped on most radars after he successfully directed Tom Hardy in the one-man-one-car show Locke, (he also wrote the brilliant Dirty Pretty Things), but like so many other filmmakers before him, Knight got his start on television. For someone so well versed with the format, it's little wonder that his Peaky Blinders works like gangbusters. Pooling together a fantastic ensemble cast, lead by the effortlessly charismatic Cillian Murphy and a reignited Sam Neill in a deliciously contemptuous role, Blinders is crime, history, and that eternally universal theme of family all rolled into one insanely entertaining show.
Set in the early 20th century Birmingham, the show is a semi-factual account of an infamous Irish gang led by the Shelby family, calling themselves the Peaky Blinders, who ruled the streets with their intimidating reputation: razor blades in caps, always looking for a reason to brawl, and Tommy's (Murphy) wicked strategic intelligence. Adding mood to style, songs by Nick Cave and The Bad Seeds are used to highest effect, and the twists and turns in the story don't hinge on the end results, but are more compelling in the way they get there. With Hardy joining the cast in the second season as the unpredictable and hilariously temperamental Alfie, I toast to Peaky Blinders in hopes that it won't be ending anytime soon. [Nik]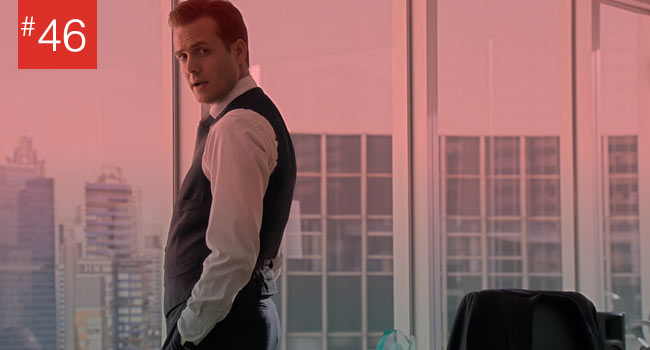 Suits
(USA, 2011)
In the pilot episode of Suits, Harvey Specter (Gabriel Macht) and Mike Ross (Patrick J Adams) walked into our lives, proceeded to kick some serious ass, and have continued to do so in nearly every episode to grace our TV screens since. Now, that may not be the most sophisticated language, but Suits is not the most sophisticated and complex TV show. It is, however, one of the most badass shows out there, and in case you weren't aware: it's about lawyers. Working at a law firm (mostly), the two manage to pull themselves out of one legal scrape after another, all while slowly reaffirming the importance each has in the other's life. How one goes about making corporate law seem vaguely as cool as the writers of Suits do will always evade me. There's even an episode in which they verbally acknowledge (and thus mock) the existence of Franklin and Bash—a slightly later-to-the-game TV show about two savvy lawyers. The show has undoubtedly gone through highs and lows in its four seasons to date, with lows often being the episodes that take themselves too seriously. Given that the season four finale was particularly strong, however, it's safe to say that the dynamic duo have some fight left in them yet. [Pavi]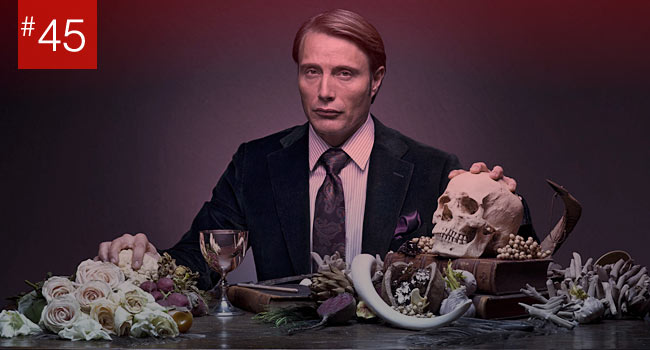 Hannibal
(NBC, 2013)
Anyone who's a fan of Bryan Fuller—a person who has a knack for creating incredible shows nobody watches—knows he has a bit of an obsession with death. For years he's mastered the balance between sweet and grim material with dark comedies like Pushing Daisies and Dead Like Me, but Hannibal has Fuller fully embracing his dark side. The show is a loose adaptation of Thomas Harris' novels, the same series of books that brought us Silence of the Lambs and Manhunter. It's a perfect example of how to properly make an adaptation, using the source material as more of a springboard to create something distinct within Harris' morbid universe.
And what a piece of work this show is. It is, by far, the darkest show on network television, with some episodes rivaling the nastiest things seen on HBO. The cinematography, sound design and score are top notch, with jaw-dropping visuals and a truly unnerving soundtrack. But what shines the most on Hannibal is its cast, with Mads Mikkelsen somehow giving Anthony Hopkins a run for his money as the best version of Lecter to date. Hannibal is, for all intents and purposes, the scariest show on television right now, and the closest thing to a spiritual successor of The X-Files we have. In a just world, Hannibal would be just as much of a ratings juggernaut as Game of Thrones or The Walking Dead, yet it continues to fight for survival. So why don't you finally hop on this bandwagon and see what everyone's been gushing about already? [C.J.]
Fargo
(FX, 2014)
As an absolute obsessive of the Coen brothers' 1996 dark comedy, Fargo, I was beyond skeptical when FX announced a series that would basically be a recreation of the film. Luckily, I was wrong. It's not a recreation of the film—even if the mood, atmosphere, setting, and general plot lines all fall into Fargo's vein. And my skepticism that a dark comedy could be sustained for so long quickly dissipated by the fourth episode when the humor continued to surprise and impress me. It's still a tale of a man (Martin Freeman, with no trace of his British side) who, rather accidentally, hires a hit man to kill his biggest enemy and then proceeds to spontaneously commit his own act of murder. His fumblings, and the cops who are trying to sort these murders out, are all sheathed in stereotypical small-town Minnesota accents and mentalities.
Showrunner Noah Hawley manages the rather Herculean feat of getting viewers to see the show as its own new entity while playing on their love of the original film. Some elements are straight out of the film, including the film's final loose string in the form of a large of amount of money buried beneath an ice scraper by the side of the highway. Other similarities are more general, such as an ambitious and talented female cop in the lead (Allison Tollman). And the new elements are genius, including casting Billy Bob Thornton as the extra evil and extra interesting villain, Lorne Malvo. Every episode begins with the words "This is a true story," but it isn't its far-off real-life inspirations that make Fargo exceptional, it's that it captures the randomness of truth being stranger than fiction, and television being the gift-wrapped box that truth can be put into. It's exactly the magic of the small screen. [Ananda]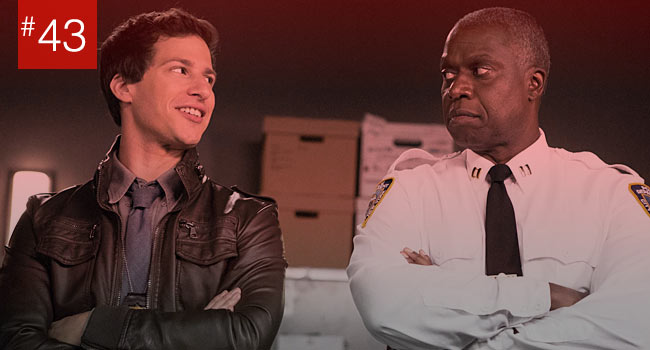 Brooklyn Nine-Nine
(Fox, 2013)
Most comedy shows I have ultimately fallen in love with have needed multiple chances given to them in order to fall into step with their rhythm and style. Daniel J. Goor and Michael Schur's Brooklyn Nine-Nine was no exception; at first it seemed to be cut from the same cloth as Parks and Recreation and The Office, showcasing the comedy of a diverse cast of oddball characters that seem too two-dimensional to make work for an extended period of time. Like The Office and Parks and Rec, however, Brooklyn Nine-Nine has accomplished the same consistency of comic genius and every episode is pretty much guaranteed to inspire at least a few belly laughs. The first thing to catch on is the brilliant theme song written by Dan Marocco and reminiscent of a Shaft and The Mod Squad sort of mash-up giving you a clue as to where they are leading you with their outlandish scenarios set in a very real police station. It's caught on with a wide audience as well winning two Golden Globes in 2014 for Best Television Series – Musical and Comedy and Best Actor for Andy Samberg, as well as a Primetime Emmy for Outstanding Stunt Coordination. Joining Samberg in fluid comic coordination is the outstanding performances of Terry Crews, Stephanie Beatriz, Joe Lo Truglio, Chelsea Peretti, Andre Braugher, and Melissa Fumero. It's been renewed to continue for a third season much to its regular viewers delight. [Scarlet]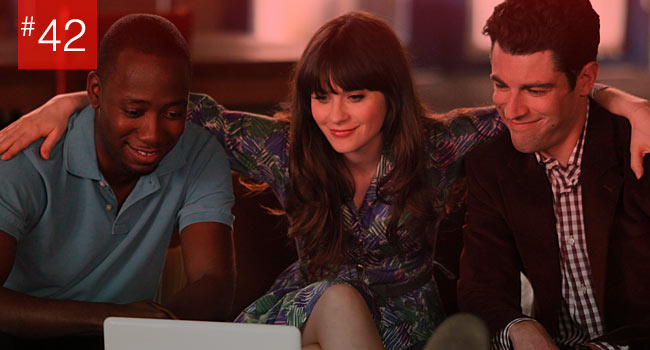 New Girl
(Fox, 2011)
I was among the haters who thought Zooey Deschanel starring in a show would make for a self-absorbed and entirely too quirk-filled viewing experience. I appreciate her pep, but my God who wants it on a weekly basis? But the buzz around the show was strong enough to convince me I needed to give it a shot, and it's been among my weekly must-watches every since. If you only have room in your life for one or two comedy sitcoms—I know I ain't got time for more—then this show is worth one of those slots. What makes it so watchable is that creator Elizabeth Meriwether (part of the so-called Fempire, a group of feminist writers including Diablo Cody) figured out how to perfectly play off of Deschanel's charm by giving her male roommates who each have a distinct character and humor that culminate in comedy gold each and every episode. If the show was just about Deschanel's Jess, I'd have stopped watching long ago. Instead, each of the show's characters are fully-formed and incredibly well performed. It's rare to find such chemistry among an ensemble.
For those in the 20-something world, the story lines ring with truth—even if the actions of the characters are ridiculous—and the self-ascribed family these characters form reflect a growing trend in society as young people marry later. The jokes never pander and rarely go too far. Heavy doses of awkward ensue, but the resolutions are warm and fuzzy enough to keep the addiction alive. Jake Johnson continuously steals the show as Nick, Jess's roommate and on-again/off-again love interest, his grumpy old-man figure alway surprising with his one-liners. Max Greenfield as Schmidt was initially a hated character, giving off too much douche-bag quality, and has grown into a fan-favorite, his anal-retentiveness and romantic heart always at odds. A show that guarantees laughs and also feels relatable (young people, watch the episode in this current season on online dating and try not to LOL) in a way that Friends or How I Met Your Mother never quite hit on, is one I consider innovative and attention-worthy. [Ananda]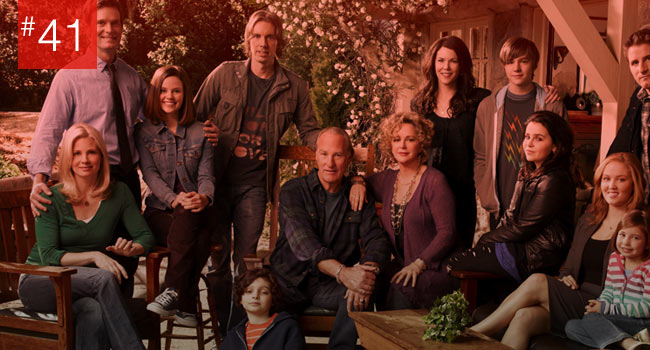 Parenthood
(NBC, 2010)
Well, the last half a decade has seen the beginning and end of one of the most emotionally riveting series on television. Parenthood, going for exactly five years, was developed by Jason Katims, who won a Primetime Emmy as a writer for Friday Night Lights in 2011 and was a producer for Roswell and Boston Public. Based on the 1989 movie of the same name by Ron Howard and starring Steve Martin, the series stars drama veterans such as Peter Krause (Six Feet Under), Lauren Graham (Gilmore Girls), and Craig T. Nelson (Coach, The Family Stone), as well as comedy pro Dax Shepard (Baby Mama, When In Rome) and Mae Whitman (Arrested Development) ensuring a varied spectrum of emotional highs and lows.
Parenthood follows the ups and downs in a particular cross section of life for the Braverman family. Beginning with a renewed sense of unity as we find them coming back together again after experiencing some friction and estrangement, we follow the path to healing and growth that at so many times seems so very real to life. Nominated for both a Golden Globe and an Emmy, it never won either prestigious award. Though Monica Potter and Erika Christensen both took home awards for their performances throughout the six seasons. One of their most qualifying portrayals is of Max Braverman and his family's dealings with his diagnosis of Asberger syndrome. Its honest and bare look at what makes a family and the fight that it sometimes takes to keep one together has been, to its fans, the most endearing part of this memorable show. [Scarlet]
Check out the rest of our Best TV Shows Of The Decade lists!
View Other Picks in this Feature:
Best 50 TV Shows Of The Decade So Far (#40 – #31)
Best 50 TV Shows Of The Decade So Far (#30 – #21)
Best 50 TV Shows Of The Decade So Far (#20 – #11)
Best 50 TV Shows Of The Decade So Far (#10 – #1)